The global carbon capture and storage market size was evaluated at USD 4.91 billion in 2022 and it is expected to touch over USD 35.70 billion by 2032, growing at a CAGR of 21.94% during the forecast period 2023 to 2032.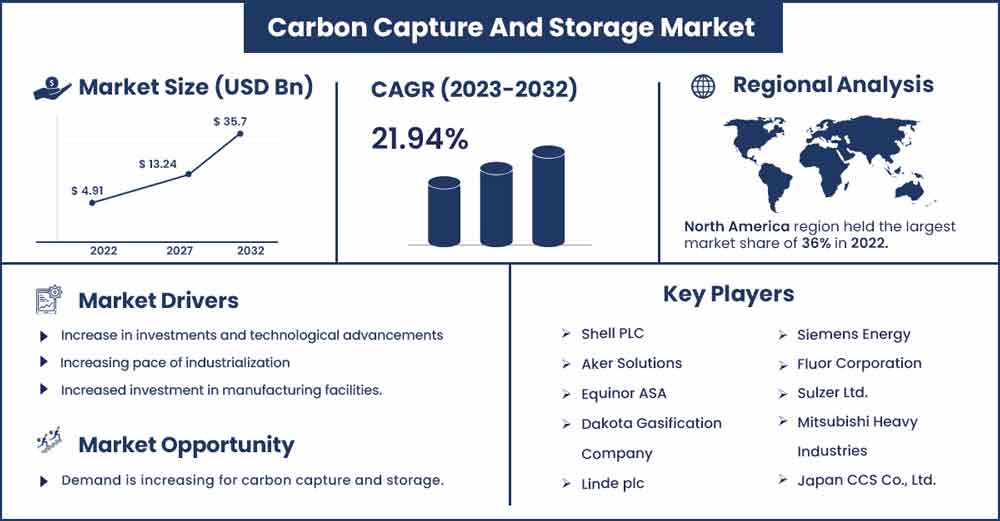 Market Overview:
The carbon capture and storage (CCS) market refers to the industry and economic activities associated with the capture, transportation, and storage of carbon dioxide (CO2) emissions generated from industrial processes and power generation. CCS is a technology that aims to mitigate greenhouse gas emissions and combat climate change by capturing CO2 emissions from large point sources, such as power plants and industrial facilities, and permanently storing them underground.
The CCS market has gained attention as a potential solution to reduce CO2 emissions while still utilizing fossil fuels, particularly in industries where viable alternatives or renewable energy options are limited. It offers the potential to decarbonize industrial sectors like power generation, oil and gas, cement production, and steel manufacturing.
Regional Snapshot:
North America had the largest share of the market in 2022, the region is expected to witness significant growth during the forecast period. North America, particularly the United States, has been one of the largest emitters of carbon dioxide (CO2) due to its extensive industrial activities, energy production from fossil fuels, and transportation sector. The need to reduce greenhouse gas emissions and mitigate climate change has prompted North American countries to explore CCS as a potential solution. North America has been at the forefront of developing and deploying CCS technologies. The region has a strong research and development base, including universities, national laboratories, and private companies, which have made significant advancements in CCS technologies. These innovations have helped in the growth and adoption of CCS projects.
In the coming years, Europe will also see tremendous growth. Europe is actively engaged in international cooperation on CCS. It participates in knowledge sharing, research collaborations, and joint projects with other countries to address the global challenge of climate change. This cooperation facilitates the exchange of best practices, technology transfer, and the expansion of the CCS market across borders. European countries have been actively involved in research and development efforts to improve CCS technology. Collaborative projects, both at the national and EU levels, focus on advancing capture technologies, optimizing storage methods, and reducing costs. These research efforts contribute to the growth and innovation within the CCS market.
Report Highlights:
By product-type, the pre-combustion segment had the biggest revenue share, the segment is expected to generate significant revenue during the forecast period. The product-type segment includes various mature and well-established technologies for carbon capture and storage. These technologies have been extensively researched, developed, and deployed over the years, making them reliable and proven solutions for capturing and storing carbon emissions.
By application, the power generation segment had the highest revenue share in 2022, the segment is expected to sustain its position during the forecast period. CCS technology is more readily applicable to power generation compared to other sectors. Power plants are often located in centralized locations, making it easier to capture, transport, and store CO2 emissions.
Carbon Capture and Storage Market Report Scope:
| | |
| --- | --- |
| Report Coverage | Details |
| Market Revenue in 2023 | USD 5.99 Billion |
| Projected Forecast Revenue in 2032 | USD 35.70 Billion |
| Growth Rate from 2023 to 2032 | CAGR of 21.94% |
| Largest Market | North America |
| Base Year | 2022 |
| Forecast Period | 2023 To 2032 |
| Regions Covered | North America, Europe, Asia-Pacific, Latin America, and Middle East & Africa |

Market Dynamics:
Driver:
Regulatory support from the government
Governments can establish clear and consistent regulatory frameworks that provide guidance and streamline the permitting and approval processes for CCS projects. These frameworks can address legal, technical, and environmental aspects, ensuring that CCS projects comply with safety standards and environmental regulations. A well-defined regulatory framework reduces uncertainties for investors and project developers, promoting the growth of the CCS market. Providing long-term policy stability and regulatory certainty is essential for attracting private investments in CCS projects. Governments can commit to consistent policies and regulations that span several years, ensuring that investors have confidence in the market's stability and can make informed decisions regarding CCS investments. This drives the growth of the CCS market by reducing financial barriers, providing regulatory clarity, and fostering technological advancements.
Restraint:
Negative perception
CCS involves capturing and storing large amounts of CO2 underground, which raises concerns about potential leakage and environmental risks. Public perception and acceptance of CCS projects can influence their implementation. Lack of awareness, misconceptions, and public opposition can create significant barriers to the development of CCS infrastructure, making it challenging for project developers to gain public support and secure necessary permits. Such negative perception makes it difficult for public acceptance by creating a major restraint for the market's growth.
Opportunity:
Technological advancements
The advancement of storage technologies ensures safe and reliable long-term storage of captured CO2. Innovations in monitoring, verification, and geophysical modeling help assess and manage the risks associated with storing CO2 underground. Advanced storage techniques, such as carbon capture and utilization (CCU), which converts captured CO2 into valuable products, further enhance the economic viability and sustainability of CCS. Technological advancements have the potential to drive down the cost of CCS. Research and development efforts focus on improving the efficiency of capture processes and reducing energy requirements. This leads to lower operational costs and makes CCS more economically competitive compared to traditional emissions reduction strategies. Additionally, advancements in materials and engineering can contribute to the construction of more affordable and scalable CCS infrastructure.
Challenge:
Absence of regulatory framework
The absence of robust regulatory frameworks and supportive policies can act as a restraint for the CCS market. Clear guidelines and regulations related to CCS projects, such as permitting and liability frameworks, are necessary for project developers to navigate the legal landscape effectively. The absence of these frameworks can create uncertainties and delays, making it difficult for companies to invest in and deploy CCS technology.
Recent Developments:
In November 2022, according to a report on the policy framework of the CCUS prepared by government think-tank Niti Aayog, Carbon Capture Utilisation, and Storage (CCUS), the decarbonizing technology for carbon dioxide from polluting industries such as steel, oil, cement, gas, chemicals, petrochemicals, and fertilizers, has an important role to play for cutting about 750 mtpa of carbon capture in the country by 2050.
In July 2023, France made a significant leap by including carbon capture in its goals for reducing emissions. The French Prime Minister unveiled the nation's Carbon Capture, Storage, and Use (CCUS) policy on June 23 during the National Industry Council (CNI) meeting at Le Bourget, kicking off a consultation period with manufacturers through September 29, 2023. Carbon capture and storage are seen as strategically significant for the green transition, as included in the European Green Deal.
Major Key Players:
Shell PLC
Aker Solutions
Equinor ASA
Dakota Gasification Company
Linde plc
Siemens Energy
Fluor Corporation
Sulzer Ltd.
Mitsubishi Heavy Industries
Japan CCS Co., Ltd.
Carbon Engineering Ltd.
LanzaTech
Market Segmentation:
By Service
Capture
Transportation
Utilization
Storage
By Product
Pre-combustion
Industrial Process
Post Combustion
Oxy-combustion
By Application
Power Generation
Oil & Gas
Metal Production
Cement
Others
Buy this Research Report@ https://www.precedenceresearch.com/checkout/2606
You can place an order or ask any questions, please feel free to contact at sales@precedenceresearch.com | +1 9197 992 333