The global data center as a service market size was exhibited at USD 72.4 billion in 2022 and is projected to attain around USD 476.3 billion by 2032, growing at a CAGR of 20.73% during the forecast period 2023 to 2032.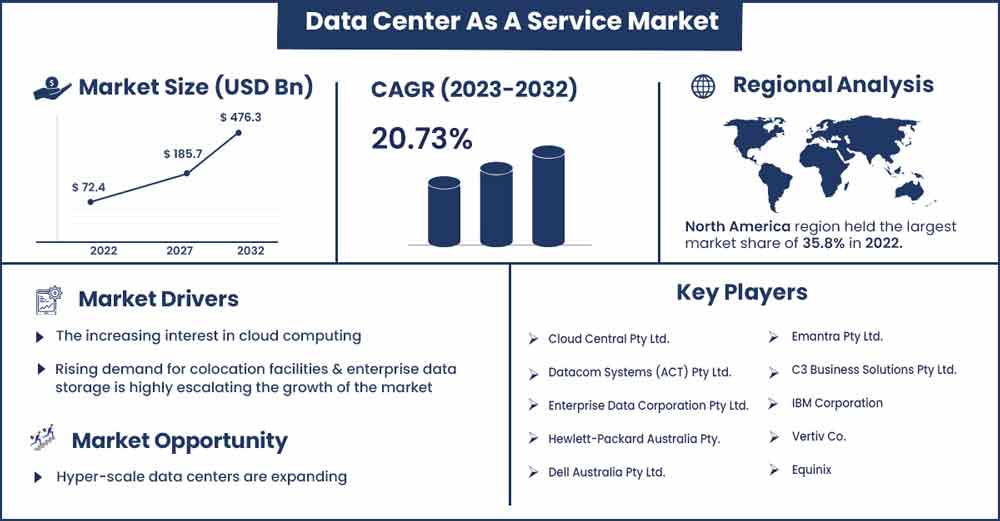 A data center is a group of networked computers and data storage facilities created by a company for its own needs or rented out to other companies to save, process, organize, store, and distribute large amounts of data. Generally speaking, businesses depend on the application services and data kept in the data center. Data centers are now considered to be a crucial corporate tool by many organizations worldwide.
All services that are either offered by the data center or required for the efficient functioning of the data center are referred to as data center services. The services that a data center provides are determined by the grade of the data center. Since Tier 1 data centers typically have fewer requirements for data access, smaller businesses tend to favor them. Medium to large businesses favor tier 2 data centers, whereas large businesses typically need the services of tier 3 data centers. The tier 3 data centers are typically able to provide a broad range of services, including enough storage, round-the-clock physical and network security, crisis management abilities, better power backup, high and heating ventilation, and air conditioning systems, among others.
The market for data as a service is expanding due to the rising use of portable data-storing devices for data retrieval regardless of time or place. Additionally, the market's expansion is being significantly accelerated by the increasing demand for colocation centers and corporate data storage. Additionally, the growth of cloud computing and the usage of service models like IaaS, software as a service (SaaS), and PaaS are significantly increasing the size of the data center as a service market over the projection period of 2021–2026. The growth of both structured and unstructured data in the market as a result of globally expanding companies and sectors is one of the main reasons driving the data center as a service market.
The data center market has been experiencing significant development as a result of the rising adoption of cutting-edge technologies like IoT, AI, and many others that are increasing work productivity across a variety of sectors. Additionally, increasing expenditures from various industries in the construction of data center infrastructure are spurring the expansion of the data center market.
Data Center As A Service Market Report Scope:
| | |
| --- | --- |
| Report Coverage | Details |
| Market Revenue in 2023 | USD 87.41 Billion |
| Projected Forecast Revenue by 2032 | USD 476.3 Billion |
| Growth Rate from 2023 to 2032 | CAGR of 20.73% |
| Largest Market | North America |
| Base Year | 2022 |
| Forecast Period | 2023 to 2032 |
| Regions Covered | North America, Europe, Asia-Pacific, Latin America, and Middle East & Africa |

Regional Snapshots:
North America controls the largest share of the global market and thus leads it as a result of the rising adoption of cutting-edge technology in countries like Canada and the U.S. as well as the rising consumption of associated services. North America leads the service market for data centers due to the region's solid foundation of healthcare institutions, the prominence of key market participants, and the expanding number of research activities.
The North American market will hold a sizable market share because of the growing acceptance of digitalization in both established and emerging nations, the rising use of OTT services globally, and the critical need to maintain optimum operations. Since the Asia-Pacific region has the fastest rate of economic development and because countries like South Korea, China, India, and Japan are utilizing cutting-edge technology and developing infrastructure in line with it, the region has the second-largest portion of the global market. India's economy, which is among the fastest-growing in the world, is anticipated to lead to an increase in public cloud-based data centers.
As the biggest employer in the private sector and the primary user of data centers, the IT industry controls the Indian market and drives market development. Tax benefits have been offered by the Indian government to the IT sector for Special Economic Zones and Software Technology Parks of India. India provides simplified procedures and a centralized approval system for constructing facilities. To leverage its potential sectors, the Indian government is setting up a USD 745.82 million fund. Additionally, China is witnessing a surge in its hyper-scale platforms, which has created a need for data center services. The Asia-Pacific region is projected to experience significant growth from 2022 to 2029, owing to increasing government efforts to raise awareness, rising medical tourism, growing research activities, untapped markets, a large population, an increasing adoption of multi-cloud computing solutions, and a growing need for quality healthcare.
Report Highlights:
The market segment for servers had the largest share in 2022—more than 51%—and is expected to maintain its dominance throughout the projection period.
Big businesses accounted for the largest revenue share—more than 50.5%—in 2022. In order to run cutting-edge apps and processes based on IoT and big data analytics, a number of significant companies are updating their IT infrastructure.
The IT and telecom industry made for more than 21% of all revenue in 2022. A sizable amount of data is expected to be generated in the following years as a result of the deployment of 5G and the rise in internet traffic globally.
With a revenue percentage of over 35.8% in 2022, the North American market led all other markets. It is anticipated that technological advancements and the demand for data handling across many sectors will propel market growth.
Market Dynamics:
Drivers:
Companies are becoming more involved in helping groups create technology related to data centers and the cloud. To keep up with growing consumer demand, many businesses, including internet behemoths, are raising their data center-related spending and implementing cutting-edge data center technology. Data center knowledge companies like Alphabet Microsoft Amazon and Facebook friend reported spending a total USD 23 billion on capital initiatives in 2015. Building an infrastructure to support and operate online services with billions of monthly users will cost enormous sums of money.
Additionally, data center businesses are implementing cost-effective technology by lowering public and private cloud overheads that can be used efficiently in high-performance computing environments, such as high acceleration in data center technology and associated services. To draw and keep customers is anticipated to open up new opportunities for government development and to propel the service market for the data center.
Restraints:
Business uptime and continuity are two major issues with the DCaaS strategy. Any WAN interruption or provider outage could make DCaaS apps inaccessible. Even though DCaaS uptime is guaranteed by a service level agreement, unplanned outages are anticipated to have negative effects. Being a part of cloud computing, DCaaS is additionally susceptible to a variety of online dangers. It is expected that issues like data protection and availability will hinder market expansion.
Opportunities:
The amount of data is placing more and more strain on data servers. According to Avnet, data center traffic is increasing quickly and is predicted to double every two years. Additionally, Cisco predicts that by 2023, there will be more than 50 billion connected gadgets, producing and storing a vast quantity of data globally. In addition, it is anticipated that 75% of the resources would go toward maintaining the data centers that handle this volume of traffic.
As a result, the data center would need to be more quick and capable of handling high levels of network data flow. Andrea's parent prerequisite for effective data center services is the exponential increase in data traffic that has caused a hunt for the capacity of data centers. Data center service providers can take advantage of the enormous potential created by the exponential increase of data and give businesses a platform to capture a significant portion of the global data center service market.
Challenge:
Market growth is anticipated to be hampered by high R&D costs, inadequate infrastructure, a rise in the demand for outside data center services, and a lack of expertise in developing countries. Additional variables that are expected to pose market challenges include hospital budget cutbacks, especially during the pandemic, a dearth of suitable infrastructure in low- and middle-income countries, unfavorable reimbursement situations, and technology adoption in emerging economies.
Recent Developments:
Qualcomm unveiled its Cloud AI 100 line of data center AI inference processors in April 2019. The ASIC family of devices may have different form factors and cooling design components for varied use cases. This processor has been enhanced with cutting-edge AI features to provide the devices with outstanding usefulness.
Major Key Players:
Cloud Central Pty Ltd.
Datacom Systems (ACT) Pty Ltd.
Enterprise Data Corporation Pty Ltd.
Hewlett-Packard Australia Pty.
Dell Australia Pty Ltd.
Emantra Pty Ltd.
C3 Business Solutions Pty Ltd.
IBM Corporation
Vertiv Co.
Equinix
Market Segmentation:
By Infrastructure
Servers
Storage
Networking
By Organization Size
By Vertical Size
IT & Telecom
BFSI
Healthcare
Retail
Manufacturing
Others
Buy this Research Report@ https://www.precedenceresearch.com/checkout/2733
You can place an order or ask any questions, please feel free to contact at sales@precedenceresearch.com | +1 9197 992 333