The global decision intelligence market size is anticipated to reach around USD 45.15 billion by 2032 up from USD 10.55 billion in 2022 with a CAGR of 15.7% between 2023 and 2032.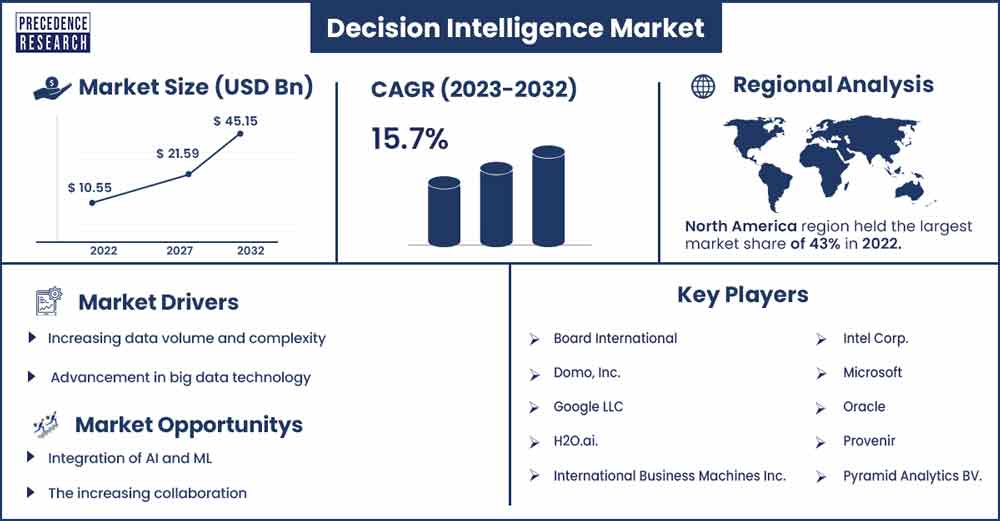 Market Overview
Decision intelligence (DI) is an interdisciplinary field that combines various techniques, methods, and tools to help individuals and organizations make better decisions. It leverages a wide range of disciplines, including artificial intelligence, machine learning, statistics, data analysis, behavioral economics, psychology, and operations research, to provide a systematic and data-driven approach to decision making. Decision intelligence focuses on improving the quality and effectiveness of decisions by integrating data, analytics, and human expertise.
Decision intelligence is increasingly relevant in present data-driven and complex business environments, where organizations need to make critical decisions based on vast amounts of information. It can be applied to a wide range of domains, including finance, healthcare, supply chain management, marketing and others to help optimize decision making and improve outputs.
The decision intelligence market is driven by several factors such as the growing data volumes and complexity, increasing awareness and adoption, rising adoption in the government and public sector, increasing utilization in the healthcare and life sciences sector and others. In addition, the advancements in AI and Machine learning is one of the crucial elements that propel the market growth over the forecast period.
For instance, in January 2023, the creation of a new portfolio of Artificial Intelligence for Consumer Insights (AICI) tools designed to support business market research and consumer insights teams was announced by Market Logic Software, the world leader in insights management solutions. Launched in Q2 2023, the portfolio's initial product will utilize the OpenAI Large Language Model (LLM) to enable interactive decision-making for consumer enterprises around the clock. It will also be the first to deploy an AICI assistant.
75% of businesses will be using operational AI by the end of 2024, such as machine learning and natural language processing (NLP), to offer insightful data on supply chains and operations.
According to the data given by Peak.AI, by 2023, 33% of major firms will use decision modeling and other forms of decision intelligence to assist in decision-making.
Over the next three years, Quantexa, a pioneer in the world of decision intelligence (DI) solutions for both the public and commercial sectors, will spend over $155 million in the global artificial intelligence (AI) market to support its clients in advancing the use of AI to secure, optimize, and expand their businesses. Quantexa plans to invest more than $250 million worldwide in AI by the year 2027.
According to Gartner, Inc., artificial intelligence (AI) and data analytics will be used to inform more than 75% of venture capital (VC) and early-stage investor executive assessments by 2025.
According to a recent Gartner, Inc. poll, 80% of executives believe automation can be used in every kind of business decision. As digital business becomes more integrated with automation, the poll uncovered how companies are adapting their usage of artificial intelligence (AI) in automation initiatives.
Regional Insights
North America is expected to dominate the market over the forecast period. The regional growth of the market is attributed to the presence of giant IT companies, research institutions and startups that are at the forefront of developing and implementing decision intelligence solutions. In addition, North American organizations such as businesses, government agencies, and educational institutions, have embraced data-driven decision making as a fundamental part of their strategies, fostering a healthy environment for decision intelligence adoption.
In North America, the US is expected to hold a prominent market share for decision intelligence during the study period. The US is a global leader in technology and innovation and the home for many tech giants, startups and research institutions that drive the development of advanced decision intelligence solutions, including AI and ML applications.
For instance, in October 2022, a new business practice dedicated to meeting the unique requirements of US government agencies was unveiled by business intelligence software provider Pyramid Analytics B.V. Pyramid aims to grow and establish its status as a supplier of decision intelligence solutions to the federal government of the United States by utilizing its success and expertise in the federal market.
In addition, the big players in decision intelligence in the US are Microsoft, Intel Corporation, Google LLC, Domo Inc., Pyramid Analytics, IBM and Others. Thus, this is expected to drive market growth in the country during the forecast period.
Decision Intelligence Market Report Scope
| | |
| --- | --- |
| Report Coverage | Details |
| Market Revenue in 2023 | USD 12.15 Billion |
| Projected Forecast Revenue by 2032 | USD 45.15 Billion |
| Growth Rate from 2023 to 2032 | CAGR of 15.7% |
| Largest Market | North America |
| Base Year | 2022 |
| Forecast Period | 2023 to 2032 |
| Regions Covered | North America, Europe, Asia-Pacific, Latin America, and Middle East & Africa |

Market Dynamics
Drivers
Increasing data volume and complexity
The increasing volume of data generated by businesses, individuals, and IoT devices creates a need for sophisticated decision making tools and techniques to extract valuable insights form this data. For instance, according to data experts, data volumes in their firms are expanding by 63 percent on average each month. Among those surveyed, 10% stated that monthly volumes are increasing at a rate of 100% or higher. Thus, this is expected to drive the market growth over the forecast period.
Advancement in big data technology
Among the quickly developing areas of data science and artificial intelligence is decision intelligence. Dialectal analysis is one of several issues with decision intelligence technologies that have been fixed and integrated into online applications. Big data analytics and decision intelligence may be used to create reliable systems that help management and corporate decision making, handle big data at massive sizes, and do text and subjective analysis.
Restraints
Data privacy and security concerns
There are serious privacy and security issues with the growing use of data in decision making. Effective data collection and use may be hampered by an organization's need to preserve sensitive information and adhere to privacy regulations.
Lack of expertise
Skilled professionals who understand the nuances of decision intelligence, data analytics, and AI are in high demand. A shortage of talent can be a restraint for organizations looking to adopt decision intelligence solutions. For instance, according to the IBM report, the global demand for AI expertise is exceeding the supply, with less than 10,000 individuals having the requisite abilities to become experts in the field. According to the same estimate, there will be a significant skill gap by 2030 as a result of the continued lack of AI talent. Thus, the aforementioned facts hamper the decision intelligence market revenue share over the anticipated timeframe.
Opportunities
Integration of AI and ML
As AI and ML technologies advance, there are opportunities to integrate them with decision intelligence solutions to further enhance predictive capabilities and automation. For instance, in June 2023, Pyramid Analytics, a business and decision intelligence platform, just released the most recent version of the Pyramid Decision Intelligent Platform, which now integrates DALL-E and ChatGPT from OpenAI. This special mix supports generative AI for a variety of applications, and the new hub feature, with its customized analytics experience, is designed to increase productivity and user satisfaction. Thus, this is expected to offer a lucrative opportunity for market growth over the forecast period.
Growing collaboration
The increasing collaboration among the market players is expected to offer a lucrative opportunity for market growth during the forecast period. For instance, in July 2023, with the release of Pronto Xi BI Unlimited with IBM Cognos Analytics with Watson, an Australian enterprise resource planning (ERP) solutions provider, Pronto Software and IBM formally reinforced their long-standing partnership. This partnership represents a critical turning point in providing Pronto Software clients with sophisticated analytics and all-encompassing insights.
Recent Developments
In December 2022, the makers of the Cloverpop Decision Intelligence platform, Clearbox Decisions, Inc., announced a Series A funding round led by Allos Ventures. Other investors in the round include SaaS Ventures, Tawani Ventures, North Coast Ventures, and current investor Sandalphon Capital. The business plans to enhance its go-to-market team and expedite investments in the Cloverpop Decision Intelligence platform by utilizing the proceeds from this latest fundraising round.
In October 2023, the introduction of ThroughPut.AI Supply Chain Decision Intelligence powered by Snowflake was announced by ThroughPut Inc. With the help of this new technology, manufacturers, retailers, and logistics companies will have end-to-end supply chain visibility and actionability, enabling them to better anticipate and manage "inevitable" interruptions, reduce risks, and handle an increasing number of more prevalent supply chain difficulties.
In June 2023, the Analytics Cloud Platform firm, Alteryx, Inc., revealed its Snowflake Partner Connect and new cloud product features at Snowflake Summit 2023, Snowflake's annual user conference. At a time when the data stack has grown more difficult to use and complicated, Alteryx and Snowflake are streamlining the stack and reducing friction. The recently introduced product enhancements facilitate enhanced efficiency for users in driving analytical insights by providing direct access to the Alteryx Analytics Cloud Platform via Snowflake.
Major Key Players
Board International
Domo, Inc.
Google LLC
H2O.ai.
International Business Machines Inc.
Intel Corp.
Microsoft
Oracle
Provenir
Pyramid Analytics BV.
Market Segmentation:
By Component
Platform
Solutions
Services
By Deployment Mode
By Enterprise Size
Large Enterprise
Small and Medium-sized Enterprises (SMEs)
By Industry Vertical
Energy and Utilities
BFSI
IT and Telecom
Government
Healthcare
Manufacturing
Retail and Consumer Goods
Others
Buy this Research Report@ https://www.precedenceresearch.com/checkout/3281
You can place an order or ask any questions, please feel free to contact at sales@precedenceresearch.com | +1 650 460 3308