The global decision intelligence market size accounted for USD 10.55 billion in 2022 and it is expected to hit around USD 45.15 billion by 2032, growing at a CAGR of 15.7% during the forecast period 2023 to 2032.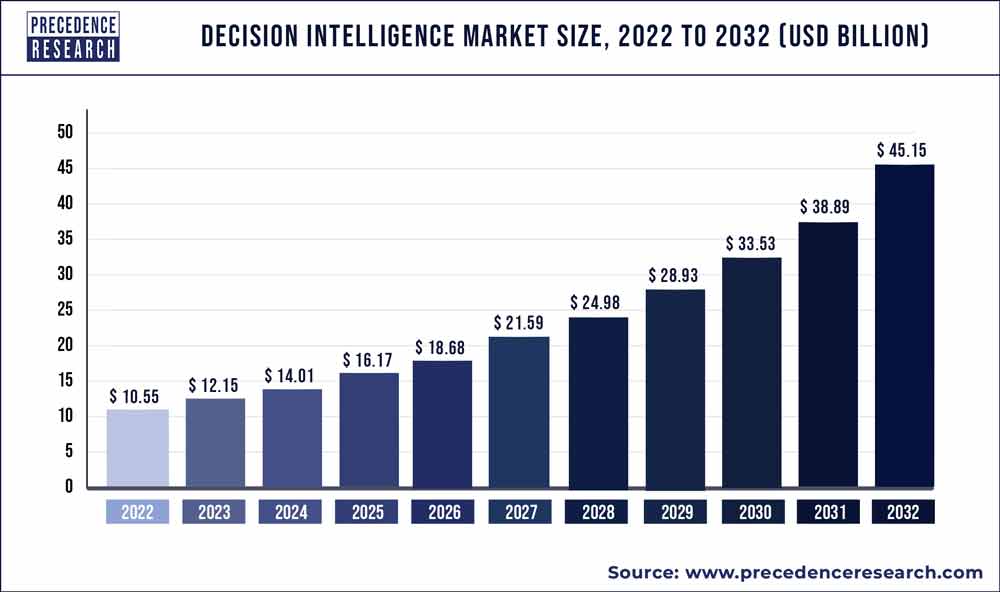 Access our Premium Real Time Data Intelligence Tool, Visit: Precedence Statistics
Key Takeaways:
North America has held the biggest revenue share 43% in 2022.
By Deployment Mode, the on-premises segment has held a maximum revenue share of 63% in 2022.
By Deployment Mode, the cloud segment is expected to expand at a remarkable CAGR of 13.1% between 2023 and 2032.
By Component, the solutions segment contributed more than 39% of revenue share in 2022.
By Component, the services segment is predicted to grow at the fastest CAGR over the projected period.
By Enterprise Size, the large enterprise segment held the highest revenue share of 72% in 2022.
By Enterprise Size, the small & medium enterprises segment is expanding at a CAGR of 15.9% between 2023 and 2032.
By Industry Vertical, the healthcare segment captured a revenue share of 18.1 % in 2022.
By Industry Vertical, the IT & telecom segment is expected to grow at a remarkable CAGR of 19.8% between 2023 and 2032.
Market Overview:
The decision intelligence market represents the flourishing realm dedicated to leveraging cutting-edge technologies like artificial intelligence, machine learning, and data analytics to enhance the art of decision-making across diverse industries. It encompasses the development of sophisticated tools and platforms that empower organizations to acquire, scrutinize, and decipher data, enabling them to make judicious choices, optimize their operational processes, and prognosticate future outcomes.
Decision Intelligence solutions find utility across sectors like finance, healthcare, supply chain management, and marketing, facilitating businesses in gaining a competitive edge by converting data into actionable and strategic insights. This market's growth is fueled by the escalating significance of data-centric decision-making in today's intricate and competitive business environment.
Growth Factors:
One noteworthy trend prevailing in the decision intelligence market is the escalating embrace of data-centric decision-making methodologies. Corporations are increasingly realizing the immense value residing within data, propelling the demand for decision intelligence solutions. Furthermore, the proliferation of IoT (Internet of Things) devices has led to a deluge of data, creating expanded opportunities for the application of decision intelligence. Concurrently, the relentless advancement in machine learning algorithms and natural language processing is amplifying the capabilities of decision intelligence systems, rendering them more efficient and precise.
Several factors are propelling the decision intelligence Industry forward. Firstly, the imperative for businesses to remain agile and adaptable amid swiftly shifting market dynamics fosters the adoption of decision intelligence solutions. Secondly, the surge in big data volume and the mounting intricacies in decision-making processes within our interconnected world fuel robust demand for data analytics tools. Lastly, the COVID-19 pandemic has underscored the critical significance of data-driven decision-making in crisis management and readiness, further amplifying the market's growth trajectory.
Despite its promising prospects, the decision intelligence market grapples with certain challenges. A primary hurdle pertains to the intricacy of integrating these technologies into existing infrastructures, demanding substantial time and resources. Concerns regarding data privacy and security persist prominently, and organizations must navigate the regulatory terrain meticulously. Moreover, the scarcity of skilled professionals proficient in decision intelligence technologies poses an impediment.
Within the decision intelligence industry, myriad business opportunities are ripe for the taking. Firms specializing in crafting user-friendly, scalable, and adaptable decision intelligence solutions are poised for substantial expansion. Service providers offering consultancy, training, and support for entities embarking on decision intelligence system implementation also hold promising prospects. Furthermore, as diverse industries increasingly discern the potential benefits of data-driven decision-making, opportunities for forging partnerships and collaborations to tailor solutions for specific sectors are abound.
In synthesis, the decision intelligence sector is undergoing remarkable expansion owing to the escalating appetite for data-driven decision-making, technological strides, and the growing complexity of business operations. While challenges such as implementation intricacies and data safeguarding persist, enterprises capable of delivering innovative solutions and comprehensive support services stand to reap the rewards from the multitude of opportunities this market presents.
Report Scope of the Decision Intelligence Market:
| | |
| --- | --- |
| Report Coverage | Details |
| Market Size in 2023 | USD 12.15 Billion |
| Market Size by 2032 | USD 45.15 Billion |
| Growth Rate from 2023 to 2032 | CAGR of 15.7% |
| Largest Market | North America |
| Base Year | 2022 |
| Forecast Period | 2023 to 2032 |
| Segments Covered | By Component, By Deployment Mode, By Enterprise Size, and By Industry Vertical |
| Regions Covered | North America, Europe, Asia-Pacific, Latin America, and Middle East & Africa |

Market Dynamics:
Driver:
Advanced analytics
The burgeoning market of decision intelligence is experiencing substantial growth, largely propelled by the influential role played by advanced analytics. These cutting-edge analytical methodologies, enriched by the prowess of artificial intelligence, machine learning, and predictive modeling, stand as a driving force in reshaping decision-making processes across various sectors. First and foremost, advanced analytics serves as a catalyst for organizations to delve deeper into their data reservoirs, unveiling intricate patterns, emerging trends, and hidden correlations that traditional approaches might overlook.
This newfound clarity empowers enterprises to make decisions with a higher degree of precision and foresight. Furthermore, advanced analytics offers the capability to predict future outcomes with remarkable precision, revolutionizing strategic planning. Decision intelligence solutions, fortified by advanced analytics, can anticipate market dynamics, customer behaviors, and potential risks, facilitating proactive adjustments in strategies and risk mitigation. Real-time data analysis, made possible by advanced analytics, provides an invaluable edge for organizations in swiftly responding to dynamic conditions.
This agility is particularly advantageous for effective crisis management and the timely seizing of emerging opportunities. Additionally, as advanced analytics technologies evolve, they become increasingly accessible and user-friendly, democratizing their utility across a broader spectrum of businesses. This broadening reach is a key driver of market growth, as organizations across various industries acknowledge the pivotal role of advanced analytics in gaining a competitive edge and enhancing operational efficiency in today's business landscape.
Restraints:
Complex implementation
The intricate nature of implementing decision intelligence solutions presents a substantial impediment to the market's growth. The challenges associated with seamlessly integrating these technologies into existing organizational structures can be formidable. Moreover, the intricacy of these implementations can lead to unforeseen cost escalations. Budgets can quickly spiral out of control as unexpected hurdles arise during the integration process, imposing a heavy financial burden, especially on smaller enterprises.
Additionally, the necessity for specialized expertise exacerbates the complexity. Organizations frequently require highly skilled professionals capable of navigating the intricate nuances of decision intelligence technology. Yet, the recruitment and retention of such talent can pose significant challenges, further complicating the implementation process. Lastly, the fear of implementation failure can dissuade certain organizations from embracing Decision Intelligence solutions. The potential for setbacks and challenges during implementation may deter investments in technology perceived to carry such risks. Collectively, these complexities act as formidable barriers, inhibiting market growth by deterring potential adopters and decelerating the adoption rate of decision intelligence solutions across various industries.
Opportunities:
Operational efficiency
Operational efficiency stands as a paramount avenue for creating opportunities within the decision intelligence market. Organizations, driven by the imperative to optimize resource utilization, reduce costs, and streamline processes, are increasingly turning to decision intelligence solutions. These solutions offer the potential to dissect operations with unparalleled precision, identifying bottlenecks, inefficiencies, and areas for improvement. Moreover, the agility afforded by Decision Intelligence in adapting to changing market dynamics and demand fluctuations further underscores its role in operational excellence. As businesses continue to prioritize efficiency in today's competitive landscape, the pursuit of operational optimization through decision intelligence remains a prominent opportunity for market growth and innovation.
Impact of COVID-19:
The COVID-19 pandemic had a significant impact on the decision intelligence sector. It accelerated the adoption of data-driven decision-making as organizations sought to navigate unprecedented challenges. Decision Intelligence played a pivotal role in crisis management, enabling real-time data analysis for informed responses. However, some sectors faced delays in implementation due to budget constraints and disruptions caused by the pandemic. Overall, the crisis underscored the importance of Decision Intelligence in agile decision-making, crisis response, and long-term resilience planning, fueling its growth as businesses increasingly recognize its value in an ever-changing landscape.
Segments Insight:
Deployment Mode Insights:
According to the Deployment Mode, the on-premises sector has held 63% revenue share in 2022. The on-premises segment holds a major share in the market due to several factors. Many enterprises prefer on-premises solutions for data security and compliance reasons, as they retain direct control over sensitive information. Additionally, industries with stringent regulatory requirements, like finance and healthcare, often opt for on-premises setups. Moreover, legacy systems and infrastructure investments can make migration to cloud-based solutions challenging, keeping organizations reliant on on-premises options. While cloud adoption is on the rise, the on-premises segment remains a substantial choice for those prioritizing data control, compliance, and seamless integration with existing systems.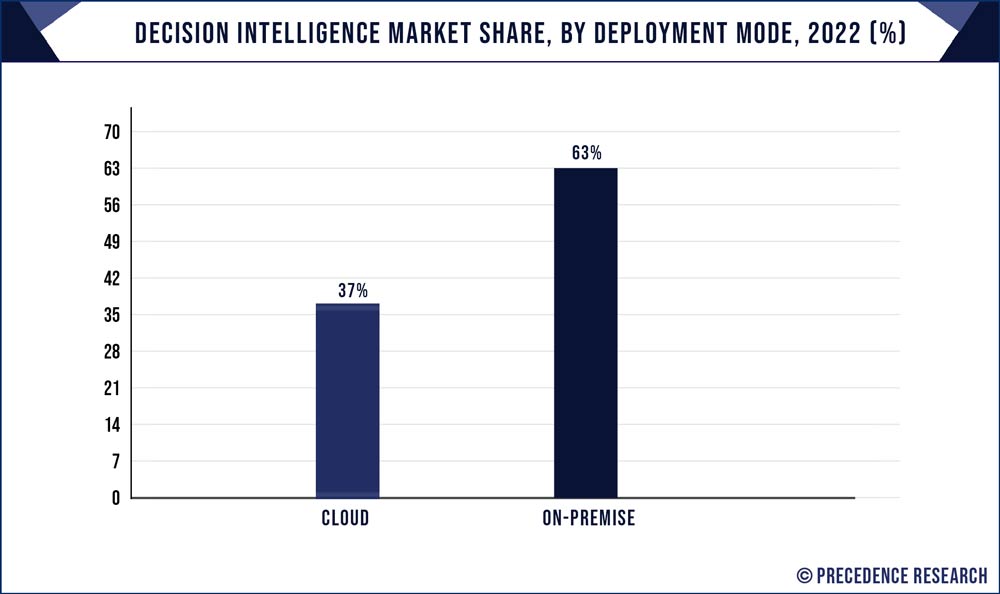 The cloud sector is anticipated to expand at a significantly CAGR of 13.1% during the projected period due to its scalability, accessibility, and cost-efficiency. Cloud-based solutions offer organizations the flexibility to deploy and scale Decision Intelligence tools without the need for significant upfront investments in hardware and infrastructure. Additionally, they enable remote access to data and analytics, facilitating real-time decision-making, especially crucial in today's remote working environment. Cloud solutions also provide seamless integration with other applications and services, making them a preferred choice for businesses seeking agile and scalable decision intelligence solutions, thus driving their dominance in the market.
Component Insights:
Based on the component, solutions is anticipated to hold the largest market share of 39% in 2022.
The solutions segment holds a major share in the market due to the fundamental role it plays in addressing specific business needs. Decision intelligence solutions provide organizations with the tools and technologies necessary to collect, analyze, and act upon data effectively. These solutions are tailored to diverse industries and applications, allowing businesses to make data-driven decisions, optimize operations, and gain a competitive edge. As organizations increasingly prioritize data-driven strategies, the demand for comprehensive growth, contributes significantly to the segment's dominant market share.
On the other hand, the services sector is projected to grow at the fastest rate over the projected period. The services segment holds a major growth rate in the market because it plays a crucial role in the successful implementation and ongoing support. Organizations often require specialized expertise for consulting, customization, training, and maintenance. Service providers offer tailored solutions that align with specific business needs, ensuring optimal utilization of Decision Intelligence tools. Additionally, the services segment helps address the shortage of in-house talent, making it easier for businesses to harness the power of decision intelligence effectively, driving its adoption and market dominance in this segment.
Enterprise Size Insights:
The large enterprise Sector segment held the largest revenue share of 72% in 2022. The large enterprise segment commands a major share in the market due to its substantial resources and complex operational needs. Large enterprises have the financial capacity to invest in advanced decision intelligence solutions, enabling them to optimize intricate processes, enhance decision-making, and gain a competitive edge. Additionally, these organizations often generate vast amounts of data, making Decision Intelligence a crucial tool for extracting insights. Moreover, large enterprises are typically early adopters of technology trends, further solidifying their dominance in driving market growth and innovation.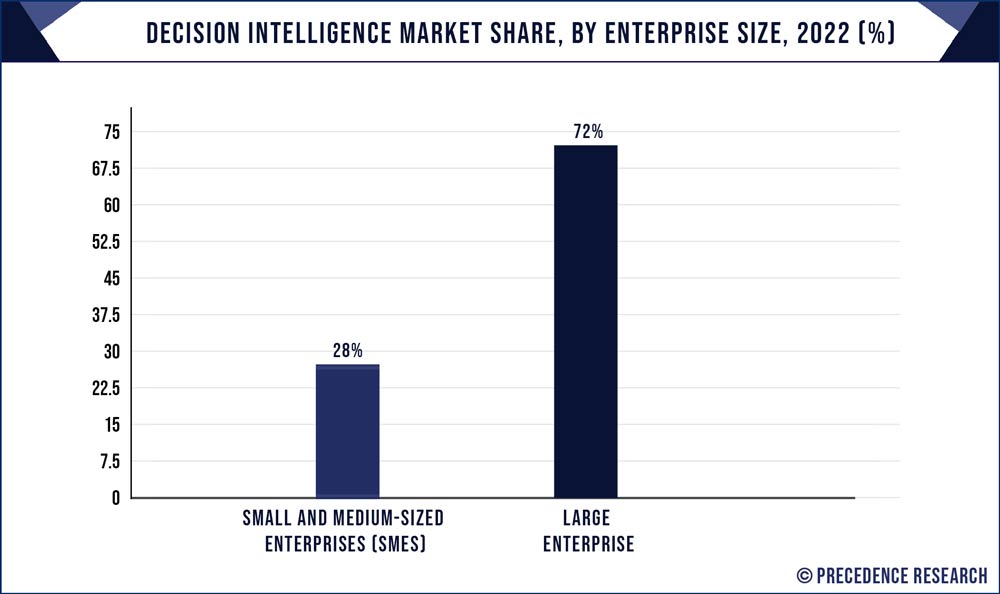 The small & medium enterprises sector is anticipated to grow at a significantly faster rate, registering a CAGR of 15.9% over the predicted period. Small and medium enterprises (SMEs) hold significant growth in the market because these businesses increasingly recognize the competitive advantage offered by data-driven decision-making. Unlike larger enterprises, SMEs often have more agility to adopt and implement. They find these solutions cost-effective and adaptable, helping them optimize operations, enhance customer experiences, and remain competitive in dynamic markets. Moreover, as technology providers tailor solutions to SMEs' specific needs and budget constraints, this segment continues to contribute significantly to the market's growth and evolution.
Industry Vertical Insights:
The healthcare sector has generated revenue share of 18.1% in 2022. The healthcare segment holds a significant share in the decision intelligence market due to its critical need for data-driven decision-making. Decision Intelligence solutions offer healthcare providers the ability to enhance patient care through personalized treatments, optimize resource allocation, and improve operational efficiency. Additionally, these solutions aid in medical diagnosis, treatment planning, and predictive analytics, resulting in better patient outcomes. The healthcare sector's increasing reliance on advanced technologies to address complex challenges and deliver high-quality care has propelled its substantial presence in the market.
The IT & telecom sector is anticipated to grow at a significantly faster rate, registering a CAGR of 19.8% over the predicted period. The IT and telecom segment holds significant growth in the decision intelligence market due to its intrinsic reliance on data-driven decision-making. These industries require real-time analysis for network optimization, cybersecurity, and customer experience enhancement. Decision intelligence provides crucial insights into network performance, threat detection, and predictive maintenance. Additionally, the rapid technological advancements and data proliferation within IT and telecom create a fertile ground for decision intelligence applications. As these sectors prioritize efficiency and customer satisfaction, they continue to drive substantial demand.
Regional Insights:
The U.S. decision intelligence market size was valued at USD 2.72 billion in 2022 and is projected to surpass around USD 11.84 billion By 2032, expanding at a CAGR of 15.9% between 2023 and 2032.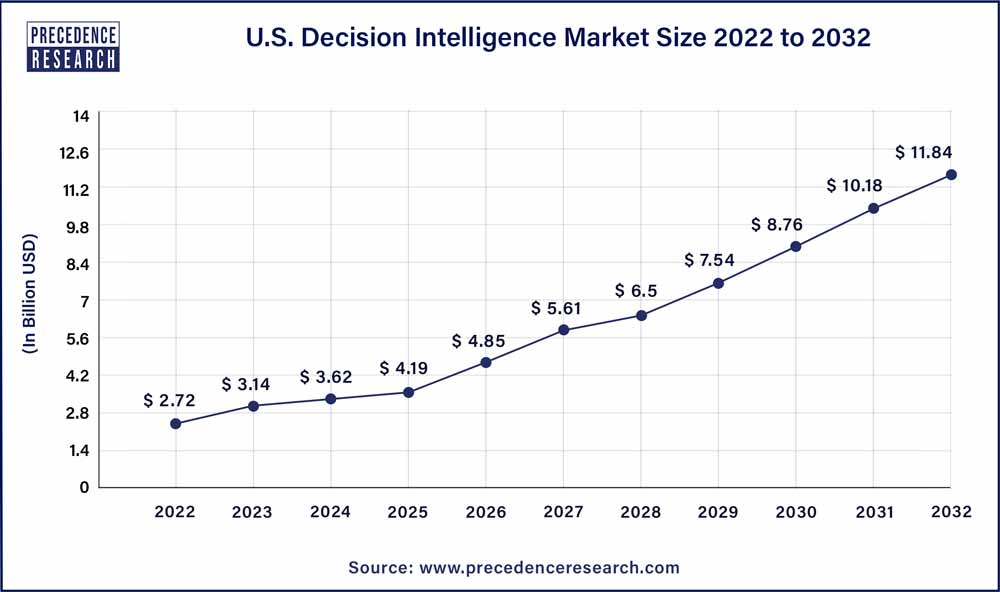 North America has held largest revenue share 43% in 2022.
North America commands a significant share in the decision intelligence sector due to several key factors.
Firstly, the region is home to a plethora of technology giants and innovative startups that drive the development and adoption of Decision Intelligence solutions.
Secondly, a robust IT infrastructure, coupled with a data-centric business environment, fosters a fertile ground for these technologies. Additionally, a heightened focus on data privacy and compliance in North America has propelled the demand for Decision Intelligence in various industries.
Lastly, a proactive approach to harnessing data for competitive advantage cements North America's dominant position in the global market.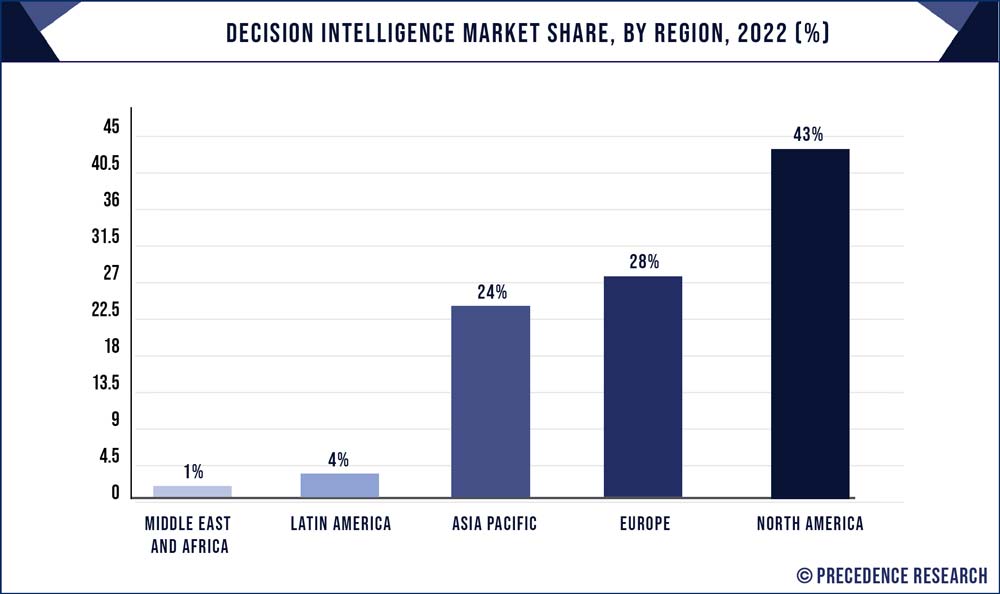 Asia-Pacific is estimated to observe the fastest expansion.
The Asia-Pacific region exerts a significant influence on the decision intelligence market for distinct reasons. With a burgeoning population and a swiftly growing digital ecosystem, this region boasts an immense reservoir of data. As businesses throughout Asia-Pacific progressively adopt data-centric decision-making practices, the appetite for decision intelligence solutions has surged notably.
Moreover, a wide spectrum of industries, spanning manufacturing, finance, and healthcare, are harnessing these technologies to secure a competitive edge. Concurrently, government-backed initiatives and investments in technology infrastructure further amplify the substantial market share, positioning Asia-Pacific as a thriving epicenter for the adoption and expansion.
Recent Developments:
In June 2022, Microsoft Collaborated with P&G. Through the partnership, P&G can digitize and integrate information from more than 100 production facilities worldwide and improve its edge computing, AI, and machine learning services for real-time visibility. Employees at P&G will be able to assess production data and use artificial intelligence to make fast decisions that enhance development and have an exponential effect.
In June 2022, IBM acquired Databand.ai. Through the acquisition, Databand.ai will be able to increase the scope of its observability capabilities enabling deeper connections with more open source and for-profit products that drive the modern data stack, with the additional resources made available by this purchase. Additionally, businesses will have complete control over how Databand.ai is used, whether as a software-as-a-service (SaaS) or a selfhosted subscription.
In April 2022, Sopra Steria and IBM launched the Sopra Steria Alive Intelligence (SSAI) offering. The IBM Watson Assistant, a customizable virtual agent for all fields, powers the Sopra Steria Alive Intelligence (SSAI) solution. This data is utilized to enhance decisionmaking and create new services that are tailored to the needs of consumers and users. The new artificial intelligence services will be accessible on Sopra Steria's Trusted Digital Platform in France for businesses and governmental organizations around Europe.
In March 2022, Provenir with Francisco Franch declared to assist the rising number of financial services businesses looking for AI-powered risk decisioning tools. Franch will oversee managing Spain's sales operations, company growth, and marketing plans.
Key Market Players:
Board International
Domo, Inc.
Google LLC
H2O.ai.
International Business Machines Inc.
Intel Corp.
Microsoft
Oracle
Provenir
Pyramid Analytics BV.
Segments Covered in the Report:
(Note*: We offer reports based on sub-segments as well. Kindly, let us know if you are interested)
By Component
Platform
Solutions
Services
By Deployment Mode
By Enterprise Size
Large Enterprise
Small and Medium-sized Enterprises (SMEs)
By Industry Vertical
Energy and Utilities
BFSI
IT and Telecom
Government
Healthcare
Manufacturing
Retail and Consumer Goods
Others
By Geography
North America
Europe
Asia-Pacific
Latin America
Middle East and Africa