The global dermatology lasers market size was evaluated at USD 1.25 billion in 2022 and is expected to touch around USD 2.54 billion by 2032, growing at a noteworthy CAGR of 7.4% from 2023 to 2032.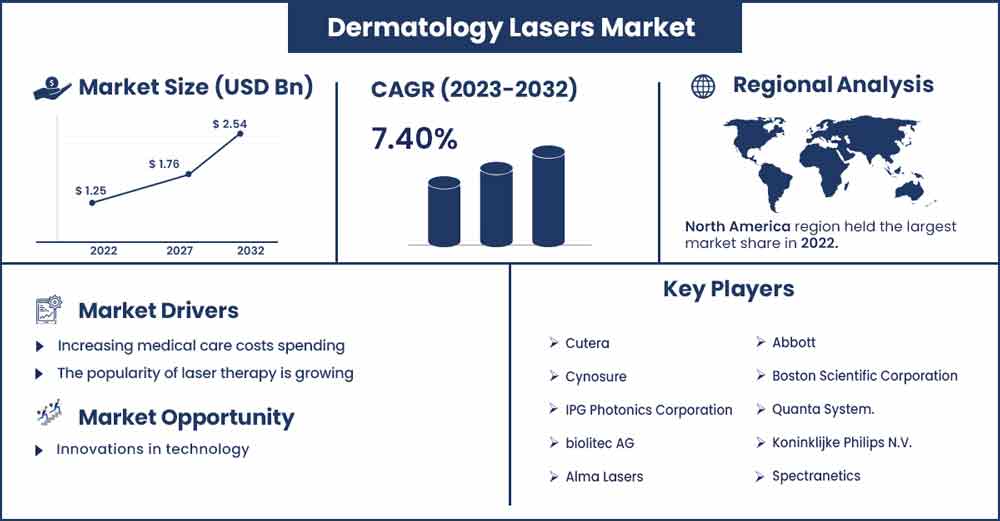 One of the most crucial components of a dermatologist's toolkit for the treatment of skin problems is dermatology lasers. The prevalence of skin cancer is growing, cosmetology research is expanding, and people are becoming more aware of sophisticated cosmetic dermatology treatments like dermabrasion to eliminate acne scars and surgical scars. These factors are all contributing to the market's rise.
The World Health Organization estimates that three million non-melanoma skin cancers and over 13, 000 melanoma skin cancers develop year throughout the world, with skin cancer accounting for one in three cancer diagnoses. Numerous uses for dermatological lasers include tattoo removal, skin resurfacing, and hair removal. Lasers have been shown to be effective in treating both primary skin disorders and cutaneous cancers in addition to their many cosmetic uses. Manufacturers have created novel laser equipment for the treatment of autoimmune disorders such as vitiligo, psoriasis, and alopecia areata as a result of the expanding number of dermatological laser applications.
The low-intensity laser equipment can also be used to treat wounds. Without harming nearby cells, lasers may be steered to target specific cells. An significant aspect driving the growth of the worldwide dermatology lasers market is people's growing desire to appear better. Additionally, an unhealthy lifestyle, increasing environmental pollution, an increase in hair-related difficulties, an increase in skin illnesses, and effective laser treatments with minimal side effects. Additionally, during the projection period, the demand for minimally invasive treatments is expected to increase along with the adoption of technologically sophisticated surgery.
The market development rate will, however, be slowed down by inappropriate and unfavorable reimbursement scenarios in developing and undeveloped nations. The procedure's high expenses will also provide further difficulties for the market. The widespread accessibility of alternative procedures and treatments will further slow the market's rate of expansion.
Regional Snapshots:
The global market for dermatological lasers is anticipated to increase significantly during the next years. Throughout the forecast period, North America is expected to lead the worldwide dermatology lasers market in terms of value. The market for dermatological lasers in North America is expanding as a result of increased public awareness of the effects of aging, bad lifestyle choices, the prevalence of skin cancer, etc. The predicted term is likely to see tremendous growth in Asia Pacific. The rise in skin-related surgeries, the popularity of laser hair removal, the rise in cancer cases, among other things, are some of the causes boosting the market for dermatological lasers in the area.
Dermatology Lasers Market Report Scope:
| | |
| --- | --- |
| Report Coverage | Details |
| Market Revenue in 2023 | USD 1.34 Billion |
| Projected Forecast Revenue in 2032 | USD 2.54 Billion |
| Growth Rate from 2023 to 2032 | CAGR of 7.4% |
| Largest Market | North America |
| Base Year | 2022 |
| Forecast Period | 2023 to 2032 |
| Regions Covered | North America, Europe, Asia-Pacific, Latin America, and Middle East & Africa |

Report Highlights:
Because of its high quality of living and growing awareness of skin problems, North America is expected to dominate the market for dermatological laser goods, accounting for more than 50% of the worldwide value.
The dermatology and cosmetic clinics sector now makes up more than two-thirds of the market value and will continue to dominate throughout the anticipated period due to the rising demand among millennials for skin care experts' services.
Some of the factors that will contribute to the development of profitable market growth potential include expanding medical tourism and growing self-consciousness about face appearance.
Solid-state lasers will still account for more than half of the market's value because of their capacity to produce near-infrared wavelengths that are easily absorbed by the chromospheres of melanin and hemoglobin and penetrate deeply into the skin.
Predictions indicate that in 2022, hospitals will have 19.2% of the global market share, while ambulatory surgical centers will control 11.2%.
As a consequence of technological advancements, decreased treatment costs, and higher average expenditures for providing healthcare to a population, the market for dermatological lasers is expanding.
Market Dynamics:
Drivers:
The increasing consumer awareness of aesthetic operations is a major growth factor for the worldwide market for dermatological lasers. People are becoming more aware of cosmetic surgery and other forms of beauty. Such operations are becoming more popular with those who seek to enhance or restore their natural attractiveness. The industry has expanded as a result of expanding cosmetology research and public knowledge of cutting-edge cosmetic procedures including dermabrasion to eliminate acne scars and surgical scars.
Restraints:
The market for dermatological medical lasers is anticipated to be hampered by alternatives to laser skin treatment. The market's expansion is anticipated to be hampered by the rising popularity of alternative skin-treatment techniques such the usage of medications, chemicals, microneedling, and Botox surgery. For example, a poll of 64 physicians conducted by eMediHealth in October and November 2019 found that medication therapy, such as isotretinoin and retinoid, had a greater success rate for treating acne, with 75% of dermatologists favoring it over laser therapy. Thus, it is anticipated that the need for alternatives would limit market expansion.
Opportunities:
"Increased Skin Disease Prevalence Drives Demand for Dermatology Laser Equipment. Concern over how people's views of skin diseases affect their physical appearance as well as quality of life has persisted. For instance, more than 60 percent of patients with psoriasis report that the disorder has an impact on their everyday lives, which indicates that it has a major impact on their quality of life.
As the prevalence of skin cancer increases, so will the need for laser treatments. Dermatology laser treatments are hence necessary, offering market participants an alluring potential. Despite the tattoo trend, many people choose to have their tattoos removed for aesthetic or medical reasons. As a consequence, there has been a noticeable rise in demand for thesh tattoo removal lasers, and this trend is anticipated to continue.
Challenge:
Despite its efficiency, laser therapy in dermatology may occasionally cause side effects, which poses a significant barrier to the market's expansion. Laser treatments can have both long and short term effects when administered by unskilled professionals, even if the intensity varies from person to person.
The face rejuvenation technique may cause the skin to become irritated, swollen, and red. The redness can last for months whereas the other couple of symptoms may go rapidly, and underlying skin conditions are more serious.
The skin may become more dark than it was before the surgery as a result of hyperpigmentation brought on by ablative laser skin resurfacing. Additionally, there is a chance that using ablative lasers to resurface close to the lower eyelid could expose the eyelid to the laser, which might cause temporary vision issues. However, the high price of therapy and the absence of proper reimbursement standards in some nations are anticipated to impede market growth.
Recent Developments:
SemiNex Corporation, a U.S.-based high-diode manufacturer, and Dermal Photonics Corporation, a producer of Nira skincare, a professional at-home laser technology, announced their partnership in March 2020. SemiNex Corporation hopes to improve dermatological procedures using home-based lasers as a result of this agreement. Dermal Photonics is a US-based manufacturer of medical equipment.
The FDA approved LaserOptek's PicoLO picosecond laser, which is intended to repair scars and rejuvenate skin, in February 2019. Consequently, the market for dermatology medical lasers is predicted to see a new trend in the usage of picosecond lasers in dermatological procedures.
Major Key Players:
Cutera
Cynosure
IPG Photonics Corporation
biolitec AG
Alma Lasers
Abbott
Boston Scientific Corporation
Quanta System.
Koninklijke Philips N.V.
Spectranetics
Fotona
CryoLife, Inc.
Ellex Medical
Danaher
Carl Zeiss AG
Bausch Health Companies Inc.
Candela Corporation
Canfield Scientific, Inc.
Shenzhen Mindray Bio-Medical Electronics Co., Ltd.
Market Segmentation:
By Product
Solid-state Dermatology Lasers
Gas Dermatology Lasers
Pulsed Dye Dermatology Lasers
By End User
Hospital
Ambulatory Surgical Centres
Dermatology and Cosmetic Clinics.
By Indication
Hair Removal
Facial Rejuvenation
Tattoo Removal
Scar Treatment
Skin Cancer
Psoriasis
Vitiligo
Varicose Veins
Actinic Keratosis
Wound Treatment
By Technology
Ablative Dermatology Lasers
Non-ablative Dermatology Lasers
By Application
Buy this Research Report@ https://www.precedenceresearch.com/checkout/2422
You can place an order or ask any questions, please feel free to contact at sales@precedenceresearch.com | +1 9197 992 333