The global diabetic kidney disease market size was evaluated at USD 2.5 billion in 2022 and is expected to attain around USD 4.19 billion by 2032, growing at a CAGR of 5.3% from 2023 to 2032.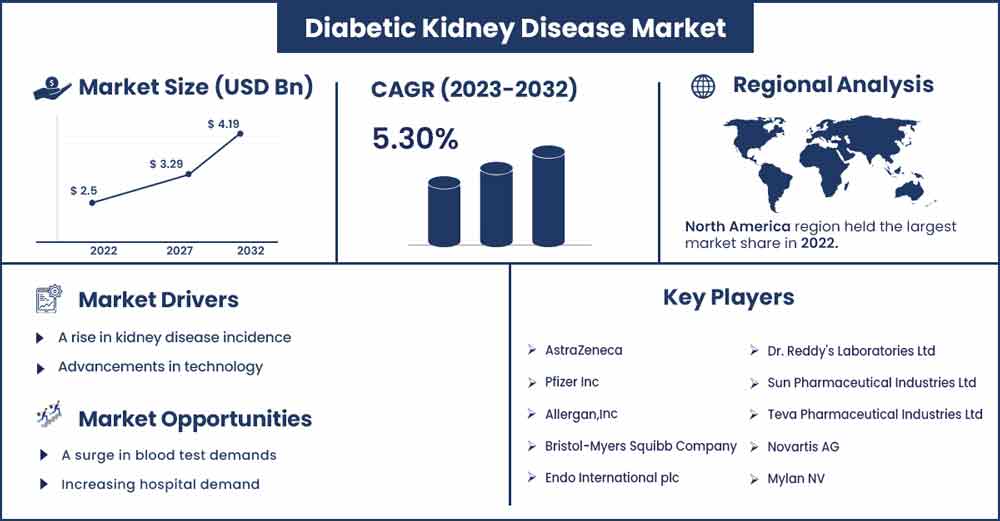 Diabetic nephropathy, a disease of the renal glomerulus, is one of the most severe consequences for diabetic patients in terms of morbidity and death. Diabetes-related nephropathy is mainly characterized by microalbuminuria, and Macroalbuminuria is the presence of more than 300 milligrams of albumin in a single day's worth of urine. Diabetes patients, whether they have type 1 or type 2, are more likely to experience kidney-related problems that reduce their kidneys' average ability to remove waste products and extra fluid from the body.
Kidney damage from diabetes can lead to organ failure. Diabetic patients' kidney disease progresses due to metabolic abnormalities brought on by diabetes and high blood sugar levels: early diagnosis and therapy aid in managing the condition by halting additional kidney damage. Kidney failure, a dangerous and fatal illness, can result if untreated. Nephropathy brought on by diabetes is a significant factor in the development of end-stage renal failure and chronic kidney disease.
Report Highlights:
Based on type, the market is divided into Type 1 and Type 2. During the projected period, Type 2 is anticipated to maintain its market dominance with the highest market share. Due to the widespread occurrence of diabetic nephropathy (DN) in type 2 diabetic people aged 20 and older.
By treatment, Antioxidant Inflammation Modulators, Calcium Channel Blockers, and Others are the market segments. The Angiotensin-Converting Enzyme (ACE) Inhibitors sector acquired the largest market share owing to the safety and effectiveness of particular diabetic nephropathy-related symptoms.
By distribution channel, the retail pharmacy and drug store segment contributed the highest revenue in the diabetic kidney disease market in 2022. During the forecast period, the online provider segment will likely see the highest CAGR, owing to the rise in the population suffering from diabetes and the geriatric population.
Diabetic Kidney Disease Market Report Scope:
| | |
| --- | --- |
| Report Coverage | Details |
| Market Revenue in 2023 | USD 2.63 Billion |
| Projected Forecast Revenue in 2032 | USD 4.19 Billion |
| Growth Rate from 2023 to 2032 | CAGR of 5.3% |
| Largest Market | North America |
| Base Year | 2022 |
| Forecast Period | 2023 to 2032 |
| Regions Covered | North America, Europe, Asia-Pacific, Latin America, and Middle East & Africa |

Regional Snapshot:
The United States, Canada, and Mexico are the major nations covered in the global kidney disease market report. Other significant countries include Germany, France, the United Kingdom, the Netherlands, Belgium, Switzerland, Italy, Russia, Spain, Turkey, Japan, China, South Korea, India, Malaysia, Singapore, Thailand, Australia, Indonesia, the Philippines, Saudi Arabia, the United Arab Emirates, South Africa, Egypt, and Israel.
Due to rising government and pharmaceutical organization efforts to raise awareness of kidney disease and the existence of generic manufacturers, Europe has experienced the highest increase in the market worldwide.
As technology for treating renal disorders develops and pharmaceutical companies ramp up their efforts to create new formulations, North America now controls the market.
The research's country component includes a list of regulation changes in the domestic market and specific market-impacting factors that affect the market's present and future propensity. When giving prediction analysis of the country data, it also takes into account the presence and accessibility of international brands as well as the difficulties they encounter due to strong or weak competition from domestic and local brands, the influence of domestic tariffs, and trade routes.
Market Dynamics:
Market Drivers:
A rise in kidney disease incidence
The global market for kidney medications is expanding due to the increased prevalence of chronic kidney disease worldwide. Nearly 10% of the world's population suffers from chronic kidney disease, according to figures kept by the National Kidney Foundation (CKD). Around 1.13 billion individuals worldwide have hypertension, according to WHO figures for 2019. Approximately 75% of kidney failure between 2014 and 2016 was caused by diabetes and hypertension. Thus, it stimulates market expansion.
Advancements in technology
Numerous improvements in diagnostic and therapeutic techniques have boosted market expansion. For instance, the National Intensive Renal Care Reserve, which included equipment capable of delivering CRRT, IHD, and SLED/PIRRT, was established by FMCNA in April 2020. Chronic Kidney Disease (CKD), which can develop over time and culminate in end-stage kidney disease where the kidney can no longer operate independently, is caused by any such disorders that diminish kidney function.
Opportunities:
A surge in blood test demands
A blood test, which aids in understanding how effectively the kidneys function, is among the primary difficulties in diagnosing kidney disease. It gauges blood levels of a waste substance called creatinine. Additionally, CKD is prevalent and rising in many regions of the world; there will likely be a rise in demand for these tests. End-stage renal disease (ESRD) is prevalent worldwide and is increasing quickly. As a result, it expands the possibilities for market expansion.
Increasing hospital demand
Another factor influencing market expansion is the abundance of hospitals and well-established healthcare infrastructure in the US. For instance, according to the American Hospital Association, the United States has 625 nonfederal psychiatric hospitals, 208 nonfederal government hospitals, and 6090 community hospitals. A significant rise in acute kidney disease hospital admissions drives demand for dialysis and transplants and market growth.
Market Restraints:
Kidney disease drugs side effects
Throughout the projection period, the adverse effects of these kidney medications may restrain the market's expansion. Outcomes, including anorexia, fever, and rashes, can hinder market expansion.
High cost
The high cost of these agents restricts the expansion of the market. Corticosteroids, diuretics, ACE inhibitors, and immunosuppressive therapy treatment restrains the market's development.
This global kidney disease market report details recent developments, trade laws, import-export analysis, value chain optimization, production analysis, the effects of domestic and localized market participants, market share, changes in market laws, analyses opportunities in terms of emerging revenue pockets, market size, strategic market growth analysis, application niches and dominance, product approvals, category market growths, and product launches.
Recent Developments:
On May 2021, Novartis acquired cellerys, a research therapy startup from Zurich, to fight multiple sclerosis.
On January 2021, Mitsubishi Tanabe Pharma Corp. made a licensing agreement with Foods International Co. Ltd. to form a candidate antibody to cure antibody diseases.
On April 2021, the treatment of chronic kidney diseases in people at risk of progression with and without type-2 diabetes was approved in the US by Farxiga.
On October 2019, the United States designated Fresenius Medical Care as a breakthrough device manufacturer. A new hemodialysis device that promises to prevent blood clotting without the use of drugs has received approval from the FDA.
Major Key Players:
AstraZeneca
Pfizer Inc
Allergan,Inc
Bristol-Myers Squibb Company
Endo International plc
Dr. Reddy's Laboratories Ltd
Sun Pharmaceutical Industries Ltd
Teva Pharmaceutical Industries Ltd
Novartis AG
Mylan NV
CiplaInc
Lupin
Aurobindo Pharma
Sanofi
Fresenius SE & Co. KGaA
F. Hoffmann-La Roche Ltd
Takeda Pharmaceutical Company Limited
Abbott (US.)
Market Segmentation:
By Type
Type 1 Diabetes
Type 2 Diabetes
By Treatment
Angiotensin Receptor Blockers (ARBs)
Angiotensin-Converting Enzyme (ACE) Inhibitors
Antioxidant Inflammation Modulator
Calcium Channel Blockers
Others
By Distribution Channel
Online Pharmacy
Hospital Pharmacy
Retail Pharmacy
Buy this Research Report@ https://www.precedenceresearch.com/checkout/2497
You can place an order or ask any questions, please feel free to contact at sales@precedenceresearch.com | +1 9197 992 333