The global digital diabetes management market size is predicted to surpass around US$ 90 billion by 2030 from USD 19.02 billion in 2021, growing at a notable CAGR of 18.85% during the forecast period from 2022 to 2030.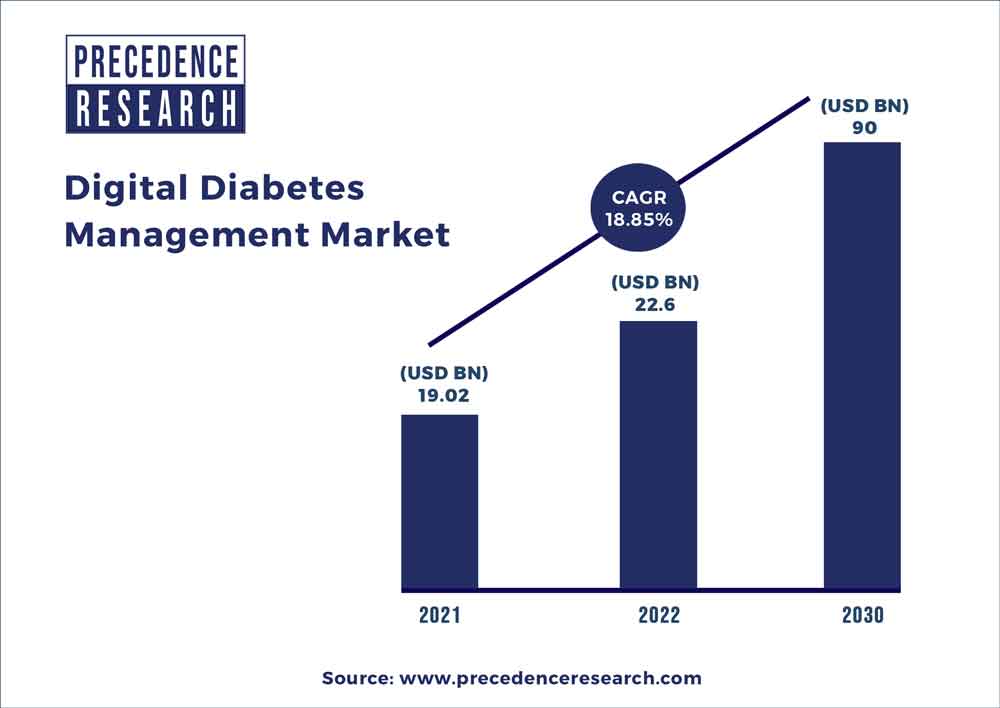 Artificial intelligence (AI) and its applications in diabetes have transformed the way to deal with the determination and the executives of this persistent condition. Standards of AI have been utilized to fabricate calculations to help prescient models for the gamble of creating diabetes or its subsequent inconveniences.
Advanced therapeutics have shown to be a laid-out mediation for the way of life treatment in the administration of diabetes. Patients are progressively being engaged in the self-administration of diabetes, and the two patients and medical care experts are profiting from clinical choice help. Computer-based intelligence permits nonstop and weight-free remote observation of patients' side effects and biomarkers. Moreover, web-based entertainment and online networks upgrade patient commitment to diabetes care. Specialized propels have assisted with advancing asset use in diabetes. Together, these shrewd specialized changes have created better glycemic control with decreases in fasting and postprandial glucose levels, glucose trips, and glycosylated hemoglobin.
Digital Diabetes Management Market Report Scope
| | |
| --- | --- |
| Report Coverage | Details |
| Market Size in 2021 | USD 19.02 Billion |
| Market Size by 2030 | USD 90 Billion |
| CAGR From 2022 to 2030 | 18.85% |
| Base Year | 2021 |
| Forecast Period | 2022 to 2030 |
| Largest Market | North America |
| Fastest Growing Region | Asia Pacific |
| Segments Covered | Product, Device Type, Patient Type, App, End-Use, and Geography |

Report Highlights
Based on the products & services, the Consistent Glucose Monitoring (CGM) frameworks section to develop at the most elevated CAGR during the gauge time frame. This is essential because these frameworks are insignificantly obtrusive when contrasted with regular blood glucose meters.
Based on the end-user, the self/home healthcare fragment is projected to develop at the most noteworthy CAGR during the gauge time frame. Mechanical headways in self/home consideration digital diabetes the executives' frameworks and stages have made them more precise, negligibly obtrusive, and simple to utilize. The presentation of CGM frameworks, insulin siphon treatment, applications, and administrations have expanded the interest for painless or negligibly obtrusive frameworks in-home consideration.
Regional Snapshot
In 2020, North America represented the biggest piece of the pie with 41.4%. Additionally, the U.S represented the biggest portion of 91.8% of the North American advanced diabetes the board market in 2020. This is ascribed to the rising commonness of diabetes, mechanical progressions in digital diabetes the executives' arrangements, expanding the number of cell phone clients in the country, the high entrance of advanced stages, developing reception of cloud-based venture answers for diabetes on the board, expanding usage of associated gadgets and applications for diabetes the executives, and the developing spotlight on working on the nature of care conveyed to patients.
Market Dynamics
Drivers
The technological advancement and integration of information technology in the healthcare sector
The accessibility of a few applications accessible on electronic application stores that can assist patients with checking their blood glucose levels, expanding mechanical headways and developments in the field, and ascending in the pervasiveness of diabetes worldwide are the main considerations driving digital diabetes the executive's market. The whenever anyplace nature of digital innovation empowers patients to address their medical problems by interfacing with the medical care group and sharing information and the rising need for a digital biological system of information-driven devices that can interface patients and their consideration group for better administration of diabetes speed up advanced diabetes the executives market development.
Restraints
The high expense of gadgets and the absence of repayment in agricultural nations
The expense of insulin conveyance gadgets, for example, cell phone-associated insulin siphons, is ~USD 4,500-6,500. Additionally, the typical selling cost of sensor-based consistent glucose screens is USD 1,000-1,400, with sensors requiring substitution like clockwork. Digital self-observing blood glucose meters cost around USD 15-20. Given the high beginning expense and the continuous utilization of related consumables (requiring rehashed buy), this puts progressed gadgets far off for a huge piece of end clients — especially those in non-industrial nations with an ominous repayment situation.
Opportunities
Expanding diabetes-related well-being consumption
Mechanical advancements in diabetes gadgets, for example, the presentation of top-of-the-line insulin siphons and pens are pushing the interest for these items. Driving makers are zeroing in on mechanical developments and the improvement of cutting-edge items to acquire a significant portion of the market. As far as diabetes the executives, the reception of cloud-based arrangements considers close steady observing of blood glucose levels; information can be put away securely in the cloud and handily recovered.
Challenges
Low entrance in creating economies
The entrance of mechanically progressed digital diabetes in the board stages is relatively less in non-industrial nations rather than in created nations. This is credited to the deficient foundation, hazy cross-country e-wellbeing plans, the need to defeat public vulnerability over information protection and security, hardships in accomplishing interoperability, absence of a prepared labor force in wellbeing informatics (and existing drives for its turn of events), and fewer techniques to accomplish local joining.
Recent Developments
In April 2022, Dexcom sent off Dexcom ONE gadget. The organization sent off the new Dexcom ONE Continuous Glucose Monitoring System in the UK.
In September 2021, Roche Diagnostics (Switzerland) sent off a far-off persistent observing arrangement, which is another component of the RocheDiabetes Care Platform, and utilizations its example recognition highlight.
In October 2020, LifeScan, Inc. (US) sent off OneTouch Solutions. This is all-encompassing digital wellbeing offering connecting individuals with diabetes to arrangements and backing from demonstrated specialists.
Key Players Of The Digital Diabetes Management Market
Bayer AG
Medtronic
Roche Diagnostics
Dexcom Inc. LifeScan Inc.
AgaMatrix
One Drop
Abbott Laboratories
Ascensia Diabetes Care
ARKRAY Inc
ACON Laboratories
Insulet Corporation
B. Braun Melsungen AG
Tandem Diabetes Care
Dottli
Ypsomed Holding AG
Becton Dickinson and Company
Glooko Inc.
DarioHealth
Care innovations
Market Segmentation
By Product
Devices

Smart Glucose Meters
Continuous Glucose Monitoring (CGM) Systems
Smart Insulin Pumps/Closed-loop Pumps & Smart Insulin Patches

Application

Diabetes & Blood Glucose Tracking Apps
Obesity & Diet Management Apps

Data Management Software & Platforms
Services
By Device Type
Handheld Devices
Wearable Devices
By Patient Type
By App
Digital Diabetes Management Apps
Weight & Diet Management Apps
By End-Use
Hospitals
Home Settings
Diagnostic Centers & Clinics
Regional Segmentation
North America
Europe
Asia-Pacific
Latin America
Middle East and Africa (MEA)
Full Report is Ready | Buy this Research Report @ https://www.precedenceresearch.com/checkout/1783
You can place an order or ask any questions, please feel free to contact at sales@precedenceresearch.com | +1 9197 992 333