The global digital health market size is anticipated to reach around USD 939.54 billion by 2032 up from USD 262.63 billion in 2022 with a CAGR of 13.1% between 2023 and 2032.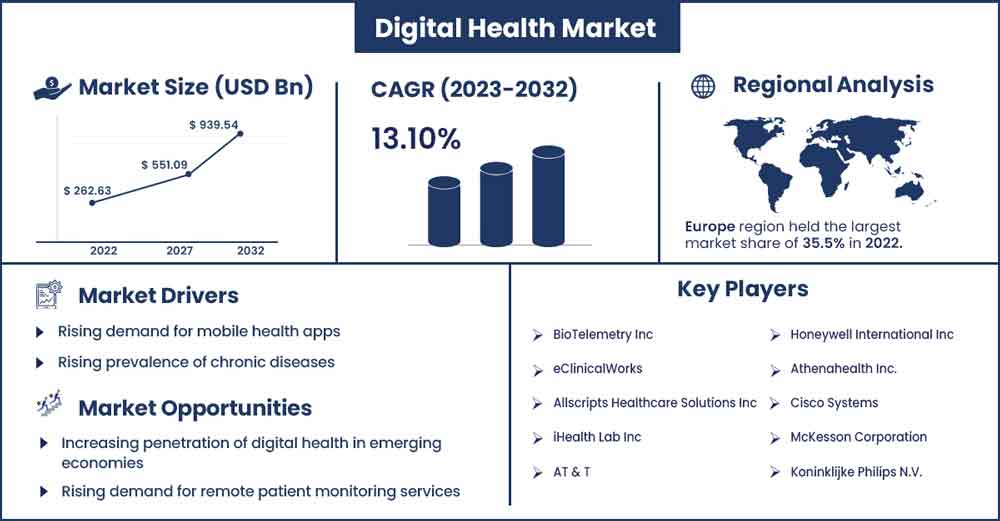 Market Overview
Incorporating technological advances and electronic communications into different healthcare operations is referred to as digital health. Improving patient treatment, disease management, and user's entire healthcare experience includes telemedicine, medical wearables, electronic health records including EMR and EHR healthcare apps, health analytics, and much more.
The first digitally based universal health care program in India, known as Rashtriya Swasthya Bima Yojana (RSBY), uses data from the state governments of Jharkhand and Chhattisgarh. RSBY, a smart-card-focused program, is India's first attempt at a digital healthcare system. As in the past, its advocates argued for its usage to offer high-quality healthcare at a lesser cost. The experiences of this plan have significant consequences for the digital healthcare scene in India.
Prevention of illness and prevention of diseases, safety for patients, ethics, interoperability, data security, intellectual property, privacy, patient engagement, cost-effectiveness, and affordability are all factors that are considered when using digital health appropriately. Digital mental health solutions are in high demand due to rising mental health and wellness awareness. The use of platforms and apps for treatment, stress reduction, and mindfulness exercises has grown. Technology has made significant strides, especially in wearables, sensors, mobile devices, and telecommunications infrastructure.
Over the past decade, World Bank has invested $4 billion in digital health for health information systems and digital governance.
The Ministry of Health and Family Welfare, India launched a scheme Ayushman Bharat Digital Mission in order to strengthen the delivery of advanced technologies in healthcare services. Over the period of two years, 45 crore Ayushman Bharat Health Accounts have been created across the nation.
In June 2023, The European Commission and the World Health Organization (WHO) declared the beginning of a historic collaboration in digital health in which the WHO will adopt the digital COVID-19 accreditation system of the EU to create a global system that will aid in facilitating global mobility and shield citizens around the world from present and potential health threats, including pandemics. The WHO Global Digital Health Certification Network (GDHCN), which will create digital products to promote improved health for all, has this as its first cornerstone.
Regional Snapshot
North America is expected to hold the dominating share of the digital health market throughout the forecast period. North America has a robust ecosystem of healthcare IT, high-speed internet, and other cutting-edge technological advancements. This offers a strong framework for creating and implementing digital health solutions. It draws large expenditures to the field of digital health. Venture capital and private equity investors are eager to support established businesses and new ones developing cutting-edge medical technology. Some of the world's top centers for innovation and technology are in the area, including Silicon Valley in California, which is at the forefront of creating cutting-edge digital health innovations.
Among all prominent market players in the region, eClinicalWorks, headquartered in the United States announced an investment in $800 million in cloud services, designed for clinical documentation and billing. The investment was made in October 2022, the company's revenue increased by 10% (year-on-year) in 2022. Additionally, the company has witnessed more than 450 million patient engagement notification on its platform.
On the other hand, n May 2022, OncoHealth, the dominating digital health firm devoted to oncology, declared that it has received strategic investments from McKesson Corporation and Arsenal Capital Partners. The assets will hold OncoHealth's innovation and distribution of its oncology-determined digital health solutions for cancer patients, and Arsenal will take a bulk ownership stake in the business.
Digital Health Market Report Scope:
| | |
| --- | --- |
| Report Coverage | Details |
| Market Revenue in 2023 | USD 309.93 Billion |
| Projected Forecast Revenue by 2032 | USD 939.54 Billion |
| Growth Rate from 2023 to 2032 | CAGR of 13.1% |
| Largest Market | North America |
| Base Year | 2022 |
| Forecast Period | 2023 to 2032 |
| Regions Covered | North America, Europe, Asia-Pacific, Latin America, and Middle East & Africa |

Market Dynamics
Drivers
Rising prevalence of chronic diseases
Monitoring vital signs, medication compliance, and lifestyle choices is frequently necessary for chronic diseases. Patients can track their health parameters in real time and share this information with healthcare practitioners thanks to digital health technology like wearables, smartphone apps, and remote monitoring equipment. Early chronic disease detection and intervention are made more accessible by digital health technologies. Wearable technology, for instance, can monitor indications, including blood pressure, glucose levels, and heart rate variability, enabling prompt alterations to treatment regimens and lifestyle choices.
For instance, In India, a minimum of one chronic illness has been estimated to impact roughly 21% of the older population. In rural locations, 17% of older adults have chronic medical conditions, compared to 29% in metropolitan areas. Diabetes and hypertension make up around 68% of all chronic disorders.
Rising need to curb healthcare costs
The quick development of technology has opened new possibilities for cost- and process-saving healthcare process optimization. Digital health solutions use telemedicine, health information systems, wearables, and artificial intelligence to deliver more effective and economical healthcare services. Proactive healthcare measures are made possible by digital health solutions. Vital signs and lifestyle behaviors can be tracked using wearable technology and smartphone applications. Early health issue detection enables you to address problems before they worsen, avoiding expensive procedures. For instance, based on feedback from over 80 health insurance companies surveyed during the summer of 2022, HR advice firm Segal recently forecast a 7.4% per-person price rise for open-access preferred-provider policies in 2023.
Restraints
Data privacy concerns
Digital health platforms gather and handle biometric data, medical histories, treatment plans, and other vulnerable information about people. This information may result in significant privacy violations and even personal injury if not managed appropriately. Digital health platforms are desirable for hackers as intrusions become more common. A successful violation could lead to identity theft, fraud, and possibly compromised medical care by allowing unauthorized access to private patient information. Concern over the commercial usage of health data has to be raised. Patients fear that their data may be sold or used for specialized advertising, creating a possible contradiction between the interests of profit-driven businesses and the welfare of their patients.
Data accuracy and reliability
Only accurate and trustworthy data can result in accurate diagnoses, poor treatment decisions, and potentially damaging patient outcomes. For healthcare providers and organizations, inaccurate or unreliable data may result in non-compliance with regulatory obligations, which could have legal and financial repercussions. Erroneous information may reduce patient involvement and confidence, potentially lowering adherence to treatment regimens and medical advice. Interoperability initiatives can be improved by accurate and consistent data, which could result in fragmented patient care and information gaps.
Opportunities
Rising demand for remote patient monitoring services
By removing the need for regular in-person visits, remote monitoring increases access to healthcare for people with mobility impairments who reside in rural locations or have other logistical difficulties getting to physical appointments. The COVID-19 pandemic has advanced remote monitoring and telemedicine to deliver care while limiting in-person interaction. The significance and viability of remote monitoring technologies have been brought to light by this experience. Remote patient monitoring enhances telemedicine by giving medical professionals objective data during virtual consultations. Combining these elements results in an extensive approach to patient care that guarantees better healthcare delivery.
Access to real-time patient data is one of remote patient monitoring's (RPM) most essential advantages in terms of helping to improve chronic care management. RPM usage has skyrocketed since the outbreak of COVID-19, and experts anticipate continuing this trend. In the United States, RPM was used by a projected 29.1 million patients in 2020; by 2025, that figure is expected to rise to 70.6 million.
Advancement in healthcare IT infrastructure
EHR systems digitally retain patient data, making it more straightforward for healthcare facilities to access, share, and analyze medical records. Improved IT infrastructure makes Higher-quality video conferencing and real-time communication possible, allowing for online consultations with medical specialists. Sophisticated algorithms can analyze large datasets to find trends, forecast illness development, and suggest individualized treatment regimens. Advanced IT infrastructure integrates strong security measures to prevent data breaches, ensure compliance with healthcare standards, and uphold patient trust.
For instance, Virtual assistants and chatbots driven by AI will increase, offering consumers individualized health advice and guiding them through telemedicine platforms.
Recent Developments
In September 2023, Accenture obtained Nautilus Consulting, a dominating digital medicare consultancy in the United Kingdom focusing on Electronic Patient Record (EPR) solutions. The acquisition will intensify Accenture's digital implementation, transformation, and optimization efficiency around the United Kingdom and global health services.
In January 2023, Lupin Digital Health, a subordinate of Lupin Limited, declared the release of its digital treatment solution, LYFE. It is India's only documented-based complete heart care program that significantly decreases the threat of a heart attack and builds on vitals and a better life for cardiac patients.
In January 2023, the most comprehensive portal for innovators in hospitals and health systems to find, evaluate, and choose digital health solutions has been launched by AVIA, the country's top partner for healthcare digital transformation. The platform connects providers of digital health solutions with the appropriate purchasers of health systems, ensuring that providers can connect with the proper clients and that health systems can recognize and choose the finest solutions for their efforts to transform themselves digitally. The AVIA Marketplace is open to all hospitals and healthcare organizations.
Major Key Players
BioTelemetry Inc
eClinicalWorks
Allscripts Healthcare Solutions Inc
iHealth Lab Inc
AT & T
Honeywell International Inc
Athenahealth Inc.
Cisco Systems
McKesson Corporation
Koninklijke Philips N.V.
AdvancedMD Inc.
Cerner Corporation
Market Segmentation
By Component
Software
Hardware
Services
By Technology
Telehealthcare

Telehealth

Video Consultation
LTC Monitoring

Telecare

Remote Medication Management
Activity Monitoring

mHealth

Apps

Fitness Apps
Medical Apps

Wearables
Glucose Meter

BP Monitor
Pulse Oximeter
Neurological Monitors
Sleep Apnea Monitor
Others

Digital Health Systems

E-prescribing Systems
Electronic Health Records

Health Analytics
Buy this Research Report@ https://www.precedenceresearch.com/checkout/1145
You can place an order or ask any questions, please feel free to contact at sales@precedenceresearch.com | +1 9197 992 333