The global direct-to-consumer laboratory testing market size was exhibited at USD 3 billion in 2022 and is projected to attain around USD 32.6 billion by 2030, poised to grow at a strong CAGR of 34.72 percent during the projection period from 2022 to 2030.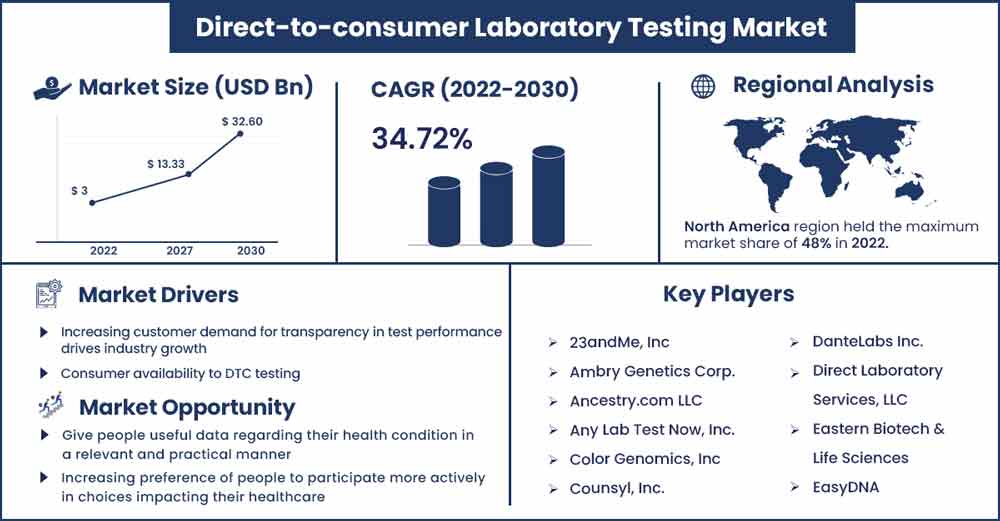 DTC diagnostics, usually known as quick access diagnosis, allows people to get laboratory testing from such a facility directly without necessarily contacting a health care provider. The results of such testing may be used to monitor an existing medical condition, identify issues with previously unidentified medical illnesses, or learn more about a patient's characteristics. Direct-to-consumer testing is simply one important part of ongoing efforts in the labs to increase a person's involvement in their health management. The test results must be accurate and understandable. Laboratory professionals are crucial to this process.
The seductive benefits of DTC screenings are what fuel the direct-to-consumer testing market. Consumers should balance the benefits they receive with the risks they can run into, such as privacy concerns, the possibility of receiving conflicting health data, information that might elicit unexpected emotions, misinterpretation, and over-testing. DTC testing is promoted for a variety of reasons. Common sample types include cheek saliva, swab, urination, hair, or even actual blood. DTC test companies update the information of their clients as fresh information about the findings' importance becomes readily available shortly. This may appeal to clients who want to stay current on scientific discoveries relating to their health and predisposition for the illness. Direct-to-consumer lab testing makes it easy for consumers to order tests, negating the requirement for them to work with their healthcare providers.
Report Highlights:
The world today demands more comfort in all aspects of daily living, including life care. Many customers want more control of their health and therefore are willing to shell out for DTC services to order to save money and labor as technology and people alike get smarter. Customers must, however, balance the known advantages with any potential drawbacks, such as privacy concerns, given the chance of learning confusing medical information or data that can cause unexpected feelings, misinterpretation, or over-testing. In some areas, retail establishments now offer onsite lipoprotein as well as glucose screening in addition to tests that are referred to research facilities. During the projected timeframe, the direct-to-consumer diagnostic testing business is expected to be driven by the expanding use of DTC tests in both emerging and developed countries.
Direct-to-consumer Laboratory Testing Market Report Scope:
| | |
| --- | --- |
| Report Coverage | Details |
| Market Revenue in 2023 | USD 4.05 Billion |
| Projected Forecast Revenue in 2030 | USD 32.6 Billion |
| Growth Rate from 2022 to 2030 | CAGR of 34.72% |
| Largest Market | North America |
| Base Year | 2022 |
| Forecast Period | 2022 To 2030 |
| Regions Covered | North America, Europe, Asia-Pacific, Latin America, and Middle East & Africa |

Regional Snapshots:
During the projected timeframe, the direct-to-consumer lab testing market is anticipated to be driven by the increased incidence of lifestyle-related and bloodborne pathogens in North America. The direct-to-consumer lab testing market across Europe is also anticipated to grow as a result of rising consumer awareness and improving lifestyles in the continent. The expansion of government programs to support improved, consumer diagnoses and molecular genetics in nations around Asia are also anticipated to support the industry for direct-to-consumer lab testing.
The Asia Pacific area was predicted to experience significant growth during the projected period due to rising disposable income and greater awareness of health care. In the upcoming years, it is projected that the direct-to-consumer diagnostic test market in the Asia Pacific will expand quickly. This is due to expanded educational initiatives and improvements made by federal organizations to promote biological testing in countries across Asia.
Market Dynamics:
Drivers:
Direct-to-consumer testing is an innovative addition to the traditional healthcare system that offers customers information on their health condition, heritage, disease susceptibility, and their body's expected reaction to particular medications based on their genotype. According to the standard idea of a laboratory for analysis in a hospital, the customer must first select whether they want to consult a doctor. Customers should be ready for a healthcare legislation system that provides ease and convenience & detailed clinical discoveries without necessitating lengthy treatments. In addition, a growing number of direct-to-consumer tests have been undertaken, and DTC testing has been promoted for several uses. Common forms of samples include urination, cheek swabs, traces of blood, spit or saliva, hair, and blood.
Restraints:
Technology advancements, the conclusion of the individual genome's sequence, and the demands of the business drive the direct-To-consumer (DTC) testing Industry. Additionally, market participants provide a range of customized testing options. Although genetic testing represents the majority of such tests, new microbiome tests and clinical laboratory tests will spur market expansion. However, the Patient Protection and Affordable Care Act does not regulate direct-to-consumer testing or direct-to-consumer enterprises, and a lack of oversight and procedures to protect customer test results may limit market expansion. Additionally, privacy and security issues limit the market's ability to expand.
Opportunities:
DTC lab testing can quickly and accurately provide consumers with vital information about their health status. However, several numbers of medical professionals and lawmakers are concerned that some DTC lab tests, particularly those offered in unconventional settings, may be of questionable usefulness and quality. There are also questions about whether or not customers get the skills and experience needed to respond sanely to the findings of their tests. Customers might not be aware of the limitations imposed on particular tests or have possession of the knowledge required to accurately interpret the testing findings in the absence of guidance from healthcare professionals. Governments have made an effort over the past few years to find a middle ground between some of these concerns and the growing desire of individuals to have a more active role in decisions affecting their healthcare.
Challenges:
State and federal legislation in the United States regulates DTC testing procedures. The FDA of the United States Administration evaluates the testing services and healthcare advantages before similar advertising in vitro techniques products may be promoted to help assure efficacy and safety. By evaluating them and keeping an eye on their competence via standardized tests, the Department of Human Services Assistance helps to ensure the efficacy and accuracy of the science labs doing these marketing exams and other lab-setting tests. The state ultimately decides whether a customer can request a lab experiment right away without going via a healthcare provider.
Recent Developments:
On Feb 2021, VG Acquisitions Corp. (NYSE: VGAC) and 23andMe inked a contract to merge using a combination of stock and foreign currency finance. 23andMe now has an estimated $3.5 billion in assets thanks to the firm merger.
In Nov 2018, Pixel from LabCorp unveiled a self-collected diagnostic kit for general health, diabetes, cardiovascular disease, and colon cancer. Several market competitors are choosing other growth strategies for corporate investment in addition to the creation of new goods, including mergers and acquisitions, partnerships and collaborations with leading diagnostic laboratories.
Major Key Players:
23andMe, Inc
Ambry Genetics Corp.
Ancestry.com LLC
Any Lab Test Now, Inc.
Color Genomics, Inc
Counsyl, Inc.
DanteLabs Inc.
Direct Laboratory Services, LLC
Eastern Biotech & Life Sciences
EasyDNA
EverlyWell, Inc.,
Full Genomes Corporation, Inc.
Gene by Gene, Ltd.
Genecodebook Oy
Genesis Healthcare Co.
Genetrainer
GHC Genetics UK
HealthCheckUSA
Home Access Health Corporation
International Biosciences
Laboratory Corporation of America Holdings
LetsGetChecked, Inc.
Mapmygenome India Limited
Medichecks.com Ltd.
MyHeritage Ltd.
MyMedLab, Inc.,
Myriad Genetics, Inc.
Natera, Inc
OME Care
Pathway Genomics
Pixel by LabCorp,
Positive Bioscience
Quest Diagnostics Incorporated,
Request A Test, Ltd.
Shuwen Biotech Co. Ltd.
Sonora Quest Laboratories,
Thryve Inc
Ulta Lab Tests, LLC,
Veritas Genetics
Vitagene, Inc.
Walk-In Lab, LLC.,
WellnessFX, Inc.
Xcode Life Sciences
Market Segmentation:
By Product
Medical Genetic Laboratory Testing
Routine Clinical Laboratory Testing
By Test Type
Genetic Testing
COVID-19
Cancer
Diabetes Testing
Disease Risk Assessment Testing
Sexually Transmitted Disease Testing
Routine Testing
Complete Blood Count
CNS-related/Neurological Disease
Thyroid Stimulating Hormone Testing
Other
By Sample Type
Blood
Urine
Saliva
Others
Buy this Research Report@ https://www.precedenceresearch.com/checkout/2313
You can place an order or ask any questions, please feel free to contact at sales@precedenceresearch.com | +1 9197 992 333