The global electric vehicle market size surpassed USD 205.58 billion in 2022 and is predicted to touch around USD 1,716.83 billion by 2032, growing at a remarkable CAGR of 23.1% between 2023 and 2032.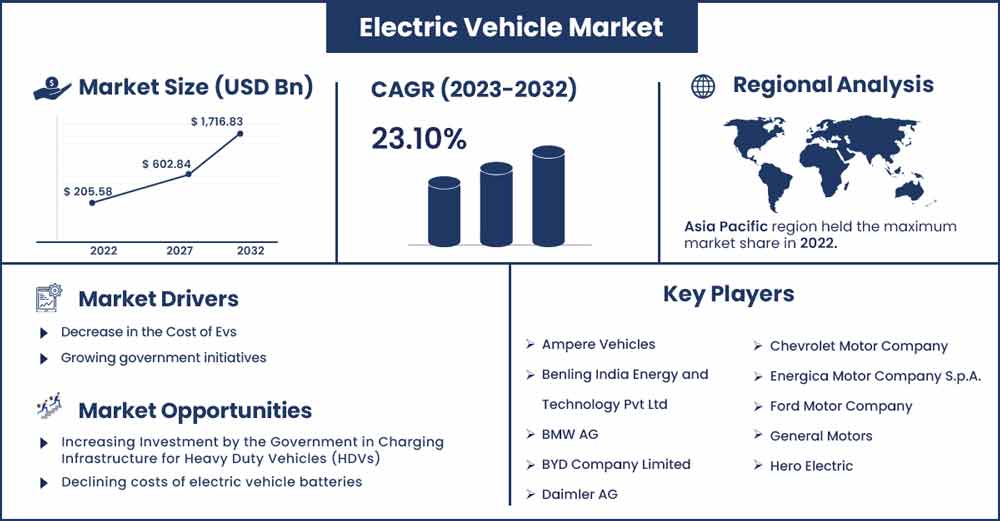 Market Overview:
The electric vehicles (EV) market refers to the industry and market segment focused on the production, sale, and use of electric vehicles. Electric vehicles are automobiles that are powered by one or more electric motors, using energy stored in rechargeable batteries. They are an alternative to traditional internal combustion engine (ICE) vehicles that rely on fossil fuels.
The EV market has experienced significant growth and development in recent years, driven by various factors such as environmental concerns, government incentives, technological advancements, and increased consumer interest. Electric vehicles offer several advantages over conventional vehicles, including lower greenhouse gas emissions, reduced dependence on fossil fuels, and potentially lower operating costs.
Regional Snapshot:
Asia Pacific dominates the market for electric vehicles, and this trend is expected to continue throughout the forecast period. Asia-Pacific has seen significant advancements in the electric car sector in recent years. Evidence of this is the region that makes up the greatest portion of the global battery electric vehicle (BEV) market. Also, the region has been outpacing its Western rivals in terms of sales of electric vehicles. Over the past ten years, the area has seen considerable growth in BEV sales. Furthermore, it was predicted that China would continue producing the majority of electric vehicles in the region, with the country having the most expected number of electric vehicles. The three East Asian nations are global leaders in their respective industries, with Japan and South Korea.
During the anticipated timeframe, the electric vehicle industry will experience considerable expansion in North America and Europe. With an expected sales volume of slightly under 918,500 light electric vehicles in 2022, the US market for electric vehicles (EV) set new milestones. This was more than 2.5 times what was sold in 2018, the year that saw the beginning of a significant increase in Tesla's Model 3's demand, one of the best-selling EVs on the American market.
Report Highlights:
By propulsion type insights, in 2022, the battery electric vehicles (BEV) segment dominated the worldwide market. BEVs are fully electric vehicles that produce zero tailpipe emissions. They do not rely on internal combustion engines and thus have no direct emissions of greenhouse gases or pollutants during operation. This attribute makes BEVs highly attractive for environmentally conscious consumers and aligns with the global efforts to reduce air pollution and combat climate change.
By vehicle type, the passenger car segment led the electric vehicle market in 2022, accounting for the largest revenue share. Manufacturers have been obliged to provide electric vehicles worldwide because of factors including the rise in demand for low-emission transportation and government support for long-range, zero-emission vehicles through subsidies and tax breaks. As a result, there is a rising market demand for electric automobiles.
By end-use, due to rising demand for high-performance, fuel-efficient, and low-emission buses, government programs to promote e-mobility, and falling prices for electric vehicle batteries, the commercial usage segment is predicted to expand at the highest CAGR during the predicted period.
Electric Vehicle Market Report Scope:
| | |
| --- | --- |
| Report Coverage | Details |
| Market Revenue in 2023 | USD 255.54 Billion |
| Projected Forecast Revenue in 2032 | USD 1,716.83 Billion |
| Growth Rate from 2023 to 2032 | CAGR of 23.1% |
| Largest Market | Asia Pacific |
| Base Year | 2022 |
| Forecast Period | 2023 To 2032 |
| Regions Covered | North America, Europe, Asia-Pacific, Latin America, and Middle East & Africa |

Market Dynamics:
Driver:
Lower running costs
An electric vehicle has much reduced operating costs compared to a petrol or diesel car. Instead of utilizing fossil fuels such as petrol or diesel to charge their batteries, electric vehicles use electricity. Due to their substantial efficiency and the lower cost of power, charging any electric vehicle is more cost-effective than purchasing fuel or diesel. When renewable energy sources fuel electric vehicles, their use can be more ecologically friendly. If charging is done using renewable energy sources like solar panels placed at home, the power prices can be further decreased.
Restraint:
Lower range
Electric vehicles typically have a lower driving range compared to conventional internal combustion engine (ICE) vehicles. While the range of EVs has been increasing over the years, some lower-priced models still have limited ranges. This can create "range anxiety" among potential buyers who are concerned about running out of battery power during their daily commute or long trips. The perception of limited range can deter potential customers from considering electric vehicles as a viable option. A lower range can amplify the need for a well-developed charging infrastructure. If an EV's range is limited, drivers will need convenient access to charging stations to ensure they can recharge their vehicles when needed. In regions with inadequate charging infrastructure, drivers may face difficulties finding charging points, leading to longer travel times and inconvenience. Thus, the issue with lower range of electric vehicles poses a restraint for the market.
Opportunity:
Emphasis on reducing carbon footprint
Governments around the world are implementing policies and providing incentives to promote the adoption of electric vehicles. These measures include tax credits, subsidies, and grants for purchasing EVs, as well as investment in charging infrastructure. Such support makes EVs more affordable and attractive to consumers, thereby boosting the market. For instance, India is aiming to attain roughly 40% of its electric power output from energy sources that are non-fossil fuel based by the year 2030 to lessen the effect of charging electric vehicles. Electric cars are the future of transportation in India. There is a growing global awareness about the environmental impact of traditional fossil fuel vehicles. As people become more conscious of their carbon footprint and the need for sustainable transportation, the demand for electric vehicles has been increasing. The EV market has become an appealing alternative for environmentally conscious consumers. Thus, the emphasis on reducing carbon footprint is observed to open a plethora of opportunities for the market.
Challenge:
The high price of replacing batteries
The battery is the costliest part of an electric car. When everything is working well, the battery can drive the vehicle for many miles. However, the replacement of the battery can add up to the cost. The resale value of electric vehicles can be significantly affected by the cost of battery replacement. Potential buyers may be hesitant to purchase a used electric vehicle if they anticipate the need for an expensive battery replacement in the near future. This can limit the secondary market for EVs and further hinder their adoption. Thus, the high cost of battery replacement is observed to create a challenge for the market.
Recent Developments:
In July 2023, Tube Investments of India (TII), a member of the Murugappa Group with a market value of over Rs 74,000 crore, planned to make an aggressive play in the space of green mobility, focusing primarily on three areas: electric three-wheelers sold under the brand, electric tractors, and the Medium & Heavy Commercial Vehicles (M&HCV) segment, where it anticipates real, financial benefits for the customer. TII plans to release three distinct tractor versions with four-wheel drives for various user groups. The tractor's production facilities are already under construction at Apex Park in Tamil Nadu, and the vehicles are expected to go on sale in the fiscal years 2023–2024.
In July 2023, according to HTAuto, Maruti Suzuki announced it would introduce up to six electric cars (EVs) nationwide by the end of the fiscal year 2030–31. The firm now produces automobiles with CNG and petrol engines. Tata Motors currently has the most competitive lineup of electric four-wheelers on the market, with the Tiago EV and Nexon EV being the two standout models.
In July 2023, the ACT government said it had registered more than 5,000 zero-emissions cars in the capital territory, marking a new milestone in the nation's leading adoption of electric vehicles. With EVs making up more than 20% of the total sales of new cars in recent months, the ACT outpaces the rest of the nation's uptake. In 2023, new automobile sales in the country will account for 8% of total sales. The government announced the debut of a novel online tool providing price comparisons for EVs to commemorate the most recent achievement. According to the government, the device will make it simpler to comprehend the operating expenses of ZEVs.
Major Key Players:
Ampere Vehicles
Benling India Energy and Technology Pvt Ltd
BMW AG
BYD Company Limited
Chevrolet Motor Company
Daimler AG
Energica Motor Company S.p.A.
Ford Motor Company
General Motors
Hero Electric
Hyundai Motor Company
Karma Automotive
Kia Corporation
Lucid Group, Inc.
Mahindra Electric Mobility Limited
NIO
Nissan Motors Co., Ltd.
Okinawa Autotech Pvt. Ltd.
Rivain
Tata Motors
Tesla Inc.
Toyota Motor Corporation
Volkswagen AG
WM Motor
Xiaopeng Motors
Market Segmentation:
By Propulsion Type
Hybrid Vehicles

Pure Hybrid Vehicles
Plug-in Hybrid Vehicles

Battery Electric Vehicles
Fuel Cell Electric Vehicles
By Components
Battery Cells & Packs
On-Board Charge
Motor
Reducer
Fuel Stack
Power Control Unit
Battery Management System
Fuel Processor
Power Conditioner
Air Compressor
Humidifier
By Vehicle Type
Passenger Cars
Commercial Vehicles
Two-Wheelers
E-Scooters & Bikes
Light Commercial Vehicles
Others
By Vehicle Class
By Top Speed
Less Than 100 MPH
100 to 125 MPH
More Than 125 MPH
By Vehicle Drive
Front-Wheel Drive
Rear Wheel Drive
All Wheel Drive
By EV Charging Point Type
Normal Charging
Super Charging
By V2G
Buy this Research Report@ https://www.precedenceresearch.com/checkout/1009
You can place an order or ask any questions, please feel free to contact at sales@precedenceresearch.com | +1 9197 992 333