The global enterprise artificial intelligence (AI) market size was evaluated at USD 7.02 billion in 2022 and is expected to touch around USD 270.06 billion by 2032, growing at a noteworthy CAGR of 44.1% from 2023 to 2032.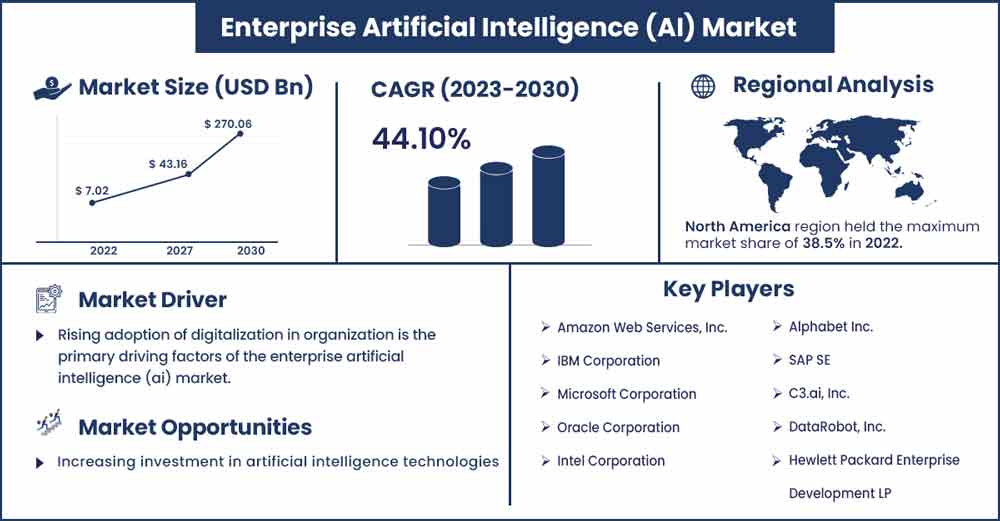 Due to the benefits of integrating artificial intelligence (AI) into business operations, businesses and enterprises are turning to these applications. By automating routine tasks, the AI applications increase operational effectiveness and productivity, which lowers costs overall. These are the main elements influencing the market's expansion. Artificial intelligence (AI) enables computers to carry out activities that often need human intervention and assistance, such as speech recognition, decision-making, language translation and visual perception. Enterprise AI is the capacity to use AI methodologies that integrate human learning, perception, and interaction abilities at a degree of complexity that will aid businesses in forecasting financial results. Enterprise AI integration serves as a crucial organizational resource for business performance at all levels of the organization. Some businesses use artificial intelligence (AI) technology to analyze their consumers, spot fraud and other hazards, and use machine learning to take preventive action.
Report Highlights:
The cloud sector accounted for largest revenue share in 2022, and it is anticipated that it will continue to dominate throughout the projection period. The use of AI technology is expanding quickly, but new businesses are having trouble cleaning huge amounts of data, getting access to high-quality data, and training AI systems.
The natural language processing (NLP) category accounted for the greatest revenue share in 2022, and it is anticipated that it will continue to hold a commanding position throughout the projection period. The surge can be ascribed to the rise in popularity of virtual assistants, chatbots, and voice-based interfaces.
Major companies accounted for 63.9% of the market in 2022 and are anticipated to expand at a CAGR of 32.0% during the forecast period. Large companies are utilizing AI to enhance productivity, increase agility & flexibility, and save costs by automating regular processes, which is primarily driving the need for AI solutions in this market. Over the projection period, the small and medium businesses category is anticipated to experience a CAGR of 38.4%.
The IT & telecom category dominated the market in terms of end-use in 2022 and is anticipated to expand at a CAGR of 32.9% during the forecast period. Rapid urbanization, technological development, a rise in startup investment to offer AI solutions & services, and rising demand for AI in developing nations are all factors contributing to the expansion.
With a 38.1% market share in 2022, North America is predicted to keep its lead throughout the projection period. This may be linked to the existence of a sizable number of AI businesses and high adoption rate brought on by government initiatives that encourage AI usage across many industries in the area.
Regional Snapshots:
In terms of market share, North America is currently leading the Enterprise AI Market over the predicted horizon. Major global players in technology are based in North America. Additionally, this area has a much higher tendency than other regions in the use of AI by SMEs and major businesses. However, the market is continuing to grow as a result of the increase in demand for corporate AI in developing nations like China, India, and Japan. Future lucrative prospects are anticipated in Asia-Pacific due to the region's large population and variety of businesses.
Enterprise Artificial Intelligence (AI) Market Report Scope:
| | |
| --- | --- |
| Report Coverage | Details |
| Market Revenue in 2023 | USD 10.08 Billion |
| Projected Forecast Revenue in 2032 | USD 270.06 Billion |
| Growth Rate from 2023 to 2032 | CAGR of 44.1% |
| Largest Market | North America |
| Base Year | 2022 |
| Forecast Period | 2023 To 2032 |
| Regions Covered | North America, Europe, Asia-Pacific, Latin America, and Middle East & Africa |

Market Dynamics:
Drivers:
Artificial intelligence is being more widely used by businesses, which is helping companies transition from analog to digital business operations. The need to evaluate exponentially rising amounts of data sets, the requirement for data protection, privacy, and retention management, and the inability to automate data deviation for disaster recovery are some of the issues influencing the need for AI among organizations.
The COVID-19 pandemic had a significant negative influence on a number of sectors worldwide. However, because to a spike in the demand for cutting-edge AI-based corporate services and solutions during the pandemic, the market for enterprise artificial intelligence saw tremendous development. During that time, the need for virtual assistants, chatbots, robots, and video conferencing technologies grew exponentially in a variety of industries, fueling the industry's expansion.
The rising trend is enabling a number of market participants to supply enhanced AI-enabled software and services that enable businesses to offer specialized solutions and services to increase their customers' pleasure.
Restraints:
With data privacy and a wide range of algorithms, the industry is likely to have difficulties. To give consumers relevant results, the system makes advantage of machine learning and deep learning capabilities. The sensitive information of the user may be exploited by these technologies, which include search algorithms, recommendation engines, and ad tech networks.
Furthermore, without the user's permission, artificially intelligent algorithms generate new information based on past data. The European Parliament said in March 2022 that it is expected that the amount of data created worldwide would increase from 33 zettabytes in 2018 to 175 zettabytes in 2025. In order to prevent the misuse of personal data, Europe adopted the General Data Protection Regulation. The demand for technology is expected to be hampered as a result.
Opportunities:
The market is expanding due to the increasing need for large data analysis as well as interpretation. Several industries, including finance, media & advertising, retail, auto & transportation, healthcare, agricultural, educational institutions, legal, and others, can benefit from the use of AI. This has boosted the AI sector all across the world due to innovations like self-driven vehicles, space exploration, accurate weather forecasting, and others. AI is also expected to have an influence on healthcare improvements due to its capability to analyze enormous amounts of genetic data and ensure more accurate treatment and prevention of medical illnesses. The AI sector is growing more competitive as more businesses realize how important it is to analyze and understand massive amounts of data.
Since artificial intelligence has the potential to completely change every sector, not only businesses but also many governmental institutions are making significant investments in this field of study. Although few of these technologies are not new, recent advancements in computer and novel algorithmic developments are making AI technologies more enticing for new competitors in the corporate AI market. For a number of reasons, like a better knowledge of customer behavior, obtaining a competitive edge, and improving operational performance, businesses are using advanced analytics solutions. Businesses utilize machine learning to undertake preventative maintenance, while others use artificial intelligence (AI) to study customer behavior, uncover fraud, and identify other risks.
The bulk of companies now develop interactive Chatbots and B2B apps using natural language interfaces. Early adopters of AI technology are also more competent and knowledgeable about best practices than businesses that are just starting to use the technology. New entrants can quickly obtain an edge with the aid of centers of excellence and the employment of analytics professionals and data scientists. Manufacturers in the corporate AI industry are becoming more and more aware of the major intellectual difficulties that come with creating and updating this technology. The driving forces behind the AI sector include more data integration, a broad variety of application areas, increased efficiency, and increased customer satisfaction. Although there is an increasing need for commercial AI, these advancements are being hampered by a lack of qualified workers, hazards to human dignity, and other issues. According to projections, the adoption of new technologies would only marginally affect these traits.
Challenge:
Lack of skilled labor, challenges to human dignity, and other issues are some market restraints. The impact of these problems is anticipated to be minimal due to the introduction of new technology into the market. The sluggish rate of digitalization in developing countries, which is hindering the use of corporate AI solutions, is also anticipated to restrain the enterprise AI market profit.
Recent Developments:
With the aid of Amazon Elastic Compute Cloud, UC San Diego Health, an academic medical facility inside the University of California, will implement an imaging algorithm based on machine learning in July 2020 that can identify Covid-19 symptoms (Amazon EC2).
Major Key Players:
Amazon Web Services, Inc.
IBM Corporation
Microsoft Corporation
Oracle Corporation
Intel Corporation
Alphabet Inc.
SAP SE
C3.ai, Inc.
DataRobot, Inc.
Hewlett Packard Enterprise Development LP
Wipro Limited
NVidia Corporation
Market Segmentation:
By Deployment Type
By Technology
Natural Language Processing (NLP)
Machine Learning
Computer Vision
Speech Recognition
Others
By Organization Size
Large Enterprises
Small And Medium Enterprises
By End Use
Media & Advertising
Retail
BFSI
IT & Telecom
Healthcare
Automotive & Transportation
Others
Buy this Research Report@ https://www.precedenceresearch.com/checkout/2411
You can place an order or ask any questions, please feel free to contact at sales@precedenceresearch.com | +1 9197 992 333