The global immersive technology market size surpassed USD 26.53 billion in 2022 and is projected to rise to USD 134.18 billion by 2030, anticipated to grow at a strong CAGR of 22.46 percent during the projection period from 2022 to 2030.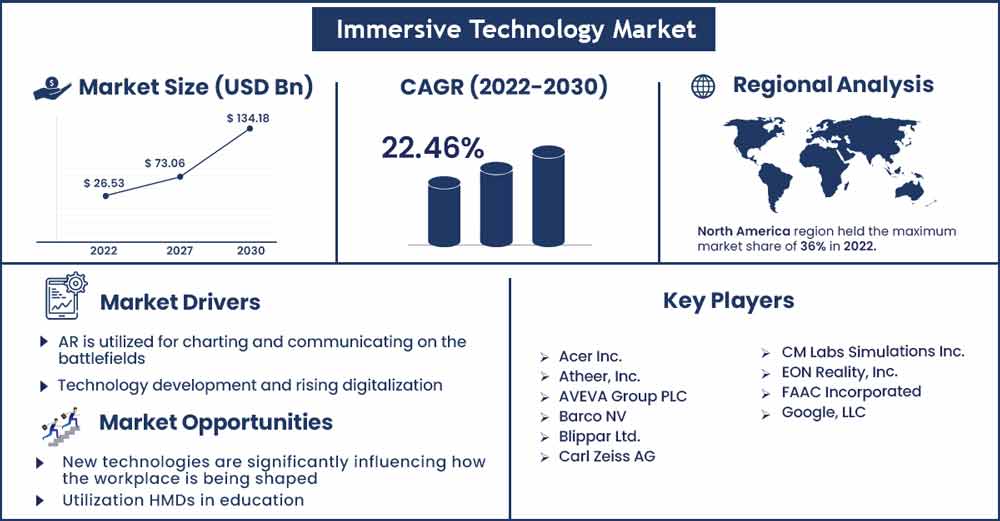 Immersion technology is a form of analytic technique that employs 360 degrees of space to extend experience or create a brand-new environment. Users using the device network can view content by looking in any position. By superimposing digital visuals over the user's surroundings, immersive technology can enhance realism. By entirely isolating the client from the outside universe and submerging themselves in an electronic medium, this creates a fresh world. It comprises holography, virtual reality, digital twin, mixed reality, telepresence, and virtual reality.
Report Highlights:
This high growth forecast can be due to an increase in the company including day activities using cutting-edge technological tools like Mixed Reality, virtual reality, and augmented reality. The Covid-19 period is also allowing augmented reality and virtual reality to enable simulated retail spaces for everything from furnishings to clothing. This is a significant driver of the global industry for interactive technology. Additionally, developments in computer games, where several multinational providers of elevated video games, are driving important advancements in the worldwide immersion electronic industry.
The industry of immersion technologies is predicted to be hampered by several major obstacles, including ethical problems, financial restrictions on small and medium-sized businesses investing in innovations, and a shortage of technical know-how. However, government aid programs that offer innovations, training courses, and technological and financial knowledge are projected to be a financially successful potential for the worldwide immersion electronic industry. The immersion technique combines the actual world with virtual or digital realities. Users can enjoy the virtual world in computer-augmented realities in great detail thanks to immersive technologies.
The user of immersion technologies experiences a sense of immersion in the artificial world. The digital revolution refers to augmented worlds or wearable technology which takes the place of the user's surrounding world. The market for interactive technology is developing quickly, with participants using a variety of tactics to draw customers, solidify their positions, and keep up with industry developments. To improve customer experience, industry companies are applying immersion technology in a variety of contexts, including e-commerce, interactive web applications, immersion marketing, brand experiences, and specific geographical explorations. The industry as a whole and its development both stand to benefit greatly from this.
Immersive Technology Market Report Scope:
| | |
| --- | --- |
| Report Coverage | Details |
| Market Revenue in 2023 | USD 32.48 Billion |
| Projected Forecast Revenue in 2030 | USD 134.18 Billion |
| Growth Rate from 2022 to 2030 | CAGR of 22.46% |
| Largest Market | North America |
| Base Year | 2022 |
| Forecast Period | 2022 To 2030 |
| Regions Covered | North America, Europe, Asia-Pacific, Latin America, and Middle East & Africa |

Regional Snapshots:
In 2022, North America had the highest revenue share, the largest revenue market for interactive technology, and the largest market overall. The growth in technology and shifting customer tastes in the region are largely to blame for the revenue and profit of the North American sector. The growing popularity and scarcity of head-mounted screens in the country's wealthier countries are further factors driving consumer demand. Top industry players like Unity Development Corporation, Zeality Corporation, Lockheed Martin, Wizard Jumping, HCL Technologies, Google, Constrained, and Honeywell Worldwide, Inc. are present in the area, so it is expected that the interactive virtual innovation market in the United States will see strong revenue growth over the course of the forecast period. Asia-Pacific is also expected to experience the fastest CAGR growth in the augmented reality technology market over the course of the research period. The region's expanding nation-states, increased smartphone ownership, rising disposable income, and untapped markets for leading industry players are the main drivers of APAC's growing demand. The rise of the APAC sector is being aided by the increased usage of immersion technology in education and business.
Market Dynamics:
Drivers:
Better gameplay experiences provided by virtual items and cutting capabilities that appeal to consumers are the main factors propelling the global immersion electronic industry's sales growth. This increases gaming interest and participation. Augmented reality (AR) glasses are being used by doctors in the healthcare industry to design body wounds and access patient data while undergoing surgery. Thanks to augmented reality, students may perceive text and dynamic features throughout courses (AR). Businesses are utilizing augmented reality to instruct staff, collaborate with employees in other offices, and increase product development innovation. Another way that augmented reality (VR) is being used in advertising is to give customers a hands-free product experience. Immersive technology is also being used in the defense industry.
Restraints:
Numerous adverse aspects, including the heavy price of developing content and technological and infrastructure constraints regarding AR/VR-specific equipment, significantly impede the growth of the worldwide immersive electronic industry. It is also anticipated that other implementation-related concerns, such as a shortage of material and many firms being unprepared again for change, may somewhat constrain future growth. Additionally, problems like the fact that most headsets are large and technological issues might negatively affect the customer experience and impede the development of an industry's revenues.
Opportunities:
New technologies like artificial intelligence and virtual reality are having a big impact on the workforce. Immersion technology is also progressing from a simple marketing gimmick to a practical tool for generating value for such a community and the economy at large. These are some of the essential components that are projected to continue generating fruitful business opportunities for both established companies and new entrants into the global industry. Additionally, immersion training enables students to analyze and control outcomes by fusing concepts with real-world events in a secure environment, which is predicted to drive market growth in the upcoming years.
Challenges:
Middle-class or lower-class consumers can access it because it is difficult for producers and technology providers in the interactive virtual technology sector to implement these features for Low-end end devices. Given that the majority of people on the planet belong to the lower to middle economic classes, the lack of this technology in low-end devices is a challenge for this company and could have a negative overall effect on its expansion.
Recent Developments:
As interest in the metaverse grows, Sony Group released exclusive games for PSVR2, the upcoming virtual reality headset, in January 2022. The new technology may wind up being one of the well-liked entrance points for multiverse services from companies like Epic Games Incorporated. It was designed for deeper involvement and incorporates haptic feedback built into the headgear as well as improved visual clarity.
In May 2021, Acer announced SpatialLabs, a collection of applications that bring the digital world to life in fresh, natural ways while delivering stereoscopic 3D experiences. Cutting-edge visual technologies, together with screen and sensing technology, are what power SpatialLabs. Due to information floating in front of the display, creators can assess their ideas in real time and at 360 degrees without the need for special glasses.
In March 2021, Harmony, a global leader in 3D (RT3D) media planning and management solutions, announced the acquisition of VisualLive, an effective innovation that enables the architectural, engineering, and construction (AEC) industry to increase productivity and reduce costs through interactive virtual collaboration (AR).
In March 2021, Honeywell Industrial, Inc. acquired the majority of shares in Fiplex Telecommunication, Inc. Honeywell Worldwide, Inc. will be able to provide a greater range of connection & communication products as a result of the integration of this business.
Oculus Corporation and Konami Electronic Entertainment, Ltd. cooperated to develop the hip-hop album "Beat Arena" in March 2021. Participants can experience 4 different pieces of equipment, including basses, drummers, and keypads as if they were playing them.
In February 2021, CM Laboratories Simulator, Corporation, and Tigercat Industries, Inc. signed a collaboration agreement to build simulators, help the education and marketing teams, and develop simulators.
In September 2020, AVEVA Company, Plc. and Maire Tecnimont's Team, Inc. started a partnership to promote industry digitization to a higher degree.
Major Key Players:
Acer Inc.
Atheer, Inc.
AVEVA Group PLC
Barco NV
Blippar Ltd.
Carl Zeiss AG
CM Labs Simulations Inc.
EON Reality, Inc.
FAAC Incorporated
Google, LLC
HCL Technologies Limited
Honeywell International, Inc.
HTC Corporation
Immersive Media Company
Immersive Technologies Pty Limited
Lockheed Martin Corporation
Magic Leap, Inc.
NCTech Limited
Oculus (Facebook Technologies, LLC.)
Samsung Group
Sony Corporation
Unity Software Inc.
Varjo Technologies Oy
VI-grade GmbH
Zeality Inc.
Market Segmentation:
By Component
Hardware
Head-Mounted Display (HMD)
Gesture Tracking Devices (GTD)
Projectors & Display Walls (PDW)
Software/Platform
Services
Professional
Managed
By Technology
Mixed Reality (MR)
Virtual Reality (VR)
Augmented Reality (AR)
360 Film
By Application
Training & Learning
Emergency Services
Product Development
Sales & Marketing
By Industry
Healthcare
Retail & eCommerce
Education
Construction
Media & Entertainment
Gaming
Manufacturing
Aerospace & Defense
Others (Automotive, Energy, etc.)
Buy this Research Report@ https://www.precedenceresearch.com/checkout/2130
You can place an order or ask any questions, please feel free to contact at sales@precedenceresearch.com | +1 9197 992 333