The global industrial foam market revenue was evaluated at USD 48.6 billion in 2022 and is expected to attain around USD 76.56 billion by 2032, growing at a CAGR of 4.7% from 2023 to 2032.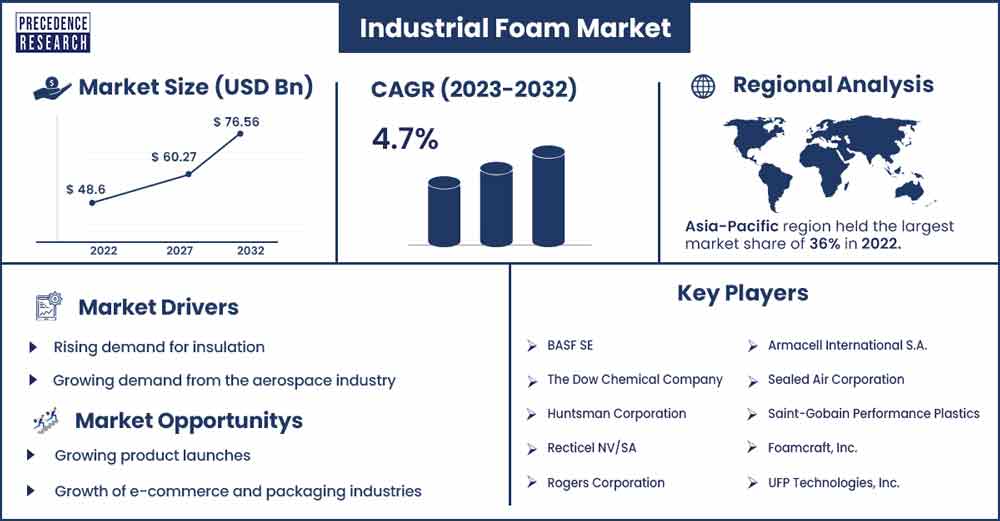 Market Overview
Industrial foam refers to a wide range of foam materials and products used in industrial applications. Foam is a material that consists of a gas dispersed in a liquid or solid. It is characterized by its ability to trap pockets of gas within a matrix, creating a lightweight and flexible material with various desirable properties. There are various types of foam materials, including polyurethane foam, polystyrene foam, PVC foam, rubber foam, and many others.
The choice of foam material depends on the specific requirements of the industrial application, such as temperature resistance, chemical resistance, durability, and cost-effectiveness. Industrial foam products are typically manufactured in a variety of forms, including sheets, blocks, rolls, and custom shapes, to meet the specific needs of different industries.
The industrial foam market is driven by several factors such as rising demand for insulation, the growing automotive industry, increased construction activities, growing packaging industry and increasing demand for foam from the aerospace industry. Moreover, the ongoing research and development (R&D) in foam materials have resulted in innovative products with improved performance characteristics. New foam formulations with better properties and enhanced durability continue to drive market growth.
Furthermore, the rising demand for foam in the medical and healthcare industry is also considered to promote the market's expansion. Foam materials are used in the medical and healthcare sectors for applications such as wound dressings, medical cushions, and prosthetics. The demand for healthcare-related foam products is increasing with the aging population.
According to the National Bureau of Statistics of China (2022), with an output value of USD 1097.6 billion in 2021, the construction sector contributed almost 7% of the GDP.
Regional Insights
Asia Pacific is expected to hold the largest market share during the forecast period. The regional market growth is attributed to the growing automotive industry, especially in the country like India and China. The automotive sector is a significant consumer of industrial foam, using it for sound insulation, cushioning, and lightweight structural components. As the automotive industry continues to grow, so does the demand for foam materials.
According to the Federal Chamber of Automotive Industries, the automotive sector in Australia produced 86,878 automobiles in February 2023, up 1.8% from the same month the previous year.
China was the third-highest nation of origin for new cars in February, with 13,625 automobiles coming from there. Thailand (18,557) is the second-largest supplier of new cars to the Australian market, after Japan (24,805). Korea ranks fourth among origin countries (12,246).
According to the International Energy Agency's research, China's BEV sales rose by 60% in 2022 compared to 2021 to reach 4.4 million, while PHEV sales nearly quadrupled to 1.5 million. Almost 60% of all new electric vehicle registrations worldwide were made in China. For the first time, with 13.8 million electric vehicles on the road worldwide in 2022, China accounted for more than 50% of all-electric vehicles.
Furthermore, the region's booming construction industry is also one of the main factors that propel the growth of the market over the forecast period. The region is home to some of the world's fastest-growing economies, leading to a surge in construction activities. Industrial foam products are widely used for insulation, soundproofing, and sealing in the construction sectors.
For instance, the 14th Five-Year Plan of China places a strong emphasis on new urbanization, energy, water, and transportation infrastructure projects. The 14th Five-Year Plan period (2021–2025) is expected to see an overall investment in new infrastructure of over 27 trillion yuan ($ 4.2 trillion). The updated plan prioritized nine essential areas for the development of green buildings and energy efficiency; it also asks for the construction of net zero energy buildings (over 50 million square meters) and the renovation of over 350 million square meters of existing structures.
In addition, the prompt completion of pre-sold homes will remain a top priority for the Chinese government. The country's commissioned housing area grew by 19.6% between January and May of 2023 compared to the same time the previous year. EH Consulting predicts that this amount will surpass one million square meters in 2023. Thus, this is expected to drive the market expansion over the forecast period.
xxx Market Report Scope:
| | |
| --- | --- |
| Report Coverage | Details |
| Market Revenue in 2023 | USD 50.64 Billion |
| Projected Forecast Revenue by 2032 | USD 76.56 Billion |
| Growth Rate from 2023 to 2032 | CAGR of 4.7% |
| Largest Market | Asia-Pacific |
| Base Year | 2022 |
| Forecast Period | 2023 to 2032 |
| Regions Covered | North America, Europe, Asia-Pacific, Latin America, and Middle East & Africa |

Market Dynamics
Drivers
Rising demand for insulation
Increasing concerns about energy efficiency and environmental regulations have driven the demand for better insulation materials. Industrial foam products, such as polyurethane foam and polystyrene foam, are used extensively in building and construction for thermal and acoustic insulation. Thus, this is expected to propel the market growth over the forecast period.
Growing demand from the aerospace industry
The aerospace industry uses foam materials for insulation, soundproofing and structural components in aircraft. The growth in air travel and aerospace innovation contributes to the demand for industrial foam. According to the U.S. Bureau of Labor Statistics, as the leading employer in the United States for air transportation, the aerospace and aviation sector directly employs approximately 148,000 people in Texas at more than 1,400 locations, building on the state's long history of industrial innovation and development.
Restraints
Fluctuations in raw material prices
The price of raw materials used in foam production, such as petrochemicals for polyurethane foam, can be volatile. Price fluctuations can affect the cost of production, which in turn, impact the pricing of the foam products. Continuous fluctuations in raw material prices can severly impact on the supply chain management for industry players, by limiting the expansion of the market. Thereby, the element is observed to act as a restraint for the market.
Environmental concerns
There is increasing scrutiny on the environmental impact of foam materials, particularly those made from non-renewable resources. This has led to a demand for more sustainable and eco-friendly alternatives. Thus, to some extent, environmental concerns might impact the growth of the market during the forecast period.
Opportunities
Growing product launches
The increasing product launches are expected to drive market growth over the forecast period. For instance, in March 2022, with an emphasis on spray and construction applications, Dow introduced a new product extension of VORASURFTM Silicone Surfactants to meet the rigid polyurethane foam market's rising demand for sustainable solutions and increased energy efficiency. They continue to provide cutting-edge technology addressing major market trends for rigid polyurethane foams, increasing energy efficiency, and offering their clients a more sustainable solution with the most recent additions to their VORASURFTM portfolio.
Growth of e-commerce and packaging industries
The rapid growth of e-commerce and online shopping has boosted the requirement for efficient and protective packaging solutions. Foam materials used in packaging can benefit from the continued expansion of online retail. For instance, according to the Department of Commerce's Census Bureau, the estimate of U.S. retail e-commerce sales for the second quarter of 2023 was $277.6 billion, up 2.1 percent (±0.9%) from the first quarter of 2023. The estimate did not account for pricing adjustments or seasonal variation.
Recent Developments
In October 2023, with the help of the company's ground-breaking 100% Melt Recyclable Foam and Trim technology, Magna unveiled its EcoSphereTM product line, an industry-first solution that uses mono-material polyethylene terephthalate (PET) to eliminate the dumping of seating foam pads and trim covers in landfills. Foam, structures, trim padding, and sustainable trim materials make up Magna's new EcoSphere product line. Magna's proficiency in combining foam chemistry, trim production, workmanship, and tooling is utilised by the product family to create a cost-effective and seamless solution. In addition, the seating materials' appearance and feel are guaranteed to meet industry standards because of the 100% melt recyclable foam and trim technology, which also greatly reduces its environmental effect.
In October 2023, EOS declared the opening of its Digital Foam Architects network, which aims to quicken the creation and 3D printing of industrial, medical, and consumer goods with Digital Foam applications. EOS, Arkema, General Lattice, and DyeMansion are among the founding members.
In September 2023, the carbon recycling business LanzaTech Global, Inc., which turns waste carbon into sustainable raw materials, partnered with Dow to launch a novel biodegradable surfactant in the home care industry. With recovered carbon resources, Dow's surfactant EcoSenseTM 2470 advances sustainability and guarantees quick market entrance while upholding high-performance criteria. It is manufactured with LanzaTech's CarbonSmartTM technology. For many home cleaning and laundry products to foam and have a cleaning effect, surfactants are an essential element.
In February 2023, Cruz Foam, a circular materials firm, announced the introduction of a cutting-edge new line of environmentally friendly protective packaging products that emphasize highly effective solutions to satisfy particular client demands for consumers and organizations delivering delicate and temperature-sensitive products. Cruz Foam's unique biodegradable foam surpasses industry requirements for sustainability and performs better than comparable plastic-based solutions. These novel products are meant to provide better performance and satisfy client sustainability criteria by taking the role of plastic foam coolers, bubble mailers, and bubble wrap.
In March 2023, the world's first circular foam material solution for footwear, OrthoLite CirqlTM, was made possible by an exclusive partnership between OrthoLite®, the industry leader in sustainable, performance, and comfort insoles, and Novamont, the industry leader in the development, production, and eco-design of biodegradable and compostable bioplastics and biochemicals.
Key Market Players
BASF SE
The Dow Chemical Company (now Dow Inc.)
Huntsman Corporation
Recticel NV/SA
Rogers Corporation
Armacell International S.A.
Sealed Air Corporation
Saint-Gobain Performance Plastics
Foamcraft, Inc.
UFP Technologies, Inc.
Zotefoams PLC
Vita Group
Foam Supplies, Inc.
INOAC Corporation
Future Foam, Inc.
Market Segmentation
By Foam Type
By End Use Industry
Building & Construction
HVAC
Industrial Pipe Insulation
Marin
Aerospace
Others
By Resin Type
Polyurethane
Polystyrene
Polyolefin
Phenolic
Others
Buy this Research Report@ https://www.precedenceresearch.com/checkout/3300
You can place an order or ask any questions, please feel free to contact at sales@precedenceresearch.com | +1 9197 992 333