The global industrial microbiology market size surpassed USD 12.94 billion in 2022 and it is expected to rake around USD 22.37 billion by 2032, poised to grow at a CAGR of 5.63% during the forecast period 2023 to 2032.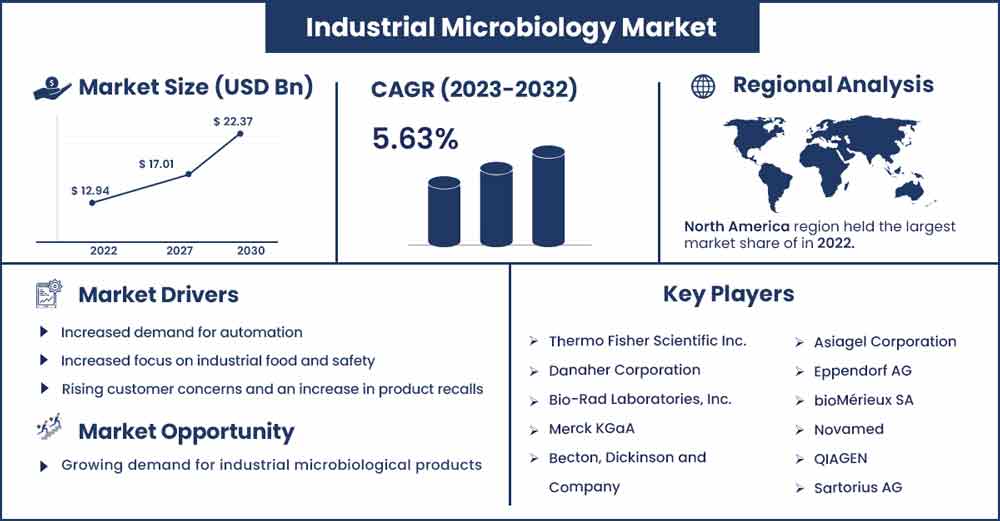 Market Overview:
Industrial microbiology refers to the branch of microbiology that focuses on the application of microorganisms in various industrial processes and products. It involves the study and utilization of microorganisms such as bacteria, fungi, viruses, and algae to produce goods, perform specific functions, and carry out industrial processes. Industrial microbiology enables the large-scale synthesis of goods with economic value and a wide range of uses using microorganisms. The isolation of enzymes in commercial quantities has been made possible by chemical purification and industrial microbiology developments. Several industries currently utilize them regularly. Industrial microbiology has a wide range of applications in sectors such as food and beverages, pharmaceuticals, agriculture, cosmetics, biofuels, and environmental management.
Regional Snapshot:
North America dominates the industrial microbiology market. The region's growing use of modern industrial microbiology techniques in the pharmaceutical, biotechnology, food and beverage, and agriculture industries, as well as the implementation of strict regulatory standards for the efficacy and quality of pharmaceutical and food and beverage products, promote the market's growth in North America. Along with this, the presence of some of the major market players in the area, such as Thermo Fisher Scientific, Bio-Rad Laboratories Inc., and Becton, Dickinson contributes to the market's growth in the region.
Due to the region's increasing interest in industrial microbiology, Asia Pacific is predicted to experience exponential development over the predicted period. Agriculture is a significant sector in the Asia Pacific region, and industrial microbiology is employed for agricultural practices such as biofertilizers, biopesticides, and bioremediation of soil. The adoption of microbial solutions for sustainable agriculture is fueling market growth. The increased manufacturing of hyaluronic acid-enriched derma products in the beauty industry will probably drive the regional market's revenue growth.
Industrial Microbiology Market Report Scope:
| | |
| --- | --- |
| Report Coverage | Details |
| Market Revenue in 2023 | USD 13.67 Billion |
| Projected Forecast Revenue in 2032 | USD 22.37 Billion |
| Growth Rate from 2023 to 2032 | CAGR of 5.63% |
| Largest Market | North America |
| Base Year | 2022 |
| Forecast Period | 2023 To 2032 |
| Regions Covered | North America, Europe, Asia-Pacific, Latin America, and Middle East & Africa |

Report Highlights:
By product, the segment for reaction consumables leads the market. Industrial microbiology involves regular testing and quality control measures to ensure the safety and quality of products in industries such as pharmaceuticals, food and beverages, and cosmetics. These consumables are fundamental for performing various microbiological tests and experiments.
By test, industrial microbiology is expected to expand due to the growing significance of sterility testing in the production of biopharmaceuticals. Sterility testing is essential for ensuring the safety and quality of products. Contamination by microorganisms can lead to product spoilage, reduced shelf life, and, in the case of pharmaceuticals, potential harm to patients. The continuous emphasis on safeguarding the integrity of products creates a consistent demand for sterility testing services and products, driving the growth of this segment.
By end-use, the industrial microbiology market is anticipated to generate considerable revenue in 2022 from the pharmaceutical biotechnology industry. As microbiology plays a crucial role in drug discovery, development, and quality control, pharmaceutical companies invest heavily in microbiological testing and research to ensure the safety and efficacy of their products.
Market Dynamics:
Driver:
Growing research and development activities
Increased investment in research and development for industrial microbiology and the introduction of novel, cutting-edge products that can enhance or improve industrial microbiology procedures are anticipated to positively impact the market for industrial microbiology. For instance, Mumbai-based HiMedia Laboratories entered the microbiology market in June 2023. Numerous Advanced Services in Molecular Biology, Cell Biology, and Microbiology have been introduced by HiMedia. The company has already invested in the probiotic innovation facility, the Maldi-TOF Mass Spectrometry (MS) services for the identification of microbes, the genome sequencing service, the 3D bioprinting technology, and liquid chromatography-mass spectrometry (LCMS). Such investments are observed to boost the rate of R&D activities in the market by propelling its growth.
Restraint:
Technological limitations
Identifying and selecting suitable microbial strains for specific industrial applications can be challenging. Microbial strains need to possess desirable characteristics such as high productivity, stability, and tolerance to industrial conditions. Optimizing the growth and performance of selected strains can also be a complex process. Contamination by unwanted microorganisms is a persistent challenge in industrial microbiology. Maintaining aseptic conditions and preventing the growth of unwanted contaminants can be crucial for ensuring product quality and safety. Such complicated procedures face technological limitations by creating a significant restraint for the market.
Opportunity:
Growing demand for industrial microbiological products
To ensure the purity and quality of the products, advanced testing is becoming more and more vital as fermented food and nutraceutical products gain popularity globally and play a significant part in food security. As a result, there is a rising global demand for goods used in industrial microbiology, which is anticipated to have a significant impact on the market for industrial microbiology throughout the study's projection period. Throughout the forecast period, the industrial microbiology market is anticipated to expand due to the rising demand for chewable tablets, vitamin capsules, and other types of nutraceutical products to treat various conditions in populations, particularly pediatric and geriatric populations.
Challenge:
Ethical concerns
The use of microorganisms in industrial processes can pose potential risks to human health and the environment. Ethical concerns arise regarding the assessment and management of these risks, ensuring that appropriate safety measures are in place to prevent any adverse effects. Industrial microbiology research may involve the manipulation and modification of microorganisms, which can raise concerns related to biosecurity and dual-use research. There is a need for ethical guidelines and regulations to prevent the misuse of microbial technologies for harmful purposes. Such ethical concerns pose a significant challenge to the market.
Recent Developments:
In January 2023, in collaboration with Oxford University Press, Applied Microbiology International (AMI) announced the debut of Sustainable Microbiology, a new publication. This worldwide, peer-reviewed journal will present original research on the role of microorganisms in creating a sustainable future.
In December 2022, the next-generation automated immunoassay solution for the acclaimed VIDAS series, VIDAS® KUBETM, received CE certification from bioMérieux, a global pioneer in vitro diagnostics. This invention will improve the clinical lab and food businesses by supplying information that will hasten patient treatment and safeguard consumers.
Major Key Players:
Thermo Fisher Scientific Inc.
Danaher Corporation
Bio-Rad Laboratories, Inc.
Merck KGaA
Becton, Dickinson and Company
Asiagel Corporation
Eppendorf AG
bioMérieux SA
Novamed
QIAGEN
Sartorius AG
Market Segmentation:
By Product
Equipment and Systems

Filtration Pumps and Systems
Microbial Detection Systems
Air Monitoring Systems
Automated Equipment
Incubators and Culture Apparatus
Others

Reaction Consumables

Media
Reagents and Strains

Laboratory Supplies

Bags and Bottles
Loop and Needles
Petri Dishes, Racks, Seals, Plates, and Holders
Filtration Disc and Membranes
Others
By Test
Sterility Testing
Microbial Limits Testing
Bio-burden Testing
Water and Environmental Testing
By End-Use
Food and Beverages
Pharmaceutical Biotechnology
Agricultural
Environmental
Cosmetic and Personal Care
Others
Buy this Research Report@ https://www.precedenceresearch.com/checkout/2593
You can place an order or ask any questions, please feel free to contact at sales@precedenceresearch.com | +1 9197 992 333