The global industrial microbiology market size was exhibited at USD 12.94 billion in 2022 and is projected to hit around USD 22.37 billion by 2032, growing at a CAGR of 5.63% during the forecast period 2023 to 2032.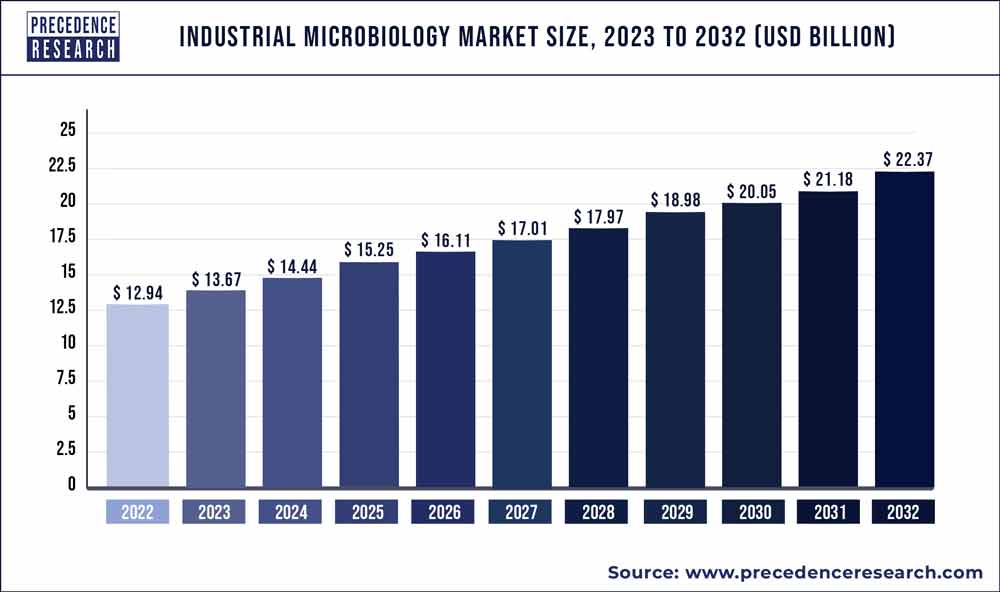 Access our Premium Real Time Data Intelligence Tool, Visit: Precedence Statistics
Key Insights:
By product, the reaction consumables segment accounted for more than 55% of revenue share in 2022.
By end-use, the pharmaceutical biotechnology segment will contribute to a remarkable market revenue in 2022.
By geography, North America generated the maximum revenue share of around 47.50% in 2022.
Industrial microbiology is the study of biotechnology as it relates to the study of microorganisms and is used to produce industrial products in large quantities, which are occasionally made utilizing microbial cell factories. Enhancing maximum product yields can be done in a number of ways. The pharmaceutical, food, beverage, cosmetic, and forestry industries all use it in a variety of applications. The growing global population is causing a considerable increase in the consumer market. Thus, there is an increasing need for methods for verifying the quality of products. Maintenance, enhancement, and screening of microbes for lowering special industrial use items are all aspects of industrial microbiology. Incubators and culture tools, air control systems, microbial detection systems, filtration purposes and devices, equipment, and systems make up industrial microbiology. Industrial microorganisms are used in the manufacturing of syrup, bioremediation, empty capsule production, and genetically modified food products.
The main drivers of market expansion are anticipated to be the rising need for microbiological testing and quality assurance across a variety of sectors. The expansion of applied microbiology has been a driving force behind developments in the field of industrial microbiology. Wherein high-yield industrial products are produced using the expertise of microbes.
Market Growth
Along with the rapidly expanding biotechnology and pharmaceutical industries, fermentation applications are becoming increasingly prominent in syrup formulations, which will lead to exponential growth in the global industrial microbiology market. The need for sterility testing processes is increasing within the pharmaceutical industry due to the sector's expanding scope and rising preferences for automation. Due to the soaring demand for consumer goods and the expanding global population, sterility testing for product safety has increased at an unheard-of rate.
During the projected period, the worldwide industrial microbiology market is expected to rise due to the increasing acceptance of these testing methods in the food and beverage industry. However, it is anticipated that in the upcoming years, demand will increase due to the increased emphasis on food safety and cleanliness as well as industrial safety. The fundamental driver driving the expansion of the global market is the growing preference for process automation over conventional methods, which will drastically reduce production costs.
Report Scope of the Industrial Microbiology Market
| | |
| --- | --- |
| Report Coverage | Details |
| Market Size in 2023 | USD 13.67 Billion |
| Market Size by 2032 | USD 22.37 Billion |
| Growth Rate from 2023 to 2032 | CAGR of 5.63% |
| Largest Market | North America |
| Base Year | 2022 |
| Forecast Period | 2023 to 2032 |
| Segments Covered | By Product, By Test, and By End-Use |
| Regions Covered | North America, Europe, Asia-Pacific, Latin America and Middle East & Africa |

Market Drivers
Numerous industries have started using microbiological testing methods as quality standards for products become more important. In the coming years, it is projected that the industrial microbiology market size will increase due to the strict testing criteria set by regulatory agencies to maintain the integrity and quality control of the product. The manual's objective is to provide a standardized framework for methods, information, resources, and quality standards for evaluating the effectiveness and security of medical products at testing facilities. Additionally, molecular biology knowledge and genetic technology have had a positive influence on microbiological applications for the creation of novel diagnostics techniques. Additionally, the COVID-19 epidemic has boosted business expansion.
The use of sterility testing for product quality and safety testing is expanding as a result of the rising global population and demand for consumer goods. The emphasis on food safety and industrial safety is projected to increase demand in the upcoming years. Additionally, there will be growth prospects as industrial microbiology is used more frequently in the pharmaceutical, cosmetics, food, and beverage, and agriculture industries. In spite of the threat posed by the spread of anti-microbial drug resistance, particularly in China and India, the use of prescription antibiotics will continue to drive up the use of industrial microbiology by generic drug manufacturers.
Market Restraints
The high expenses involved with maintaining aseptic processes and creating sterile goods are expected to restrain the growth of the worldwide industrial microbiology market. Sterilization is necessary before packaging microbially produced end products, such as pharmaceutical excipients and intermediates. The main cause of this is the high risk of contamination. However, maintaining sterile conditions requires a large financial investment.
Longer incubation and product release timeframes may also hinder market growth, according to predictions. The adoption of cutting-edge technology in industrial microbiology is causing a shortage of professional labor educated in the new methods. Along with the main respondents from the industrial microbiology market, a lack of computing skills is another problem limiting expansion.
Market Opportunities
Microbiologic applications in vaccine development are projected to be in higher demand, providing profitable growth prospects for market participants. A rationale-based approach for vaccine R&D for the treatment of various diseases is provided by molecular biology. It is anticipated that the veterinary field's vaccination schedule will be shortened by the employment of different bacteria to make recombinant vaccines.
Additionally, an increase in influenza vaccine production is anticipated to have a large positive impact for vaccine manufacturers. The application of cutting-edge methods to understand the patterns of infectious diseases is also anticipated to support market expansion. For instance, clinical microbiology use next-generation sequencing to diagnose and track infectious diseases. It is also employed to comprehend how infections spread.
Segments Insights:
Product Insights
In industrial microbiology, the reaction consumables segment is the revenue-generating sector, along with this segment captured more than 55% of the revenue share in 2022. The consumables required for industrial microbiology testing are non-replaceable and necessitate frequent use. During COVID-19, the segment faced extremely high demand, severely disrupting the supply chain. Many regions encouraged the participants to increase domestic production of commodities in order to reduce their reliance on imports. The emerging market's rising consumption output is predicted to boost the segment's competitiveness in industrial microbiology testing.
Players from comparable or related markets are likely to be drawn to the equipment and system segment due to its exponential expansion, allowing them to preserve resource synergy and increase profitability. It is anticipated that the acquisition will provide IDEXX access to automated instruments. Consequently, it is anticipated that there will be an increase in demand for tools and equipment as industrial microbiology testing is increasingly used in a variety of applications.
Test Insights
The increasing importance of sterility testing in the creation of biopharmaceuticals is predicted to boost the growth of industrial microbiology. According to the Indian Pharmacopeia, British Pharmacopeia, and United States Pharmacopeia, the sterility test is applied to medical items, drugs, and preparations to determine whether they are sterile and to guarantee conformity with the requirements. All components and raw materials used to create medications must additionally pass the sterility test. As a result, the quantity of drugs manufactured is closely associated with the use of sterility testing in pharmaceutical and biopharmaceutical applications.
Industrial microbiology uses microbial limit testing more frequently for testing raw materials. Guidelines for using microbiological limits testing in the nutraceutical and cosmetic sectors have also been published by the International Organization for Standardization (ISO). Thus, it is anticipated that increased governmental oversight and examination of the cosmetics industry's quality and efficacy will aid the market's expansion.
End-Use Insights
The pharmaceutical biotechnology sector will contribute significantly to the industrial microbiology market's revenue in 2022. In the biotechnology and pharmaceutical industries, quality control must be maintained at all stages of production. One method used to uphold these requirements is the environmental monitoring procedure, which evaluates the quality and sterility of the controlled manufacturing environment. The food and beverage industry is also predicted to grow significantly during the anticipated period. In order to remove any dangerous toxins and illnesses from the products and protect consumers from ingesting germs, end-users heavily rely on industrial microbiology testing techniques.
Additionally, it is anticipated that the food and beverage sector will increase significantly during the anticipated time. End-users largely rely on industrial microbiology testing methods to eliminate any potential infections and poisons in the products and shield consumers from ingesting germs.
Regional Insights
North America has the largest market share of around 47.50% for industrial microbiology worldwide, thanks to the region's booming biotechnology and pharmaceutical industries. The area's growing breadth creates opportunities for sustained growth and the widespread application of sterility testing techniques.
In the upcoming years, it is projected that the growing research and development activities in the biopharmaceutical sector and efforts to discover new drugs will significantly speed up the expansion of the regional market. In the coming years, Asia Pacific is expected to witness exponential growth due to the region's growing need for industrial microbiology. The expansion of the local market will be assisted by the pharmaceutical industry's expanding R&D initiatives and drug discovery methods.
Recent Developments:
Charles River Laboratories International, Inc. launched the Celsis automated detection solution for rapid sterility and updated its EndoScan-V software platform for endotoxin detection and measurement in September 2019 in order to maintain product quality and control contamination for clients in the pharmaceutical manufacturing industry.
In June 2019, Hygiena, a provider of quick microbial detection, monitoring, and identification solutions, unveiled the new EnSureTouch Monitoring System. Data from numerous quality tests are collected, analyzed, and reported by this next-generation monitoring system.
Market Key Players:
Thermo Fisher Scientific Inc.
Danaher Corporation
Bio-Rad Laboratories, Inc.
Merck KGaA
Becton, Dickinson and Company
Asiagel Corporation
Eppendorf AG
bioMérieux SA
Novamed
QIAGEN
Sartorius AG
Segments Covered in the Report:
(Note*: We offer report based on sub segments as well. Kindly, let us know if you are interested)
By Product
Equipment and Systems

Filtration Pumps and Systems
Microbial Detection Systems
Air Monitoring Systems
Automated Equipment
Incubators and Culture Apparatus
Others

Reaction Consumables

Media
Reagents and Strains

Laboratory Supplies

Bags and Bottles
Loop and Needles
Petri Dishes, Racks, Seals, Plates, and Holders
Filtration Disc and Membranes
Others
By Test
Sterility Testing
Microbial Limits Testing
Bio-burden Testing
Water and Environmental Testing
By End-Use
Food and Beverages
Pharmaceutical Biotechnology
Agricultural
Environmental
Cosmetic and Personal Care
Others
By Geography
North America
Europe
Asia-Pacific
Latin America
The Middle East and Africa