The global infant nutrition market size was exhibited at USD 44.96 billion in 2022 and is projected to attain around USD 118.11 billion by 2032, poised to grow at a strong CAGR of 10.14 percent during the projection period from 2023 to 2032.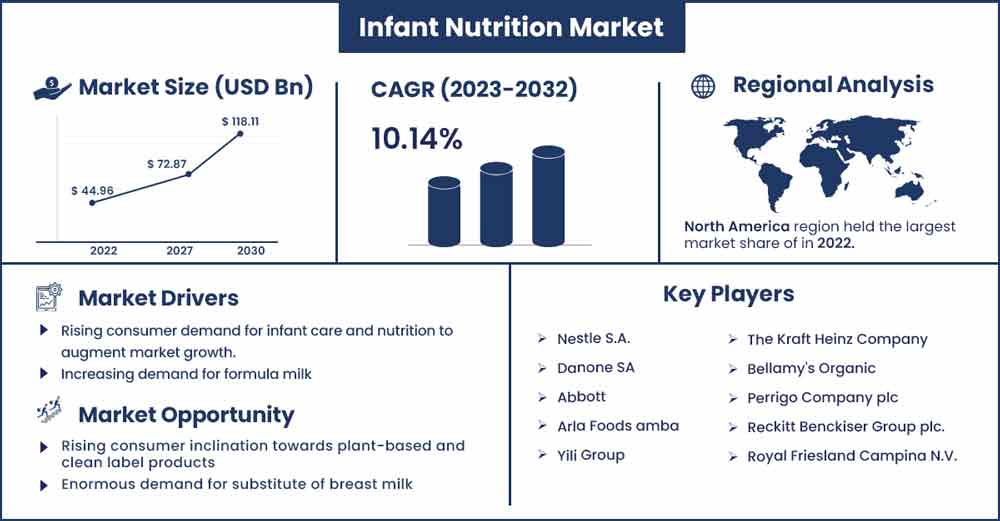 Market Overview:
The global infant nutrition market revolves around the production, innovation, and distribution of nutrition-based products for infants. Infants are advised to intake nutrition-based products/formulas in order to get the proper nutritional values that are required to the body. Infant nutrition products offer vital values for the ideal development and growth of infants. Infants that have a deficiency of nutritional values such as vitamin D, vitamin K, fluoride and iron are required to intake infant nutrition to fuel the body's growth. The global market for infant nutrition is observed to grow substantially during the forecast period owing to the rising government's focus on reducing the mortality rate in newborns. Organizations on the global level are focused on reducing global malnutrition with proper nutrition and dietary habits. This element highlights the growth of the infant nutrition market.
Regional Snapshot:
North America dominated the infant nutrition market in 2022, the region is expected to sustain its position in the market during the forecast period. High birth rates, new product development and rising disposable incomes are some of the key factors driving the infant nutrition market in the region. In addition, the demand for infant nutrition has been spurred by the growing number of working women, simple access, and difficulty in breastfeeding. The market for baby food and newborn formula in North America will continue to grow due to increasing awareness about the alternative and beneficial advantages of nutrition products for babies.
Asia Pacific is expected to register the fastest rate of growth during the forecast period. The rising awareness about nutrition products for newborns, substantial government efforts to reduce the mortality rate in newborns along with the ongoing research and development for the products promote the market's growth in Asia Pacific.
The changing tradition in infant meal patterns in India and China, which is transforming from the traditional meal patterns is expected to boost the growth of the market. Countries in Asia Pacific observe infant nutrition products as beneficial for disease management. Additionally, manufacturers in Asia Pacific are focused on bringing innovations in baby formula products, this element is observed to act as a driver for the growth of the market in the region.
Report Highlights:
By type of product, the infant milk segment is expected to grow at a significant rate. The rising demand for substitutes or alternatives for breast milk promotes the growth of the segment.
By distribution channel, the e-commerce segment is expected to experience the highest compound annual growth rate. The availability of baby products online promotes the growth of the segment.
Infant Nutrition Market Report Scope:
| | |
| --- | --- |
| Report Coverage | Details |
| Market Revenue in 2023 | USD 49.52 Billion |
| Projected Forecast Revenue in 2032 | USD 118.11 Billion |
| Growth Rate from 2023 to 2032 | CAGR of 10.14% |
| Largest Market | North America |
| Base Year | 2022 |
| Forecast Period | 2023 To 2032 |
| Regions Covered | North America, Europe, Asia-Pacific, Latin America, and Middle East & Africa |

Market Dynamics:
Driver:
Increasing demand for formula milk
According to WHO recommendations, babies should be nursed exclusively until they are six months old, then receive complementary feedings and additional nursing as needed until they are two years old. The ideal newborn diet continues to include breast milk or human milk. The leading baby formula producers are collaborating with the top institutions worldwide on human milk research. Although it is challenging to imitate human milk, it is feasible to draw inspiration from it, as seen in the most recent developments in infant formulae. Prebiotics, omega-3 fatty acids, or fiber that encourages the growth of healthy bacteria in the colon, and probiotics, or live bacteria that have health advantages, have all been shown to be abundant in human milk in the previous few decades. All such advantages of formula milk highlight the growth of the market for the upcoming period.
Restraint:
High expenses of nutrition products
Even the most basic newborn feeding formulations are not always affordable. In situations when parents are unable to afford infant feeding formulae, milk powders are utilized as a form of nutrition for newborns. Bottle feeding is undoubtedly more costly than nursing, regardless of formula or alternative. The overall formula and desirable ingredients involved in the infant nutrition products add up to the cost of the products. The urban population is likely to prefer such products, whereas the population in underdeveloped areas is prone to avoid the purchase of infant nutrition products due to the cost factor and lack of awareness about such products. This factor is observed to hamper the market's growth by creating a major restraint.
Opportunity:
Enormous demand for substitute of breast milk
The demand for formulas with cow's milk protein as the primary component has recently increased. Pediatricians usually recommend formula produced with protein from cow's milk as a substitute for breast milk. The presence of several formula formulations based on cow milk protein that satisfy babies' nutritional needs fuels it. To provide products specially adapted to the requirements of neonates who are intolerant of or allergic to certain forms of cow milk protein, businesses are investing in R&D activities. Many companies have chosen to build up baby food product storefronts on e-commerce platforms after seeing the potential business prospects in the online infant nutrition industry, particularly in the infant formula category. Online platforms are becoming increasingly popular as distribution channels because of various features like simple accessibility, seasonal deals, and quality assurance. Online channels are also gradually garnering a significant market share.
Challenge:
Side effects of infant formulas
Rarely do infant formulae have detrimental side effects. However, if left untreated, food allergies, vitamin deficiencies, or contamination of infant formula can result in major health issues for babies. A medical emergency arises when an infant has dangerous food allergy reactions such as vomiting, rashes, or tongue or throat swelling. Such potential side effects of infant formulas limit the adoption of infant nutrition products. Whereas infants with existing health issues are also prohibited from intaking nutrition formulas. Considering the potential risk of infant formulas, the element is expected to create a significant challenge for the market's growth.
Recent Developments:
In February 2023, M.K. Stalin, the chief minister of Tamil Nadu, unveiled a unique nutrition scheme that would assist more than 1.11 lakh kids between the ages of six months to six years, as well as more than 11,900 newborns up to six months. Additionally, he introduced welfare initiatives for schoolchildren, people with disabilities, transgender people, mothers of newborns up to six months old, and "cleanliness workers" and other groups.
In March 2023, Bobbie Labs, the brand's center for research and development, introduced a second infant formula. The pioneering and only American-produced, organic product created in the manner of the EU that contains 100% lactose rather than other carbohydrates, such as corn syrup, is called Bobbie Organic Gentle, with a target release date of late spring 2023. Lactose is the main carbohydrate contained in the mother's milk and gives the body the energy it needs to grow. Still, approximately 90% of infant formulas in the US substitute rice syrup, corn syrup solids, or corn compounds like maltodextrin for lactose.
Major Key Players:
Nestle S.A.
Danone SA
Abbott
Arla Foods amba
Yili Group
The Kraft Heinz Company
Bellamy's Organic
Perrigo Company plc
Reckitt Benckiser Group plc.
Royal Friesland Campina N.V.
Market Segmentation:
By Type
Infant Milk Formula
Follow-on-Milk
Specialty Baby Milk
Prepared Baby Food
Others
By Distribution Channel
Hypermarkets/Supermarkets
Pharmacy/Medical Stores
Specialty Stores
Others
Buy this Research Report@ https://www.precedenceresearch.com/checkout/2597
You can place an order or ask any questions, please feel free to contact at sales@precedenceresearch.com | +1 9197 992 333