The global intelligent power module market size surpassed USD 2.37 billion in 2022 and it is predicted to attain around USD 5.16 billion by 2032, poised to grow at a CAGR of 8.09% between 2023 and 2032.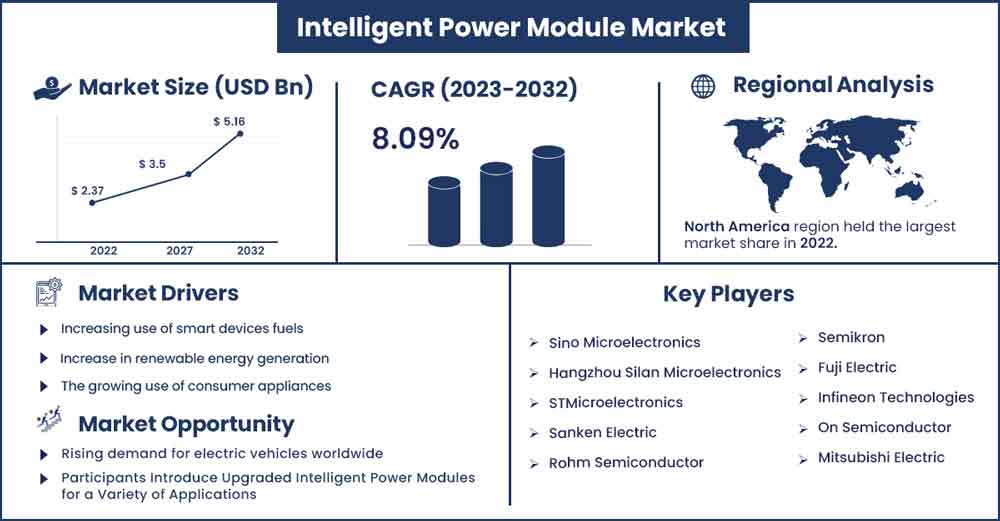 Market Overview:
The Intelligent Power Module (IPM) market refers to the industry segment that deals with the production, sales, and adoption of intelligent power modules. An Intelligent Power Module is a power electronic device that integrates multiple components such as power semiconductors, gate drivers, and protection circuits into a single module. It provides a compact and efficient solution for controlling and switching power in various applications. Intelligent Power Modules are widely used in industries such as consumer electronics, industrial automation, renewable energy, automotive, and more. They offer benefits such as improved power efficiency, reduced size and weight, enhanced reliability, and simplified circuit design.
Regional Snapshot:
Asia Pacific dominates the market for intelligent power modules. China's fast-growing automotive and consumer electronics sectors are anticipated to increase the need for intelligent power modules. Rapid industrialization and infrastructure development are driving this expansion. In addition, governments' emphasis on generating power via renewable sources has been linked to increased industrial activity. Asia-Pacific countries have been at the forefront of technological advancements in the semiconductor and electronics sectors. They have invested heavily in research and development, resulting in the development of innovative and high-quality IPMs. Companies in the region have focused on improving power module efficiency, reliability, and integration with advanced features, making them attractive to customers worldwide.
North America is expected to witness significant growth during the forecast period. The adoption of electric vehicles is gaining traction in North America, driven by government incentives, environmental regulations, and the desire for greener transportation solutions. IPMs play a crucial role in the power electronics systems of EVs, controlling the motor drive, battery management, and other power-related functions. The increasing demand for electric vehicles in the region is directly contributing to the growth of the IPM market.
Intelligent Power Module Market Report Scope:
| | |
| --- | --- |
| Report Coverage | Details |
| Market Revenue in 2023 | USD 2.56 Billion |
| Projected Forecast Revenue in 2032 | USD 5.16 Billion |
| Growth Rate from 2023 to 2032 | CAGR of 8.09% |
| Largest Market | North America |
| Base Year | 2022 |
| Forecast Period | 2023 To 2032 |
| Regions Covered | North America, Europe, Asia-Pacific, Latin America, and Middle East & Africa |

Report Highlights:
By vertical, in the market for intelligent power modules, the industrial segment had the biggest revenue share, the segment is expected to grow at a significant rate during the forecast period. The compact and integrated design of IPMs simplifies the system-level integration process in industrial applications. By combining power devices, gate drivers, and protection circuitry in a single module, IPMs reduce the complexity of the overall system design, save board space, and enable faster time-to-market for industrial equipment manufacturers.
By voltage, the segment of up to 600V led the market and is predicted to increase at the fastest rate over the next five years. The up to 600V segment offers a balance between power handling capabilities and energy efficiency. IPMs within this voltage range can optimize power conversion and reduce energy losses, leading to improved overall system efficiency.
Market Dynamics:
Driver:
The growing use of consumer appliances
Consumers are becoming more conscious about energy consumption and are actively seeking energy-efficient appliances. Intelligent Power Modules play a crucial role in optimizing energy usage in appliances by integrating advanced power electronics and control functions. These modules enable efficient power conversion and management, leading to reduced power losses and improved overall energy efficiency. The rise of home automation and the Internet of Things (IoT) has resulted in the development of smart appliances. These appliances are designed to provide enhanced functionality, convenience, and connectivity. Intelligent Power Modules are used in smart appliances to enable precise control of power delivery, motor control, and voltage regulation. Considering the factors associated to IPM that improvise the operations of consumer appliances, are expected to act as a driver for the market's growth.
Restraint:
High initial investment
Developing and manufacturing IPMs requires significant investments in research and development (R&D). IPMs are complex semiconductor devices that integrate multiple power components, such as power switches, gate drivers, and protection circuits, into a single module. Designing and testing these modules involve substantial R&D expenditures, including prototyping, simulation, and validation. PMs are often built on proprietary technologies and developing and protecting intellectual property (IP) rights can be costly. Companies investing in IPM technology need to protect their innovations through patents, copyrights, and trade secrets, which involves legal fees and ongoing maintenance expenses. Thus, the high cost initial investment is observed to act as as major restraint for the market.
Opportunity:
Rising demand for electric vehicles worldwide
The global push towards reducing carbon emissions and transitioning to clean energy has led to a surge in the adoption of electric vehicles. As governments and consumers prioritize sustainable transportation solutions, the demand for EVs is rapidly increasing. Intelligent power modules play a crucial role in the power electronics systems of electric vehicles, enabling efficient and reliable power control and conversion. Automotive manufacturers are scaling up their production of electric vehicles to meet the growing demand and comply with stricter emission regulations. This surge in EV production creates a significant market for intelligent power modules. These modules are utilized not only in passenger cars but also in commercial electric vehicles like buses, trucks, and two-wheelers, further expanding the market opportunities. The increasing adoption of EVs, coupled with technological advancements and infrastructure development, will drive the demand for advanced power electronics solutions in the automotive sector, benefiting the IPM market.
Challenge:
Optimization of design
Over the past two decades, as IPM has developed, one of the problems has been design optimization. A typical IGBT module's power components are made to withstand a specific level of stress from short circuits on their own, providing enough time and voltage-current SOA to properly implement external protection mechanisms in a practical application. The device is made sufficiently robust in this way but at the expense of increasing power loss characteristics and the performance of forward voltage drop. Thus, the issues with optimization of design are observed to pose as a challenge for market expansion.
Recent Developments:
In September 2022, three silicon carbide (SiC) based power modules in transfer molded technology were released by onsemi, a pioneer in intelligent power and sensor technologies, and are designed for application in the conversion of high voltage (HV) DCDC and onboard charging in all sorts of electric cars (xEV). The APM32 series, uniquely created for high-power 11–22kW onboard chargers (OBC), incorporates SiC technology within a transfer molded packaging to improve efficiency and reduce charge times for EVs.
In March 2023, the iMOTION IMI110 intelligent power module (IPM) series of motor controllers were introduced by Infineon Technologies AG. The series includes a gate driver with three phases, 600-V/4-A IGBTs or 600-V/2-A, and the iMOTION Motion Control Engine (MCE) in a small DSO-22 box. The series of integrated motor controllers is appropriate for fans, pumps, and motors in small and big home appliances with an output power of 70 W. Even larger outputs may be possible depending on how the system is designed.
In May 2023, Sungrow recently announced the release of their ground-breaking MLPE (Module Level Power Electronics) SP600S smart power optimizer, improving solar system efficiency and security. The SP600S is intended to raise PV system safety, rooftop installation capacity, and production total while improving O&M and installation efficiency. It drives industry change and product innovation, enhancing the safety and efficiency of every PV module over it.
Major Key Players:
Sino Microelectronics
Hangzhou Silan Microelectronics
STMicroelectronics
Sanken Electric
Rohm Semiconductor
Semikron
Fuji Electric
Infineon Technologies
On Semiconductor
Mitsubishi Electric
Market Segmentation:
By Voltage
601 V – 1200 V
Up to 600V
Above 1200 V
Others
By Vertical
Automotive
Information and Communication Technology
Industrial
Consumer Electronics
Others
Buy this Research Report@ https://www.precedenceresearch.com/checkout/2605
You can place an order or ask any questions, please feel free to contact at sales@precedenceresearch.com | +1 9197 992 333