The global intelligent power module market size was exhibited at USD 2.37 billion in 2022 and is projected to hit around USD 5.16 billion by 2032, growing at a CAGR of 8.09% from 2023 to 2032.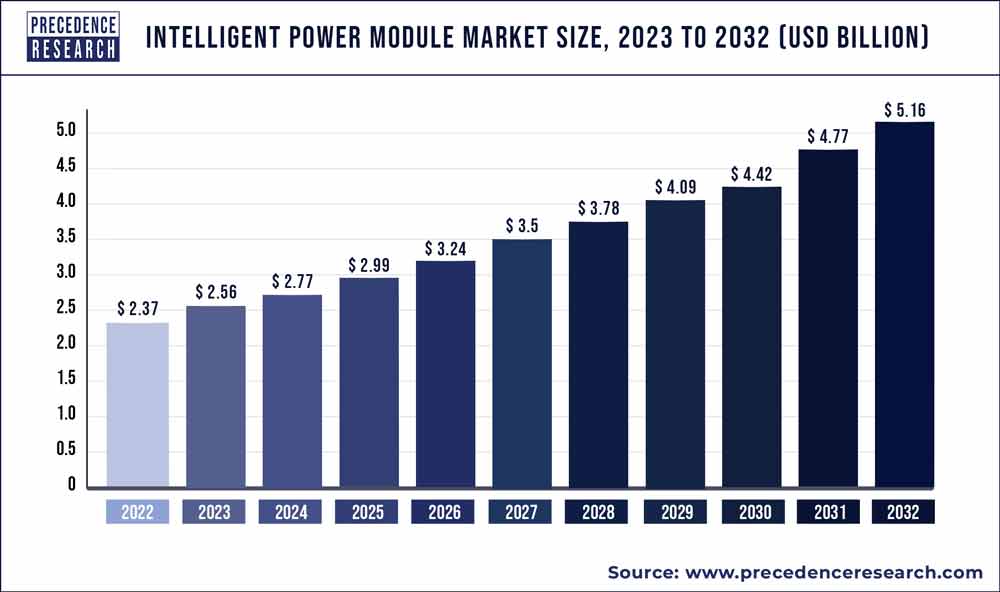 Key Points:
The Asia Pacific region is predicted to expand at the highest CAGR between 2023 to 2032.
North America is expected to have a significant market share.
The Up to 600V Voltage segment contributed the maximum market share in 2022.
The consumer electronics vertical segment is predicted to expand more quickly between 2023 to 2032.
Market Overview
The global intelligent power module market is expanding quickly due to the rising demand for consumer electronics. The growing acceptance of electric vehicle and hybrid vehicles is another factor driving the growth of this industry. An electrical device that has a high-voltage drive circuit to provide high power performance from either an IGBT power device or a MOSFET power device is referred to as an intelligent power module. Extreme temperatures, under-voltage fluctuations, and short circuits in systems are also all prevented by using it. Inverters, heating, ventilation, air conditioning, solar power generation, and several other sectors where it looks appropriate can all use intelligent power modules. They are suited for application in smart grids, consumer electronics, and other systems due to their great power efficiency and low power consumption. An intelligent power module is a practical tool in the electronics sector thanks to all these features.
The increasing demand for electric hybrid vehicles is boosting the market for intelligent power modules
The demand for consumer electronics items is rising along with the population growth in various emerging economies. As a result of this progress, the demand for intelligent power modules has also increased. Throughout the anticipated period, this serves as a market-driving force. The population's apparent preference for hybrid electric vehicles is driving this industry as well because it opens up more opportunities for the use of intelligent power modules. The demand for energy sources on the market is also influenced by the expanding trend of renewable energy sources.
The adoption of clean energy vehicles, such as plug-in hybrid electric vehicles, electric vehicles (EVs), and alternative fuel vehicles where IPMs are extensively used in oil pumps, AC compressors, onboard charging units, etc. is being pushed by numerous government programs around the world aimed at lowering carbon dioxide emissions and protecting the environment. The expansion of the EV industry is therefore anticipated to assist the expansion of the market under investigation. The electronics sector is displaying a number of emerging trends that offer opportunities for intelligent power modules to be used further. Since intelligent power modules enable a higher power supply for electric and electronic components, numerous data center businesses are incorporating them in modular data centers.
Report Scope of the Intelligent Power Module Market
| | |
| --- | --- |
| Report Coverage | Details |
| Market Size in 2023 | USD 2.37 Billion |
| Market Size by 2032 | USD 5.16 Billion |
| Growth Rate from 2023 to 2032 | CAGR of 8.09% |
| Fastest Growing Market | Asia Pacific |
| Largest Market | North America |
| Base Year | 2022 |
| Forecast Period | 2023 to 2032 |
| Segments Covered | By Voltage, and By Vertical |
| Regions Covered | North America, Europe, Asia-Pacific, Latin America and Middle East & Africa |

Market Dynamics
Market Drivers
The global intelligent power modules market will be driven by an increase in renewable energy generation.
In the coming years, there will likely be an increase in demand for renewable energy sources like wind and solar due to rising greenhouse gas (GHG) emissions, mainly CO2 due to the excessive usage of fossil fuels for energy production. In addition, the increased demand for electricity in developing nations is refocusing attention on the production of renewable energy. The use of solar inverters, micro-inverters, and wind turbine inverters, where intelligent power modules are crucial components, may expand as a result of this rising demand. Therefore, it is projected that growth in the production of renewable energy around the world will propel the market for intelligent power modules over the forecast period.
Stringent CO2 emission rules implemented by governments throughout the world and rising environmental consciousness among the populace are both responsible for the electric car industry's notable rise. High-density power modules are being integrated into power management circuits and motor drives in electric vehicles as a result of technological advancements that have improved the reliability and efficiency of the vehicles while reducing system size and cost. Thus, it is anticipated that the worldwide intelligent power module market will have plenty of opportunities in the near future as electric vehicle (EV) and hybrid electric vehicle (HEV) adoption picks up pace.
Market Restraints
The slow acceptance of new technologies and the challenging design of clever power modules
The rapid expansion of the IPM market requires the adoption of new trends and technology in IPMs. Although new technology and its advantages appeal to engineers, designing a control structure is difficult. As a result, the IPM market adopts new technologies at a relatively moderate rate, which would impede the technology's development. The companies in the intelligent power module market also put a lot of effort into combining many functions onto a single chip, which leads to complicated designs. Complex device design and integration need specialized skill sets, reliable methodologies, and expensive toolkits, which raises the entire cost of the devices. The transfer to more expensive, high-tech devices is predicted to be hampered by their high cost, which is predicted to impede the growth of the intelligent power module market throughout the forecast period.
Market Opportunities
Participants Introduce Upgraded Intelligent Power Modules for a Variety of Applications
It is anticipated that market participants in the intelligent power module space will launch new products that comply with the needs of the modern industrial sector. Improved versions of intelligent power modules are being released by major industry participants, and they are expected to be used in a variety of applications. Stakeholders are concentrating on the design features of their intelligent power modules in addition to the introduction of new power semiconductor technologies.
For industrial motor drives, Infineon Technologies introduced a new intelligent power module in October 2018. The CIPOS Maxi, according to Infineon, is the best low-power drive for air conditioning, pumps, motors, fans, ventilation, and power factor correction. The company also introduced a new 3-phase intelligent power module, which is intended to maximize the efficiency of washing machines, industrial drives, compressors, fans, and other devices, as part of their effort to diversify their current product offerings.
Covid-19 impact on the markets
Due to the COVID-19 outbreak, the market growth for intelligent power modules fell in 2020.
Supply chain disruptions, decreased output by a number of end-user OEMs in the aforementioned market, including those in the industrial, automotive, consumer electronics, aerospace, and other sectors, as well as the suspension of business and industrial operations, were the main features of the post-COVID-19 scenario. In the end, this decreased the need for intelligent power modules and related technologies. As a result, the market suffered in 2020 in all areas; however, with the economic recovery, the market has gained some pace.
Segment Insights:
Voltage Insights
The market is divided into four categories based on voltage rating: 601 V - 1200 V, Up to 600 V, Above 1200 V, and Others. According to the applicable cable standard or specification, the voltage rating of a cable refers to the maximum voltage that can be continuously applied to a finished cable structure. It is the highest voltage that a cable can operate at while still remaining stable. Intelligent power modules can be used with cables that have a rating of 601 V to 1200 V. They can be used on cables of 600 V or more, as well as 1200 V cables.
The market segment for vehicles up to 600 V held the most market share in 2022. IPMs with voltage ratings up to 600 V has a number of advantages, including a quicker time to market, higher dependability, and less expensive and smaller systems. IGBTs and high-voltage MOSFETs that are reliable and efficient are used in IPMs with voltage ratings up to 600 V that are designed specifically for variable frequency drives. IPMs like this is frequently seen in consumer devices. AC motor drives offer a small design and good performance. Industrial applications include driving fans, pumps, and compressors that use IPMs with 600 V IGBTs. All these attributes are anticipated to increase demand for the aforementioned segment of intelligent power modules.
Vertical Insights
The market is divided into categories for automotive, information and communication technology, industrial, consumer electronics, and other sectors based on vertical. An application for intelligent power modules is encouraged by the growing popularity of electric and hybrid vehicles in the automotive industry. They can be used to boost an IGBT chip's performance by integrating them into the car's electric circuit. A high power supply for diverse electric and electronic components is made possible by the intelligent power module, which is being used and integrated into the data center business. Air conditioners are one example of a consumer product where intelligent power modules have been used to provide physical containment for diverse power components.
The intelligent power module market is expected to expand more quickly in the consumer electronics category during the anticipated period. The demand for power electronics devices in power management applications is anticipated to increase as consumer electronics device usage rises. Examples of these devices include smartphones, tablets, and smart wearables. Additionally expected to accelerate the expansion of the consumer electronics sector is the growing use of power electronics in home appliances. Fixed-speed drives are being replaced with inverter-based motor controllers by manufacturers of consumer devices. Instead of just turning the motor on and off as fixed-speed drives do, inverter-based control can change the motor's speed and torque. Consumers gain from the interiorization trend as well as the efficiency advantages of this sort of control because digital inverter products last longer, are quieter, use less energy, and ultimately save the consumer money. It is anticipated that these trends would increase demand for IPMs in the consumer electronics sector.
Regional Analysis
North America is anticipated to have a considerable market share
Due to the high penetration of innovative consumer electronics products, high utilization of renewable energy in end-user sectors, and expanding EV adoption, the North American region is anticipated to continue to rank among the most significant areas in the global intelligent power module market. Increased customer knowledge of the benefits of utilizing energy-efficient products is another important aspect fueling the North American market's expansion under study. Ford, General Motors, Fiat Chrysler Automobiles, Tesla, and other major foreign automakers are concentrated in the North American region, particularly the United States, making it one of the greatest automobile markets in the world. The Bureau of Economic Analysis (BEA) estimates that 14.9 million light vehicles including cars, light trucks, and other vehicles were sold in the United States in 2021. Since IPMs are frequently employed in the automotive sector in systems like powertrains, oil pumps, AC compressors, etc., such developments are assisting the market's expansion under study.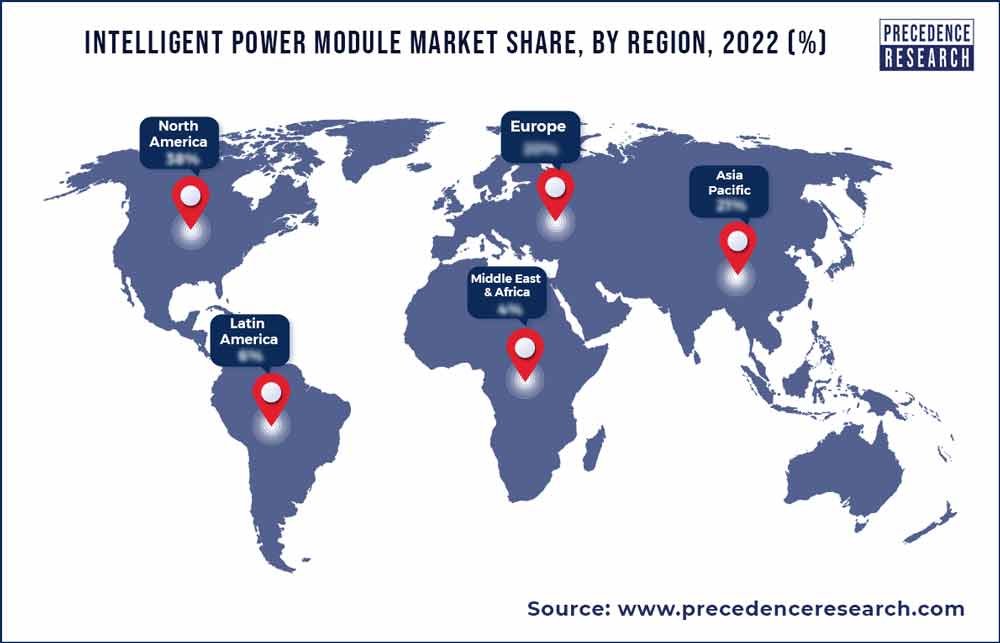 The intelligent power module market will expand at the highest CAGR in Asia Pacific over the anticipated period
Throughout the forecast period, the intelligent power module market is anticipated to be most heavily influenced by the Asia Pacific. The consumer electronics and automotive industries are expanding quickly in China, which is projected to raise demand for intelligent power modules there. This expansion is being fueled by rapid infrastructural development and industrialization. In addition, more industrial activity has been seen as a result of governments putting more emphasis on producing power from renewable sources.
India's economy is predicted to expand at a rate of 15.6% CAGR from 2023 to 2032 since the country's market is booming with innovative new technology and practices. The immediate, mid-term, and long-term phases of business development are strategically channeled by semiconductor businesses. The businesses are concentrating on solar energy, utility solar, consumer durables, and traction for the short run. In the medium term, they will concentrate their best efforts on developing electric car traction designs and electric vehicle chargers. Along with the expansion of the aforementioned segment, they are further advancing space for optical devices (OPTO), high frequency (HF), and high voltage direct current (HVDC).
China's semiconductor industry is anticipated to grow at a rate of 13.04% CAGR from 2023 to 2032, making it one of the largest in the world due to the existence of key companies and widespread output. Chinese auto suppliers and original equipment manufacturers (OEMs) are compelled to begin producing intelligent power modules as the market for automotive IGBTs shrinks. Due to the high demand for SiC MOSFET modules in Tesla's EVs, silicon carbide (SiC), a revolutionary material for EV power modules, is also being used by China-based EV companies.
Recent Developments:
Infineon Technologies AG, Mitsubishi Electric Corp., and STMicroelectronics N.V., three significant producers in the global intelligent power module market, are boosting their sales through merger and acquisition (M&A) and research and development (R&D) efforts. Following are a few of the major market developments:
In May 2022, In order to ensure efficient and sustainable transportation, as well as electrical energy savings in the transportation sector, Siemens Mobility, and Mitsubishi Electric Europe B.V., signed a Memorandum of Understanding (MoU) to work together in the field of SiC power module technology.
In February 2022, Infineon Technologies is expanding its manufacturing capabilities in the area of wide bandgap (SiC and GaN) semiconductors, which will help it maintain its market dominance in the power semiconductor sector. The business is spending more than USD 2 billion to construct a third module at its Malaysian facility in Kulim. Once fully outfitted, the new module will bring in an additional USD 2 billion in revenue every year from products made of silicon carbide and gallium nitride.
In December 2020, A 1,200 V transfer molded silicon carbide (SiC) integrated power module was introduced by Infineon Technologies AG (IPM). The first product in its field for this voltage class is the CIPOS Maxi IPM IM828 series. The series offers a small inverter solution for variable-speed drive applications using three-phase AC motors and permanent magnet motors with excellent thermal conduction and a wide range of switching speeds. These include, but are not limited to, active filters for HVAC and industrial motor drives, pump drives, and pump drives (HVAC).
In August 2019, the newly created super tiny intelligent power module (IPM) known as DIPIPMTM Ver.7 was unveiled by Mitsubishi Electric Corp. Low power consumption, less radiation noise, and more adaptable heat dissipation are all features of this module.
In August 2017, Power factor correction (PFC)-equipped IPM CIPOS Mini was introduced by Infineon Technologies AG. Reducing the size of materials may be possible with the integration of CIPOS Mini IPM in end-use applications.
In June 2017, Surface-mount, intelligent low-power modules were created recently by STMicroelectronics N.V. In space-saving motor drives for efficient motors, this power module is used. In particular in hard-switching circuits at frequencies up to 20 kHz, it also offers great switching efficiency and conduction.
Market Key Players:
Sino Microelectronics
Hangzhou Silan Microelectronics
STMicroelectronics
Sanken Electric
Rohm Semiconductor
Semikron
Fuji Electric
Infineon Technologies
On Semiconductor
Mitsubishi Electric
Segments Covered in the Report:
(Note*: We offer report based on sub segments as well. Kindly, let us know if you are interested)
By Voltage
601 V – 1200 V
Up to 600V
Above 1200 V
Others
By Vertical
Automotive
Information and Communication Technology
Industrial
Consumer Electronics
Others
By Geography
North America
Europe
Asia-Pacific
Latin America
The Middle East and Africa