The global IoT based asset tracking and monitoring market size accounted for USD 4.35 billion in 2022 and it is projected to gain around USD 8.5 billion by 2030, expanding at a CAGR of 8.74% between 2022 and 2030.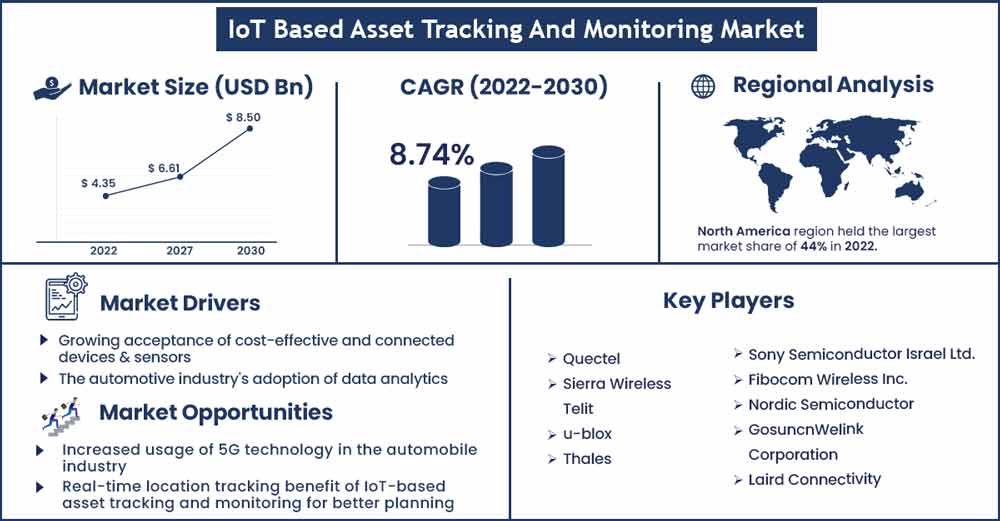 The efficiency of industrial assets is radically changing as a result of intelligent Internet of Things solutions that improve product quality. Real-time monitoring employs sensors to continually monitor pressure, assets' temperature, and health in order to generate an accurate analysis for better decision-making.
The growth of the industry has been constrained by the COVID-19 outbreak. The pandemic had a detrimental effect on the operations of several economic sectors throughout the globe, including the automotive, railroad, aviation, and industrial industries. The need for corporate and governmental facilities to maintain effective asset management has lessened as a result of the operational stop.
Report Highlights:
By application, the market for cold chain monitoring is estimated to account for almost one-fifth of the market over the forecast period.
During the forecast period, the Asia Pacific region is predicted to develop at the fastest CAGR in the market.
Cellular is the most appealing category, with enormous market potential for IoT-based asset tracking and monitoring service providers.
In 2021, the automobile category had a substantial revenue share in the market. The use of automation has dramatically revolutionized how the automobile industry functions and popularised the Internet of Things.
The interruption in the supply chain also impacted demand for the sector. Due to the worldwide lockdown and rigorous regulation imposed to combat the fatal sickness, there was a lack of supply of the parts and components that are significantly employed in the construction of such systems.
IoT Based Asset Tracking And Monitoring Market Report Scope:
| | |
| --- | --- |
| Report Coverage | Details |
| Market Revenue in 2023 | USD 4.73 Billion |
| Projected Forecast Revenue in 2030 | USD 8.5 Billion |
| Growth Rate from 2022 to 2030 | CAGR of 8.74% |
| Largest Market | North America |
| Base Year | 2022 |
| Forecast Period | 2022 To 2030 |
| Regions Covered | North America, Europe, Asia-Pacific, Latin America, and Middle East & Africa |

Regional Snapshots:
Due to a significant inclination for technologically advanced products, North America is anticipated to dominate the global market throughout the estimated period. The area is both a hub for technological innovation and an early adopter of new technologies. It is anticipated that the North American IoT-based asset tracking and monitoring market will grow during the review period due to the region's significant presence of major companies, increased use of cutting-edge technology, high demand for interconnected devices, and increasing deployment of interconnected devices.
Market Dynamics:
Drivers:
The market for IoT-based asset tracking and monitoring is being driven by the increasing usage of low-cost, intelligent linked devices and sensors.
With the increasing use of connected devices, IoT generates massive amounts of data; as a result, data flow applications are growing in many industries, including agriculture, manufacturing, cold chain monitoring, aviation, and automotive. As a result of lower infrastructure costs, it is now possible to produce in big quantities and hasten product delivery. Companies are using IoT and analytics to manage and enhance their operations while remaining competitive in the market. A recent survey found that over 35% of firms in the United States gather and use data provided by smart IoT modules to improve manufacturing operations, livestock, fleet management, feed monitoring, and other related activities.
The Internet of Things (IoT), which connects data, processes, and things, has become a popular idea. According to Cisco, the amount of machine-to-machine connections will more than double in the next five years. Connections at a manufacturing plant, delivery truck, and warehouse assets tracking systems are examples of M2M connections. The worldwide IoT machine connections are predicted to expand 2.3 times between 2022 and 2030, with short-range IoT connections accounting for half of the increase. Aside from the aforementioned considerations, the expanding number of internet users, adoption, and growing IoT and M2M connections are all driving demand for IoT-based asset monitoring solutions.
Restraints:
One of the significant impediments to the growth of the IoT-based asset tracking and monitoring market is the requirement for high initial capital expenditure. The majority of today's facilities' equipment was not designed to be IoT-ready. While certain equipment can be rapidly changed for IoT, upgrading others can be costly. The costs of integrating IoT solutions in many applications are significant. The cost includes hardware acquisition, application development, and an extra life cycle cost. The app development process is capital-intensive and varies by nation.
Aside from core components (hardware and software), networking, cloud storage, administrative chores, and specialized personnel all need significant expenditure. Refurbishing current equipment to make them IoT-ready is another costly operation for businesses. These factors are likely to deter small and medium-sized businesses from using IoT in their facilities for asset tracking and monitoring.
Opportunities:
The emergence of automation has fundamentally changed how the auto sector operates, making IoT desirable. For instance, automakers are utilizing IoT in advanced scheduling and planning to collect real-time production and inventory data as well as to cut down on waste and cycle time. Additionally, they are using IoT-based analytics in a range of applications, from optimizing on-hand inventories to executing replenishment plans in production lines for quality testing.
Asset management standards benefit automotive firms in a variety of ways, one of which is reduced purchase costs. Businesses are less likely to replace and acquire new equipment as a result of preventative maintenance programs and asset life cycle management. One of the advantages of implementing an asset management plan is the ability to track automotive assets in real time. Asset tags such as barcodes, GPS trackers, QR codes, and wireless beacons are standard asset-tracking technologies.
As a result, the significant vehicle manufacturing volume is likely to provide significant potential for market participants in the automotive business.
Challenges:
The biggest problem for the IoT-based asset tracking and monitoring business is the trade-off complexities associated with connection technologies. Wi-Fi, LoRa, cellular, Bluetooth ,NB-IoT and SigFox are among the technologies used in IoT asset tracking and monitoring modules. The range, power consumption, and accuracy of these systems vary.
However, developing a single solution that provides all of these benefits is a significant task for solution suppliers. Asset tracking and monitoring modules based on IoT include hardware and software for tracking and delivering true address of assets and resources. Tags, readers, and sensor track and/or monitor assets, humans, or precious resources with greater precision in locations where their network coverage is available.
However, because to a delicate trade-off between accuracy, battery consumption, and range, IoT-based asset tracking and monitoring modules encounter hurdles. Because of their lack of precision, narrowband-based tags are not employed in several important applications. Wideband tags are accurate but have a restricted range. Some wideband-based tags are huge and consume a lot of power. The channel environment, for example, presents a difficulty to IoT-based asset monitoring and tracking modules based on UWB or NB-IoT. Whenever the distance between the transmitter and receiver grows, the impulse response degrades, limiting the performance and range of an IoT module.
Recent Developments:
Semtech announced the inclusion of multi-band features to the LoRa Edge device-to-Cloud geolocation solution in April 2022. Integration with apps such as logistics and supply chain management will be possible as a result.
Fibocom Wireless Inc. will debut the 5G smart module SC171 in March 2022, which is specifically intended for AIoT industrial applications such as smart robotics, car manufacturing, smart homes, and logistics.
Major Key Players:
Quectel
Sierra Wireless
Telit
u-blox
Thales
Sony Semiconductor Israel Ltd.
Fibocom Wireless Inc.
Nordic Semiconductor
GosuncnWelink Corporation
Laird Connectivity
Semtech (US), Mediatek Inc.
Analog Devices, Inc.
Sequans
MeiG Smart Technology
Neoway Technology
Xiamen CHEERZING IoT Technology
HiSilicon Technologies
Skyworks Solutions, Inc.
Omnitracs (US), Hilti
Samsara (US), Azuga
Sunsea AIoT Technology Co., Ltd
Market Segmentation:
By Application
Livestock Monitoring
Automotive
Railways
Aviation
Manufacturing
Cold Chain Monitoring
Others
By Connectivity
Wi-Fi
Bluetooth
Cellular
NB-IoT
LoRa
SigFox
UWB
GNSS
Others
Buy this Research Report@ https://www.precedenceresearch.com/checkout/2164
You can place an order or ask any questions, please feel free to contact at sales@precedenceresearch.com | +1 9197 992 333