The global medical device cleaning market size was exhibited at USD 24.33 billion in 2022 and is projected to attain around USD 48.9 billion by 2030, poised to grow at a strong CAGR of 9.12% between 2022 to 2030.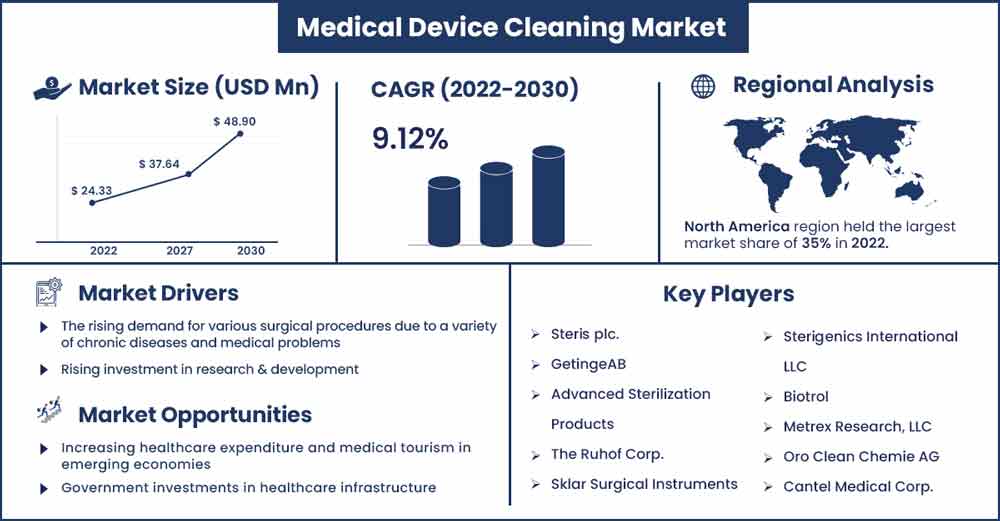 Every surgical operation must include cleaning of medical devices. Most of the medical equipment, including scalpels, scissors, forceps, retractors, and endoscopes is used in medical procedures. The medical device must be carefully cleaned and disinfected before being utilized in following surgical procedures to reduce infections among patients and medical personnel.
Medical device cleaning involves cleaning and sanitising medical equipment with detergents and disinfectants. Different chemicals are used to clean different types of medical equipment. Grease, Oil, fingerprints, and other debris should be removed from all medical equipment, whether it is disposable, implantable, or reusable. Reusable goods must also be meticulously cleaned and sterilised in between usage to prevent sickness or patient infection. The rising demand for various surgical procedures due to a variety of chronic diseases and medical problems is the major factors driving the worldwide market for medical device cleaning.
The steadily increasing rate of infections is anticipated to play a significant role in the market's overall growth throughout the course of the forecast period. Growing physician and patient understanding of the benefits of medical device cleaning will create lucrative opportunities for market growth. Additionally, because they aid in the breakdown of lipids, certain proteins, and sugars, specialist cleaning solutions are becoming more and more well-liked on a global scale. Additionally, health groups from several countries are implementing a range of initiatives and promotions to promote appropriate cleaning of medical equipment. Leading important companies are also engaging in mergers and acquisitions to develop better products and get a competitive edge, which is anticipated to propel market expansion.
Due to the emergence of coronavirus illnesses, the use of imaging devices, stethoscopes, nebulizers, ventilators, endoscopes, infusion equipment, other medical equipment is expanding globally. This has a favourable effect on the necessity of cleaning medical devices in order to lessen the risk of cross-contamination. Market restraints for cleaning medical device growth in the aforementioned time frame are projected to come from worries about the safety of reprocessed equipment and the rise in demand for single-use instruments.
The biggest and most significant barrier to the growth of the business will be the cleaning and disinfection of sophisticated and complicated medical equipment. The need for worldwide medical care cleansing increased with the COVID-19 epidemic. It became more and more important to constantly and often sanitise equipment as a result of the hazardous virus's spread.
Regional Snapshots:
The market in North America is anticipated to have the biggest market share in 2021 and experience the fastest growth rate during the anticipated period. Due to rising healthcare costs and expanding initiatives for sophisticated healthcare infrastructure in Asia Pacific nations, the area is anticipated to present considerable development possibilities for companies operating in the medical device cleaning market.
Medical Device Cleaning Market Report Scope:
| | |
| --- | --- |
| Report Coverage | Details |
| Market Revenue in 2023 | USD 26.55 Billion |
| Projected Forecast Revenue in 2030 | USD 48.9 Billion |
| Growth Rate from 2022 to 2030 | CAGR of 9.12% |
| Largest Market | North America |
| Base Year | 2022 |
| Forecast Period | 2022 To 2030 |
| Regions Covered | North America, Europe, Asia-Pacific, Latin America, and Middle East & Africa |

Market Dynamics:
Drivers:
The market is expanding since hospital-acquired illnesses are becoming more common.
Nosocomial infections, sometimes referred to as hospital-acquired infections or HAIs, are a leading global cause of morbidity and death. HAIs include pneumonia caused by a ventilator, catheter-associated uti, and central line-associated bloodstream infections (CLABSIs). C. difficile, MRSA, Klebsiella, E. coli, Enterococcus, and the Pseudomonas species are the most typical bacteria linked to HAIs. HAIs are mostly caused by the use of contaminated medical equipment during diagnostic and therapeutic operations. Implementing infection control procedures in healthcare settings can aid in lowering the number of HAI-related fatalities. Cleaning hospital equipment including catheters, surgical tools, and injections as well as employing ultraviolet environmental disinfection (UVD) systems after normal discharge all contribute to reducing the number of HAIs brought on by Clostridium difficile or multidrug-resistant organisms (MDROs) (CD).
Restraints:
The cleaning and disinfection of sophisticated and complicated medical devices is a topic of some concern. Patient infection resulted from improper medical device disinfection. Additionally, as endoscope analysers proliferate on the market, endoscope reprocessors are required to clean them after each usage. Inadequate disinfection increases the patient's chance of contracting an illness. For instance, a difficult-to-use AER or one that malfunctions regularly might dramatically raise the risk of incorrect or inadequate endoscope cleaning and cause expensive delays.
Opportunities:
The market for cleaning medical devices is seeing tremendous growth due to an increase in surgical operations. The number of surgical operations carried out worldwide has significantly increased over time. The need for various surgical equipment and medical devices during surgical operations has increased as a result of this. The overall number of surgical operations carried out globally grew by 4% in 2017 compared to 2016, according to the International Society of Aesthetic Plastic Surgery (ISAPS). Additionally, according to the National Spinal Cord Injury Statistical Center (NSCISC) 2020 Dataset, there are around 17,000 new spinal cord injuries (SCIs) per year in the US, or 57 cases per million people. Due to the increased incidence of obesity, there are also more cardiovascular and orthopaedic procedures being performed.
The increased number of operations carried out throughout the world has led to a growth in the need for various medical and surgical instruments during surgical procedures. Due to the benefits of sterilised items that have been established and the rising knowledge of their efficiency in infection control health settings, this further increases the market for medical device cleaning solutions.
Challenges:
Healthcare professionals recycle medical equipment in an effort to cut costs and waste. However, there are issues with the effectiveness and safety of recycled devices. The risk of surgical-site infections (SSIs) in patients can rise as a result of the retention of blood, tissue, and other biological waste in reusable devices due to inadequate instrument cleaning.
The acceptability of reprocessing by hospital managers and doctors is being constrained by these concerns. Some instruments are fragile and include features like obtuse angles, tiny coils, narrow lumens, and specific coatings that make them challenging to clean and reprocess. During the process of disinfection and sterilisation, exposing these devices to high pressures and temperatures may also deteriorate or harm the initial qualities of the materials used in their creation. The present methods used to clean endoscopes for reuse are not consistently successful, according to a research published in the American Publication of Infection Control, the official journal of the Association for Professionals in Infection Control and Epidemiology (APIC), in 2020. As a result, hospitals frequently favour single-use equipment to maintain patient safety and high-quality care.
Report Highlights:
With a 49.8% revenue share in 2021, the disinfection sector will rule the medical device cleaning industry. Furthermore, profitable growth is anticipated for the sterilising market. In addition to sterilising medical equipment, microorganisms are also eliminated.
The market growth of the worldwide medical device cleaning market is dominated by the intermediate level of EPA categorization, with 49.8. Growing infectious infections and skin problems are blamed for the market's expansion.
In 2021, a semi-critical category maintained a 45.8% market share. Over the projected period, the crucial category is predicted to increase at the quickest rate.
In 2020, North America's revenue share was the highest. The market is anticipated to grow as a result of factors such as the rising incidence of chronic diseases, the ageing population, the rising prevalence of hospital-acquired infections, the region's high adoption of advanced infection prevention technologies, and the well-established healthcare infrastructure.
Recent Developments:
In order to broaden its enormous array of infection control goods and services, STERIS entered a legally binding agreement in January 2021 to purchase Cantel, a global provider of infection prevention products and services, through a US subsidiary.
In order to carry out customer-centric innovation and sustainability initiatives, Getinge engaged into a strategic relationship in February 2021 with researchers from the School of Business, Economics and Law at the University of Gothenburg in Sweden.
Major Key Players:
Steris plc.
GetingeAB
Advanced Sterilization Products
The Ruhof Corp.
Sklar Surgical Instruments
Sterigenics International LLC
Biotrol
Metrex Research, LLC
Oro Clean Chemie AG
Cantel Medical Corp.
Ecolab
3M
Market Segmentation:
By Device
Non-critical
Semi-critical
Critical
By Technique
Cleaning

Detergents
Chelators
Buffers
Enzymes
Others

Disinfection

Chemical

Alcohol
Aldehydes
Chlorine & Chorine Compounds
Phenolics

Metal
Ultraviolet
Others

Sterilization
Ethylene Dioxide (ETO) Sterilization
Heat Sterilization
Radiation Sterilization
By EPA
High Level
Intermediate Level
Low Level
By Application
Surgical Instruments
Cleaning of Endoscopes
Ultrasound Probes
Dental Instruments
By End-User
Hospitals and Clinics
Diagnostic Centers
Dental Clinics
Ambulatory Surgical Centers
Buy this Research Report@ https://www.precedenceresearch.com/checkout/2333
You can place an order or ask any questions, please feel free to contact at sales@precedenceresearch.com | +1 9197 992 333