The global medical device cleaning market size was estimated at USD 19 billion in 2022 and is projected to surpass around USD 45.19 billion by 2032, poised to grow at a remarkable CAGR of 9.1% from 2023 to 2032.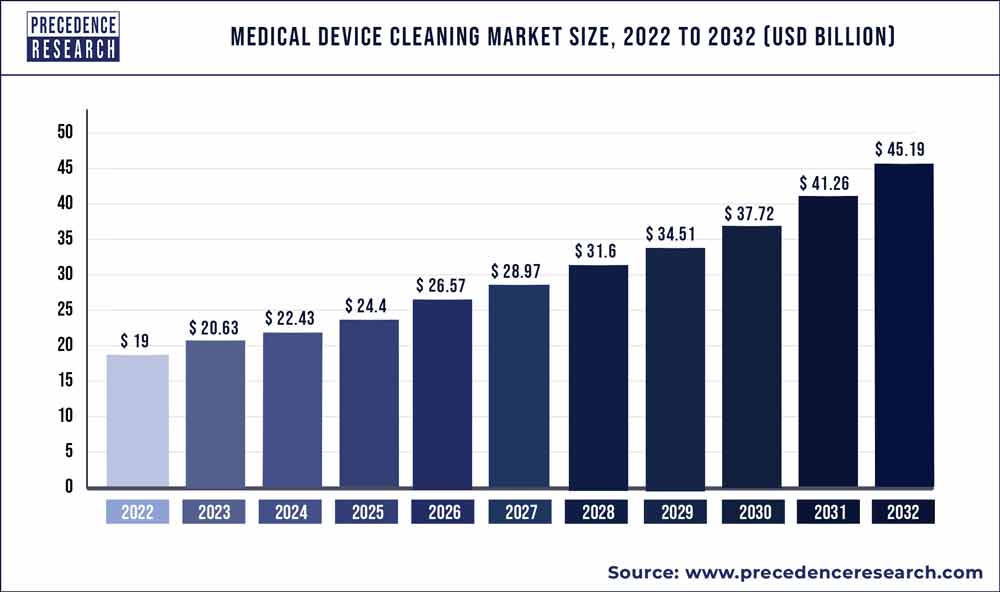 There will be lucrative opportunities for market expansion as physicians and patients become more aware of the benefits of medical device cleaning. In addition, the prevalence of chronic illnesses, growing surgery rates, as a result, an increase in accidents, and a rise in the senior population are all driving market growth.
During the anticipated period, it is expected that the steady expansion of the total market will be the rising incidence of hospital-acquired infections. One of the main concerns for clinics is the high risk of infection from bloodborne infections, drug-resistant micro-organisms, and other infectious agents in operating rooms. A study that was published in NCBI states that 25% of all bacterial illnesses are UTIs. The majority of hospital-acquired UTIs are linked to CA-bacteriuria, and catheterization is the most common healthcare-associated infection worldwide, accounting for up to 40% of hospital-acquired infections in the U.S. each year, according to a report from the National Nosocomial Infection Surveillance (NNIS) System. The market for cleaning medical devices is anticipated to expand as a result. Additionally, it is predicted that an increase in the occurrence of SSIs will enhance the uptake of infection control methods. According to a study that was published by the NIH in 2018, 40% to 60% of infections are thought to be SSIs.
COVID-19 is anticipated to have a favorable effect on the market for cleaning medical devices. The COVID-19 virus is more likely to be present on environmental surfaces in healthcare facilities where specific medical procedures are performed. In order to stop further transmission, these surfaces must be thoroughly cleaned and disinfected, especially in locations where COVID-19 patients are hospitalized. This advice also applies to unconventional locations for isolation of COVID-19 patients with mild to moderate illness, such as homes and unconventional facilities, which are expected to spur market expansion.
Local manufacturers now have a lot of chances because of the epidemic. Major players' supply chains were interrupted as a result of travel restrictions at international borders. This gave local businesses the chance to enter the market for cleaning medical devices and fill unmet consumer needs. Key firms are implementing a variety of strategies and programs to increase their market share in order to strengthen their position in the industry. Medical supplies are in short supply because of the increase in COVID-19 cases, thus local manufacturers are increasing manufacturing to meet the escalating demand. To increase their market share, businesses are also implementing a number of techniques, such as partnerships and the introduction of new goods. For instance, Metrex developed surface disinfectant wipes 2.0 CaviWipes in April 2021. These wipes are fully approved for the Emerging Viral Pathogen Claim EPA's and are effective against 42 diseases, including SARS-CoV-2. CaviWipes wipes are perfect for one-step cleaning and disinfection of hard, non-permeable surfaces in healthcare facilities since they have a universal contact length of two minutes. This should aid the business in expanding its global footprint.
Report Scope of the Medical Device Cleaning Market
Report Coverage
Details
Market Size in 2023
USD 20.63 Billion
Market Size by 2032
USD 45.19 Billion
Growth Rate from 2023 to 2032
CAGR of 9.1%
Largest Market
North America
Fastest Growing Market
Asia Pacific
Base Year
2022
Forecast Period
2023 to 2032
Segments Covered

By Device
By Technique
By EPA
By Application
By End-User

Regions Covered

North America
Europe
Asia-Pacific
Latin America
Middle East & Africa

Key Market Drivers
Rising surgical procedures - The market's expansion is being directly impacted by the rise in surgical operations owing to a variety of factors, including traffic accidents, aesthetic enhancements, surgeries connected to aging, and much more. Additionally, the market's increasing availability of cutting-edge surgical goods is paving the way for expansion.
Research and development proficiencies - Rising investment in research & development, particularly in established and developing nations, will further open up attractive market expansion potential for medical instruments and technologies. The market growth rate is also being boosted by pharmaceutical and biopharmaceutical firms' research and development capabilities for the integration of cutting-edge technology in healthcare facilities.
Key Market Challenges
Higher cost - Market expansion is anticipated to be hampered by the high cost of research and development, a lack of adequate infrastructure, and safety concerns over reprocessed instruments. Additionally, in the forecast period of 2022 to 2030, the market is expected to face challenges from an unfavorable reimbursement scenario, a lack of technology penetration in developing economies, a rise in the popularity of single-use instruments, and inadequate infrastructure in low- and middle-income nations.
Key Market Opportunities
Increasing healthcare expenditure and medical tourism in emerging economies
During the projected period, participants in the medical device cleaning market may expect a wide range of growth possibilities from emerging economies like India, Brazil, China, Russia, and countries in Latin America and Southeast Asia.
The escalating cost of HAIs to healthcare systems, the rising number of hospitals and clinics, the rise in per capita income, the emergence of multidrug-resistant microorganisms, and increasing government initiatives are all contributing to the market growth for medical device cleaning in these nations.
Government investments in healthcare infrastructure
The federal government's increased support will likely accelerate market expansion. Additionally, the development and expansion of the healthcare sector, pushed by both public and private actors, particularly in developing nations, will provide an attractive potential for market expansion. The market value is also rising due to the increasing use of preventative strategies to reduce hospital-acquired illnesses. High returns on investments, which are guaranteed by research efforts, would also benefit the market.
The introduction of technologically advanced goods in hospitals, the onset of serious diseases, as well as the growing interest in surgery, all have a favorable impact on the market growth rate. Government attempts to raise awareness, particularly in emerging nations.
Segments Insight
Device Insights
The sector with the biggest revenue share in 2022 was semi-critical (47%). Semi-critical devices are those that come into touch with mucosal membranes. These gadgets include, among other things, endoscopes, dental equipment, and a few surgical tools. Due to the frequent requirement for sterilization, these devices should be sterilized before use, often using a heat or chemical technique. The usage of disposable devices is rising, there is fierce pricing rivalry driving costs down, and the Centers for Disease Control and Prevention have tight regulatory criteria that are affecting the market growth.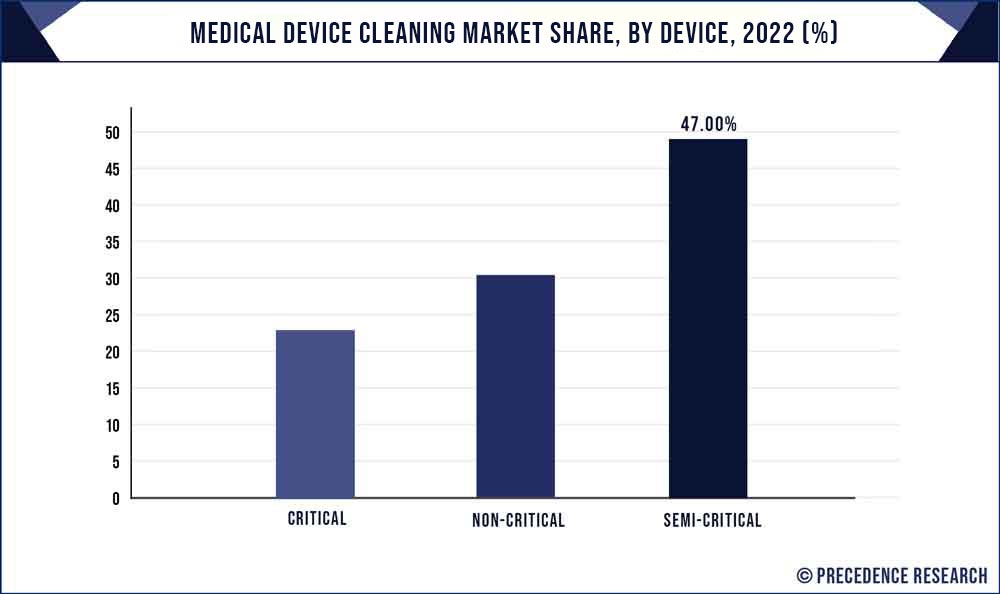 The essential category is expected to grow at the fastest rate over the anticipated term. This group of devices punctures biological tissues. Most of these devices are single-use and sanitized before being shipped. Heat sterilization and ethylene oxide sterilization are the most often used sterilizing methods in medical institutions. The majority of commercially available, single-use surgical tools are sterilized using radiation. The method, however, has not been considered for the analysis's aims because it is not employed in hospital settings. Crucial devices no longer need to be cleaned, disinfected, or sterilized as frequently as single-use devices, which is anticipated to limit the market growth.
Technique Insights
The disinfection category dominated the market for cleaning medical equipment in 2022 with a 53% revenue share. Disinfection is an essential step in the processing of critical & semi-critical medical equipment. The three main kinds of disinfectants used at this stage are bactericidal, fungicidal, and virucidal. The type of medical equipment is typically taken into consideration while choosing these materials. The selection of these materials for processing tools like endoscopes may be difficult. The use of disinfectants in combination with detergents is also considered in this section. The sterilizing market is also predicted to develop profitably.
EPA Insights
The intermediate-level category dominated the market for cleaning medical equipment in 2022 with a market share of around 53%. Intermediate-level disinfectants are substances that kill disease-causing bacteria and are tuber colloidal. Some of the most well-known types of intermediate-level disinfectants include bleach, hydrogen peroxide and quat combinations, and water-based phenolics. Both the spread of contagious diseases and the increased incidence of HAIs support sector expansion. On the other hand, the high-level sector is predicted to have the fastest CAGR over the forecast period.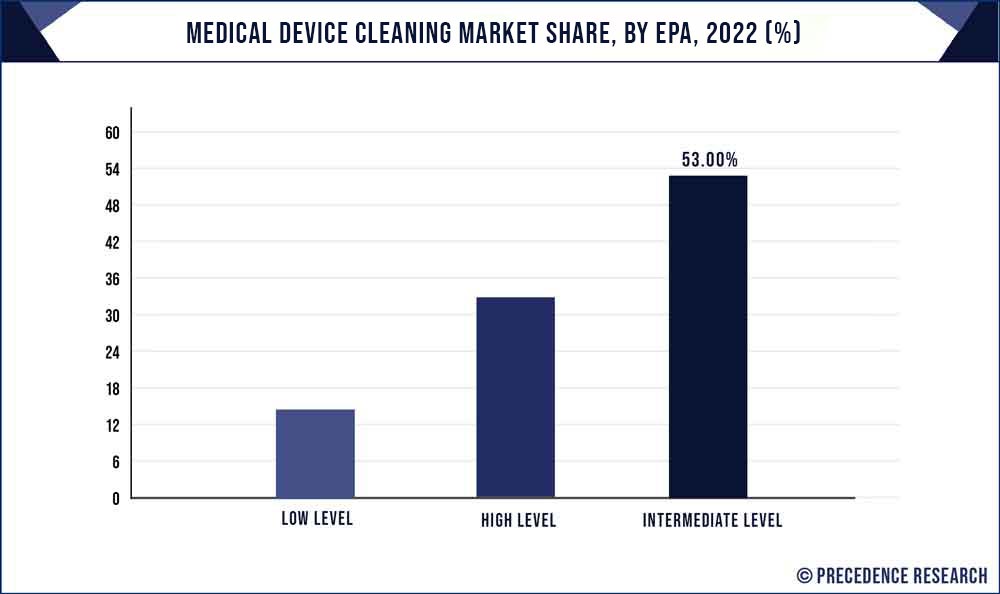 Dental and medical equipment are subjected to high-level disinfection in order to prevent the growth of bacteria. Reprocessing of heat-sensitive semi-critical medical and dental equipment is part of it. Glutaraldehydes, special hydrogen peroxide, and special peracetic acid products are some of the most often utilized high-level disinfectants.
Medical Device Cleaning Market Share, By Region, 2022 (%)
| | |
| --- | --- |
| Regions | Revenue Share in 2022 (%) |
| North America | 34% |
| Asia Pacific | 23% |
| Europe | 28% |
| Latin America | 6% |
| MEA | 4.5% |

Regional Insights
In terms of revenue in 2021, North America represented a decisive 34% of the market for cleaning medical devices. The greater market share that the area is expected to capture is attributed to the major market players' consistent implementation of strategic collaborations to increase their product offerings and infection prevention and control capabilities. Throughout the course of the forecast period, tight government regulations governing the disinfecting and cleaning of medical equipment as well as favorable reimbursement policies are also projected to boost the market in the region for medical device cleaning. Two key factors driving the growth of sterile procedures are the increased usage of non-disposable medical equipment and the increasing desire to reduce costs related to hospital-acquired illnesses.
Due to the region's substantial outsourcing presence, rising healthcare spending, and impressive growth of healthcare infrastructure and standards, it is estimated that the market for cleaning medical devices would grow significantly in Asia Pacific over the projected period. Additionally driving market development in this sector are the Covid-19 pandemic and the spread of infectious infections. One of the primary drivers of market growth is the existence of several nonprofit and governmental organizations dedicated to raising infection control standards.
Recent Developments
In Jan 2020, Getinge AB finalized the acquisition of Applikon Biotechnology. Applikon Biotechnology is a producer and developer of cutting-edge bioreactor systems for the production of enzymes and bioplastics for industrial biotechnology as well as vaccines and antibody synthesis.
In order to collaborate with customers in the medical device industry to create innovative solutions for clinics and surgical centers as well as infection control plans for its cutting-edge surgical equipment, Ecolab inaugurated its Ecolab Healthcare Advanced Innovation Centre in August 2021.
Key Market Players
Steris plc.
GetingeAB
Advanced Sterilization Products
The Ruhof Corp.
Sklar Surgical Instruments
Sterigenics International LLC
Biotrol
Metrex Research, LLC
Oro Clean Chemie AG
Cantel Medical Corp.
Ecolab
3M
Segments Covered in the Report
(Note*: We offer reports based on sub-segments as well. Kindly, let us know if you are interested)
By Device
Non-critical
Semi-critical
Critical
By Technique
Cleaning

Detergents
Chelators
Buffers
Enzymes
Others

Disinfection

Chemical

Alcohol
Aldehydes
Chlorine & Chorine Compounds
Phenolics

Metal
Ultraviolet
Others

Sterilization
Ethylene Dioxide (ETO) Sterilization
Heat Sterilization
Radiation Sterilization
By EPA
High Level
Intermediate Level
Low Level
By Application
Surgical Instruments
Cleaning of Endoscopes
Ultrasound Probes
Dental Instruments
By End-User
Hospitals and Clinics
Diagnostic Centers
Dental Clinics
Ambulatory Surgical Centers
By Geography
North America
Europe
Asia-Pacific
Latin America
Middle East & Africa (MEA)