The global medical display market size was evaluated at USD 2.41 billion in 2022 and is expected to touch around USD 4.1 billion by 2032, growing at a noteworthy CAGR of 5.5% from 2023 to 2032.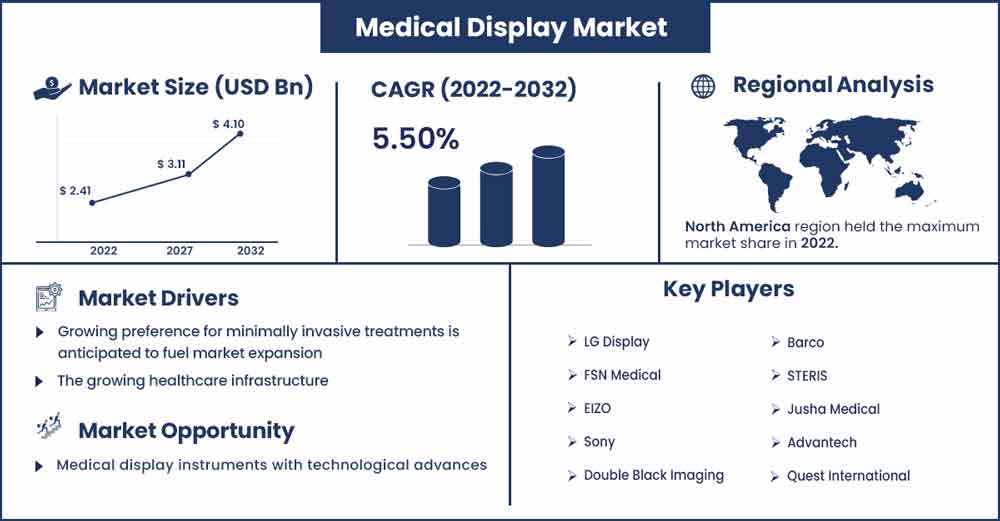 Medical displays are monitors that can cope with the demanding needs of medical imaging. To ensure constant brightness throughout the display, noise-free images, comfortable reading, and automated compliance with other medical standards and digital imaging and communications in medicine (DICOM) standards, it often includes specific image-enhancement technology. Medical imaging technologies have improved healthcare by providing powerful diagnostic tools, permitting non-invasive inspection of wounds and internal issues, and enabling the early detection of diseases. Consumer displays are preferred to medical screens when utilized for medical imaging. Simple: medical displays adhere to picture quality requirements, medical regulations, and quality assurance guidelines.
Report Highlights:
By Devices, Medical displays are backlit by Cathode Fluorescent Lamps based LCDs using CCFL as the light source. Compared to LCD-based LEDs, CCFL-based LCDs often demand higher AC voltages. Since CCFL-based LCDs are a relatively older generation of technology, their growth rate is anticipated to slow.
By Panel Size, all radiology units and other departments feature medical displays in hospitals all around the world.
By Form, Medical-grade displays with multimodality capabilities, or those that can display both grayscale and color pictures, are known as multimodality systems. Users have the option to toggle between color and grayscale photos at any time for a better and more thorough knowledge of the medical images.
By Application, due to the maximum number of common deployments and usages, the 23 to 41 Inches sub-segment held the largest market share.
Regional Snapshots:
The medical display market is examined globally, taking into account North America, Europe, Asia-Pacific, and LAMEA. In 2019, Asia Pacific accounted for the greatest proportion of the global market for medical displays, and it is anticipated to grow at the fastest rate (CAGR). The medical display market is examined in each of the following regions: North America, Europe, Asia-Pacific, and LAMEA. The market for medical displays in the Asia Pacific region acquired the greatest market share globally in 2019 and is predicted to grow at the quickest rate during the study period. This is a result of rising medical technology awareness, a boom in medical tourism, growing demand for sophisticated surgical display equipment in developing nations like China and India, and an increase in healthcare spending in the area.
The organic light-emitting diode (OLED) usage in medical treatments by several hospitals and significant industry players like Novanta Inc., Quest International, Double Black Imaging, and Dell Inc. are driving the growth of the market in North America. The medical display market is quite cutthroat, with leading players in this industry concentrating on growth methods such as product launches, mergers and acquisitions (M&As), product developments, collaborations, and distributor agreements to enhance their presence in the cutthroat industry.
Medical Display Market Report Scope:
| | |
| --- | --- |
| Report Coverage | Details |
| Market Revenue in 2023 | USD 2.53 Billion |
| Projected Forecast Revenue in 2032 | USD 4.1 Billion |
| Growth Rate from 2023 to 2032 | CAGR of 5.5% |
| Largest Market | North America |
| Base Year | 2022 |
| Forecast Period | 2023 To 2032 |
| Regions Covered | North America, Europe, Asia-Pacific, Latin America, and Middle East & Africa |

Market Dynamics:
Driver:
Growing preference for minimally invasive treatments is anticipated to fuel market expansion
The demand for minimally invasive treatments (MIT) is increasing due to numerous benefits including decreased postoperative pain, fewer major postoperative complications, shorter hospital stays, quicker recovery times, less scarring, less immune system stress, smaller incisions, and for some procedures, its decreased operating time and costs as well.
A large variety of thoracic illnesses that previously needed sternotomy or open thoracotomy can now be diagnosed and treated quite effectively using minimally invasive surgery. Around the world, there are now more chronic conditions that call for surgery. Minimally invasive treatment is preferred by many patients due to its extensive benefits. In addition, hybrid operating rooms are used for cardiac surgery, neurological and spinal surgeries, orthopedic trauma treatment, and vascular and endovascular procedures. This function makes it possible for hospitals to carry out more sophisticated surgical procedures, which raises the demand for medical displays.
The need for medical monitors is also fueled by rising healthcare costs as well as an increase in radiology and pathology labs. Surgeons can perform less hazardous operations on the human body thanks to minimally invasive surgery, which enables them to use cutting-edge surgical techniques and current technologies. It is anticipated that this will increase demand for minimally invasive procedures.
Infrastructure for healthcare is growing
To reduce illness burden and deliver better healthcare, governments and non-profit organizations in several nations concentrate primarily on building out the health infrastructure. In addition, technologically advanced medical equipment, screens, monitors, and other gadgets are being used. During the anticipated term, all of these aspects are predicted to produce positive prospects for market expansion. The market may also benefit from significant expenditures made in the upcoming years by major players in the introduction of novel products and updated features.
Furthermore, it is anticipated that the market for these healthcare facilities will be driven by rising government initiatives and incentives, rising demand for cost-effective healthcare services, surging demand for technical solutions, rising high mobility of information, and growing funding for high-quality medical displays in hospitals and research facilities. The foundation for current developments in medical displays, digital medical libraries, and management information systems is medical software infrastructure. The market for medical displays worldwide is anticipated to increase as a result of these factors.
Restraint:
Costly medical display equipment
The main factor impeding market expansion is the high cost of display devices and the high implementation, particularly in nations where the reimbursement environment is unfavorable. Due to the high installation and maintenance costs of these medical devices as well as the limited financial resources in developing nations, the majority of healthcare facilities, including hospitals and diagnostic centers, are unable to afford them. These facilities are also reluctant to make investments in new, cutting-edge technological systems. These elements may prevent healthcare facilities from going digital and may affect how quickly cutting-edge technologies for analysis and diagnosis are adopted.
Opportunity:
Medical display instruments with technological advances
There is a continuous battle to create suitable formulations of new molecules that allow oral administration and, concurrently, ensure the drug has the best possible bioavailability in patients. This is due to the market's concentration on the manufacturing of orally deliverable dosage forms. Pharmaceutical excipient producers are making their goods simpler and less expensive to develop to get around this. The development of medical display technology has transformed the healthcare sector by enabling telehealth, diagnostic tools, assistance for non-invasive therapy, disease assessment, and earlier disease detection.
The introduction of technical innovations in medical display equipment is enhancing the effectiveness of the medical display and raising the accessibility of the medical display equipment. Rapid disease diagnosis and recovery would be made possible by the explosion of technological applications in medical display gadgets. Future medical display sales will be displaced by artificial intelligence technologies. In the next years, this factor is anticipated to present a potential opportunity for the global market for medical displays.
Challenge:
Visual information is essential for the assessment and access to patient medical data. As display technology advanced, the medical sector tried to benefit from advancements in wider color gamuts, improved display mobility, and more immersive graphics. By raising productivity, improving diagnostic precision, extending functionality, enhancing training, and improving health records, these picture quality advancements have raised the standard of healthcare. The picture pipeline and display assessment get increasingly intricate as display technology advances, creating measuring issues. This could create a problem for the expansion of the market.
Key Developments:
Compared to USD 0.98 billion in 2020, Skyler made an anticipated USD 1.23 billion in R&D investments in 2021. Another producer of medical devices, Medtronic, reported investing 2.49 billion USD in R&D in 2021 as opposed to 2.33 billion USD in 2020.
According to the U.S. FDA's Center for Devices and Radiological Health's 2021 report, 213 devices received breakthrough designations in 2021, up from roughly 130 in 2019.
Major Key Players:
LG Display
FSN Medical
EIZO
Sony
Double Black Imaging
Barco
STERIS
Jusha Medical
Advantech
Quest International
Market Segments:
By Device
Desktop
Mobile
All in one
By Panel Size
Up to 22.9
23.0 to 26.9
27.0 to 41.9
Above 42
By Resolution
Up to 2Mp
2.1 to 4Mp
4.1 to 8Mp
Above 8Mp
By Application
Multi-Modality
Digital Pathology
Radiology
Surgical
Mammography
Buy this Research Report@ https://www.precedenceresearch.com/checkout/2440
You can place an order or ask any questions, please feel free to contact at sales@precedenceresearch.com | +1 9197 992 333