The global medical display market size was estimated at USD 2.41 billion in 2022 and is predicted to reach around USD 4.1 billion by 2032, growing at a CAGR of 5.5% during the forecast period from 2023 to 2032.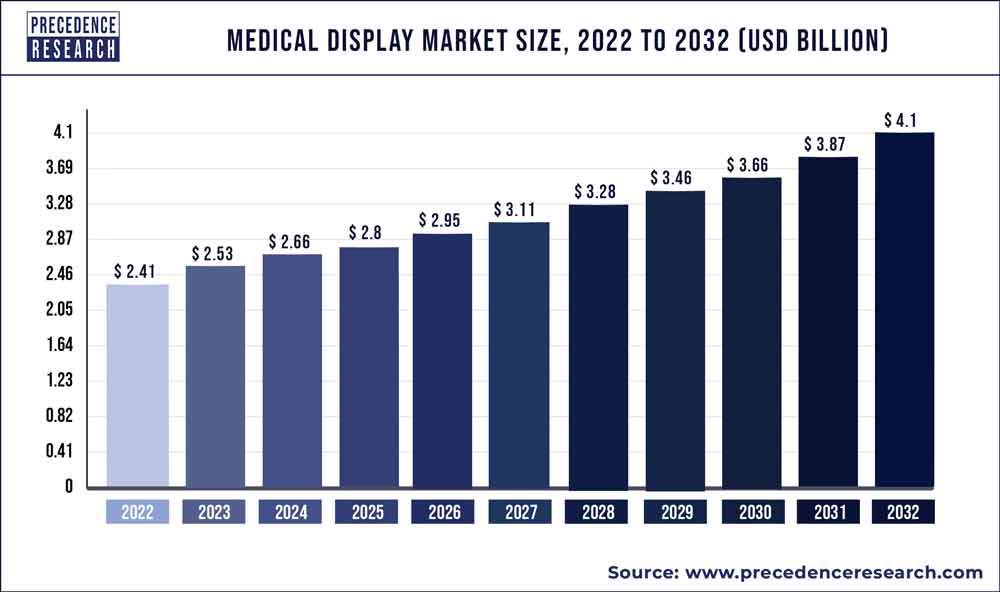 Market Overview
A medical display is a monitor that can meet the demanding requirements of medical imaging. It frequently includes specific image-enhancement technologies to provide even brightness throughout the display, noise-free images, comfortable reading, and automated compliance with other medical standards and digital imaging and communications in medicine (DICOM) as well. By providing powerful diagnostic tools, permitting non-invasive evaluation of wounds and internal issues, and enabling the early detection of diseases, medical imaging technologies have advanced healthcare. Medical screens are preferred to consumer displays when utilized for medical imaging. The simple solution is that medical displays abide by visual quality, medical laws, and quality assurance standards.
The global rise in the frequency of various diseases has caused a great evolution in the healthcare industry in recent years. Lifesaving technologies and discoveries have been made in the healthcare industry as a result of the rapid growth of technology. People's confidence in seeking medical care has increased, thanks to the introduction of new and improved equipment and treatments. One such invention that has aided and enhanced the effectiveness of diagnostic and therapeutic procedures is the medical display. The market for medical displays has grown as people are turning more and more toward imaging technologies to treat both serious and routine medical conditions. More people are coming in as a result of increased public awareness of new medical technology and treatments, thereby contributing to the expansion of the market of medical displays. Globally rising disposable income and government efforts to boost the healthcare industry have helped the market to reach new heights.
Report Scope of the Medical Display Market
Report Coverage
Details
Market Size in 2023
USD 2.53 Billion
Market Size by 2032
USD 4.1 Billion
Growth Rate from 2023 to 2032
CAGR of 5.5%
Base Year
2022
Forecast Period
2023 to 2032
Segments Covered

By Device
By Panel Size
By Resolution
By Application

Regions Covered

North America
Europe
Asia-Pacific
Latin America
Middle East & Africa

Market Dynamics
The use of hybrid operating rooms, the short replacement cycles for medical displays, and the rise in popularity of less invasive procedures are some of the drivers driving the market's expansion. Endovascular and vascular procedures, spinal and neurological operations, orthopedic trauma procedures, and cardiac procedures are all done in hybrid operating rooms. This ability makes it possible for hospitals to do sophisticated surgical procedures, which raises the demand for medical displays. On the other hand, market saturation in developed nations and a rise in the adoption of reconditioned medical displays are expected to hinder the market growth during the projection period.
COVID-19 Impact
SARS-CoV-2, a virus that causes the severe acute respiratory syndrome, spreads from person to person and is very contagious. Therefore, COVID-19 was declared a pandemic by the World Health Organization (WHO) on March 11, 2020. The brand-new coronavirus spread rapidly around the world. The COVID-19 pandemic continues to alter how diverse businesses develop, although its immediate effects are not all the same. For instance, the rise of COVID-19 disease caused by the severe acute respiratory syndrome coronavirus 2 (SARS-CoV-2) has increased hospitalization and encouraged international market expansion consequently. On the other hand, the global lockdown and imposition of new government regulations have disrupted the supply chain for medical devices, particularly medical displays. Consequently, there was a decline in the production and use of medical displays. To support COVID-19 patients, a few market participants established and promoted several COVID-19 awareness activities after mid-2020, which led to a rise in the use of monitors and displays in hospitals.
Segments Insight
Device Insights
The market is divided into three categories based on the kind of device: desktop, mobile, and all-in-one. Desktop medical displays are seen to be ideal for the visualization of several crucial procedures like surgeries, diagnostics, and medical imaging.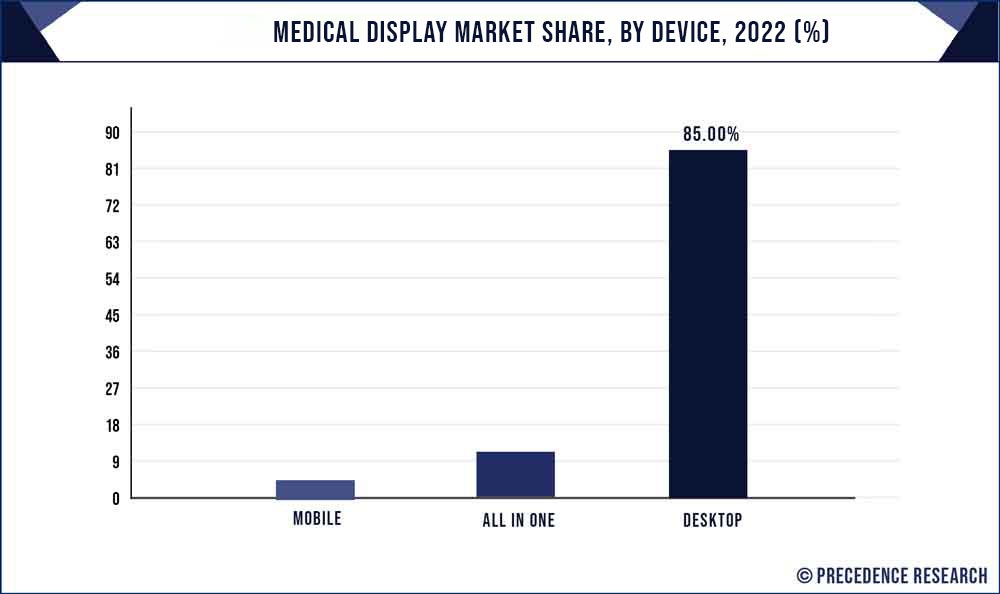 Expanding the use of medical software imaging and electronic medical records (EMR) during the research period, the all-in-one segment will trail the desktop segment in terms of value.
Panel Size Insights
The global market of medical display is divided into four categories based on panel size: 23.0-26.9-inch panels, 27.0-41.9-inch panels, over 42-inch panels, and up to 22.9-inch panels. The 27.0-41.9-inch panel segment is anticipated to dominate the market because they are often utilized in radiology, computed tomography (CT), magnetic resonance imaging (MRI), and ultrasound.
Resolution Insights
The global market of the medical display is divided into four segments based on resolution: displays with a resolution of 2.1-4MP, displays with a resolution of up to 2MP (megapixels), displays with a resolution of 4.1-8MP, displays with a resolution of over 8MP. The 2.1-4MP resolution display is mostly used due to its acceptable setup, which is suited for surgical and diagnostic applications.
Application Insights
Digital pathology, surgical, radiology, multi-modality, mammography, and other segments are included in the global market of medical display classification according to application. As many modalities give healthcare institutions freedom to deploy medical displays for different departments by their demands, the multi-modality application segment is predicted to keep the second position during the evaluation period.
Regional Insights
The market of the medical display is examined globally, taking into account North America, Europe, Asia-Pacific, and LAMEA. The market of the medical display is examined in each of the following regions: North America, Europe, Asia-Pacific, and LAMEA. This is a result of rising medical technology awareness, a boom in medical tourism, growing demand for sophisticated surgical display equipment in developing nations like China and India, and an increase in healthcare spending in the area.
The organic light-emitting diode (OLED) usage in medical treatments by several hospitals and significant industry players like Quest International, Novanta Inc., Dell Inc, and Double Black Imaging are driving the market growth in North America. The market of the medical display is quite cutthroat, with leading players in this industry concentrating on growth methods such as product launches, mergers and acquisitions (M&As), product developments, collaborations, and distributor agreements to enhance their presence in the cutthroat industry.
Recent Developments
EIZO Corporation introduced RadiForce MX243W, a 24.1-inch, 2.3 megapixels (1920 x 1200 pixels) monitor, in June 2022. The 24.1-inch, 2.3-megapixel (1920 x 1200 pixel) monitor was created to observe and diagnose the entire physiology of patient systems in clinics and hospitals. The launch added a fresh medical device to the line-up and provided exceptional market purity.
Barco introduced the Nio Fusion 12MP medical display in May 2021. As a result of the product launch, the medical display product line was expanded across North America and Europe, and its product portfolio was improved.
The organic light-emitting diode (OLED) usage in medical treatments by several hospitals, along with the existence of significant industry players like Novanta Inc., Quest International, Double Black Imaging, and Dell Inc.
Key Market Players:
LG Display
FSN Medical
EIZO
Sony
Double Black Imaging
Barco
STERIS
Jusha Medical
Advantech
Quest International
Segments Covered in the Report
(Note*: We offer reports based on sub-segments as well. Kindly, let us know if you are interested)
By Device
Desktop
Mobile
All in one
By Panel Size
Up to 22.9
23.0 to 26.9
27.0 to 41.9
Above 42
By Resolution
Up to 2Mp
2.1 to 4Mp
4.1 to 8Mp
Above 8Mp
By Application
Multi-Modality
Digital Pathology
Radiology
Surgical
Mammography
By Geography
North America
Europe
Asia-Pacific
Latin America
Middle East & Africa (MEA)