The global melt electrowriting technology market size surpassed USD 16.31 billion in 2022 and it is expected to rake around USD 29.35 billion by 2032, poised to grow at a CAGR of 6.1% during the forecast period 2023 to 2032.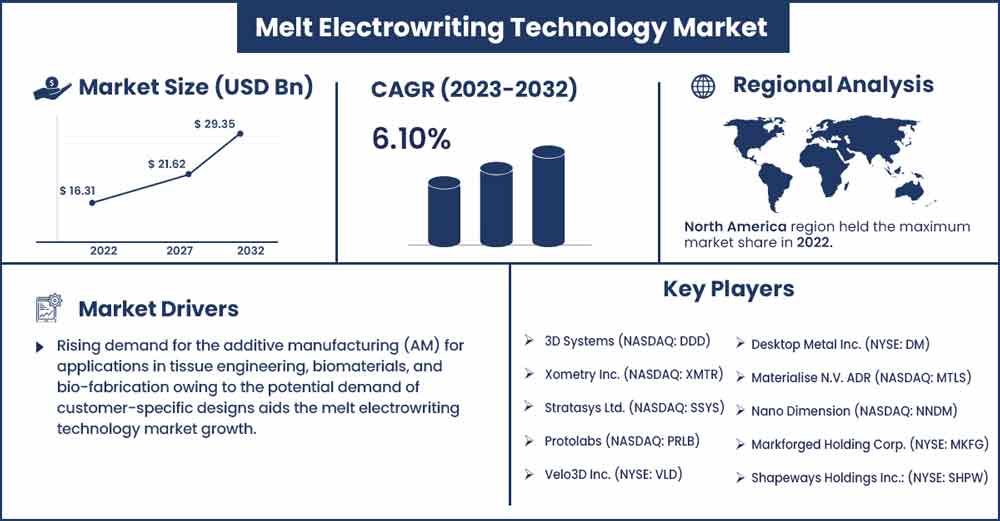 The creation of fibrous scaffolds for soft tissue engineering applications with specific micrometric properties and anatomically suitable three-dimensional (3D) geometries remains a considerable challenge. Modern additive manufacturing technology called melt electro-writing (MEW) deposits predetermined micrometric strands. However, it has so far been naturally limited to simple planar and tubular scaffold designs due to the need to avoid polymer jet instabilities. In this study, the authors stretch the MEW system's technological boundaries to produce intricate fibre scaffolds with controlled micrometric and patient-specific anatomic properties.
The new development of electrostatic writing (also known as "electrowetting") employing molten jets opens up the prospect of overcoming numerous significant tissue engineering challenges. A constant fluid jet with a predetermined path is produced by an applied voltage and is continuously deposited onto a collector. The process causes a change in the fibre diameter, which is appropriate for clinically utilized polymers. If the biological efficacy of the implant can be increased above current gold standards, melt electrowriting has the possibility for clinical translation. It gives researchers a rare opportunity to carry out low-cost, high-resolution additive manufacturing research that is perfectly positioned for clinical translation while utilising the most recent regulatory frameworks.
Melt-electrowriting (MEW) was used to make arrays of polymeric structures that served as both tensile support for the developing tissues and a means of directing the creation of cellular aggregates that formed spontaneously inside of them. A controlled number of cells were inkjet-deposited onto MEW structures, which self-assembled into an organised array of spheroids within hours, creating a hybrid tissue that resembled hyaline.
Tissue engineering is an innovative research topic to produce sustainable substitute solution for damaged tissue. Electro hydrodynamic melt electro-writing techniques has gained interest in scaffold production for producing the micro- to nano-scale structures. The rising ability to interact between electrostatic energy with working fluids and powerful in modification, nanofabrication, and writing using the melt electro writing technology is expected to create ample opportunity for market growth. Melt electrowriting (MEW) is an advanced additive manufacturing technique that is capable of depositing micrometric fibers.
Rising demand for the additive manufacturing (AM) for applications in tissue engineering, biomaterials, and biofabrication owing to the potential demand of customer-specific designs aids the market growth. In general, melt electro technology is used for every fabrication technology for printing of an ideal printing resolution ranges from µm 50–500 µm. The melt electro writing head is configured with a computer-aided system for translating and direct writing onto a collector. A delivery system forces the polymer melts through the nozzle by applying pressure between the nozzle and the collector which leads to generate an electrical field.
Regional Snapshot:
The Asia Pacific region has previously trailed behind Europe and North America in the use of Melt Electrowriting Technology. However, a number of countries in the region have received assistance in creating a sustainable AM ecosystem thanks to rising interest from APAC manufacturing companies and the development of many government-led strategies and regulations. China is most likely the most potent engine pushing melt electrowriting technology development in Asia due to the significant government support for the industry.
The Chinese market for melt electrowriting technology was projected to be valued $1.8 billion in 2018. After the United States and Western Europe, it is presently the third-largest market for melt electrowriting Technology. A rapid fibers characterization methodology that automatically detects the fiber diameters from the camera images using the microscope. The outputs from this approach followed using the MEW processing trends that already identified with different polymers with sizes from 25-micron fiber diameters.
Melt Electrowriting Technology Market Report Scope:
| | |
| --- | --- |
| Report Coverage | Details |
| Market Revenue in 2023 | USD 17.22 Billion |
| Projected Forecast Revenue in 2032 | USD 29.35 Billion |
| Growth Rate from 2023 to 2032 | CAGR of 6.1% |
| Largest Market | Asia Pacific |
| Base Year | 2022 |
| Forecast Period | 2023 To 2032 |
| Regions Covered | North America, Europe, Asia-Pacific, Latin America, and Middle East & Africa |

Market Dynamics:
Drivers:
Repairing damaged articular cartilage tissue may be possible using regenerative methods based on biofabrication technology. The creation of mechanically robust, fibre reinforced cartilage implants has been made possible by recent developments in (micro) fibre synthesis and deposition techniques, including melt electrowriting (MEW) and extrusion-based bioink deposition. The production of constructs with regional compositional differences in both the cellular and fibre components, similar to what is found in healthy natural articular cartilage, was made possible by recent advancements in the integration of MEW and extrusion-based technologies into a single manufacturing process.
The widespread use of 3D printing for tooling, designing, and prototyping is a factor in the industrial sectors rising demand. Therefore, it is anticipated that the industrial printers category would maintain its dominance over the projection period. At first, only enthusiasts and tiny businesses used desktop 3-dimensional printers. However, they are now extensively employed for domestic and household needs. Desktop printers are also being used in the education sector, which includes universities, educational institutions, and schools, for technical training and research.
Governments throughout the world are launching projects and sponsoring organisations that do research and create technology in order to better explore the possibilities offered by 3D printing technology and promote its growth. National initiatives have been put in place by nations including the US, UK, and Canada to support university-level 3D printing research, which is advancing technology and spawning start-ups. Industrialists and governments all around the world are becoming interested in 3D printing as new applications for the technology emerge.
Restraints:
The structural makeup of the synthetic cartilage matched that of synovial joints in developing skeletons. This biofabrication framework was used to produce scaled-up (50mm) cartilage implants with more than 3,500 cellular aggregates in less than 15 minutes.
Opportunities:
The compressive properties of these MEW reinforced tissues grew 50-fold after 8 weeks in culture, but the polymer network continued to dominate the tensile properties, leading to a composite construct with tension-compression nonlinearity like those of biological tissue. The creation of an arcing collagen network within the newly formed tissue was discovered using helium ion imaging. This hybrid bioprinting approach permits the flexible and scalable creation of cartilage biomimetic grafts for biological joint resurfacing.
Key Market Developments:
To help bring the company's ground-breaking 3D concrete printing technology to market, Black Buffalo 3D Corporation, a leading supplier of large-scale 3D construction printers, has partnered with FITTLE, a leading provider of innovative business financing and payment solutions. FITTLE was formerly known as Xerox Holdings Corporation's equipment financing business but changed its name to FITTLE in 2022.
Major Key Players:
3D Systems (NASDAQ: DDD)
Xometry Inc. (NASDAQ: XMTR)
Stratasys Ltd. (NASDAQ: SSYS)
Protolabs (NASDAQ: PRLB)
Velo3D Inc. (NYSE: VLD)
Desktop Metal Inc. (NYSE: DM)
Materialise N.V. ADR (NASDAQ: MTLS)
Nano Dimension (NASDAQ: NNDM)
Markforged Holding Corp. (NYSE: MKFG)
Shapeways Holdings Inc.: (NYSE: SHPW)
MeaTech 3D Ltd. (NASDAQ: MITC)
Organovo Holding Inc. (NASDAQ: ONVO)
Voxeljet AG ADR (NASDAQ: VJET)
Final Thoughts
Market Segmentation:
By Type
By Application
Diarthrodial Joint Melt Electro writing
Functionalized Titanate Nanofiller Melt Electro writing
Coronary Artery Stents Melt Electro writing
Controlled Drug Release Melt Electro writing
Buy this Research Report@ https://www.precedenceresearch.com/checkout/2404
You can place an order or ask any questions, please feel free to contact at sales@precedenceresearch.com | +1 9197 992 333