The global non-invasive biosensors market size surpassed USD 27.64 billion in 2022 and is projected to rise to USD 59.45 billion by 2032, anticipated to grow at a strong CAGR of 7.96 percent during the projection period from 2023 to 2032.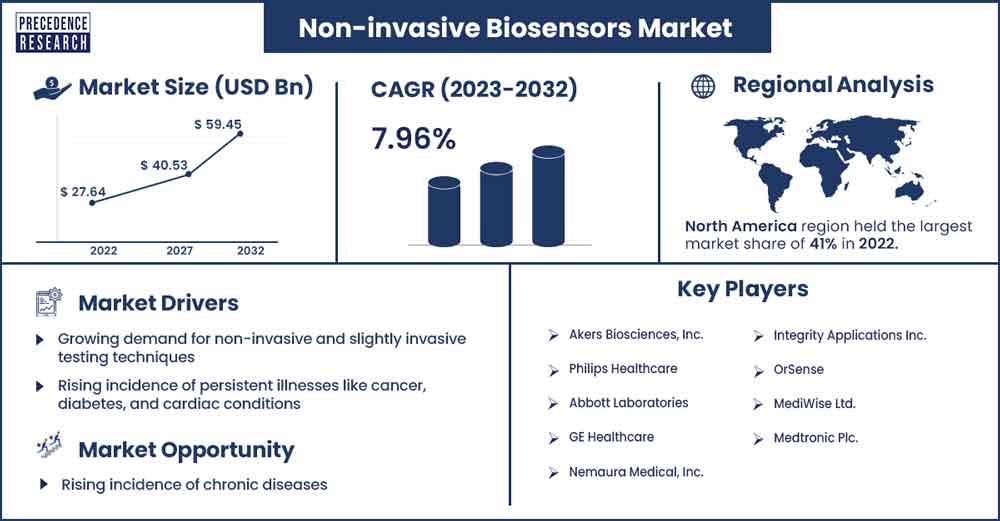 Non-invasive biosensors are cutting-edge diagnostic tools that can identify any substance or illness without the need for an invasive process. For testing purposes, this device makes use of saliva, tears, or perspiration. The industry now offers non-invasive biosensor-based glucose tracking and blood analytes monitors. Furthermore, numerous non-invasive biosensors are being developed and tested in hospital settings for novel uses like the detection of cancer and blood alcohol levels.
In the near future, it is anticipated that increasing approval and launches of innovative non-invasive biosensors will spur market development. For instance, Nemaura Medical, Inc.'s most recent sugarBEAT, a minimally invasive wireless continuous glucose monitor, got CE clearance in the European Union in 2016. A non-invasive blood glucose tracking gadget called the GlucoTrack DF-F was also given CE certification by Integrity Applications Inc. in 2013. In the near future, increased research and development efforts aimed at creating innovative non-invasive biosensors are anticipated to fuel market expansion. For instance, Mclean Hospital revealed in 2022 that a clinical study for LabPatch-alcohol, a non-invasive skin patch that measures blood alcohol content, was underway. The clinical study for LabPatch-alcohol is currently in its early Phase 1. The demand for non-invasive biosensors for detection is also anticipated to rise as diabetes incidence rises. Around 8.5% of adults globally, or 422 million people, were diagnosed with diabetes in 2014, according to the World Health Organization (WHO).
Regional Snapshots:
In terms of revenue share, North America led the world industry in 2022. Due to factors like favorable reimbursement policies, technical developments, and the rising incidence of diabetes and cardiovascular diseases, the area is predicted to maintain its supremacy over the forecast period. Additionally, the availability of major players with strong R&D capacities is expected to increase demand for these products in North America.
Due to the increasing elderly population base and growing knowledge of early detection & treatment choices for chronic illnesses, the Asia Pacific is predicted to have one of the quickest growing economies during the projection period. Additional reasons that can be linked to the region's rapid development include the swiftly expanding healthcare infrastructure, particularly the hospitals and clinics operated by private companies. In 2022, the Asia Pacific region had the greatest growth rate for non-invasive biosensors, followed by Latin America. This was due to the region's high unmet medical needs, especially those related to conditions like diabetes and obesity, which are linked to a number of problems like heart disease and stroke.
Non-invasive Biosensors Market Report Scope:
| | |
| --- | --- |
| Report Coverage | Details |
| Market Revenue in 2023 | USD 29.84 Billion |
| Projected Forecast Revenue in 2032 | USD 59.45 Billion |
| Growth Rate from 2023 to 2032 | CAGR of 7.96% |
| Largest Market | North America |
| Base Year | 2022 |
| Forecast Period | 2023 To 2032 |
| Regions Covered | North America, Europe, Asia-Pacific, Latin America, and Middle East & Africa |

Report Highlights:
The glucose monitors accounted for the biggest share of revenue in 2022. The body's glucose levels are measured by biosensors known as glucose meters.
Based on technology, the industry is split into groups for piezoelectric, electrochemical, thermal, and photonic products. With a market share of roughly 71.4% in 2022, the electrical market group had the largest market share.
The classification of the global non-invasive biosensors market is based on the adoption in healthcare facilities, personal care settings, and other environments.
North America made for the largest share of global revenue in 2022—more than 39.50%—due to the presence of key players and the increasing incidence of targeted diseases in the region.
The Middle East and Africa are expected to experience the fastest growth over the course of the forecast era. Significant unmet medical requirements for specific ailments like cancer, diabetes, and other infectious diseases, as well as consistently rising healthcare expenditure and rising patient awareness in the region, all contribute to the growth of the market in the region.
Market Dynamics:
Drivers:
Increasing Biosensor demand and technological Advancement. The demand for biosensors is increasing as awareness of the importance of keeping a regulated and healthy lifestyle grows. The need for this technology is growing as more health metrics are tracked, including body temperature, blood pressure, heart rate, and pulse rate. Wearable and non-wearable biosensor manufacturing advancements will greatly accelerate development during the projection timeframe.
The novel biosensor technology offers goods that are creative, practical, and adaptable. This technology is a mashup of several distinct technologies, including the internet of things (IoT), smartphones, smart clothing, cloud processing, and others. In the upcoming years, there will undoubtedly be an effect on the biosensors market due to the advancement and growing awareness of lab on chip versions in biosensors for patient care tests.
Restraints:
High product creation costs could limit business expansion.
Due to the expanding application of cutting-edge technologies in product development, the biosensors market is faced with a significant challenge of rapidly rising manufacturing costs. Modern biosensors are created using a variety of technologies and costly, complicated biomolecules. The price of sensing devices has sharply increased, which has hampered product uptake. Furthermore, the expense of commercially developing miniature biosensors increases the cost of the product. However, the industry is likely to get over this obstacle with more financing from the public and commercial sectors.
Opportunities:
The substantial technical advances in the biosensor industry are what primarily drive the worldwide market for biosensors. Over the past few years, considerable effort has been put into creating biosensor technology and its uses. For instance, one of the developments seen in the Biosensors ecology is the multianalyte resolution for environmental tracking and screening. Small, manageable, easy-to-handle biosensors made possible by miniaturization have enhanced the conventional testing process in the medical and healthcare industries. The worldwide market will expand as a result of the rising usage of novel biosensors and the increasing number of product releases.
In the coming years, it is also anticipated that the large population base of the elderly and the rising number of diabetics, especially in developed nations worldwide, will fuel the development of the biosensors market. Additionally, the need for prompt and proactive diabetes diagnosis is expanding. The treatment of diabetes mellitus requires continuous blood glucose measurement.
The market demand is growing as a result of notable developments in glucose sensing technology, such as continuous glucose monitoring techniques, non-invasive glucose monitoring devices, and point-of-care glucose testing. Additionally, advancements in biosensor technology have made it possible to measure blood sugar under a variety of conditions, including a variety of temps, amounts, and the presence of different interfering substances.
The use of biosensors in the field of diabetes is growing, and their rising efficiency and precision in tiny sample volumes will continue to boost market estimates in the years to come. The use of biosensors in the field of diabetes is growing, and their rising efficiency and precision in tiny sample volumes will continue to boost market estimates in the years to come.
Challenge:
The adoption of non-invasive biosensors products is hindered by poor disease knowledge, high product costs, weak economic conditions, and unfavorable insurance systems throughout emerging nations. Additionally, the Non-Invasive Biosensors Market is developing slowly due to price sensitivity, end-user approval, and worries about the product's quality, legitimacy, and dependability, all of which are anticipated to restrain market development.
Recent Developments:
In 2016, Nemaura Medical, Inc.'s SugarBEAT portable continuous glucose monitor received CE approval in the European Union. The SugarBEAT CGM device consists of a sensor patch that sends glucose readings to an independent reader, smart watch, or smartphone software over Bluetooth. The business intends to introduce its product in the UK in the near future.
Linxens provides point-of-care testing tools for Siemens Healthineers. The demand for epoc devices, which are used in ICUs and emergency departments all over the globe to quickly diagnose patients, has increased, according to Siemens Healthineers. Consumables become more necessary as demand rises, which doubles the demand for Linxens coil biosensors and is anticipated to accelerate market development in the coming years.
Major Key Players:
Akers Biosciences, Inc.
Philips Healthcare
Abbott Laboratories
GE Healthcare
Nemaura Medical, Inc.
Integrity Applications Inc.
OrSense
MediWise Ltd.
Medtronic Plc.
Market Segments:
By Product Type
Breathalyzers
Glucose Monitors
Blood Analyses Monitors
Others
By Technology
Thermal
Electrochemical
Piezoelectric
Optical
By Application
Hospitals
Homecare Settings
Others
Buy this Research Report@ https://www.precedenceresearch.com/checkout/2830
You can place an order or ask any questions, please feel free to contact at sales@precedenceresearch.com | +1 9197 992 333