The global non-invasive biosensors market size was valued at USD 27.64 billion in 2022 and is expected to hit around USD 59.45 billion by 2032, growing at a CAGR of 7.96% over the forecast period from 2023 to 2032.
Access our Premium Real Time Data Intelligence Tool, Visit: Precedence Statistics
Key Takeaways:
North America generated more than 41% of revenue share in 2022.
By Product Type, the glucose monitors segment is predicted to record the maximum share between 2023 and 2032.
By Technology, the electrochemical segment contributed more than 72% of revenue share in 2022.
Non-invasive biosensors are those that can identify and quantify a biomarker's existence without having to enter or come into touch with the target tissue. They are frequently employed in food safety, environmental surveillance, and medical investigations. Compared to conventional intrusive techniques like biopsy, non-invasive biosensors have a number of advantages: they are less likely to damage the person being tested, they offer a non-destructive means of collecting, and they can be used to track biomarkers over time.
Growth Factors:
Biosensors are in high demand due to various medical applications, a growing population of diabetic patients, the need for compact diagnostic devices, and swift technological advancements. Early and precise diagnosis plays a crucial role in a patient's prognosis and survival, hence the surge in demand for disposable, cost-effective, and user-friendly devices with quick response times. In recent years, these devices have advanced rapidly in the medical field, thanks to the integration of interdisciplinary approaches in nanotechnology, chemistry, and medicine to meet the criteria.
The frequency of chronic illnesses and lifestyle-related diseases is another factor pushing consumers to use biosensors for routine monitoring of pathogenic activities in the body, which is expected to increase demand for biosensors. The use of biosensors is growing as a result of the world's aging population growth and the greater accessibility and affordability brought on by the usage of nanotechnology.
Biosensors built on nanotechnology are anticipated to find profitable uses in a number of sectors, including food analysis, imaging, and microbial activity tracking. The desire for non-invasive biosensors, the popularity of medical devices and specialized drugs, and the growth of research partnerships and contracts between different makers are all contributing to the global market's consolidation. For instance, Johnson & Johnson Innovation works with Ethicon Endo-Surgery Inc. The growing knowledge of continuous health tracking is another significant element driving industry development. Athletes are becoming more interested as a consequence. Many athletes use Electromyography (EMG) biosensors to keep a careful watch on their health and get notifications if something goes awry.
Athletes can perform better and remain one step ahead of the competition with the aid of this early identification. For instance, the wearable sign language monitor will be the first market product Nix, a biosensor business, releases online in June 2022. Smartphone software, a single-use patch, and a Bluetooth-enabled reuse module make up the Hydration Nix Biosensor. Although Nicks has conducted pilot programs with racing, military and industrial settings, tennis players, etc., endurance athletes are the focus of the introduction. Despite these factors, it is anticipated that stringent laws and convoluted cost recovery policies in the global healthcare sector will restrain the global market. The adoption of biosensors is also hampered and the growth of the industry is constrained by the sluggish rate of adaptation of current laws to new technologies.
To analyze hundreds of samples per day in diagnostic labs, a variety of skills are needed. For instance, MIT researchers created a nanoparticle-based sensor device in July 2020 that uses the molecules emitted during respiration to detect and track lung illness. As a result, the market's post-pandemic development was able to continue thanks to the profitable possibility for market expansion offered by the high frequency of the Omicron variety. In labs, point-of-care testing, and self-testing for glucose tracking, biosensors for detecting blood metabolites, such as creatinine, glucose, lactate, and urea, are widely used and professionally produced. They are used in a broad variety of clinical settings.
Government initiatives geared toward the advancement of proteomics and genomics are anticipated to be the main drivers of worldwide business. For instance, National Information and Communication Technology Australia (NICTA) plans to increase the scope of its embedded systems, networks, and data processing study in this area. The bulk of IT companies are also making significant investments in this field. Major IT firms like IBM, Infosys, and TCS are expected to invest in order to increase the market growth.
The Chinese government is also making significant investments in its computing infrastructure, most notably through the China Grid, which was established by the Chinese Academy of Sciences, the Ministry of Education, and the China National Grid (CNGrid), which is supported by the Ministry of Science & Technology. The existence of such positive efforts is anticipated to accelerate market expansion.
Growing demand for non-invasive and slightly invasive testing techniques.
The rising incidence of persistent illnesses like cancer, diabetes, and cardiac conditions.
The rise in popularity of point-of-care testing.
Technological advancement in the field of biosensors.
Increasing money for sensing research and development.
Report Scope of the Non-invasive Biosensor Market:
| | |
| --- | --- |
| Report Coverage | Details |
| Market Size in 2023 | USD 29.84 Billion |
| Market Size by 2032 | USD 59.45 Billion |
| Growth Rate from 2023 to 2032 | CAGR of 7.96% |
| Largest Market | North America |
| Base Year | 2022 |
| Forecast Period | 2023 to 2032 |
| Segments Covered | By Product Type, By Technology, and By Application |
| Regions Covered | North America, Europe, Asia-Pacific, Latin America and Middle East & Africa |

Key Market Drivers:
Need for early diagnosis
Successful medical therapies have long been credited with being greatly aided by early diagnosis of illnesses. Developing delicate and precise methods for diagnosing medical problems is an urgent necessity. As a result, the non-invasive biosensors market is anticipated to grow over the coming years.
Key Market Challenges:
A biosensor's cost
The biggest market restraint is the significant expense of biosensors, which is being taken into account. Additionally, the low diversity of sensors and high upkeep costs impede the market's expansion. Biosensors typically have a lifespan of two to three years, during which time they require maintenance. For instance, they can produce inaccurate findings if the sensor is defective. Additionally, the biosensor has a maximum useful life of three years, after which time it should be changed to ensure that the findings it produces are appropriate. These are a few of the restraints that could prevent industry expansion.
Key Market Opportunities:
Rising incidence of chronic diseases
The worldwide incidence, mortality, and morbidity of cancer, diabetes, and cardiovascular diseases has birthed concerns across the medical fraternity. Use of non-invasive biosensors can largely help in diagnosing and tracking the health of patients suffering from the aforementioned diseases.
Segments Insight:
Product Type Insights:
In 2022, the glucose monitors made for the largest sales portion. Biosensors called glucose meters are employed to gauge the body's glucose levels. These devices' main uses are in the treatment of diabetes and the detection of hypoglycemia (low blood sugar). These tools can be used for a variety of purposes, including illness detection, fertility testing, drug finding, and newborn monitoring.
Breathalyzers are instruments that detect the presence of alcohol in the air of a subject. Authorities use them to determine whether a motorist is under the effect of alcohol. The non-invasive biosensors market is expanding because they offer a substitute for breathalyzer tests because they don't make direct touch with the subject, which lowers the possibility of cross-contamination and makes them more dependable than conventional methods.
Devices called blood analysis monitors assess different blood factors like carbon dioxide levels, pulse rate, and oxygen saturation. These devices are used to track people with chronic diseases like COPD, asthma, and sleep apnea in both hospital and residential environments.
Technology Type Insights:
The industry is divided into piezoelectric, electrochemical, thermal, and photonic subcategories based on technology. In 2022, the electrochemical market category held the biggest market share, at about 72%. This is a result of its pervasive monitoring and analytical use in biochemical and biological processes. Electrochemical biosensors have many benefits, including low detection limits, a broad linear response range, exceptional stability, and repeatability. Due to the numerous benefits electrochemical detection has over piezoelectric, infrared, and visual detection, it is more widely used and consumed.
A few advantages include robustness, adaptability to new microfabrication technologies, simplicity of use, low cost, disposability, freedom from sample viscosity, and low power requirements. Over the forecast period, the optical sector is anticipated to expand at the fastest pace. Due to their extensive analytical scope, optical biosensors are expected to become more important in analysis over the course of the projection period. With optical biosensors, it is feasible to study receptor-cell interactions, fermentation tracking, structural studies, concentration, kinetics, and equilibrium. These variables are predicted to lead to a growth in the market for visual biosensors.
Application Type Insights:
The implementation in hospitals, personal care settings, and other settings determines the segmentation of the global non-invasive biosensors market. Due to the rise in diabetes-related disorders requiring routine blood glucose testing, hospitals were predicted to generate the highest amount of income in 2015. Furthermore, the use of these instruments for early detection in institutions has increased as a consequence of an increase in cardiovascular illnesses.
Glucose monitors are also used in-home care settings as they can be carried out simply and do not require any expert assistance or instruction. The ability of these tools to identify type 1 and type 2 diabetes even before signs manifest is driving up demand for them on a worldwide scale. They will also be in higher demand over the forecast period due to technical developments like the miniaturization of these devices, which makes them easier to use and more affordable than hospital-based technology.
Regional Insights:
Due to the existence of major players and the rising prevalence of targeted diseases in the area, North America accounted for the biggest portion of worldwide income in 2022, accounting for more than 41% of it. Technology advancements, such as the release of miniature diagnostic tools that increase the market adoption of electronic medical records (EMR), as well as accurate and speedy results, are anticipated to drive market growth over the anticipated timeframe. Additionally, the existence of the Clean Air Act, Clean Water Act, and National Environmental Policy Act in the United States is anticipated to open up development opportunities for the market in North America over the anticipated time frame.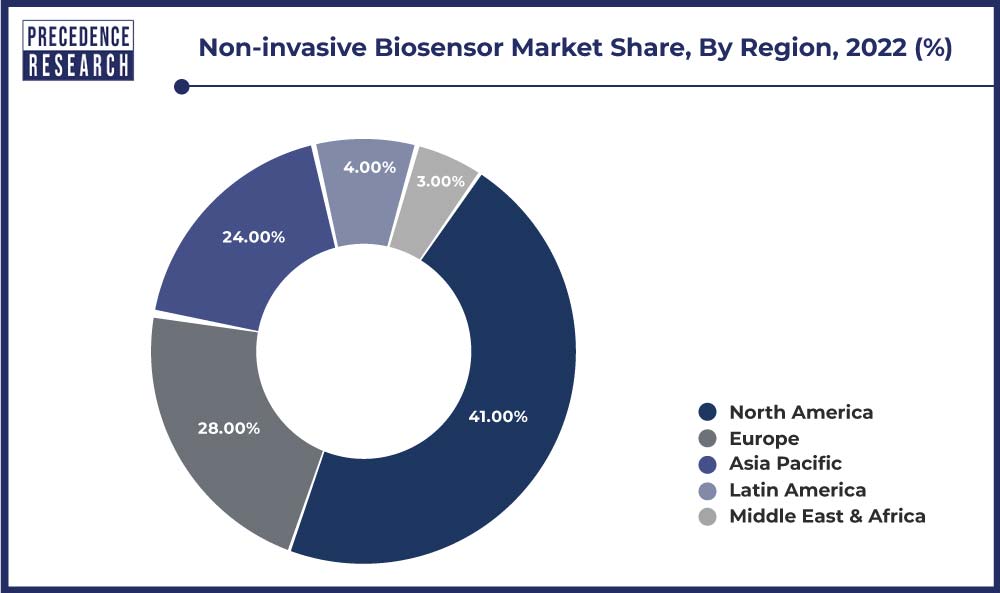 During the projection period, Middle East & Africa is anticipated to expand at the quickest pace. The region's market is driven by the existence of significant unmet medical needs for target illnesses like cancer, diabetes, and other infectious diseases, as well as by constantly rising healthcare spending and rising patient consciousness in the area. The government's initiatives to decrease hospital stays by developing outpatient care models and rising demand for home healthcare, point-of-care & other healthcare companies servicing the adult population are expected to propel the market growth during the forecast period.
Recent Developments:
Profusa pioneered the creation of injectable biosensors with minimally intrusive procedures, and the business and its collaborators have been honored for their groundbreaking work in the field of non-invasive medicine. Profusa won the DARPA prize for best illness administration and control. As a result of these advancements, the non-invasive biosensors market's customer base is anticipated to grow globally.
Glucose biosensor systems (GBSG) intends to create a consumer-facing non-invasive blood glucose tracking device. The business has filed documents for an IPO to collect $23 million in capital. The business would face fierce rivalry when it entered the global non-invasive biosensors industry.
Key Market Players:
Akers Biosciences, Inc.
Philips Healthcare
Abbott Laboratories
GE Healthcare
Nemaura Medical, Inc.
Integrity Applications Inc.
OrSense
MediWise Ltd.
Medtronic Plc.
Segments Covered in the Report:
(Note*: We offer report based on sub segments as well. Kindly, let us know if you are interested)
By Product Type
Breathalyzers
Glucose Monitors
Blood Analyses Monitors
Others
By Technology
Thermal
Electrochemical
Piezoelectric
Optical
By Application
Hospitals
Homecare Settings
Others
By Geography
North America
Europe
Asia-Pacific
Latin America
Middle East and Africa