The global non-woven fabrics market revenue was evaluated at USD 30.76 billion in 2022 and is expected to attain around USD 60.23 billion by 2032, growing at a CAGR of 7% from 2023 to 2032.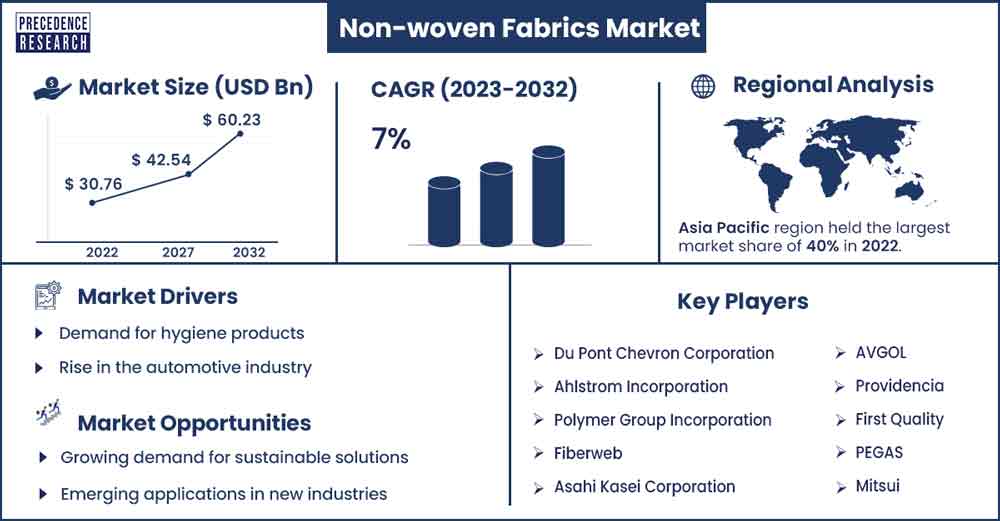 Market Overview
The global industry engaged in the manufacture, distribution, and consumption of non-woven fabrics is referred to as the non-woven fabrics market. Instead of being woven as traditional textiles, non-woven fabrics comprise fibers or filaments bound together by various mechanical, thermal, or chemical methods. These textiles are used in many industries, including consumer products, healthcare, automotive, and construction. The commercial production, exchange, and application of these materials are all part of the market.
In the medical field, non-woven materials are used extensively for wound dressings, surgical gowns, masks, and drapes. The need for non-woven medical textiles has surged due to infrastructural development, growing healthcare awareness, and an expanding worldwide population. They are essential in wipes, adult incontinence products, feminine hygiene products, and diapers. Global population growth and rising personal hygiene awareness have led to a consistent increase in demand for these items.
Specific specifications, including those related to thickness, strength, porosity, and absorption capacity, can be designed into it. The ability to produce customized materials for various purposes is made possible by manufacturing flexibility, which draws in multiple businesses. The creation of non-woven fabrics has seen constant innovation, which has raised quality, efficiency, and affordability.
Techniques such as air-laid, melt-blowing, and spin bonding have created new opportunities for use in a variety of industries, which has further fueled market growth. Because they require fewer resources to produce than traditional woven fabrics, they are frequently regarded as being more environmentally friendly. Demand for non-woven materials has increased due to rising consumer awareness of environmental issues and governmental pressure to embrace sustainable practices.
In May 2023, The Turkish company Lotus Teknik Tekstil A.Åž. launched a complete production line to manufacture nonwoven roll products for biodegradable, free-of-plastic wet wipes. The multinational technology company ANDRITZ delivered, set up, and commissioned this system.
Regional Snapshot
Nonwoven fabrics are in high demand across various sectors, including personal care, healthcare, automotive, and construction. With its sizable and diverse population, Asia Pacific area provides a market for these goods. Asia Pacific manufacturers have initiated the development of environmentally friendly nonwoven fabrics that incorporate recycled materials and sustainable production processes in response to the growing focus on sustainability and eco-friendly products.
In June 2023, The Bangladesh Exports Processing Area Authority Economic Zone (EZ) received a $76.41 million investment from China's Mingda (Bangladesh) New Material Co., Ltd. to support the production of diversified goods. It is the most significant investment that one business with agreements to set up factories in BEPZA EZ has proposed to make.
Asia Pacific nations have an advantage over other regions in the global market because their production costs are frequently lower. It enables producers to stay profitable while providing goods at competitive prices. Asia Pacific manufacturers have proven adept at quickly shifting to meet customer preferences and market demands. Their adaptability enables them to efficiently address the changing demands of their customers.
In September 2022, Toray Industries, Inc. declared that it has developed a spun bond nonwoven fabric that is skin-friendly and consistently hydrophilic. This fabric works well for sanitary applications such as masks, feminine hygiene products, and disposable diapers. Full-scale production is scheduled to begin when the production technology is well-established, according to the company.
In February 2022, plans to increase the capacity of its melt-blown nonwoven production facilities at its wholly owned subsidiary Sunrex Industry Co., Ltd. were revealed by Mitsui Chemicals, Inc. This will result in a 30% increase the Mitsui Chemicals Group's total melt-blown nonwoven production capacity. The move attempts to meet the increasing need for industrial-use melt-blown nonwovens.
Non-Woven Fabrics Market Report Scope
| | |
| --- | --- |
| Report Coverage | Details |
| Market Revenue in 2023 | USD 32.76 Billion |
| Projected Forecast Revenue by 2032 | USD 60.23 Billion |
| Growth Rate from 2023 to 2032 | CAGR of 7% |
| Largest Market | Asia Pacific |
| Base Year | 2022 |
| Forecast Period | 2023 to 2032 |
| Regions Covered | North America, Europe, Asia-Pacific, Latin America, and Middle East & Africa |

Market Dynamics
Drivers
High demand in the healthcare industry
Medical gowns, masks, caps, and other personal protective equipment are frequently made from non-woven fabrics. They are perfect for these applications because they include breathability, barrier qualities, and comfort. The COVID-19 pandemic increased consumer demand for non-woven materials by increasing the need for these products.
The need for healthcare goods and services is rising as the world's population ages. They are essential to older people's comfort, care, and hygiene, which increases demand even more. Non-woven textiles are used in a wide range of medical applications, such as drug delivery systems and IV filters, as well as filtration media for liquid and air purification.
Growing applications in agriculture
In agriculture, non-woven fabrics are widely used for weed control and crop protection. They act as a physical barrier to stop weed growth and aid soil moisture retention, lowering herbicide demand and saving water. Mulching materials made of non-woven fabrics have numerous advantages. They help in controlling soil temperature, weed suppression, and moisture conservation.
They also stop soil erosion, which is essential for sustainable agriculture. Non-woven fabrics stabilize soil in areas where soil erosion is a problem. To inhibit erosion and encourage healthier plant growth, they are placed on slopes. In colder climates, non-woven fabrics help to prolong the growing season by acting as a layer of protection against frost. They provide a more stable microclimate for plants by retaining heat during the day and releasing it gradually at night.
Restraints
Less availability of raw materials
The primary components used to make non-woven fabrics are synthetic polymers, which come from petrochemicals. Changes in petrochemical prices or availability directly impact the production of nonwoven fabrics. Events like supply chain interruptions, shifts in the price of oil globally, or geopolitical tensions can cause these vital raw materials to become scarce and volatile in price.
Research and development activities are necessary to create and expand new materials as the industry looks for more environmentally friendly and sustainable substitutes for conventional raw materials. The availability of these substitute inputs may be delayed due to this labor-intensive and expensive process. Plastics, chemicals, and fuels are just a few of the industries that receive supplies from the petrochemical sector.
Supply chain disruptions
Disruptions in the supply chain frequently result in higher costs. For example, it can be costly to implement contingency plans, source alternatives, or ship expeditiously. These extra expenses could either be passed on to customers, thereby reducing the competitiveness of non-woven fabrics, or absorbed by the manufacturer, thereby reducing profit margins. Uncertainties regarding the quality of components and raw materials may be introduced.
The need for manufacturers to look for different suppliers or substitute materials may force them to compromise the quality of their products. The credibility and dependability of products made of non-woven fabric are at risk because of this matter.
Opportunities
Growing demand of non-woven fabrics for personal hygiene and care
There has been a noticeable trend toward using non-woven fabric products due to increased awareness of personal hygiene and health, particularly in light of global health issues like the COVID-19 pandemic. These materials are perfect for various hygiene applications because of their exceptional softness, breathability, and absorbency.
The aging population trend on a global scale has dramatically increased the demand for products for personal care. Adult urinary tract infection products, which are in demand as the number of older adults increases, are fundamentally made of non-woven fabrics. Improved fabric properties have been developed due to ongoing technological advancements in the non-woven fabric production industry. These include more substantial properties, better bacterial resistance, and enhanced liquid absorption capacities. Non-woven textiles are becoming more appealing for personal care uses due to these advancements.
For instance, In December 2022, Ginni Filaments Limited maintains its dominant position in the nonwoven fabrics, technical textile, and customer wipes markets by focusing on accuracy and perfection and by emphasizing the importance of hygiene in the production of high-quality goods.
Expansion of packaging industry
The need for sustainable packaging solutions is rising as environmental concerns do. Since non-woven fabrics are recyclable, biodegradable, and can be made from renewable resources, they provide a good substitute for conventional materials like plastic. This is in line with the packaging industry's sustainability objectives.
It is possible to engineer non-woven fabrics with qualities to fulfill the needs of various packaging applications. They may, for example, be flame-retardant, water-resistant, or anti-static. Because of their adaptability, manufacturers can design unique solutions for goods and markets. Because non-woven fabrics are typically lightweight, they can help save money on transportation and material use. In the packaging industry, where cost-effectiveness and efficiency are critical.
Recent Developments
In June 2023, with various new wipe substrate materials, Berry Global is poised to provide the healthcare, hygiene, and food manufacturing markets with the most options and environmentally friendly solutions for hard surface disinfection.
In October 2022, With the introduction of its revolutionary organic Power Shield fabric technology, Polartec, a Milliken & Company brand, is happy to raise the bar for environmentally friendly weather protection. With this launch, Polartec is demonstrating its ongoing commitment to finding alternatives to petroleum-based products made of living matter while also improving the performance and efficiency of textiles and materials.
Major Key Players
Du Pont Chevron Corporation
Ahlstrom Incorporation
Polymer Group Incorporation
Fiberweb
Asahi Kasei Corporation
AVGOL
Providencia
First Quality
PEGAS
Mitsui
Fibertex
Fitesa
Toray
Market Segmentation:
By Product
Polyester
Polypropylene
Nylon
Others
By Technology
Carded
Spunlaid
Wet Laid
Air Laid
By Application
Buy this Research Report@ https://www.precedenceresearch.com/checkout/1147
You can place an order or ask any questions, please feel free to contact at sales@precedenceresearch.com | +1 9197 992 333