The global oil and gas analytics market size was evaluated at USD 6.92 billion in 2022 and it is expected to touch over USD 52.46 billion by 2032, growing at a CAGR of 22.45% during the forecast period 2023 to 2032.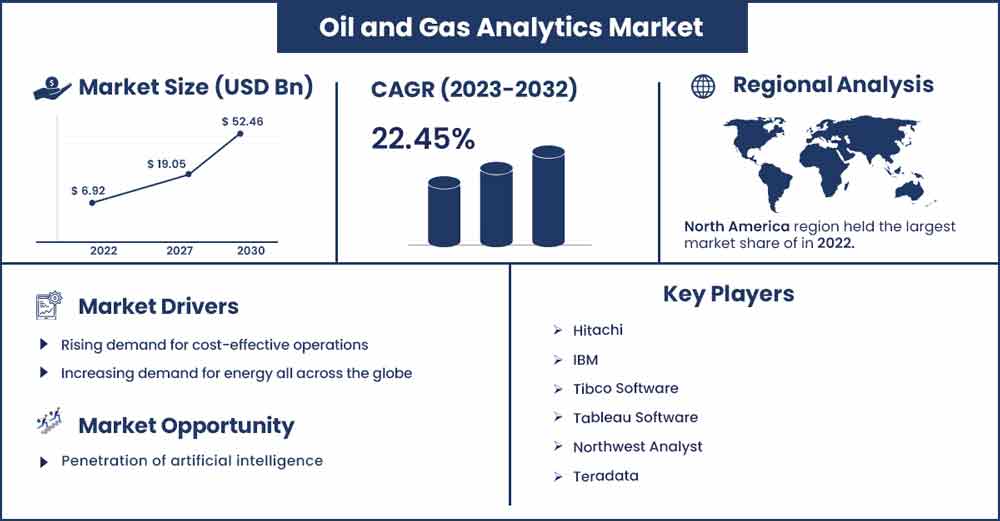 Market Overview:
Oil and gas analytics, known as "oilfield analytics," uses several other sectors' statistical techniques to identify patterns amid hundreds of constantly changing variables. It usually employs enormous volumes of field data and machine learning algorithms to provide significant data insights and predictive analysis that managers and operators utilize to maximize yield, expedite innovation, and lower risk.
Similar to the developments in retail, manufacturing, and financial services, advances in remote instrumentation, process automation, and the Internet of Things (IoT) have opened the way for a revolution in the oil and gas sector. The market is witnessing significant growth as multiple energy producers are using predictive analytics and remote sensors to securely monitor real-time operations and improve field maintenance since they have assets and consumers everywhere.
Regional Snapshot:
The North American market is anticipated to expand significantly throughout the projected period. Due to the widespread use of modern technology and the emergence of significant competitors, the market is projected to have plenty of room for expansion. According to a new report released by Information Services Group (ISG), a renowned worldwide technology research and consultancy business, oil and gas firms in North America deal with various significant developments driving trends that call for greater investments in digital technologies and capabilities.
Increased reservoir, production optimization and considerable analytical application development will fuel the expansion of the North American oil & gas analytics industry. Increased need for cost-effectiveness due to the low price of crude oil and quick expenditures in R&D to provide cutting-edge technologies for improved project execution and planning. The market demand would increase due to a paradigm change towards digitizing industrial views to achieve effective labor productivity with lower operational expenses.
Asia Pacific's oil & gas analytics market is expected to experience significant growth during the forecasted period. Due to the high costs associated with the discovery and production of both conventional and unconventional resources. Analytical tools improve asset management by lowering the costs of equipment maintenance and downtime. Companies in Asia Pacific are shifting their focus towards artificial intelligence in analytics operations. This highlights the overall advancement in the market. Moreover, expanding business and penetration of international players in the market promote the growth of the market in Asia Pacific.
Oil and Gas Analytics Market Report Scope:
| | |
| --- | --- |
| Report Coverage | Details |
| Market Revenue in 2023 | USD 8.47 Billion |
| Projected Forecast Revenue in 2032 | USD 52.46 Billion |
| Growth Rate from 2023 to 2032 | CAGR of 22.45% |
| Largest Market | North America |
| Base Year | 2022 |
| Forecast Period | 2023 To 2032 |
| Regions Covered | North America, Europe, Asia-Pacific, Latin America, and Middle East & Africa |

Report Highlights:
By offering, the software segment dominates the market. Due to the rising need for machine learning and AI, the software sector leads the oil and gas analytics market. The software segment is anticipated to grow due to technological developments like robots and sensor networks. During the forecast period, the service sector, which provides maintenance, safe storage, and user authentication, is anticipated to rise.
By deployment platform, cloud services, which provide improved dependability, less downtime, and simpler administration of massive data, dominate the worldwide oil and gas analytics industry. This adaptable strategy is anticipated to experience substantial growth throughout the projection period when paired with remote and networked operations.
By application, due to growing crude oil exploration, upstream is anticipated to expand, while midstream is concerned with transportation and storage. On the other hand, downstream is expected to expand due to predictive analytics for distribution and sales operations.
By user, the large enterprise segment dominates the global market. Massive businesses that can handle vast amounts of data and have more investment capacity dominate the worldwide oil and gas analytics industry.
Market Dynamics:
Driver:
Rising demand for cost-effective operations
The cost of production of an oil and gas organization is influenced by various internal and external variables, including pipeline operations and well drilling. Big data analytics may make use of this data and use it in a variety of ways to increase production efficiency and save expenses. Oil companies may adjust their drilling strategy by combining real-time data from down-hole drilling with the production information from nearby wells. For instance, data analysis of rocks is being utilized to determine the best location for oil wells. Companies like Shell use data analytics to estimate output and the remaining oil and gas in reservoirs. This is assisting companies in lowering their production costs and fueling the expansion of the oil and gas analytics sector.
Restraint:
Unstructured data
Unstructured data, which differs from structured data in that it lacks predetermined classifications or is not organized according to a specified template, is what the industry is struggling with since its administration is ineffective. According to Equinor's Ashild Hanne Larsen, senior vice president and chief information officer for corporate information technology, 80% of staff time in the sector is spent sifting through unstructured data to make decisions and complete tasks. In the oil and gas analytics industry, studying unstructured data takes up to four to five working days. Unstructured data is critical to manage and store. Unstructured data is thus a significant issue and a market restraint for oil and gas analytics.
Opportunity:
Penetration of artificial intelligence
Multiple surveys and studies suggest that the deployment of artificial intelligence is observed to upstream the overall energy sector. While artificial intelligence-based solutions rapidly enter the market in oil and gas analytics, the sector is expected to create value-driven and advanced data. The penetration of AI in the oil and gas analytics market is observed to overcome the challenges and limitations including management of big and unstructured data. Multiple key players in the market have already started shifting their focus toward AI-based solutions. The deployment of AI is capable of offering automated inspections, the solutions produced by artificial intelligence are observed to be more efficient and accountable. While the industry looks out for advanced solutions with cost-effectiveness, the penetration of AI is considered to open a wide set of opportunities for the market.
Challenge:
The oil and gas industry deals with sensitive data, including proprietary information, operational data, and personal information of employees and stakeholders. Ensuring data governance and compliance with privacy regulations (such as GDPR or CCPA) becomes critical. Analytics solutions need to adhere to these regulations and implement robust data protection measures, such as encryption and access controls. Oil and gas companies often collaborate with various stakeholders, including partners, contractors, and regulatory bodies. Sharing data for analytics purposes while preserving privacy becomes challenging.
Recent Developments:
In June 2023, A new diagnostic tool mainly created to find and characterize flow in oil and gas wells, ChorusX was launched by TGT Diagnostics. With the aid of this brand-new acoustic array platform, energy businesses may more quickly and precisely identify fluid flow across the well-reservoir system, assisting them in maintaining wells' security, cleanliness, and productivity.
In August 2023, Petrobras released its initial mobile application to log safety observations at oil extraction and refining locations, including its distant sites, to promote high safety requirements in various areas. Petrobras reported more than 90 accidents in the initial weeks of the experimental phase.
Major Key Players:
Hitachi
IBM
Tibco Software
Tableau Software
Northwest Analyst
Teradata
Market Segmentation:
By Offering
Hardware
Software
Service
By Deployment Platform
By Application
Upstream
Midstream
Downstream
By User
Small & medium Enterprises
Large Enterprises
Buy this Research Report@ https://www.precedenceresearch.com/checkout/2590
You can place an order or ask any questions, please feel free to contact at sales@precedenceresearch.com | +1 9197 992 333