The global personalized medicine biomarkers market size is anticipated to reach around USD 61.29 billion by 2032 up from USD 14.22 billion in 2022 with a CAGR of 15.73 % between 2023 and 2032.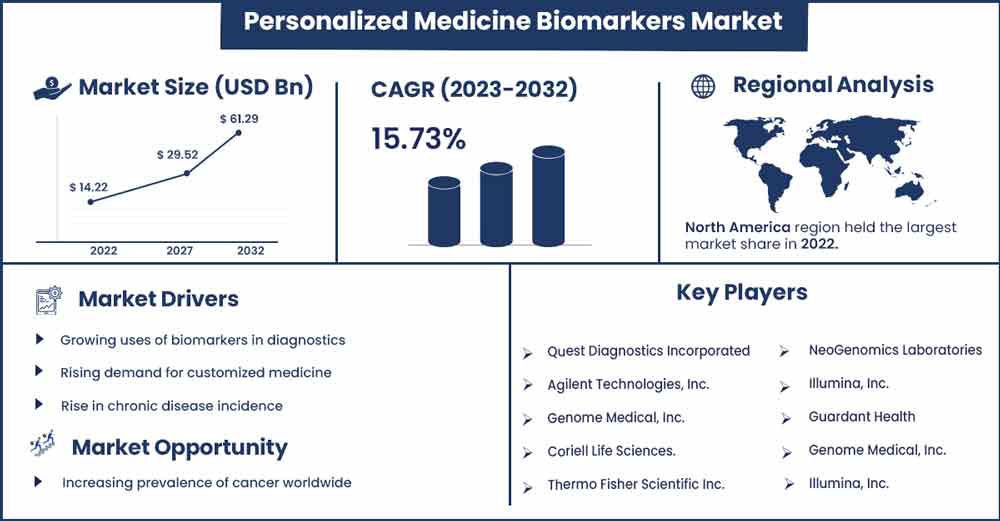 The best course of action for patients with a particular illness can be determined with the help of biomarkers. As a consequence of the development of personalized medicines using biomarkers, it is anticipated that every patient will receive effective and secure treatments. The chemotherapy medication irinotecan (Camptosar) is an illustration of a tailored treatment that uses biomarkers. A drug called irinotecan is used to treat colon cancer. Although irinotecan's toxicity has long been a cause for worry, it is now safer and better able to identify people at high risk of experiencing adverse effects thanks to the use of biomarkers. Additionally, the use of biomarkers in customized medicine is growing in the therapy of skin cancer in order to offer a more accurate prognosis and course of action.
Before starting treatment, early detection/screening biomarkers can forecast how the illness will progress in the patient community. By assisting in the selection of patients more likely to react to therapy, it can also enhance clinical trials. For instance, Genomic Health, Inc. created the screening test Oncotype Dx. This test looks at 21 genes and aids in predicting whether breast cancer will return in a patient after original therapy. ASCO recommendations that had been updated in April 2022 advised using the Oncotype DX test for patients with early-stage breast cancer to help determine the best course of therapy.
Biomarkers are also used for their prognosis and predictive capabilities, which aid in forecasting the development of medical conditions. For instance, prostate-specific antigen is used to forecast a patient's longevity after prostate cancer treatment. Breast cancer disease-free longevity is predicted using CRP, and it is also a risk factor for cardiovascular diseases. In cases of metastatic brain malignancies, serum LDH aids in predicting longevity. Similar to this, CA125 aids in the prediction of metastatic illnesses in endometrial cancer patients.
Additionally, major participants in the personalized medicine biomarkers market are concentrating on growing and launching goods that can be applied in a variety of ways.
Report Highlights
Due to the need to start treating patients as soon as possible, the early detection/screening sector is anticipated to expand at the quickest CAGR.
In 2022, the oncology market category accounted for the biggest part of the overall market due to the increasing incidence of cancer and the accessibility of numerous FDA-approved customized biomarkers tests for cancer.
Due to the region's better healthcare facilities, growing prevalence of the target diseases, and rising government financing for biomarker innovation, North America held the biggest market share.
Personalized Medicine Biomarkers Market Report Scope:
| | |
| --- | --- |
| Report Coverage | Details |
| Market Revenue in 2023 | USD 16.46 Billion |
| Projected Forecast Revenue by 2032 | USD 61.29 Billion |
| Growth Rate from 2023 to 2032 | CAGR of 15.73% |
| Largest Market | North America |
| Base Year | 2022 |
| Forecast Period | 2023 to 2032 |
| Regions Covered | North America, Europe, Asia-Pacific, Latin America, and Middle East & Africa |

Regional Snapshots
Due to rising financing for biomarkers supported by technical advancements, high disposable income, and the existence of significant market participants working in the area, North America dominated the global market in 2022. Due to growing private and governmental efforts and increased public knowledge of chronic illnesses and therapies, the U.S. has the highest percentage of customized medications in the area. Furthermore, major players are concentrating on creating innovative goods to keep control of the industry. For instance, FoundationOne CDx obtained U.S. FDA clearance in February 2022 as a companion diagnostic for Keytruda to identify individuals with solid tumors with elevated levels of microsatellite instability.
Market Dynamics
Drivers
The rising demand for personalized medicine and the demand for personalized medicine biomarkers on the worldwide market are closely related. According to Statista, the worldwide market for personalized medication is predicted to be valued roughly USD 1,980 billion in 2019 and USD 2,770 billion by the year 2022. As a result, there is a growing need for personalized medicine in order to develop efficient and secure treatments for every patient, which will ultimately fuel market development on a worldwide scale.
Additionally, rising expenditure in R&D activities and technical developments in the identification and detection of chronic illnesses are creating a number of lucrative possibilities over the upcoming years. However, throughout the projection period, the market expansion is being hampered and challenged by regulation and reimbursement barriers, high capital expenditures, and protracted development times for biomarkers.
Restraints
The creation of biomarkers for personalized medicine requires significant financial outlays and effort. The finding, creation, and validation of biomarkers demand sizable financial expenditures. The expansion of the worldwide market and other associated markets, including those for diagnostics (in vitro diagnostics or companion diagnostics) and personalized medications, are hampered by this. Candidate biomarker finding is far outpacing its validation at this time. The market for customized medications must overcome this significant obstacle.
Additionally, diagnostics makers experience significant financial difficulties as a result of the high drug attrition rate in clinical studies (with nearly 30% of medicines failing in phase II). Manufacturers need effective phase III clinical studies, which in turn rely on highly verified biomarker tests, to get an IVD approved by the authorities. Clinical trials and meeting strict regulation requirements demand sizable expenditures, which have a negative impact on innovation and the capacity of small businesses to create new biomarkers. As a result, in addition to expensive capital expenditures, the market's development is also hampered by a low cost-benefit ratio.
Opportunities
The increase in the frequency of chronic diseases like cancer, diabetes, and others is primarily responsible for the expansion of the customized medicine biomarker market. The demand for customized diagnostic and therapeutic approaches rises as these diseases become more common. Additionally, the market development is being further accelerated by the existence of numerous key players. Abbott, ARIEL Precision Medicine, Inc., Atlas Biomed Group Limited, BASF SE, and others are a few of the major companies that provide solutions for customized medicine.
To develop their company and continue to compete with other major players, these key participants are implementing a variety of growth strategies. For example, Roche revealed in January 2021 the CE-IVD debut of its automated digital pathology algorithms, uPath HER2 (4B5) image analysis and uPath HER2 Dual ISH image analysis for breast cancer for accurate patient identification. The market is growing as a result of the main companies' strategies and increased product offerings.
Companion diagnostics, a crucial element of tailored medicine, also makes it possible to identify patients who will likely profit from a specific therapy and to track those patients' responses to that treatment over time. Physicians can make better choices about the treatments that are most suitable for their patients by using companion tests, and they can modify those treatments as required based on each patient's unique reaction. Hence, causing the market for personalized medication to expand.
Challenge
Biomarkers are frequently used in epidemiology research to look into various illness stages in people. When using banked samples, it is possible to reduce future study expenses and extract a lot of information from a small number of samples with cautious handling and storage. Thus, one of the main problems facing service providers is sample gathering, followed by access to these samples. Similar to other samples, these samples also need to undergo strict quality control, and they must be kept properly to prevent loss. For risk identification, screening, diagnosis, and tracking procedures, various samples are needed.
The stability of the specimens and the methods used to gather, prepare, and keep them will determine the veracity of findings from biomarker studies using archived specimens. In addition to maintaining samples that are likely to produce reliable results, specimen banks must be designed in a way that upholds all patient rights, privacy, and confidentiality, as well as comprehensive informed consent that covers all possible uses of the samples. For appropriate sample handling and administration, comprehensive monitoring, evidence storing, and retrieval software is crucial. In light of this, sample gathering and storing could be difficult for the worldwide industry.
Recent Developments
Agilent Technologies Inc. obtained FDA clearance for Agilent Ki-67 IHC MIB-1 pharmDx (Dako Omnis) in October 2021, allowing it to identify patients who are at a high risk of developing breast cancer again.
Key Market Players:
Laboratory Corporation of America Holding
Quest Diagnostics Incorporated
Agilent Technologies, Inc.
Genome Medical, Inc.
Coriell Life Sciences.
Thermo Fisher Scientific Inc.
NeoGenomics Laboratories
FOUNDATION MEDICINE, INC.
Illumina, Inc.
Guardant Health
Laboratory Corporation of America Holding
Quest Diagnostics Incorporated
Agilent Technologies, Inc.
Genome Medical, Inc.
Coriell Life Sciences.
Thermo Fisher Scientific Inc.
NeoGenomics Laboratories
FOUNDATION MEDICINE, INC.
Illumina, Inc.
Guardant Health
Segments Covered in the Report:
By Application
Early Detection/Screening
Diagnosis
Treatment Selection
Monitoring
By Indication
Oncology

By Type

Breast Cancer
Lung Cancer
Colon Cancer
Others

By Circulating Biomarkers

Circulating Tumor Cells (CTCs)
Circulating Cell-free DNA (cfDNA)
Extracellular Vesicles (EVs)
Other Circulating Biomarkers

Neurology
Diabetes
Autoimmune Diseases
Cardiology
Others
Buy this Research Report@ https://www.precedenceresearch.com/checkout/2806
You can place an order or ask any questions, please feel free to contact at sales@precedenceresearch.com | +1 9197 992 333