The global pharmacy management system market size exceeded USD 24.91 billion in 2022 and it is projected to gain around USD 50.6 billion by 2030, expanding at a CAGR of 9.26% between 2022 and 2030.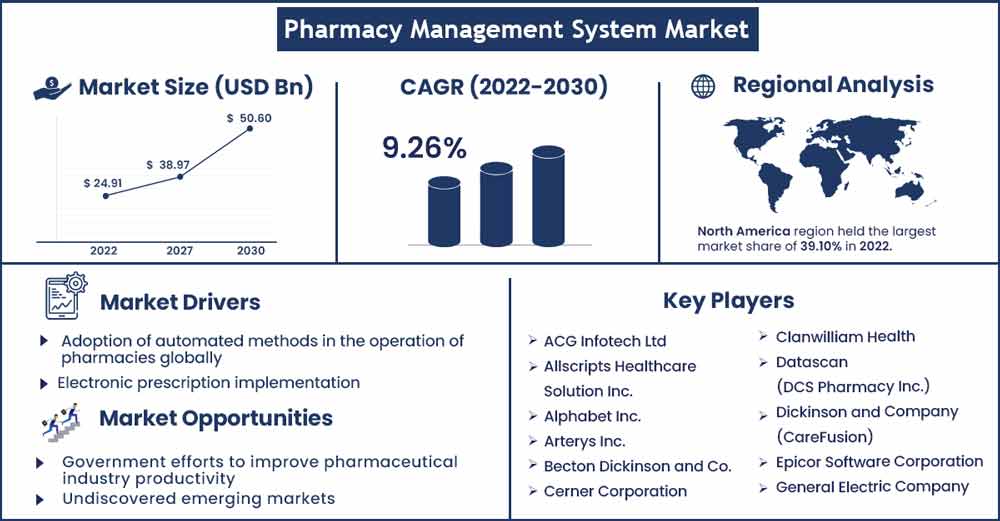 An essential tool that offers extremely efficient and user-friendly management solutions is a pharmaceutical management solution. These systems aid pharmacists in handling challenging duties like inventory control, medication dispensing, and sales operations. The use of a global medication management system enables pharmacists to provide expert treatment depending on patients' needs. The expansion of pharmacists, the healthcare IT sector, and improvements in the healthcare system are all contributing factors to the market growth for pharmacy management systems.
The procedure in the pharmaceutical industry has grown during the last several years. As a result, the advantages that medications provide to users are very advantageous. The pressure of handling an increasing number of prescriptions is being placed on pharmacies, which will encourage the use of automated solutions to manage the pharmaceutical industry. Small, medium and big pharmacies can all benefit from the automated management solutions provided by pharmacy management systems. Regulatory and compliance data, supply chain management inventory control, and administration performance represent the majority of Solutions. By automating reordering, increasing efficiency, improving expiry date tracking, and using advanced scales to fulfill pharmaceutical needs, the system for pharmacy management also reduces the cost of inventory.
The expansion of the medication management equipment market is being driven by an increase in the amount of the pharmaceutical industry using it for better administration in pharmacies. As a result, the market players have created a large number of apps, greatly expanding the IT sector. The size of the market for pharmacy management systems is growing as a result. To enhance healthcare facilities, several different solutions are developed. Organizations can run their businesses more successfully by utilizing the pharmacy management program. The system aids in the day-to-day operations of the company.
Report Highlights:
A pharmacy management solution is a crucial tool with reliable, user-friendly pharmaceutical administration systems. The pharmacy management system aids pharmacists in navigating the difficulties associated with controlling drug inventories, point-of-sale procedures, and medicine delivery. Additionally, it facilitates more accurate, secure, and effective handling, tracking, and dispensing of prescribed pharmaceuticals. The rise of the medication management equipment market is attributed to the development of healthcare IT, and it is projected that over time, the proliferation of pharmacies all over the world would further fuel market growth. But in the coming years, the deficiencies of pharmacy management solutions will likely hurt the market's growth.
Regional Snapshots:
In the upcoming years, North America is anticipated to hold a significant portion of the market. The adoption of new health acts & reforms is to blame for this. Additionally, new technology is driving a substantial transition in the US healthcare sector. Almost all facets of healthcare are evolving, from health insurance to the analysis of healthcare data to develop efficient treatment strategies. Contrarily, Asia Pacific is anticipated to experience the highest CAGR during the projection period. The best health insurance services are now available because of development in the Asia Pacific. The government aids pharmacists as well as other health professionals in growing their businesses through several tactics, initiatives, and programs. Such elements contribute favorably to the expansion of the global market for pharmaceutical management systems.
Pharmacy Management System Market Report Scope:
| | |
| --- | --- |
| Report Coverage | Details |
| Market Revenue in 2023 | USD 27.22 Billion |
| Projected Forecast Revenue in 2030 | USD 50.6 Billion |
| Growth Rate from 2022 to 2030 | CAGR of 9.26% |
| Largest Market | North America |
| Base Year | 2022 |
| Forecast Period | 2022 To 2030 |
| Regions Covered | North America, Europe, Asia-Pacific, Latin America, and Middle East & Africa |

Market Dynamics:
Drivers:
Drivers are the primary factors that support the market's expansion. The market demand for medication management systems is increasing due to several causes. According to the American College of pharmaceutical chemistry, five billion prescriptions will be filled by 2021The market for pharmaceutical management solutions will be driven by large organizations' major investments in the development of efficient solutions.
The utilization of cost-cutting tactics by large firms in pharmacies to boost their profitability contributes significantly to the market's growth. As even more people acquire aware of the benefits of these systems and the heavy investment return of pharmacological management services, the market for pharmacist management systems will expand.
Restraints:
The medication management system market is constrained by numerous factors, including security. The pharmaceutical management system makes use of several technologies and retains important data, making it a target for attackers. The hackers can take all of the organization's crucial data, which has made them a market restriction for pharmacy management systems worldwide.
Opportunities:
It is projected that the growth of pharmacy management services would open new business opportunities for pharmaceutical management system suppliers. In addition, the government's initiatives to enhance pharmaceutical workflow will help the market and open up new opportunities for the medication management system sector. Emerging economies are expected to experience the fastest growth in the automated dispensing industry. There are a lot of old people in developing countries. This demographic trend is expected to increase the number of patients in various Asian countries and stimulate demand for high-quality patient care and efficient medication delivery.
Challenges:
The medication management service base has a variety of challenges to overcome, just like any other market. One of the biggest issues is the dearth of skilled specialists. Without a professional's help, the medication administration system won't operate effectively because it can be intricate. Additionally, the drug management system industry faces challenges because the management system is now well-known in underdeveloped countries. The category that a certain device belongs to determines the level of regulatory scrutiny, which differs from one location to another. There are several state boards of pharmacy standards that apply to the use of pharmacy automation systems in medical settings.
Recent Developments:
To deliver quality treatment in charitable clinics, Becton Dickinson & Companies teamed up with Hearts to Heart International and the National Organization of Charitable and Humanitarian Clinics in June 2018.
By June 2022, GE Healthcare will deliver cutting-edge imaging methods and solutions that make precision medicine and theranostics easier to access and more widely used, helping to enhance patient outcomes in a range of care settings, including prostate cancer. In contrast to conventional medical drugs, which are developed with the normal patient in mind, theranostics merges treatment and diagnosis into one program, giving a more targeted and individualized therapy than ever before.
Biovac, a pandemic vaccine manufacturer funded by Pfizer, issued a supply-shortage alarm in April 2022 as a result of a drop in global demand. In July, Pfizer, BioNTech, and the Biovac Institute teamed up to create Comirnaty, an mRNA-based vaccine, in South Africa. According to Pfizer, as part of the partnership, Biovac's Cape Town facility would manage network testing and production responsibilities as well as create 100 million finished doses annually for the African Union.
The Molecular Diagnostic Tests for Monkeypox were created by CerTest Biotec and BD in June 2022. As part of the collaboration, the essay will assess a Cer Test VIASURE Monkey-pox IVD/CE biochemical testing on the BD MAX Platform using the BD Maximum open standard reagent kit. The BD MAX System, a fully automated platform that combines nucleic acid extraction and real-time PCR, can generate findings for up to 24 specimens spanning many syndromes in less than three hours.
In May 2022, Zenovative, a Maryland-based company that provides scientific and consulting services, and Val Genesis Inc., a provider of enterprise Verification Life cycle management Processes, teamed up to provide pharmaceutical companies around the world with specialized compliance-focused electronic verification solutions.
Major Key Players:
ACG Infotech Ltd
Allscripts Healthcare Solution Inc.
Alphabet Inc.
Arterys Inc.
Becton Dickinson and Co.
Cerner Corporation
Clanwilliam Health
Datascan (DCS Pharmacy Inc.)
Dickinson and Company (CareFusion)
Epicor Software Corporation, General Electric Company,
GlobeMed Group
Health Business Systems
Idhasoft Ltd
Intel Corporation
Johnson & Johnson Services, Inc.
Koninklijke Philips N.V.
Liberty Software
LS Retail
McKesson Corporation
MedHOK
Microsoft
Mobile MedSoft
Nuance Communications, Inc.
NVIDIA CORPORATION
Octal IT Solution LLP
Omnicell Inc.
QuadraMed Affinity Corporation
Safe care Technology
ScriptPro
Siemens Healthineers AG
Talyst, LLC.
Market Segmentation:
By Solution Type
Pharmacy Inventory Management System
Pharmacy Data Management System
Pharmacy Compounding Software System
Pharmacy Benefits Management System
Pharmacy Revenue Cycle Management System
Others
By Component
Software
Hardware
Services
By Deployment Mode
Cloud/Web-Based
On-Premise
By End-User
Inpatient Pharmacies
Outpatient Pharmacies
Buy this Research Report@ https://www.precedenceresearch.com/checkout/2206
You can place an order or ask any questions, please feel free to contact at sales@precedenceresearch.com | +1 9197 992 333