The global polyurethane (PU) resin market size surpassed USD 865.55 million in 2022 and it is expected to rake around USD 1,152.43 million by 2032, poised to grow at a CAGR of 2.9% during the forecast period 2023 to 2032. Owing to its variable nature and distinctive properties. These resins are used in almost all end-use industries, from paints and coatings to building, healthcare, packaging, and automotive textiles.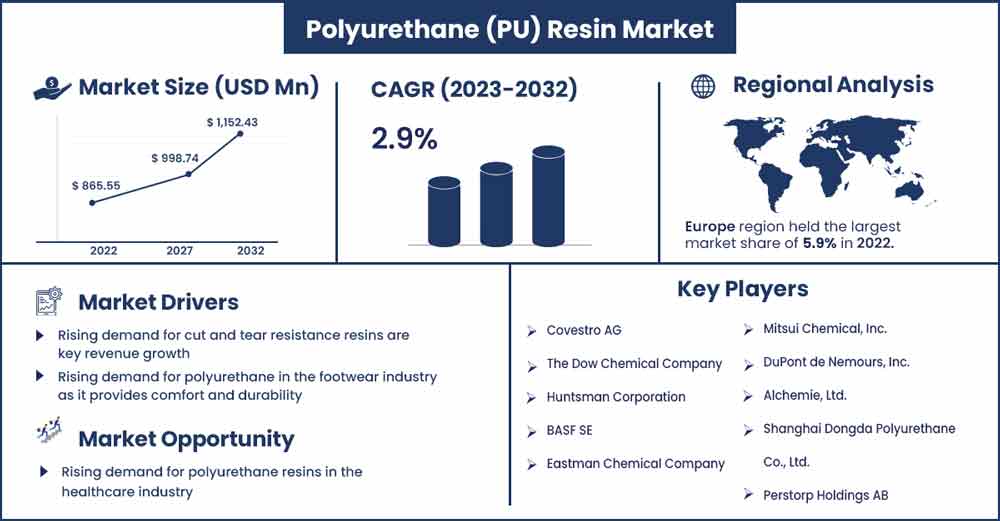 Market Overview:
Wood composites frequently use polyurethane resin because of the material's outstanding compatibility. PUR-based wood composite is used to make cupboards, furniture, and decorative fencing all over the world. When polyols (more than two hydroxyl groups) react with an isocyanate (dual or polymeric) in the presence of the proper additive and catalyst, polyurethane resin is formed as a co-polymer. Since it is a plastic resin, surfaces are frequently coated with it. Due to its outstanding softness, flexibility, and ease of cleaning, this material is now a superior option for the furniture industry. In the building industry, PUR is used as insulation.
The manufacturing of thermosets and elastomers using polyurethane resins has raised the demand for the material in industrial and commercial settings, fueling the industry's revenue growth. These resins can be used in a variety of industrial applications since they have improved flow characteristics and are simple to mix and process. This will drive the market's revenue growth. Polyurethane resins can be created by reacting a variety of diisocyanates and polyols, making its use extensive and pervasive throughout a wide range of industries. Electronic device manufacturers are increasingly using these resins to fix parts and wires as well as to secure, insulate, and preserve the devices' components. Stretchy, lightweight fabrics are made by blending nylon and polyurethane fibers; thanks to technological advancements, we also have spandex, thermoplastic elastomers, and PU coatings. This has raised the use of these items in the textile industry, which is likely to accelerate the sector's growth.
Regional Insights:
Based on regional analysis, North American market is anticipated to contribute the biggest revenue shares to the global market during the forecast period. The region's countries have had rapid growth in the construction sector, which has raised the use of these resins for building purposes and is anticipated to fuel market revenue growth. Another reason that has enhanced demand for polyurethane resins is the rising need for non-woven hygiene products in North America, which is anticipated to fuel the market's expansion in terms of revenue. The expansion of the North American polyurethane resin market is also anticipated to be aided by rising demand for lightweight, manageable, and durable coatings applicators.
Polyurethane (PU) Resin Market Report Scope:
| | |
| --- | --- |
| Report Coverage | Details |
| Market Revenue in 2023 | USD 890.69 Million |
| Projected Forecast Revenue by 2032 | USD 1,152.43 Million |
| Growth Rate from 2023 to 2032 | CAGR of 2.9% |
| Largest Market | North America |
| Base Year | 2022 |
| Forecast Period | 2023 to 2032 |
| Regions Covered | North America, Europe, Asia-Pacific, Latin America, and Middle East & Africa |

Report Highlights:
By resin type, over the projected period, the market for polyurethane resin is anticipated to be dominated by the water-based resin segment in terms of revenue. Growing environmental regulations like the Clean Air Act and technological improvements have made water-based resins a more effective replacement for solvent-based resins, which is fueling the segment's expansion.
Water-based resins are available in a variety of solids contents and morphologies, making them adaptable and environmentally beneficial coating solutions. They are easier to formulate into a protective coating for a range of substrates due to their nil to low volatile organic content. Water-based resins are increasingly being used in a variety of applications because of their adaptability and several exceptional qualities, including abrasion resistance, impact resistance, and low-temperature flexibility.
By application, construction, transportation, pharmaceuticals, paints & coatings, and other industries are among the segments of the worldwide polyurethane resin market. Over the course of the forecast, the construction sector is anticipated to account for a sizable portion of the market. The demand for building materials that are lightweight, strong and durable, simple to implement, flexible, and of high quality is anticipated to increase. By lowering energy waste, polyurethane resins make it possible to conserve natural resources, aiding in environmental protection. Due to its excellent strength-to-weight ratio, flexibility, durability, and insulating qualities, it is frequently used in buildings. These are some additional elements that are anticipated to fuel segment development.
Market Dynamics:
Driver: Rising demand for polyurethane in the footwear industry as it provides comfort and durability
Polyurethane resins are being employed more and more in the footwear business due to its exceptional qualities including comfort, durability, and versatility. Sports shoes, sandals, and other types of footwear benefit from the soft, cushioned feeling that polyurethane provides, making them more comfortable. The exceptional abrasion resistance and durability of polyurethane also make it appropriate for use in shoe soles.
Overall, the increasing demand for polyurethane in the footwear industry is being driven by changing consumer preferences for comfortable and durable shoes, as well as the need for lightweight and high-performance materials.
Restraint: Stricter regulations and restrictions
Polyurethane resins are made from petrochemical-based raw materials and can pose environmental and health hazards if not handled and disposed of properly. In recent years, there has been increasing awareness about the environmental impact of polyurethane resins, leading to stricter regulations and restrictions on their use in certain applications.
For instance, restrictions on the use of specific polyurethane raw materials, such as isocyanate, which are known to be toxic and present health risks to workers, have been imposed by laws like the Toxic Substances Control Act (TSCA) of the US Environmental Protection Agency and the European Union's REACH (Registration, Evaluation, Authorization, and Restriction of Chemicals). In addition, there are issues with polyurethane product disposal because it can cause ecological damage and environmental pollution. If not properly disposed of, polyurethane waste can release harmful compounds into the environment and take hundreds of years to disintegrate.
These environmental concerns and regulations can restrict the use of polyurethane resins in certain applications and increase the cost of production and disposal for manufacturers which could restrain the growth of the market.
Opportunity: Polyurethane resins are being used more and more in new applications like 3D printing
The manufacturing sector is undergoing a change due to the quickly developing technology known as 3D printing. With extreme precision and accuracy, 3D printing can produce complex, bespoke parts and prototypes using polyurethane resins. Polyurethane resins are suitable for a variety of 3D printing applications because they may be made to have a wide range of qualities, including flexibility, stiffness, and toughness. The need for polyurethane resins in 3D printing applications is being driven by the expanding use of 3D printing technology across numerous industries, including aerospace, automotive, and healthcare. A significant benefit of employing polyurethane resins in 3D printing is the ability to build complex and individualized objects with great precision and accuracy.
Challenge: Volatility in raw material prices
Polyurethane resins are produced from various raw materials, including isocyanates, polyols, and additives. The prices of these raw materials can be volatile and subject to fluctuations due to various factors such as supply and demand, geopolitical tensions, and weather-related events. These fluctuations in raw material prices can affect the profitability of polyurethane resin manufacturers and make it challenging to predict and manage costs.
Recent Developments:
At Covestro's booth at the China International Import Expo in 2022, high-tech company Coleitec and materials manufacturer Covestro signed a strategic collaboration agreement. The two parties have decided to collaborate in order to quicken the development of polyurethane (PU) composite materials for various applications and to further bolster their market-oriented collaboration.
In 2019, Huntsman and DWS, a well-known pioneer and technological innovator in precision stereolithography (SLA) systems and 3D printing materials, formed a strategic partnership. As a result of the partnership, makers of footwear and other types of industrial products will have access to a new type of polyurethane-based resin that is soft, flexible, simple to print, and well-suited for use in manufacturing settings.
Major Key Players:
Covestro AG
The Dow Chemical Company
Huntsman Corporation
BASF SE
Eastman Chemical Company
Mitsui Chemical, Inc.
DuPont de Nemours, Inc.
Alchemie, Ltd.
Shanghai Dongda Polyurethane Co., Ltd.
Perstorp Holdings AB
Market Segmentation:
By Resin Type
Solvent-Based Resin
Water-Based Resins
Others
By Applications
Construction
Transportation
Pharmaceuticals
Paints & Coating
Others
Buy this Research Report@ https://www.precedenceresearch.com/checkout/2667
You can place an order or ask any questions, please feel free to contact at sales@precedenceresearch.com | +1 9197 992 333