The global power-To-X market size surpassed USD 282.45 million in 2022 and is projected to rise to USD 857.83 million by 2032, anticipated to grow at a CAGR of 11.8 percent during the projection period from 2023 to 2032.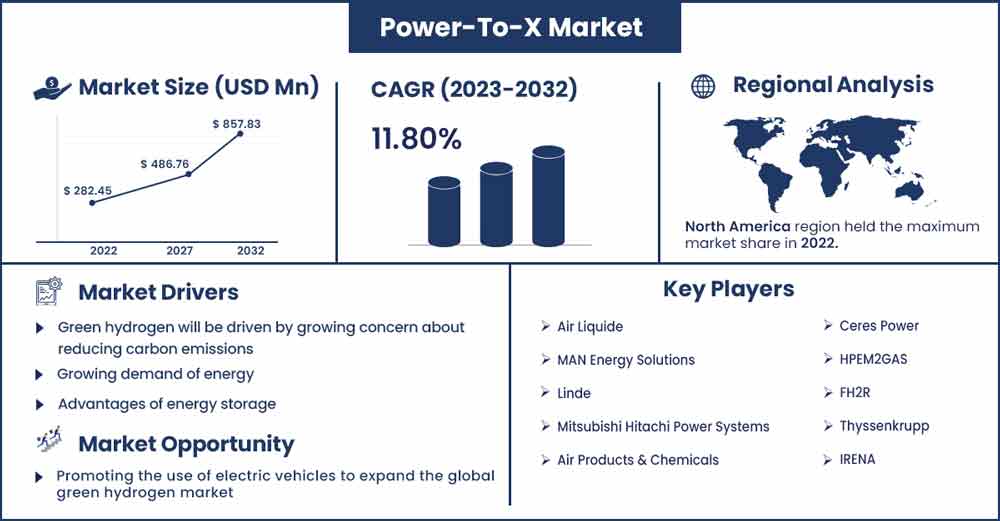 An all-encompassing phrase used to describe the transformation of energy into another substance is "power-to-X." Power-to-X is frequently used in electrical heating, for instance. Using electricity, for instance, to power a boiler that produces heat for space heating or hot water. One of the Power-to-X inventions is green hydrogen. The economic prospects for Power-to-green X's hydrogen and other products are highly correlated with the global commitment to mitigate climate change and are influenced by the level of ambition in achieving net carbon neutrality.
Green hydrogen is one of the Power-to-X inventions. For businesses and investors on the cutting edge, the green transformation promises a historically large and accelerating business potential. This has generated a ton of interest in emerging technologies like Power-to-X, which has a big potential to speed up the energy transition, especially in industries that are currently challenging to decarbonize. By utilizing water electrolysis, which is common and can be produced at less-than-ideal times, green hydrogen can minimize pollution. The rising demand for alternative energy sources is the main factor propelling the global green hydrogen market. A major growth in the use of green hydrogen has also been brought about by greater government spending and incentives for renewable fuels like hydrogen.
Report Highlights:
The power-to-hydrogen segment will have a greater market share by type in the upcoming years, and the quantity of revenue produced by using this product will increase significantly in the upcoming year. In addition to its usage as a fuel in many other applications, hydrogen serves as the primary building block for other synthetic fuels that are carbon-neutral and necessary for energy decarbonization. Although the cost of producing hydrogen from renewable sources is two times higher than that from fossil fuels, this market is predicted to develop as a result of dropping energy costs, economies of scale, and the adoption of a new generation of cost-effective catalysts.
On the basis of end use, the transportation segment has the biggest market share in the Power-To-X market during the forecast period. Greenhouse gases emissions from heavy trucks, ships, and air traffic could be reduced thanks to power-to-x technologies. Currently, the only fuel that can support flights that are carbon neutral is synthetic kerosene produced using renewable electricity. In addition, one of the main factors propelling the expansion of this market is a trend towards alternative fuels for automobiles to lessen reliance on fossil fuels and guarantee decarbonization.
Power-To-X Market Report Scope:
| | |
| --- | --- |
| Report Coverage | Details |
| Market Revenue in 2023 | USD 314.36 Million |
| Projected Forecast Revenue in 2032 | USD 857.83 Million |
| Growth Rate from 2023 to 2032 | CAGR of 11.8% |
| Largest Market | Europe |
| Base Year | 2022 |
| Forecast Period | 2023 to 2032 |
| Regions Covered | North America, Europe, Asia-Pacific, Latin America, and Middle East & Africa |

Regional Snapshots:
The biggest market share was held by the Asia-Pacific in the Power-To-X market during the forecast period. The region's rising industrialization, urbanization, and support of renewable energy sources are driving up power demand, which is driving up demand for power-to-x technology. These are a few of the key elements fueling the expansion of the Asia Pacific industry. APAC's developing nations require new energy infrastructure, therefore promoting domestic production and consumption could enhance the region's market expansion. The fastest-growing region is Asia-Pacific, and Japan and Australia are its two biggest contributors. Large-scale green hydrogen projects in Australia and Japan as well as significant governmental reforms to promote the generation of green energy are also driving the Asia-Pacific green hydrogen market share.
Market Dynamics:
Drivers
The need to produce and store renewable sources of energy is being driven by consumers' growing knowledge of the negative impacts of traditional energy sources and their detrimental impact on the environment. The environmentally beneficial and dependable source of energy is renewable energy. The greater emphasis on renewable energy sources in future energy generation set forth in the Europe's Paris Agreement is anticipated to raise demand for energy storage systems over the forecast period. The need for Power-to-X technology from large industries for heat, transportation, and energy generation is rising as a result of the need to convert energy from one phase to another usable form. Hydrogen and hydrogen-based products are in high demand for re-electrification in combined heat and power plants and mobility applications. The market for Power-to-X is expected to grow over the projected years as a result of the increased demand for hydrogen in industries including steel manufacture and refineries.
When it comes to the overall addition of capacity, the production of renewable energy continues to surpass that of fossil fuels. The International Renewable Energy Agency claims that solar and wind power have a great potential for development and will likely control the renewable energy market in the years to come. Global renewable power capacity was 2799 GW by the end of 2020. The majority of the global total was contributed by hydropower, which has a 1211 GW capacity. The remaining energy was split equally between wind and solar, with capabilities of 733 GW and 714 GW, respectively.
Restraints:
The very low selectivity to the desired products, the low efficiency, and the high overpotentials needed are some of the negative characteristics that significantly hinder the growth of the global power-to-x market. Despite an increase in research projects in this field, there is still a dearth of data on how different stages of the technology scale up, which can somewhat constrain market expansion. A further factor that can limit market revenue growth is the existing process's expensive implementation and conversion costs.
Opportunities:
Many governments are implementing a variety of regulations and incentives to encourage the use of electric vehicles, which are then given to both users and manufacturers. Governments around the world, are establishing electrified public transportation networks and developing public infrastructure. Since there will be a greater demand for hydrogen as the market for electric vehicles grows, electrolyzer demand is also expected to increase. This suggests there will likely be lucrative opportunities for industrial expansion during the projection period due to these qualities.
Challenges:
Green ammonia technology is just now starting to take shape. One way to directly make ammonia from water and nitrogen is through electrochemical synthesis, photochemical synthesis, or chemical looping. However, there are a number of significant technological challenges associated with these operations that necessitate time and R&D costs.
Recent Developments:
In March 2022- To build a sizable green ammonia factory in Oman, Norway's Scatec and India's ACME Group formed a joint venture. The manufacturing capacity of this facility will be 1.2 million tons per year.
Key Market Players
Air Liquide
MAN Energy Solutions
Linde
Mitsubishi Hitachi Power Systems
Air Products & Chemicals
Ceres Power
HPEM2GAS
FH2R
Thyssenkrupp
IRENA
Neles
Underground Sun Conversion
Weidmüller
Heat Smart Orkney
Copenhagen Infrastructure Partners
Jupiter 1000
Segments Covered in the Report
By Type
Power-to-H2
Power-to-CO/Syngas/Formic Acid
Power-to-NH3
Power-to-Methane
Power-to-Methanol
Power-to-H2O2
By End Use
Transportation
Agriculture
Manufacturing
Industry
Residential
Others
Buy this Research Report@ https://www.precedenceresearch.com/checkout/2427
You can place an order or ask any questions, please feel free to contact at sales@precedenceresearch.com | +1 9197 992 333