The global proactive services market size was exhibited at USD 5.32 billion in 2022 and is projected to attain around USD 36.27 billion by 2032, growing at a CAGR of 21.16% during the forecast period 2023 to 2032.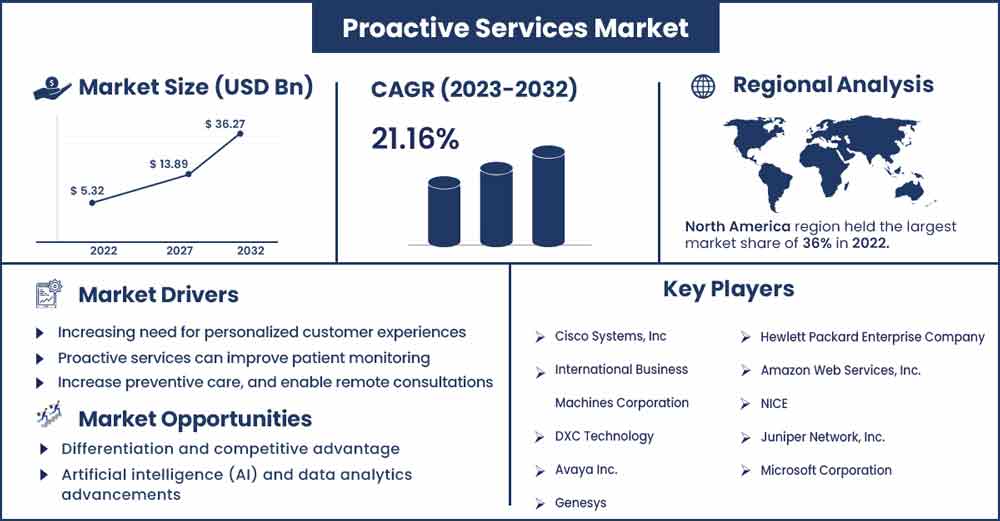 Market Overview:
Proactive services are entering a new trend of using bots and automation. as more organizations and companies are shifting towards using automation to increase work efficiency. Moreover, bots are used in various sectors, such as doing daily tasks, customer services, and answering customer problems more quickly.
Additionally, automation is making it possible to achieve seamless operations with tasks such as appointment scheduling, data entry, order delivery schedule, and data analysis, resulting in increasing efficiency. However, these technologies are driving efficiency, increasing business profitability, and enabling businesses to provide proactive and personalized services through technologies like automation, artificial intelligence, and chatbots. Nonetheless, AI technology demand has increased over recent years, contributing to the growth of the proactive services market.
Proactive Services Market Report Scope:
| | |
| --- | --- |
| Report Coverage | Details |
| Market Revenue in 2023 | USD 6.45 Billion |
| Projected Forecast Revenue in 2032 | USD 36.27 Billion |
| Growth Rate from 2023 to 2032 | CAGR of 21.16% |
| Largest Market | North America |
| Base Year | 2022 |
| Forecast Period | 2023 to 2032 |
| Regions Covered | North America, Europe, Asia-Pacific, Latin America, and Middle East & Africa |

Market Dynamics:
Driver:
Enhancing Customer Experience by using Proactive services
Enhancing customer experience by using proactive services is the major driver of the proactive services market. These services offer many features, like identifying customer needs, recommending new services or products to customers, and addressing customer issues. In addition, more proactive services identify or anticipate issues related to services and provide feedback to customers before they happen, such as delays in shipping, refund issues, and error reservation interceptions. This provides a benefit like customers don't have to reach out about their problem as proactive service has already identified it and has proceeded to resolve it. Resulting in good, effective customer service and reducing customer downturn. In addition, many companies use proactive services to gain customer trust and loyalty by using more proactive services to provide personalized experiences to customers and encourage long-term relationships and repeat business.
Restraint:
Data privacy concerns
Data privacy concerns can be a notable influence on restraining the proactive services market. While businesses implement proactive strategies for enhancing customer service, they frequently confront issues linked to data privacy and security. Moreover, The utilization of data derived from diverse sources for proactive services can provoke inquiries regarding individual privacy and consent. Additionally, Clients might express concern regarding the utilization of their personal data without their authorization, particularly if it shapes decision-making processes that impact them. Moreover, the accumulation and retention of extensive customer data for proactive services amplifies the susceptibility to data breaches. Furthermore, this vulnerability often attracts cybercriminals who target corporations possessing valuable consumer information, leading to financial losses, identity theft, and reputational harm for both the company and its clients.
Opportunities:
The growing demand for security and compliance
The increasing demand for security and compliance offers significant opportunities in the proactive security market. As enterprises progressively transition their operations to digital platforms, the necessity for proactive security measures becomes paramount. In addition, this shift is driven by a surge in data breaches, cyber-attacks, and the ever-evolving landscape of threats. However, Businesses are now recognizing the urgency of adopting a proactive stance to safeguard sensitive data and ensure adherence to regulatory standards. Consequently, organizations are channeling investments into proactive security solutions such as security analytics, threat intelligence, incident response, and advanced malware protection. Nonetheless, these solutions are designed to prevent potential risks.
Segments Insight:
Service Insights:
Based on services, the proactive service market is segmented into managed services, design and consulting, and technical support. To emphasize providing strategy insight and effective operational. Many companies are outsourcing design and consulting. This segment is expected to grow significantly in the forecasted years. Moreover, in the proactive services market, the design and consulting services segment includes consultation, advice, and services to different industries, such as architecture and automobile engineering. However, the consulting segment is mainly associated with the business and management sectors. In addition, the emerging trend of outsourcing consulting in the finance sector for financial advisory services focuses on providing financial-related consulting and achieving the financial goal of an organization.
Technology Insights:
Based on technology, the proactive service market is segmented into Analytics, Artificial intelligence, and machine languages. Artificial intelligence is the dominating segment in the proactive segment market. Moreover, artificial intelligence has become a powerful tool for many organizations, enabling them to gain insight into different factors such as consumer behavior patterns, trends in the market, analyzing large amounts of data, etc. In addition, the trend in this segment is using AI-driven recommendation systems by companies where AI automatically recommends the product and provides a personalized experience to target customers based on their past buying pattern; this can lead a business to increase cross-selling and also increase average order value, increasing revenue with providing customers with valuable and best services. For instance, IBM Watson AIOps helps companies proactively manage IT operations. IBM Watson AIOps uses machine learning to analyze IT data and identify potential problems before they cause outages. This can help companies reduce downtime and improve customer satisfaction.
Application Insights:
Based on application, the proactive service market is divided into Cloud management, Customer experience management, Data center management, End-point management, and Network management. Data center management is the largest application-based segment in the proactive service market. Data center management provides services such as automation, software utilization, cooling innovation, etc. Moreover, the data center infrastructure management software plays a vital role in proactive data management. This helps organizations by providing access to real-time monitoring of data operation and measuring the efficiency metric of software. In addition, data center management also provides sustainability initiatives by providing features like tracking carbon footwear and identifying opportunities for improvement.
End User Insights:
Based on End users, the proactive service market is segmented into Banking, Financial services and insurance (BFSI), telecommunication, Retail, Healthcare, Government and defense, Media, entertainment, and others. The healthcare sector is the fastest-growing end-user segment in the proactive services market. The healthcare provider is leveraging the benefit of proactive services to enhance patient care and treatment. Moreover, Proactive services allow remote monitoring and providing real-time data on patients' health to a healthcare provider and patient; this helps the healthcare professional to early intervention allowing better patient outcomes and reducing hospitalization rates and visits. Additionally, proactive services provided by hospitals are beneficial for older patients with serious conditions like chronic diseases, which require constant monitoring and timely treatment. Furthermore, the healthcare industry is also using proactive services for engaging with patients by providing them personalized health information, notifications on healthcare camps, and reminders about their appointments, contributing to the growth in the proactive services market.
Regional Insights:
The Asia-Pacific region is the fastest-growing region in the proactive services market. This growth is driven by economic growth, industrialization, and increasing digitalization. However, the service industry is rapidly expanding in regions like China and India, thus contributing to the overall expansion of the proactive services market. Within these many industries like healthcare, finance, government, and telecommunication. Moreover, the Chinese government is also promoting the adoption of proactive services as part of its efforts to modernize the country's economy by providing financial incentives to businesses that adopt proactive services and is also developing standards and regulations for the market. However, some leading players in the Chinese proactive services market, including Huawei, IBM, and Microsoft, are heavily investing in research and development to develop new and innovative technologies, thus contributing to the growth of the market in the Asia-Pacific region.
Recent Development:
In April 2023, Huawei launched AI-powered proactive services for cloud computing. The new services were announced on. The services use AI to automate tasks such as performance monitoring, security analysis, and resource optimization.
In March 2023, Juniper Networks and Google Cloud partnered to offer AI-powered proactive services for 5G networks. Juniper Networks will use Google Cloud's AI capabilities to help its customers predict and prevent network outages, optimize network performance, and improve customer experience.
In April 2023, Forescout Technologies, a provider of proactive security services, raised $500 million in Series F funding. The funding will be used to expand Forescout's product offerings and customer base.
In March 2023, Dynatrace, a provider of proactive AI-powered software intelligence, raised $1.7 billion in a secondary offering. The offering will be used to fund Dynatrace's growth initiatives.
Major Key Players:
Cisco Systems, Inc
International Business Machines Corporation
DXC Technology
Avaya Inc.
Genesys
Hewlett Packard Enterprise Company
Amazon Web Services, Inc.
NICE
Juniper Network, Inc.
Microsoft Corporation
Symantec Corporation
Huawei Technologies Co., Ltd
Market Segmentation:
By Service
Technical Support
Design and Consulting
Managed Services
By Technology
Artificial Intelligence
Machine Learning
Analytics
By Enterprise
Small and Medium Size Enterprise
Large Enterprise
By Industry
Banking, Financial Services and Insurance (BFSI)
Healthcare
Retail
Telecommunication
Government and Defense
Others
By Application
Cloud Management
Data Center Management
Customer Experience Management
Buy this Research Report@ https://www.precedenceresearch.com/checkout/3193
You can place an order or ask any questions, please feel free to contact at sales@precedenceresearch.com | +1 9197 992 333