The global proactive services market size was reached at USD 5.32 billion in 2022 and it is expected to hit around USD 36.27 billion by 2032, growing at a CAGR of 21.16% during the forecast period from 2023 to 2032.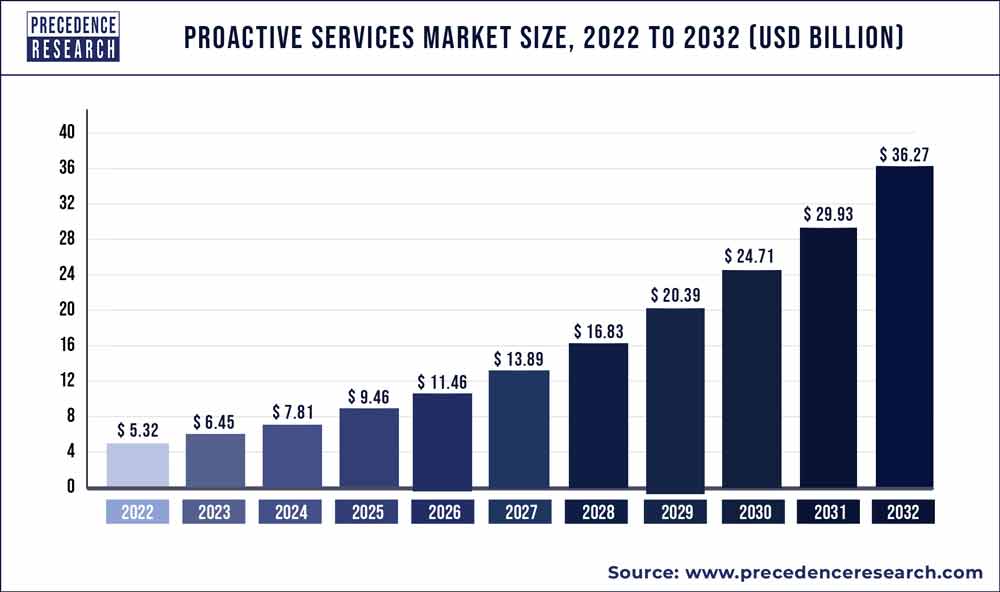 Access our Premium Real Time Data Intelligence Tool, Visit: Precedence Statistics
Key Takeaways:
North America contributed more than 36% of market share in 2022.
By Service, the managed services segment captured over 40% of the market share in 2022.
By Technology, the analytics segment registered more than 53% of the revenue market in 2022.
By Enterprise, the large enterprise segment captured more than 60% of the market share in 2022.
By Industry, the BFSI segment led the global market with the highest market share of 22% in 2022.
By Application, the customer experience management segment held the largest market share of 27% in 2022.
Market Overview:
Proactive services are processes and procedures that are used to avert customer problems and generate recurrent or higher-volume purchases. Meeting and surpassing client expectations, enhancing customer relationships, and boosting customer value are all aided by proactive services. The proactive services market comprises revenues produced by organizations by providing solutions and services developed for clients that address problems that the customer may not have been aware of previously. The value associated to the items sold by the service provider or included in the service providing is included in the market value. Included are only commodities and services transferred between companies or sold to end users. These services provide consumers with information and ideas regarding any difficulties that may arise throughout the treatment.
Growth Factors:
Rapid technological breakthroughs, such as artificial intelligence, machine learning, the Internet of Things (IoT), and data analytics, will support the expansion of proactive services. These technologies help organizations collect, analyze, and understand massive amounts of data in real time, allowing them to discover consumer demands, foresee challenges, and provide personalized suggestions. Proactive services offer enormous potential in a variety of sectors. In healthcare, for example, proactive services can improve patient monitoring, increase preventive care, and enable remote consultations. Similarly, in manufacturing it can improve equipment performance, reduce interruptions, and increase productivity. As companies recognize the advantages of proactive services, the market is likely to expand across many industries.
Report Scope of the Proactive Services Market:
| | |
| --- | --- |
| Report Coverage | Details |
| Market Size in 2023 | USD 6.45 Billion |
| Market Size by 2032 | USD 36.27 Billion |
| Growth Rate from 2023 to 2032 | CAGR of 21.16% |
| Largest Market | North America |
| Base Year | 2022 |
| Forecast Period | 2023 To 2032 |
| Segments Covered | By Service, By Technology, By Enterprise, By Industry, and By Application |
| Regions Covered | North America, Europe, Asia-Pacific, Latin America, and Middle East & Africa |

Market Dynamics:
Drivers:
Increasing need for personalized customer experiences
Customers have increased expectations for personalized experiences in today's competitive business market. They expect proactive services that are tailored to their requirements and preferences. Businesses that can foresee client needs and offer proactive solutions have a huge competitive edge. Businesses may obtain insights into individual preferences, purchasing history, and behavior trends by exploiting consumer data. This data enables them to provide personalized suggestions, targeted discounts, and proactive assistance, therefore improving the entire client experience. Accordingly, it helps to enhance the growth of the provocative services market during the forecast period.
Restrains:
Issues with scalability and increasing complexity
As the number of data and client interactions grows, proactive services must expand efficiently. It can be difficult to manage massive volumes of real-time data, integrate many systems and touchpoints, and ensure flawless operations across multiple channels. To address the rising needs and complexity of proactive services, businesses must develop scalable architectures, install powerful analytics platforms, and have the requisite infrastructure.
Challenges:
Organizational transformation and adoption
Positioning proactive services in place sometimes necessitates considerable organizational changes. To accommodate proactive methods, this may entail educating staff, clarifying roles and responsibilities, and realigning procedures. Change resistance and the necessity for organizational buy-in might stymie the deployment of proactive services. Shifting the mentality, culture, and processes to accept a proactive approach is also part of the changes. It entails overcoming resistance to change, cultivating a culture that encourages proactive problem-solving and customer-centricity, realigning processes to integrate proactive aspects, and putting effective change management practices in place. To effectively implement proactive services, leadership commitment, cultural transformation, process realignment, and a focus on continuous improvement are required.
Opportunities:
Differentiation and competitive advantage
Businesses can differentiate themselves and gain a competitive advantage by providing proactive services. Businesses that provide unique and creative solutions that go beyond reactive help may attract customers who seek proactive and personalized services. By anticipating requirements, making personalized recommendations, and providing great assistance, proactive services improve the customer experience. This increases customer loyalty and happiness while also establishing a favorable brand reputation. Furthermore, through data analytics, automation, and optimized procedures, it enhances operational efficiency, resulting in cost savings and faster reaction times. Businesses can differentiate themselves in a competitive industry, seize a greater market share, and position themselves as trusted advisors and partners to their consumers by investing in proactive services. Overall, adopting proactive services allows organizations to stand out, strengthen customer connections, and generate long-term growth.
Artificial intelligence (AI) and data analytics advancements
The fast advancement of AI and data analytics technology has revolutionized the proactive services sector. AI systems can analyze massive amounts of data in real-time, discovering patterns, trends, and anomalies that humans would overlook. Businesses may use AI-powered solutions to monitor consumer interactions, social media attitudes, and online behaviors to spot possible concerns or opportunities ahead of time. Companies that use predictive analytics may anticipate client demands, automate operations, and provide proactive services like personalized product suggestions or preventive maintenance.
Impact of Covid 19:
The COVID-19 epidemic has changed the way organizations see their job, allowing staff to handle large disruptions in global supply chains. The pandemic prompted further global digitization activities, making organizations acknowledge the disruption and adapt to proactive services to ensure business insight and process enhancement. The Covid 19 pandemic has had a tremendous effect on the proactive services market. Increased demand for remote assistance and growing emphasis on digital transformation helped the proactive services market to grow and improved customer experience. The pandemic has opened up new opportunities for proactive service providers and demand for these services is going to rise in the coming years. Overall, the Covid 19 pandemic has benefited the proactive services market in many ways.
Segments Insight:
Service Insights:
Based on services, the proactive service market is classified into technological support, managed services, design, and consulting. In 2022, the managed services sector held the largest market share. Managed services enable the outsourcing of IT duties to improve job productivity. The benefits of implementing managed services include lower operating costs, improved functional efficacy, and less strain on the in-house IT staff. The requirement for optimal resource allocation, remote monitoring and administration of hardware, security services, and communication assistance will drive this segment's expansion even further. Furthermore, cloud computing and big data analytics are projected to fuel development. Managed services provide advantages such as reduced downtime, scalability, data compliance, and faster response time.
Technological Insights:
On the basis of technology, the proactive service market is classified into artificial intelligence, machine learning and analytics. In 2022, the analytics segment held the largest market share. Analytics technology can manage massive volumes of data and assists organizations in providing proactive customer service. Organizations may utilize advanced analytics to identify fundamental causes by measuring multiple factors, understanding customer purchase habits, analyzing probabilities, and measuring anomalies. Increased data gathering leads to improved analytical skills; also, predictive analytics technology allows for synchronous and real-time action, which is why organizations use analytics tools. Organizations that make extensive use of IoT devices have heterogeneous streams of data that analytical tools may employ to create consistency throughout the organization. The artificial intelligence market is likely to expand in the coming years. Due to the AI's ability to effectively grasp data and offer custom product and service suggestions, an increasing number of organizations are using it. It would also help in cross-selling and upselling. Customers save time by using artificial intelligence to help them navigate through multiple web portals and applications.
Enterprise Insights:
The enterprise segment is segregated into small and medium-sized enterprises and large enterprises in the proactive services market. Large corporations have the financial means to utilize preventative services on-site. As a result, organizations are migrating to cloud deployment to take advantage of benefits such as high flexibility, extensive availability, and low deployment costs. Because of their strong financial capacities, large organizations may also implement digital strategy across businesses and expedite digital transformation across varied industries. A rising number of financial organizations, such as banks and other financial businesses, are utilizing these services to reduce operating expenditures and event notifications. The SME segment is likely to witness the fastest growth in the coming years. Due to financial limits, SMEs confront several issues, including a shortage of trained labor, domain-specific specialists, scalability, and managerial control. However, with the support of cloud deployment, SMEs may increase the reliability and management of their company processes while simultaneously lowering device costs.
Industry Insights:
In 2022, the BFSI segment dominated the market in 2022. The growing interest of banks and other financial institutions in improving customer engagement and interaction procedures to leave a lasting impression on clients is likely to fuel the expansion of this industry. The surge in mobile banking services has been noted, pushing banks to adopt proactive services in the rapidly increasing industry. Over the projection period, the healthcare category is predicted to grow at the fastest pace. The healthcare industry is highly reactive, but a trend toward value-based care with improved population health and reduced costs is predicted to underpin the industry's development. Healthcare departments can predict future hazards by employing pattern recognition with known results and by using sophisticated technology and algorithms to analyze multiple data streams. Proactive services assist healthcare staff in addressing the problem before it worsens, and it also assists patients in avoiding the costs associated with high-risk diseases, such as the need for emergency surgery or the number of days spent in the intensive care unit.
Application Insights:
By application, the proactive service market is segmented into cloud management, data center management and customer experience management. In 2022, the customer experience management category held the largest proportion of the market. Customer experience management benefits organizations in a variety of ways, including word-of-mouth marketing, maintaining existing customers, recruiting new customers, boosting customer happiness, greater customer lifetime value, and brand loyalty. Organizations may boost brand preference by providing distinct experiences while also cutting expenses by lowering churn rates. Thus, the demand for customer experience management is likely to grow within the estimated timeframe Furthermore, factors such as decreasing marketing and acquisition costs, operational innovation, technology developments, and increased consumer expectations are also likely to contribute to the segment's growth in the years to come.
Regional Insights:
In 2022, North America held the largest share of the global proactive services market. A stable economy and significant government investment in numerous technologies such as AI, sophisticated data analytics, and machine learning make North America one of the most advanced regions.
Furthermore, North America has a significant retail business that focuses on providing proactive services, which is one of the major drivers for regional market growth. Over the projection period, Asia Pacific is expected to expand at the fastest CAGR. This can be linked to the region's fast-developing service industry and rising number of startups.
Recent Developments:
In May 2023, SAP announced a new product called SAP Customer Data Cloud. The product helps businesses to collect, store, and analyze customer data. SAP Customer Data Cloud can be used to identify potential problems, predict customer churn, and personalize marketing campaigns.
In March 2023, Microsoft launched a new suite of proactive services called Microsoft 365 Customer Insights. This suite of services uses AI and machine learning to help businesses understand their customers better. This can help businesses to personalize marketing campaigns, improve customer support, and increase customer retention.
In October 2022, Cisco Systems launched a new solution that helps to predict IT infrastructure failures proactively. This solution uses AI and machine learning to analyze data from IT systems and identify potential problems before they occur. This can help businesses to avoid costly outages and downtime.
Key Market Players:
Cisco Systems, Inc
International Business Machines Corporation
DXC Technology
Avaya Inc.
Genesys
Hewlett Packard Enterprise Company
Amazon Web Services, Inc.
NICE
Juniper Network, Inc.
Microsoft Corporation
Symantec Corporation
Huawei Technologies Co., Ltd
Segments Covered in the Report:
(Note*: We offer reports based on sub segments as well. Kindly, let us know if you are interested)
By Service
Technical Support
Design and Consulting
Managed Services
By Technology
Artificial Intelligence
Machine Learning
Analytics
By Enterprise
Small and Medium Size Enterprise
Large Enterprise
By Industry
Banking, Financial Services and Insurance (BFSI)
Healthcare
Retail
Telecommunication
Government and Defense
Others
By Application
Cloud Management
Data Center Management
Customer Experience Management
By Geography
North America
Europe
Asia-Pacific
Latin America
Middle East and Africa