The global process analytical technology market size was evaluated at USD 2.94 billion in 2022 and it is expected to touch around USD 8.21 billion by 2032, growing at a CAGR of 10.82% during the forecast period 2023 to 2032.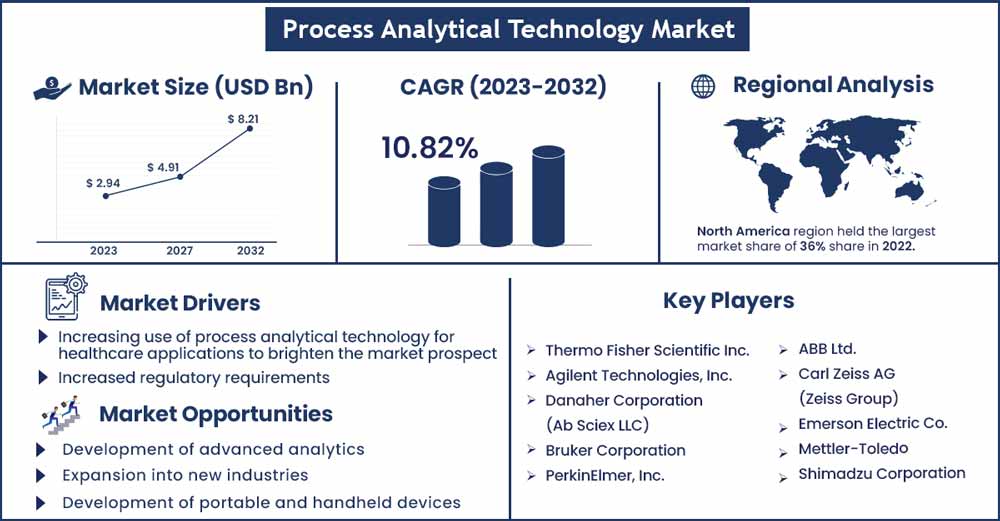 The global process analytical technology market growth is driven by the increasing demand for quality-based products in several industries such as the pharmaceutical and biotechnology industries, technological advancements such as artificial intelligence in process analytical technology (PAT), increasing adherence to quality by design (QbD) principles, and the rising adoption of process analytical technology for controlling manufacturing processing in pharma and biopharma companies.
Market Overview:
PAT refers to a system for the design, analysis, and controlling processes of manufacturing through timely measurement during processing. PAT has been implemented in manufacturing processes for many decades. Process analytical technology (PAT) in ensuring the safety of drug products and better quality. PAT includes measurement science by employing conventional process sensors such as temperature, probes, and pressure. Process analytical technology offers data that assists in ensuring high quality, seamless processes, decision-making processes, product development, and others, which in turn makes it crucial to the manufacturing of pharmaceuticals. With the aim of assurance of better final product quality, it analyses raw and in-process materials.
The process analytical technology (PAT) initiative was initially intended for conventional pharmaceutical manufacturers. PAT assists in quality cost reduction by moving quality control closer to the production line, enhances yield, lessens downtime, and provides faster process development and scale-up in industries. The wide adoption of digital technology in the pharma and biopharma sector creates lucrative opportunities for the implementation of integrated monitoring and optimization systems using PAT.
The benefit of adopting process analytical technology (PAT) tools are reduced process costs, enhances product quality, safety & consistency, elimination of product rework, rapid processing cycle times, and facilitation of regulatory acceptance and compliance. These create a robust and reliable process that results in the manufacturing of products that is produced appropriately every time. Additionally, the market has grown as a result of the increasing research & development investment by biopharmaceutical and pharmaceutical companies. Furthermore, the increasing government funding in developing nations.
Regional Insights:
North America accounted for the largest revenue share in 2022 owing to the rapid growth of the pharma and biotech sector, the presence of key market players, rising government research and development funding, digital transformation in the biopharma industry, and increasing adoption of strategies such as collaborations or partnerships and acquisitions. For instance, In March 2022, Max Analytical Technologies was acquired by Thermo Fisher Scientific. For process monitoring, source testing, and ambient air monitoring, Max Analytical has developed gas analysis solutions based on Fourier-transform infrared (FT-IR) spectroscopy.
Its technologies are widely employed in applications related to environmental health and safety, industrial process monitoring, and semiconductor production. On the other hand, the Asia Pacific market is expected to grow at a significant CAGR during the forecast period due to the growing adoption of advanced technologies, increasing pharmaceutical and biotechnology companies, and increasing government investment in R&D activities.
Market Dynamics:
Drivers:
Increasing adoption of PAT in the pharmaceuticals sector
The increase in the adoption of Process analytical technology is expected to drive the process analytical technology market during the forecast period. Process analytical technology affects almost all areas of pharmaceutical manufacturing. Process analytical technology is increasingly deployed in the pharmaceutical sector as it assists firms to enhance their conformity with manufacturing regulations. The increasing focus on process analytical technology (PAT) in the manufacturing process is to improve the basic premise of the drug quality system as quality cannot be tested into products, it should be either built-in or should be by design. Process analytical technology is an essential requirement of pharmaceutical firms when constant improvement in product quality, as well as documentation, is needed.
The implementation of PAT helps reduction in processing costs, offers product uniformity, enhances quality, minimizes product change-over time, reduce human errors, meets all kinds of regulatory requirements, and rising automation to enhance operator safety and reduce human errors, and helps in preventing rejects and re-processing. Process analytical technology refers to a system for designing, analyzing, and controlling pharmaceutical manufacturing processes via measurements of critical quality and performance attributes of processed and raw materials to offer assurance of the high quality of the final product. Process analytical technology tools are increasingly advancing and several IQAs are efficiently monitored in the pharmaceutical firms.
Restraint:
Lack of expertise
The lack of expert professionals unable to run process analytical technology (PAT) is projected to hamper the growth of the global process analytical technology market. In addition, the recurring manufacturing difficulties, and the possibility of failed batches is likely to restrain the market expansion during the forecast period.
Opportunities:
Increasing adherence to quality by design (QbD) principles
Increasing adherence to quality by design (QbD) principles is expected to fuel the growth of the process analytical technology (PAT) market during the forecast period. The guidelines by FDA on QbD are motivating manufacturers in ensuring consistency in the quality of products. QbD is considered a crucial protocol in the pharmaceutical sector to obtain high-quality products, efficacy, and safety. PAT is a vital tool for the implementation of QbD for monitoring process parameters to manufacture better-quality final drug products. The development of analytical QbD techniques assists in establishing an effective control strategy for the analytical method, which controls variability and enhances robustness in method performance with better quality. In addition, the implementation of quality by-design (QbD) based nondestructive approaches are generally used to monitor unit operations in the pharmaceutical sector.
Report Highlights:
Product Insights:
The analyzers segment is expected to account for a major revenue share during the forecast period due to the rising demand to reduce wastewater and stringent regulations on drug safety, and the growing use of PAT analyzers in the manufacturing of pharmaceutical products.
Technique Insights:
The spectroscopy segment is expected to predicted to hold the largest market share. Among the process analytical technology tools that are highly employed in the pharmaceutical industry are near-infrared spectroscopy, terahertz pulsed spectroscopy, and Raman spectroscopy. Spectroscopy is widely employed in the pharmaceutical industry owing to its characteristics for quantitative and qualitative determination of components. NIR spectroscopy is the technology that can be used in almost every step of the tablet manufacturing process such as raw material identification, tablet characterization, blend homogeneity, and endpoint determination in critical process parameters. NIR spectroscopy is easy to deploy and maintain in various manufacturing environments. NIR spectroscopy is a non-destructive method for detecting and quantifying the physical and chemical attributes of tablets.
Monitoring Method Insights:
The in-line segment is projected to register a considerable CAGR during the forecast period.
In-line offers both quantitative and qualitative data. It is a real-time monitoring method. In line, the process parameters are sent in real-time to SCADA/PLC systems for automated control.
End-Users Insights:
The biotechnology & pharmaceutical companies segment is expected to dominate the global process analytical technology market and is expected to retain its dominance during the forecast period owing to the growing adoption of process analytical technology for controlling manufacturing processing in the biotechnology & pharmaceutical companies. The PAT initiative focuses on reducing risks to public health associated with the manufacturing of pharmaceutical product. PAT enables biotechnology & pharmaceutical companies to enhance process efficiencies and design high-quality products. With the help of PAT, there is a reduction in human intervention with minimal errors in biotechnology & pharmaceutical companies. PAT analysis establishes a framework intended to enable the voluntary development and implementation of innovation in pharmaceutical development, manufacturing, and ensuring high quality.
Recent Developments:
In May 2022, Agilent Technologies Inc. collaborated with APC Ltd on real-time process monitoring. Both companies committed to working towards integrating their technologies to offer unique workflows to customers that support automated process analysis through liquid chromatography (LC). APC and Agilent have similar goals, which emphasize on assisting customers in the biopharmaceutical and pharmaceutical industry to enhance the human condition and to deliver life-changing drugs to market more efficiently.
Major Key Players:
Thermo Fisher Scientific Inc.
Agilent Technologies, Inc.
Danaher Corporation (Ab Sciex LLC)
Bruker Corporation
PerkinElmer, Inc.
ABB Ltd.
Carl Zeiss AG (Zeiss Group)
Emerson Electric Co.
Mettler-Toledo
Shimadzu Corporation
Sartorius AG
Hamilton Company
Repligen Corporation
Market Segmentation:
By Product
Analyzers
Sensors & Probes
Samplers
Software & Services
By Technique
Spectroscopy
Chromatography
Particle Size Analysis
Electrophoresis
Others
By Monitoring Method
On-line
In-line
At-line
Off-line
By End-User
Pharmaceutical manufacturers
Biopharmaceutical manufacturers
Contract research and manufacturing organization
Buy this Research Report@ https://www.precedenceresearch.com/checkout/2825
You can place an order or ask any questions, please feel free to contact at sales@precedenceresearch.com | +1 9197 992 333