The global propane market size was evaluated at USD 87.58 billion in 2022 and is projected to attain around USD 131.97 billion by 2030, growing at a CAGR of 5.26% during the forecast period from 2022 to 2030.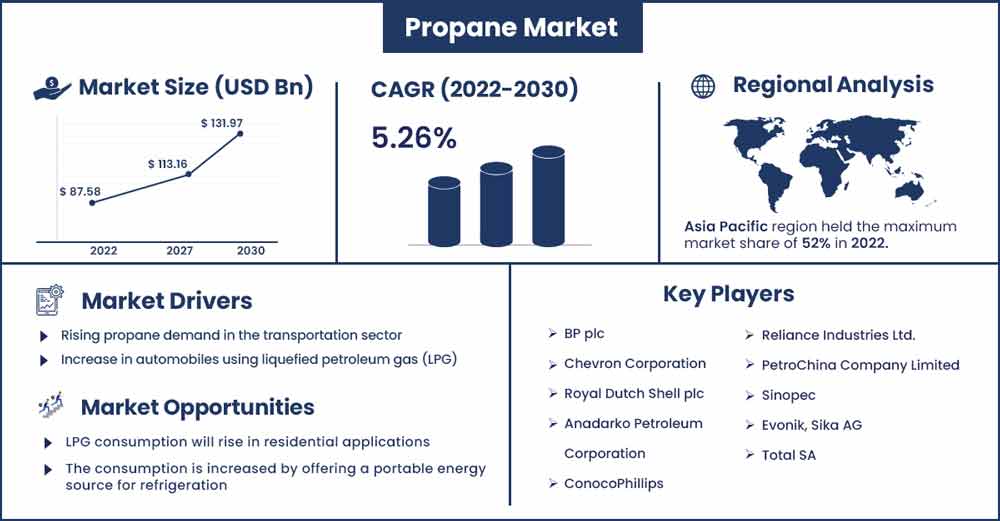 A naturally combustible hydrocarbon gas, propane. This gas becomes liquid under pressure for a variety of industrial uses. It is a pure and effective liquefied petroleum gas. It is a substance that is both liquid and gaseous and is utilized in both cooking and transportation. This device is heavily used in both home and business settings. The market for chemicals is full of propane substitutes. Its density is lower than that of its substitute compounds, though.
The key characteristic of the product is its low boiling point. Because of this, portable stoves use this product often. Gas is useful for portable burners that cook barbecues because it vaporizes easily. Recreational vehicles use a lot of propane. There is a need for propane gases because to increased infarsyurce in various areas.
Today, the propane industry has received investment from the automobile sector. Because they are a sustainable energy source with little emissions, they are widely used across the world. Today, several areas produce a significant amount of propane. In developing markets, it is greatly increasing product awareness. Market expansion for fuels may have a favorable effect on the propane market. High propane market value will result from the expanding market trends.
Report Highlights:
With a projected CAGR of 3.2% from 2022 to 2030, the demand for commercial end-use products worldwide exceeded 50 million in 2016. Many restaurants in North America are switching to propane gas for cooking.
In the long run, Asia Pacific is expected to see the fastest growth. Western businesses have been drawn to the area to set up production facilities as a result of changes in the major regional economies, notably in industrial manufacturing.
A CAGR of over 10% is anticipated for India's consumption of propane, which is mostly due to an increase in demand from the industrial and commercial sectors.
Businesses are heavily engaged in capacity expansions and M&As to increase their worldwide footprint and thus increase market share. A major factor in determining a manufacturer's profitability is the establishment of supply agreements with retailers.
Propane Market Report Scope:
| | |
| --- | --- |
| Report Coverage | Details |
| Market Revenue in 2023 | USD 92.18 Billion |
| Projected Forecast Revenue in 2030 | USD 131.97 Billion |
| Growth Rate from 2022 to 2030 | CAGR of 5.26% |
| Largest Market | North America |
| Base Year | 2022 |
| Forecast Period | 2022 To 2030 |
| Regions Covered | North America, Europe, Asia-Pacific, Latin America, and Middle East & Africa |

Regional Snapshots:
In 2022, the Asia-Pacific region held a 52% share of the global propane market. Due to the rising need for propane in emerging nations like China, Japan, India, and South Korea, the Asia Pacific region is expected to maintain its market dominance over the projection period. The amount of propane used by homes for cooking has significantly grown. Due to its expanding economy and growing investments in housing projects, the Asia Pacific region now controls the propane industry. For instance, Invest India reports that out of 1.14 Cr. sanctioned homes, 91.5 lakh homes were started for construction in 2021, and 53 lakh homes were finished.
Additionally, the need for propane is noticeably rising in the Asia Pacific area because of the region's rising pollution levels. With the launch of several municipal initiatives promoting the usage of alternative fuel, the auto-gas industry in China has grown largely to reduce pollution, which is favorably affecting the market expansion for propane. As a result, the expansion of the propane market will be fueled by increasing residential investment and the need for clean fuel over the projected period.
Market Dynamics:
Drivers:
Rising Propane Demand in the Transportation Sector. Internal combustion engines in automobiles and generators both run on a fuel blend of propane and butane. Due to an increase in automobiles using liquefied petroleum gas (LPG), the demand for propane has been rising recently. One of several LPGs, along with propylene, butadiene, butane, butylene, and isobutylene, is propane. Due to its low carbon content, propane is increasingly being sought as a replacement for fossil fuels like gasoline and diesel. Because it is so readily available, reliable, and affordable compared to other energy sources, propane is in high demand.
Due to its accessibility, safety, and clean-burning characteristics, there is an increasing demand for propane as an alternative transportation fuel, which is fostering market expansion. A further factor driving up demand for propane as an alternative fuel is the availability of new light and medium heavy-duty propane vehicles. The demand for propane has increased recently as a result of the increased manufacture of automobiles. The Chinese government expects to produce 35 million cars by 2025, according to the International Trade Administration (ITA). As a result, rising vehicle manufacturing will necessitate more propane, which will propel the propane market's expansion throughout the course of the projected year.
Restraints:
The high price of propane is one of the maker's challenges. Compared to other fuels, propane is less expensive. However, because it is a petroleum-based liquid, the price may be expensive. Particularly underdeveloped countries are hesitant to embrace this technology widely. A biodegradable gas is propane. However, it must be used sparingly. The environment may be harmed by excessive propane use. Emissions of carbon dioxide may result. Some areas have limits because propane use there is more prevalent. Production may decrease as a result of consumption and production restrictions. Additionally, environmentally concerned customers could favor less damaging substitutes.
Opportunities:
High prospects for market expansion in propane will result from the need for maritime exports. Shipments by sea are rising by up to 77%. Regions like Canada are boosting their exports of marine products. The use of propane rises as a result of these expanding cargoes. These maritime coast operations will increase both in North America and the Asia-Pacific region in the next years. Propane will be extensively used in these coastal operations. These elements will all produce great development prospects for the maritime industry. For propane, the market has large investments. The market will embrace a significant proportion of propane fuels as a result.
The typical residential propane tank may hold more than 1,000 gallons of liquid propane. Many millions of outdoor chefs utilize gas grills that run on propane. Higher development in these marketplaces will be facilitated by storage and use in residential areas. Additionally, the prevalence of appliances that run on propane in recreational RVs will promote expansion. The consumption is increased by offering a portable energy source for refrigeration, hot water, and cooking. The amount of natural gas and electricity used for space heating in homes will increase. Increased outdoor cooking practices, increasing fuel oil conversions, and new residential construction will all provide to chances for rapid market expansion.
Challenge:
The market's expansion is being hampered by the unpredictability of raw material prices. Propane is a product of several marketplaces. The price of crude oil and other fuels fluctuates greatly. The propane market's price volatility for raw materials is rising as a result. The pricing of raw materials is causing manufacturing problems for the United States and other major investors. Demand is being impacted by the pandemic's supply chain interruptions. Production on this market will be hampered by the developing discrepancies in the raw materials. Low inventories and the cost of raw materials are two factors that might constrain growth throughout the projection period.
Recent Developments:
Suburban Propane Partners LP stated in October 2021 that it has extended its 2020 contract with U-Haul for the supply of renewable and environmentally friendly propane in California.
By inaugurating its Ridley Propane export terminal plant in the British Columbia area in May 2019, Altagas reached a new milestone. This will be Canada's first propane maritime export facility.
Major Key Players:
BP plc
Chevron Corporation
Royal Dutch Shell plc
Anadarko Petroleum Corporation
ConocoPhillips
Reliance Industries Ltd.
PetroChina Company Limited
Sinopec
Evonik, Sika AG
Total SA
Eni S.p.A
Marsh LP Gas Company Inc.
Statoil ASA
Ferrellgas Partners L.P.
Market Segmentation:
By End Use
Industrial
Commercial
Residential
Transportation
Agriculture
Chemicals and Refineries
By Grade
Buy this Research Report@ https://www.precedenceresearch.com/checkout/2365
You can place an order or ask any questions, please feel free to contact at sales@precedenceresearch.com | +1 9197 992 333