The global recycled lead market size exceeded USD 17.17 billion in 2022 and is projected to rake USD 20.4 billion by 2030, expanding at a CAGR of 2.18% during the forecast period from 2022 to 2030.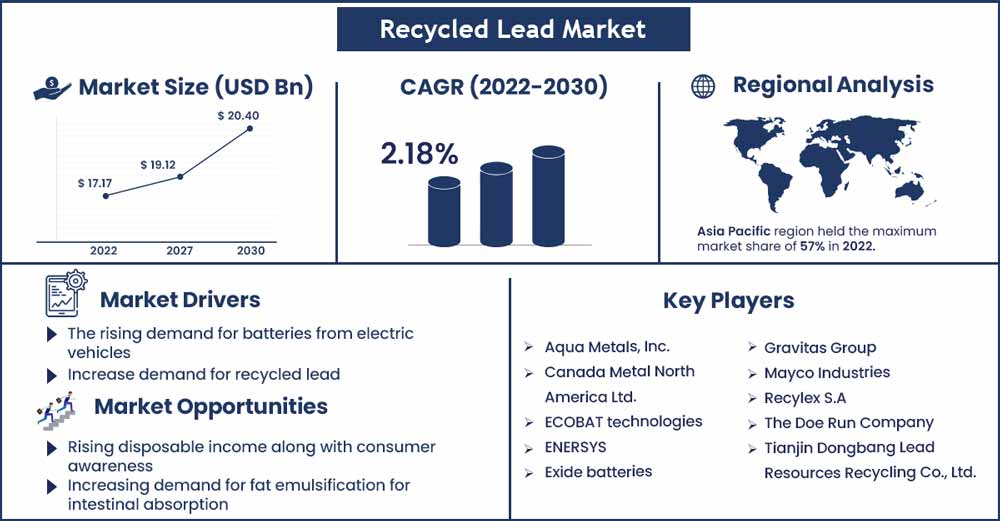 Recycled lead, also known as secondary lead, is mainly collected from lead-containing components such as lead acid batteries, cable sheathings, lead sheet boards, pipes, and plumbing products, among others. Lead has the greatest recycling rates worldwide, outperforming popular recyclable commodities such as glass, newsprint, paper and cardboard, rigid plastics/bottles, and so on.
According to the International Lead Association, recycled lead accounts for approximately half of worldwide lead consumption. It is mostly owing to the ease of manufacture and low cost of recycled lead, as well as the decrease in lead mining due to depleted lead ore and increased control of lead mining. Lead acid batteries are the primary source of lead recycling since each component is separated and lead is processed and turned into various forms for further usage.
Lead is well-known for its superior qualities such as corrosion resistance, malleability, and soft texture. In addition to these features, the recycled lead market has a good size-to-weight ratio, making it suitable for a variety of industrial applications such as electronics, construction, paints and coatings, petroleum, and so on. However, its toxic nature has been linked to major health risks in both children and adults. As a result, lead usage in petroleum and paints and coatings for public and private buildings has been phased out in the majority of countries in recent years.
Furthermore, lead scraps are hazardous trash, and their improper disposal causes serious environmental and health issues. Methodical and appropriate lead recycling from scraps produces less solid waste, spends less energy, and consumes fewer minerals than lead manufactured from ores.
The continuous unregulated lead recycling and rising demand for lithium-ion technology will be significant impediments to the expansion of the recycled lead business. Lead recycling is a straightforward operation that can be completed in a small amount of time and with few instruments, and it is typical practise in developing countries such as China, India, and Malaysia. Such procedures provide significant health concerns to the people engaged and the surrounding environment, thus impacting the lead recycling business. However, due to their reduced cost and increased capacity, lithium-ion batteries are gradually becoming a more viable substitute for lead acid batteries. Nonetheless, the increasing capacity of lead-acid batteries at lower temperatures is likely to maintain its share of the battery industry, fueling demand for secondary lead during the projection period.
Report Highlights:
The lead business, notably the lead recycling sector, must comply with ever-stricter environmental regulations. Lead acid batteries, the most common raw materials used by recyclers, have been designated as toxic waste. Because batteries are perhaps the most common source of lead, they are the leading cause of lead poisoning in landfills or incinerators.
Because of their rapid expansion, the rising car sector, electrical vehicles sectors, solar energy systems, and communications industries demand an increasing number of lead-acid batteries. As a result, lead acid batteries are in high demand in a variety of industries, and scrap is accumulating on a daily basis.
Recycled Lead Market Report Scope:
| | |
| --- | --- |
| Report Coverage | Details |
| Market Revenue in 2023 | USD 17.54 Billion |
| Projected Forecast Revenue in 2030 | USD 20.4 Billion |
| Growth Rate from 2022 to 2030 | CAGR of 2.18% |
| Largest Market | Asia Pacific |
| Base Year | 2022 |
| Forecast Period | 2022 To 2030 |
| Regions Covered | North America, Europe, Asia-Pacific, Latin America, and Middle East & Africa |

Regional Snapshots:
North America controls the Recycled Lead market. When it comes to recycling things, the United States is at the top. It uses its resources to recycle products at a lower cost rather than manufacturing new ones. The federal government's health and environmental regulator in the United States compared recycling rates for a variety of products and materials.
In terms of geography, Asia-Pacific held the highest share of the global recycled lead industry in 2022. During the projected period, China will continue to be the major recycler and customer of lead waste in the area. Secondary requirement for lead will skyrocket in the next years, because to the cheap cost of lead acid batteries and the rising demand for energy storing for data centres and solar energy. There is an increase in the amount of expenditures in recycling facilities in countries like india and Malaysia, which is expected to result in increased secondary lead generation. During the projection period, North America and Europe too are likely to provide significant growth possibilities.
Market Dynamics:
Drivers:
The rising demand for batteries from electric vehicles and energy storage systems is expected to fuel market expansion. Lead is the only metal that can be recycled several times without losing any of its quality. As a result, secondary (recycled) lead production is expanding at a faster rate than primary lead production, which is expected to boost market growth. Recycling goods include batteries, sheets, pipe, cable sheathing, electrical and electronic devices, and cathode-ray tubes.
The expansion of the electric vehicle sector is the primary driver of the market. By the end of 2018, the United States had 1 million electric vehicles on the road, with that figure predicted to rise to 18.7 million by 2030. The growing number of electric vehicles will necessitate more batteries, which will increase demand for recycled lead. According to the United States Geological Survey, the lead-acid battery sector accounted for 93 percent of overall lead consumption in the United States in 2019, and secondary accounted for more than 80 percent of total lead production in the country.
Restraints:
However, its toxic nature has been linked to major health risks in both children and adults. As a result, lead usage in petroleum and paints and coatings for public and private building has been phased out in the majority of countries in recent years. Furthermore, lead scraps are hazardous trash, and their improper disposal causes serious environmental and health issues. The rising demand for lithium-ion batteries is a key impediment to market expansion.
Lead-acid batteries are losing market share to lithium-ion batteries due to factors such as efficiency and environmental friendliness. More funding and investments are being sought for the development of lithium-ion batteries. In December 2017, for example, money from a USD 108 million government-funded battery research centre in the United Kingdom were devoted toward the development of lithium batteries.
Opportunities:
Bile acids' usefulness stems from their ability to reduce bile cholesterol content and encourage the breakdown of cholesterol gallstones. Rising disposable income along with consumer awareness of the usage of safe pharmaceuticals are expected to be the driving forces behind the recycled lead market's rapid expansion. Furthermore, there is an increasing demand for fat emulsification for intestinal absorption. This feature is expected to help the recycled lead market grow in the near future.
Challenges:
Incorrect separation of hazardous compounds used in batteries, improper dismantling, and improper shredding are projected to impede the growth of the battery recycling market during the forecast period. Aesthetic battery design, battery installation accessibility, and the supply of protective layers to decrease the danger of fire and short-circuiting are expected to pave the way for new development prospects in the worldwide market.
Recent Developments:
Gravita Tanzania Limited commenced lead production in April 2019, with an annual capacity of 3,000 tonnes. The facility will cost USD 1.2 million to build.
Major Key Players:
Aqua Metals, Inc.
Canada Metal North America Ltd.
ECOBAT technologies
ENERSYS
Exide batteries
Gravitas Group
Mayco Industries
Recylex S.A
The Doe Run Company
Tianjin Dongbang Lead Resources Recycling Co., Ltd.
Market Segmentation:
By Application
Battery
Rolls & Extruded Products
Pigments & Other Compounds
Others
By Type
Soft Lead
Lead Alloys
Lead Oxides
By Industry Type
Energy
Transportation
Data centers
Electronics
Construction
Healthcare
Others
Buy this Research Report@ https://www.precedenceresearch.com/checkout/2144
You can place an order or ask any questions, please feel free to contact at sales@precedenceresearch.com | +1 9197 992 333