The global RFID in healthcare market size was evaluated at USD 4.69 billion in 2022 and is expected to touch around USD 22.72 billion by 2032, growing at a noteworthy CAGR of 17.09% from 2022 to 2032.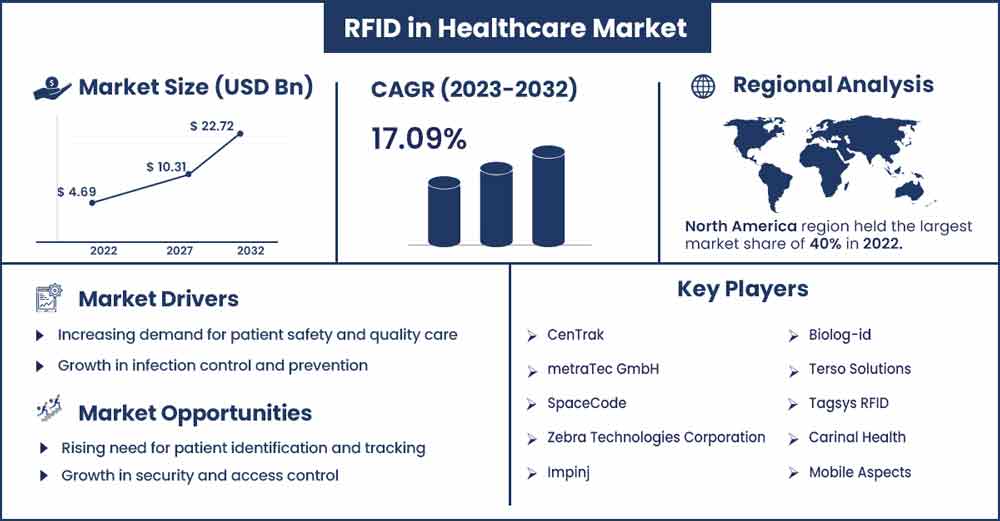 Market Overview
Radio-frequency identification is referred to as RFID. RFID technology is used in the healthcare industry to automatically identify and monitor individuals or objects using radio waves. It is employed for many things, such as inventory control, asset tracking, medication management, and patient identification. RFID tags are fastened to objects or people, and a reader uses radio waves to connect with the tags and access the data they store. The efficiency, security, and precision of healthcare processes are all improved by this technology.
For instance, In December 2022, RFIDs were introduced to track the utilization of blood at two government-run medical facilities. In order to make blood donors and their blood groups available on the register and the Tamil Nadu Blood Donors app, this was created at the cost of Rs. 10 lakhs.
By decreasing losses, expirations, and theft and managing equipment, supplies, and prescriptions in real-time, RFID helps healthcare facilities save money. RFID enables the precise identification of patients and the matching of their medical histories, drugs, and treatments. This reduces mistakes and raises patient safety. RFID can monitor medical equipment's sterilization and cleaning condition, ensuring that tools are thoroughly cleaned before use and lowering the risk of infections.
RFID tags can authenticate drugs, guaranteeing that patients receive authentic treatments and preventing using fake or outdated drugs. Keeping the cold chain intact in the healthcare industry is essential, especially for vaccinations and delicate medications. RFID sensors can track temperature and environmental factors, ensuring vital supplies are in the right condition. RFID technology automates data entry, patient identification, and inventory tracking, thus reducing the need for manual labor, which can be expensive and error-prone.
For instance, In February 2023, with a new manufacturing facility in Querétaro, Mexico, Avery Dennison Smartrac revealed a sizable investment to increase its RFID tag manufacturing capacity in the Americas. The acquisition helps the AIPIA members fulfill their goal of providing each item with a distinct digital identity and meeting the increasing need for passive UHF RFID tags. Avery Dennison anticipates investing over $100 million, creating more than 600 new technological jobs, and solidifying its standing as the leading supplier of RFID technology.
Regional Snapshot
North America is expected to be the dominant in the RFID in healthcare market. Particularly in the globe, the United States has one of the highest per capita healthcare spending rates. This industry-wide financial investment allows more cutting-edge technology, including RFID systems, to be used. RFID systems have been successfully adopted in numerous healthcare facilities in North America for various purposes, including patient tracking, inventory management, and asset tracking. These productive pilot initiatives act as case studies and promote wider adoption. Healthcare personnel in North America are well-informed and aware of the advantages of RFID technology, which creates a more favorable climate for implementing these solutions in clinical settings.
For instance, after its initial success at a few facilities in 2022, UPS plans to roll out its "smart package" initiative nationwide this year. This initiative uses wearable devices on employees and RFID tags on packages to do away with reduced misloads and manual scans and speed up parcel throughput in UPS's warehouses. 2023, the business intends to invest $140 million in the project.
Mentor, Ohio, in the United States, is home to the Avery Dennison Corporation. The business provides radio frequency identification (RFID) for commercial uses in the transportation, aviation, logistics, and healthcare sectors. The corporation invested $9.0 billion in reported sales in 2022 and invested $40 million in acquisitions.
Impinj, Inc., based in Seattle, Washington, produces radio-frequency identification (RFID) hardware and software. As reported in its first quarter 2023 financial statement, $85.9 million in revenue was generated.
RFID in Healthcare Market Report Scope:
| | |
| --- | --- |
| Report Coverage | Details |
| Market Revenue in 2023 | USD 5.49 Billion |
| Projected Forecast Revenue by 2032 | USD 22.72 Billion |
| Growth Rate from 2023 to 2032 | CAGR of 17.09% |
| Largest Market | North America |
| Base Year | 2022 |
| Forecast Period | 2023 to 2032 |
| Regions Covered | North America, Europe, Asia-Pacific, Latin America, and Middle East & Africa |

Market Dynamics
Drivers
Increasing demand for patient safety and quality care
RFID is essential for maintaining patient safety. Healthcare professionals can track the movement of patient wristbands, medication containers, and medical equipment in real time by adding RFID tags. This helps to prevent medication errors, guarantees patients receive the right medications at the right time and lowers the risk of adverse drug reactions. Smart tags and wearables with RFID capabilities can continually track patients' vital signs and give healthcare professionals access to real-time data, which makes it possible to act quickly in case of anomalies, improve results, and raise the bar for care.
Growth in infection control and prevention
The emphasis on patient safety is one of the main factors driving the adoption of RFID in healthcare. Infection control techniques have become essential in healthcare institutions to stop the spread of illnesses, particularly in vulnerable environments like hospitals and clinics. The risk of cross-contamination is decreased because of RFID technology's ability to track and monitor the movement of patients, healthcare workers, and medical equipment.
Restraints
Limitations in the read range of RFID tags
RFID tags often have a read range of a few centimeters to a few meters, depending on the tag type and the surrounding environment. The local environmental elements, such as metallic surfaces, liquids, and other impediments that can interfere with radio waves and reduce the effective read range, may require additional real-time visibility from healthcare personnel. In hospital environments where these characteristics are widespread, this is especially troublesome. Due to the restricted capacity, following high-value items or patients thoroughly across a significant healthcare facility can take time and effort. This restriction makes it difficult to monitor patient movements or rapidly locate essential equipment.
Lack of staff training and adoption to the new technology
Many healthcare workers may need to learn more about RFID technology and its potential uses in the industry. Because staff employees may need to fully comprehend the technology's advantages and how it might streamline procedures, this lack of familiarity may cause them to be reluctant to use it. Despite its strength, RFID technology can be complicated, especially for individuals who have never used it. Adoption may need to be improved by its intricacy. Staff workers may be capable of handling responsibilities, including configuring and troubleshooting RFID systems, with the proper training.
Opportunities
Rising need for patient identification and tracking
For the integrity of study data in clinical trials and medical research, precise patient identification and tracking are essential. RFID technology facilitates data collecting, adherence monitoring, and participant management, resulting in more trustworthy and conclusive study results. Accurate patient identification and tracking is crucial to quickly administer the required care during crises, such as mass casualty occurrences or natural disasters. Healthcare professionals may easily detect and identify patients using RFID technology, ensuring prompt action.
Growth in security and access control
Healthcare facilities can use RFID technology to build effective access control systems that guarantee that only authorized staff can enter sensitive areas, including patient rooms, drug storage areas, and operation rooms. This improves patient safety and privacy by preventing unauthorized parties from gaining access. Whether a tiny clinic or a vast hospital network, RFID systems can be customized to the unique requirements of healthcare institutions. This scalability ensures the system can develop alongside the company and change to meet changing security needs.
Recent Developments
In May 2023, leading supplier of injectable drugs, Fresenius Kabi, announced the introduction of Rocuronium Bromide Injection with cutting-edge RFID-enabled labeling in the United States. It is intended to promote a more effective drug inventory procedure and improve patient safety.
In August 2022, Genixus, a pharmaceutical company, FDA-recorded repackager, and 503B outsourcing provider dedicated to transforming acute and critical care drugs, has declared that its new KinetiX Propofol syringes will incorporate Kit Check's proprietary RFID technology. Kit Check is the leading automation vendor in Medication Intelligence. Propofol is the most frequently used drug in hospitals and other healthcare facilities.
Major Key Players
CenTrak
metraTec GmbH
SpaceCode
Zebra Technologies Corporation
Impinj
Biolog-id
Terso Solutions
Tagsys RFID
Carinal Health
Mobile Aspects
Pepperl+Fuchs
Market Segmentation
By Product
By Application
Pharmaceutical Tracking
Asset Tracking
Patient Tracking
Blood Tracking
Others
Buy this Research Report@ https://www.precedenceresearch.com/checkout/1135
You can place an order or ask any questions, please feel free to contact at sales@precedenceresearch.com | +1 9197 992 333