The global robotic process automation in healthcare market size was exhibited at USD 2.9 billion in 2022 and is projected to attain around USD 6.2 billion by 2030, poised to grow at a strong CAGR of 26.01 percent during the projection period from 2022 to 2030.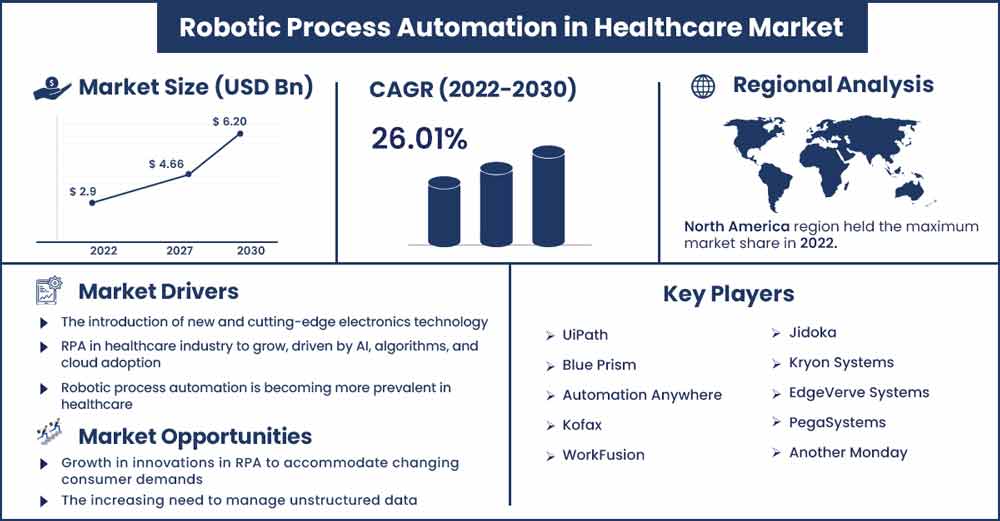 The market is being driven by ongoing technological advancements and creative inventions in the area of electronics, expanding data centre networking and storage device demand, need for security cameras, robots in industrial applications, and sensor-based devices. Robotic process automation software uses "software robots" to handle repetitive activities that were previously handled by human personnel. Healthcare organisations may benefit from using RPA tools to recover data from digital and traditional clinical documentation. They can automate the process of looking up the right documents in a database and sending them to the right place on the network of the healthcare organisation.
Robotic process automation software is used to conduct high-volume data, transaction processes, or operations with a sizably huge personnel strength. Robotic process automation is the use of software with artificial intelligence and machine learning skills to conduct repetitive, high-volume operations that were previously handled by people. Robotic process automation has transformed and enhanced the manner in which enterprises or organizations manage the company, maintain the it infrastructure, manage the workflow processes, and carry out back-office tasks. Robotic process automation increases transaction processing productivity while delivering excellent accuracy and faster cycle times.
An employee is relieved of having to perform boring and repetitive activities for the company. Cost-effectiveness, accuracy, quality, consistency, enhanced analytics, higher employee productivity, adaptability, and coordinated IT support and management are some of the key characteristics of RPA. As a result, it is projected that RPA will soon aid in the expansion of healthcare systems.
Report Highlights:
Experience with next-generation hospitals and the ability to handle high client loads in clinics and hospitals are two things that RPA is expected to offer.
The growing adoption of cutting-edge technologies like AI, machine learning, and cloud will significantly contribute to the growth of the robotic process automation market in the healthcare sector.
Due to the increasing adoption of sophisticated, self-regulatory technologies like AI and machine learning, North America is anticipated to have the largest market share in the global robotic process automation in the healthcare market over the course of the projected period.
Due to the increasing adoption of advanced, self-regulatory technologies like Machine learning and artificial intelligence, North America is anticipated to have the largest market share in the global robotic process automation in the healthcare market over the course of the projected period.
The knowledge-based operations provide a new framework for the effective decision-making process in the logistics and warehouse industries.
Clinical Documentation and Billing and Workflow Management are the largest contributors to the global market in this segment in 2022 and are very likely to continue the trend in the forecast period.
Robotic Process Automation in Healthcare Market Report Scope:
| | |
| --- | --- |
| Report Coverage | Details |
| Market Revenue in 2023 | USD 3.19 Billion |
| Projected Forecast Revenue in 2030 | USD 6.2 Billion |
| Growth Rate from 2022 to 2030 | CAGR of 26.01% |
| Largest Market | North America |
| Base Year | 2022 |
| Forecast Period | 2022 To 2030 |
| Regions Covered | North America, Europe, Asia-Pacific, Latin America, and Middle East & Africa |

Regional Snapshots:
Due to the widespread use of process management and automation solutions by businesses and governmental organisations in the area, North America now has a dominant position in the robotic process health automation (RPH) industry. Because of the rising product acceptance across the pharma and healthcare industries, among others, Asia-Pacific is predicted to have considerable growth over the projection period of 2022 to 2030.
Market Dynamics:
Drivers:
The introduction of new and cutting-edge electronics technology, together with ongoing unique advancements, are the main drivers of the growth of robotic process automation in the healthcare market. Additionally, the market for robotic process automation in healthcare is expanding due to the enormous development in consumer electronics, such as digital cameras, computers, and music players.
Additionally, the development and inclusion of navigation and infotainment technologies like the global positioning system (GPS) are propelling market expansion. High-speed internet access and the quickly expanding 5G network infrastructure are further driving the market's expansion.
The increased need to automate claims and process management is what is driving the market for RPA in the healthcare sector. Robotic process automation is anticipated to increase quickly because of the expansion of major businesses' consumer bases. Robotic process automation in healthcare is still in its early stages, and the industry is constrained by issues like changing organizational structures to implement RPA and a lack of knowledge on how to incorporate business processes with RPA.
Restraints:`
When implementing robotic process automation technology, businesses must make investments in a solid infrastructure and a qualified workforce to manage all activities. Setting up RPA infrastructure, hiring experts or training existing staff, and deploying thousands of bots in the healthcare sector are difficult and expensive tasks. Additionally, platforms for automation bots regularly change, and bots frequently lack the necessary flexibility. Many healthcare companies are reluctant to implement this technology in their work. It is challenging to adapt the platform to a company's constantly changing demands because IT is also a tool that requires a unique identity and cutting-edge technology.
Opportunities:
One of the key reasons propelling the growth of the robotic process automation (RPA) market is the rising need for automating redundant operations throughout the world. The market is growing due to the increasing convergence of robotic process automation with traditional business processes, as well as high adoption due to the benefits of execution, quick implementation, and arrangement of large volumes of data in less time than mechanical procedure, as well as decreased overhead costs for businesses.
The market is further influenced by the rising demand for robotic process automation (RPA) in the logistics sector and the integration of RPA with machine learning to help advance software bots' capabilities beyond rule-based operations. The growth of the end-use sector, the introduction of industry 4.0, the increase in digitalization, and the simplicity of business process installation all have a favorable impact on the robotic process health automation (RPA) market. Furthermore, throughout the projection period, market participants would benefit from the incorporation of new technologies like artificial intelligence (AI) in RPA.
Challenges:
Any little modification to the application would necessitate updating the bot settings once it has been deployed in the production environment in order for it to continue operating as intended. Sometimes, bots may also experience interruptions and not complete their tasks. Due of the necessity for periodic accuracy checks, this problem precludes bots from being totally user-free.
Robotic process automation is only effective when used in a software or online context; it cannot handle jobs that fall outside of those categories. Even while many everyday jobs may be automated, those not related to technology still need to be performed by human resources.
Recent Developments:
In March 2022, a final merger agreement was signed between the supplier of digital identification solutions, NextGate, and the healthcare interoperability firm, Lyniate. The agreement is expected to assist both businesses in addressing the rising market need for more sophisticated solutions that address both data quality and data sharing. The agreement will also improve Lyniate's interoperability services.
Consensus Cloud Solutions announced its acquisition of Summit Healthcare on March 8, 2022. The agreement became official on February 4, 2022. The powerful cloud and NLP/AI capabilities of Consensus Cloud Solution and Summit Healthcare's technology solutions and services will work together to offer various advantages throughout the continuum of care, including increased staff productivity and care continuity, which will enhance health outcomes.
Major Key Players:
UiPath
Blue Prism
Automation Anywhere
Kofax
WorkFusion
Jidoka
Kryon Systems
EdgeVerve Systems
PegaSystems
Another Monday
Market Segmentation:
By Solution
Software
Services
Implementation
Support and Maintenance
Training and Consulting
By Operations
Rule-based Operation
Knowledge-based Operation
By Application
Claims Management
Clinical Documentation
Billing and Compliance Management
Appointment Scheduling
Workflow Management
Buy this Research Report@ https://www.precedenceresearch.com/checkout/2347
You can place an order or ask any questions, please feel free to contact at sales@precedenceresearch.com | +1 9197 992 333