The global smart fleet management market size is anticipated to reach around USD 814.37 billion by 2032 up from USD 249.68 billion in 2022 with a CAGR of 12.6% between 2023 and 2032.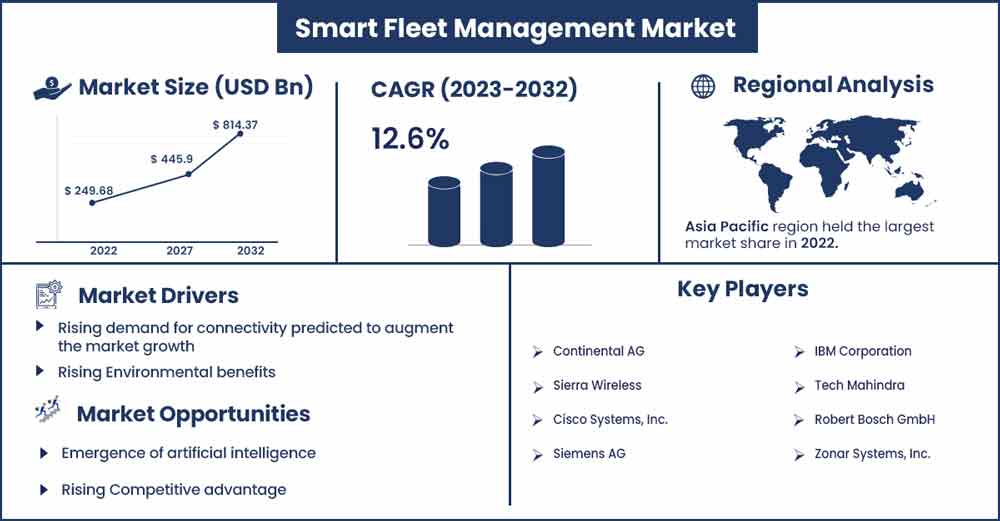 Market Overview
Utilizing cutting-edge technology and data-driven solutions to streamline the operations of a fleet of vehicles, including trucks, cars, and ships, is known as smart fleet management. The main objectives of innovative fleet management are to increase productivity, lower expenses, improve safety, and lessen the adverse effects on the environment. The smart fleet management market includes telematics, fleet tracking and monitoring, fuel management, driver behavior monitoring, maintenance and diagnostics, safety and compliance, routing and dispatch, asset management, data analytics and reporting, and environmental impacts. Real-time tracking by smart fleet managers helps reduce idle time and transportation expenses, improving fleet management's operational effectiveness. This combines fleet tracking, real-time monitoring, a remote server specifically for fleet data, and security measures into one solution.
Technological advancement, cost reduction, environmental concerns, safety compliances, rising E-commerce businesses and delivery systems, global expansion, and integration with other systems are the factors that push the growth of the smart fleet management market. Innovation in the sector is still being driven by the development of new technologies like Internet of Things (IoT), telematics, AI, and machine learning. These technologies make better fleet management, optimization, and tracking possible.
Smart fleet management solutions can cut operating expenses by improving maintenance scheduling, lowering fuel usage, and optimizing routes. Businesses are implementing these solutions more frequently to boost their profit line. Making decisions based on data is getting more and more crucial. Solutions for fleet management offer insightful data and analytics that businesses can use to enhance their operations further.
In July 2022, Spinergie, a French startup, received €11 million in Series A funding as it set sail to dominate the maritime technology sector. The business is creating a smart fleet management platform focusing on the industry's need for emission reduction, vessel performance, and operation efficiency.
In June 2023, DFI, a leader in embedded motherboards and industrial computers, introduced the VC900-M8M, a new low-power, energy-saving vehicle system with the NXP I.MX8M processor, with an eye toward the smart transportation sector. Fleet managers may better control driving behavior, motion sensing, abrupt braking, and accident detection with an IMU with six axes. In order to supply automotive cybersecurity solutions and to create a more comprehensive vision of road safety and cybersecurity defense, they have also made the VicOne vehicle network security solution.
Smart Fleet Management Market Report Scope
| | |
| --- | --- |
| Report Coverage | Details |
| Market Revenue in 2023 | USD 279.8 Billion |
| Projected Forecast Revenue by 2032 | USD 814.37 Billion |
| Growth Rate from 2023 to 2032 | CAGR of 12.6% |
| Largest Market | Asia Pacific |
| Base Year | 2022 |
| Forecast Period | 2023 to 2033 |
| Regions Covered | North America, Europe, Asia-Pacific, Latin America, and Middle East & Africa |

Regional Snapshot
In 2022, Asia Pacific held the largest smart fleet management market share, and the region is expected to continue the trend in the coming years. The market for smart fleet management boomed in Asia Pacific with the adoption of connected vehicles, fleet operations cost optimization, and the expanding need for real-time tracking and monitoring systems that contributed massively to this growth. In recent years, smart fleet management with multiple technological advancements has been deployed in multiple sectors, including construction, public transportation, logistics and transportation, and government fleets.
Due to its massive population, a vast number of cars on the road, and a growing demand for effective transportation solutions, China has been a market leader in smart fleet management. Innovative fleet management solutions have been actively developed and implemented by Chinese businesses. China's fleet management systems are mainly generated due to political choices to track particular buses and trucks. Additionally, the country's explosive growth in e-commerce forces and presence of logistics companies has supplemented the adoption of smart fleet management to improve the effectiveness of fleet management and customer service by monitoring the status and information of their products.
Meanwhile, among the most popular fleet management concepts in Japan are elevated safety and sustainability. Government rules are crucial in this regard for boosting the nation's fleet management solutions market. Furthermore, a sizable portion of the global automobile market comprises Japanese producers. In addition, telematics industry leaders are expanding their business models to make them entirely available to OEMs. Therefore, these elements will hasten Asia-Pacific's market expansion.
With its headquarters in India, Tech Mahindra Limited offers business process outsourcing (BPO), networking technology solutions, and information technology (IT) services. The company primarily provides consulting, digital transformation, and business re-engineering solutions, including supply chain, digital enterprise, big data, cloud computing, device testing and certification. Moreover, the emergence of the Internet of Things (IoT) is supplementing the growth of the industry.
The OCTO Group has made a statement that it intends to operate in Singapore as part of its ongoing expansion in the Asia Pacific. Owing to this openness, the company will be able to contribute more to the growth of connected mobility in Asia Pacific. OCTO Telematics offers sophisticated telematics systems and smart analytics for insurance, fleet management, and smart mobility.
Bridgestone Asia Pacific announced the introduction of its cloud based Tirematics fleet management technology, with Singapore and Thailand serving as their pilot nations. Real-time tire pressure and temperature monitoring are made possible by Tirematics, which combines sensors with a cloud-based engine.
The Asia Pacific innovative fleet management market is widely spread with multiple players, including Denso Corporation, CarTrack Technologies Co. Ltd., ChainwayTSP Co. Ltd., Infineon Technologies AG, Zonar System, and Workwave LLC.
In September 2023, Denso Corp., a Japanese automotive technology provider, stated to invest $67 billion (about $10 trillion) in research and development over the following ten years to create cutting-edge technologies that address the dual problems of traffic fatalities and environmental pollution, claims that a sizeable percentage of the investment would go toward electrification and that it will continue to diversify its product line to meet the changing demands of the mobility ecosystem.
Market Dynamics
Drivers
Predictive maintenance
Smart fleet management systems use data analytics and predictive maintenance algorithms to find possible issues with vehicle maintenance and minimize downtime before they become expensive. Real-time monitoring of the status of machinery and vehicles is done with the help of IoT sensors. These sensors offer helpful information about things like fuel efficiency, tire pressure, and engine performance. Predictive maintenance algorithms analyze these data to look for patterns and anomalies that could indicate problems. To sustain daily operational tasks to maintain productivity, multiple end-users require predictive maintenance services, as the demand for such services rises, the market is expected to get accelerated.
Environmental benefits
Innovative fleet management solutions help minimize greenhouse gas emissions and reduce carbon footprint by optimizing routes and consuming less fuel, which aligns with sustainability objectives. Smart fleet management systems use real-time data and analytics to improve routes, cut down on idle time, and reduce inefficient driving practices. This results in less fuel use and greenhouse gas emissions. Some cutting-edge fleet management systems provide drivers with eco-driving education courses that teach them how to operate cars fuel-efficient and environmentally responsible.
Restraints
Maintenance and technical issues
Smart fleet management systems can develop technical issues and need routine maintenance like any other technology. Operations might be disrupted by downtime or malfunctions, which adds to the expense. GPS trackers, sensors, and onboard computers are examples of the hardware components of smart fleet management systems that are susceptible to failure for several reasons, including normal wear and use, exposure to hostile environments, or manufacturing flaws. It's crucial to do routine hardware maintenance and timely replacements. The battery in the vehicle serves as the primary power source for smart fleet management gear. Battery problems, such as dead or exhaust batteries may cause device failures. Regular battery maintenance and inspection are required.
Resistance to change
Smart fleet management systems may have a difficult time being successfully implemented as several employees and management are unwilling to adopt new technologies and modify long-standing habits. Resistance frequently results from misunderstandings or preconceptions about how smart fleet management operates. This problem can be solved by providing precise and accessible training and teaching on the advantages and application of these technologies.
Opportunities
Emergence of artificial intelligence
The emergence of artificial intelligence in smart fleet management is observed to offer significant growth opportunity for the smart fleet management market. While emphasizing on the data gathering and analyzing, the smart fleet management services require a reliable platform to manage massive databases. Artificial intelligence systems excel in this operation while offering precise decision-making support. The emergence of artificial intelligence is observed to improve vehicle uptime while minimizing the overall operational cost. Thereby, the technological upgradation in the industry will open a set of opportunities for the market to expand.
Competitive advantage
Modern telematics and internet of things (IoT) devices can give real-time data on vehicle performance, location, fuel consumption, and driver behavior in fleet vehicles. This information can aid route optimization, fuel cost reduction, and increased productivity. Adopting eco-friendly habits, such as utilizing electric or hybrid cars, which can result in lower operating costs and more sustainability. This can also be a competitive advantage in a market that places a growing emphasis on environmental responsibility. Thereby, the element is observed to offer opportunity for the market.
Recent Developments
In October 2023, launched by Kiepe Electric is the K-Charger, a mobile charger designed to work with the current power grid. The world debut of mobile high-power charging (mHPC) with the K-Charger, which can charge electric buses with up to 800 kW in just minutes, is scheduled to take place at Bus World Europe 2023.
In May 2023, Credit, a healthcare and diagnostics company known as C3 Logistics, announced that it is preparing to introduce India's most significant electric vehicle (EV) delivery fleet. The company will convert all 2500 of its vehicles to electric vehicles. The initiative aims to promote the healthcare sector's sustainability initiatives and reduce carbon emissions.
Major Key Players
Continental AG
Sierra Wireless
Cisco Systems, Inc.
Siemens AG
IBM Corporation
Tech Mahindra
Robert Bosch GmbH
Zonar Systems, Inc.
Market Segmentation
By Hardware
Remote Diagnostics
Tracking
Optimization
ADAS
By Transportation
Rolling Stock
Automotive
Marine
By Connectivity
Long Range Communication
Short Range Communication
Cloud
Buy this Research Report@ https://www.precedenceresearch.com/checkout/1058
You can place an order or ask any questions, please feel free to contact at sales@precedenceresearch.com | +1 9197 992 333