The global sphygmomanometer market size exceeded USD 2.4 billion in 2022 and it is expected to rake around USD 4.8 billion by 2030, poised to grow at a CAGR of 9.06% between 2022 and 2030.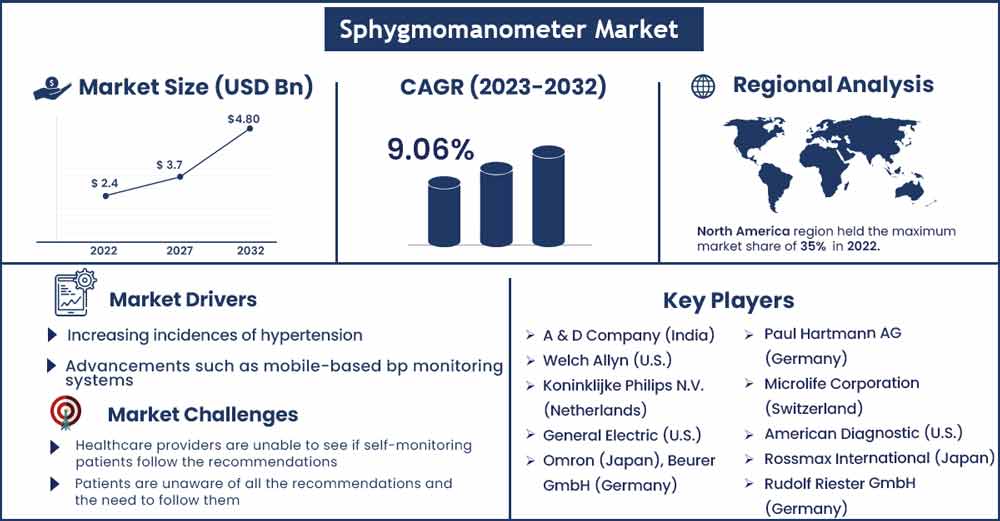 The rising number of persons suffering from blood-related diseases such as hypertension has boosted market growth.
The growing number of healthcare institutions and professionals worldwide in need of primary diagnostic equipment has increased the demand for and acceptance of sphygmomanometers. Recent technical breakthroughs and expanding improvements in these devices that provide convenient and exact readings will drive demand for sphygmomanometers. However, the phase-out of mercury blood pressure monitors due to the health risks they pose will be a market impediment.
COVID-19 will have a little beneficial influence on the sphygmomanometer market because patients with high blood pressure will be at a higher risk of infection due to the indirect transfer of viral infections. Blood pressure monitors are frequently used by healthcare practitioners and contain a variety of germs and bacteria that may be transferred through human skin. As a result, the ability to test and monitor one's own blood pressure without the danger of infection will increase market revenue.
Recent research and development efforts have resulted in the production of technologically sophisticated sphygmomanometers. Sphygmomanometers have long been used in patient care, and advances in these modalities have resulted in more efficient and accurate illness detection. Several oscillometric systems, which employ an electronic pressure sensor embedded in the blood pressure cuff, have been verified for reliable blood pressure measurement in healthcare settings. These sophisticated devices also eliminate human mistakes related with auscultation. As a result, recent breakthroughs in medical technology have opened the way for simple, low-cost digital blood pressure monitors that can even be used at home without specialist expertise or training.
Report Highlights:
Due to the increasing use of disposable blood pressure transducers, which are designed to provide constant and accurate observations of venous and arterial blood pressure assessments, the disposable blood pressure transducer size is expected to grow at the fastest CAGR of 10.5% during the forecast period.
Because the market is price sensitive, there is fierce rivalry. To stay competitive, corporations are using competitive strategies such as mergers and acquisitions, strategic alliances, collaborative agreements, and partnerships. Manufacturers' increasing investments in the production of cost-effective, innovative, and simple-to-use products are closely related to industry growth.
In 2022, the Digital Sphygmomanometer segment led the market, accounting for 36.4% of the total. This development can be ascribed to people's increasing health awareness, as well as the ease of use of equipment that are accurate, mercury-free, and operate automatically.
Ambulatory surgical centers, hospitals, clinics, and others are all part of the worldwide sphygmomanometer market. In 2022, the hospital sector led the market, accounting for 31.2% of the total. This expansion is related to increased acceptance of basic diagnostic technology as well as an increase in the number of physicians.
Sphygmomanometer Market Report Scope:
| | |
| --- | --- |
| Report Coverage | Details |
| Market Revenue in 2023 | USD 2.62 Billion |
| Projected Forecast Revenue in 2030 | USD 4.8 Billion |
| Growth Rate from 2022 to 2030 | CAGR of 9.06% |
| Largest Market | North America |
| Base Year | 2022 |
| Forecast Period | 2022 To 2032 |
| Regions Covered | North America, Europe, Asia-Pacific, Latin America, and Middle East & Africa |

Regional Snapshots:
North America held the largest market share in 2022, accounting for 35%. The region's growth can be ascribed to the region's well-established and strictly controlled healthcare system. Rising finance and demand for blood pressure monitors, particularly aneroid gauges, as a consequence of a rise in the number of hypertensive patients, are propelling the blood pressure monitoring devices market in this area forward. The presence of important businesses in the area, such as Omron Healthcare in the United States, is driving the development of the North American blood pressure monitoring devices market.
Furthermore, during the projected period, the Asia Pacific region is predicted to have the fastest CAGR rate. This growth might be attributed to factors such as fast financing by significant firms in the Asia Pacific emerging nations. The increased usage of aneroid gauges in healthcare institutions has increased the incidence of hypertension, and growing awareness about high blood pressure is supporting the growth of the Asia Pacific blood pressure monitoring devices market.
Market Dynamics:
Drivers
Because aneroid blood pressure gauges do not contain mercury, they may be utilized. Despite the fact that modern aneroid gauges are typically precise and reliable, users should keep in mind that their efficient operation is heavily reliant on frequent inspection. An aneroid gauge measures pressure by bending a membrane on the meter's interior. In busy hospital situations where apparatus must be robust, Welch Allyn aneroid sphygmomanometers with shock-resistant DuraShock® technology maintain blood pressure gauges firmly accurate and calibrated longer than ordinary aneroid sphygmomanometers. The advanced gear-free technology utilized in Welch Allyn DuraShockTM blood pressure gauges is the first significant advancement in aneroid technology in a century. Precision blood pressure readings may be maintained at a cheaper lifetime cost using Welch Allyn DuraShock Technology.
Aside from developments in aneroid gauges, digital health technologies are propelling the worldwide blood pressure monitoring devices market ahead. Portable smartphone forearm blood pressure monitors, remote monitoring technologies, cuffless blood pressure sensors, and user-friendly mobile apps are examples of hypertension-related digital health innovations. Through increased contact with physicians and medication reminder notifications, these technologies have the potential to improve hypertension management and drug adherence.
Valencell announced in January 2022 that their groundbreaking calibration-free, cuffless blood pressure technology for wearables could now be utilised in wrist and finger devices. The technology, which extends cuff-like blood pressure accuracy to other parts of the body, is likely to be accessible in hearing aids, hearables, and other ear-based devices in the near future. Smartwatches, patches, fitness bands, and finger clip pulse oximeters are just a few of the emerging technology-enabled device form factors. Increasing hypertension-related improvements will boost the growth of the blood pressure monitoring devices market over the forecast period.
Restraints
The market's growth is being slowed by a lack of competent professionals in fixing system breakdowns in real-time applications. Another factor inhibiting market development is a lack of consistency. Some advanced-featured gadgets are a touch pricey, which continues to be a hurdle for market development. When it comes to approving new devices, the government's strict laws and regulations limit the market for blood pressure monitoring equipment.
Opportunities
Chronic disorders, such as hypertension, are becoming more frequent across the world. According to the Pan American Health Organization, hypertension will affect more than 30% of adults globally by 2022. Furthermore, many governments, as well as commercial healthcare sectors, are aggressively encouraging hypertension management awareness. This is leading to an increase in self-diagnosis and routine check-ups among the general people, which is increasing demand for such devices. To address this unmet requirement, leading market players are introducing new technologies with expanded functionality, such as Bluetooth data transfer.
Challenges
Current devices do not ensure that the recommendations are followed; healthcare providers are unable to see if self-monitoring patients follow the recommendations; patients are unaware of all the recommendations and the need to follow them; and the risks of healthcare provider-activated data transfer bias, patient-activated reporting bias, and data being recorded are all challenges of blood pressure self-management. These challenges are impeding the growth of the blood pressure monitoring device market.
Recent Developments:
In January 2020, Spengler joined with Holtex to become a major medical equipment company. This transaction is projected to enhance the firm's distribution and sales network and generate business income.
OMRON Healthcare launches HeartGuid, a wearable pressure monitor, in January 2019 to expand and strengthen an existing portfolio by providing growth prospects to the organisation through innovation.
Major Key Players:
A & D Company
Welch Allyn
Koninklijke Philips N.V
General Electric
Omron (Japan), Beurer GmbH
Paul Hartmann AG
Microlife Corporation
American Diagnostic
Rossmax International
Rudolf Riester GmbH
Briggs Healthcare
Terumo Corporation
Market Segmentation:
By Product
Electronic Sphygmomanometer
Aneroid Sphygmomanometer
Mercury Sphygmomanometer
By Operation
Electric
Manual
Automatic
Semi-automatic
By Configuration
Portable
Desk Mounted
Floor Standing
Wall Mounted
By End-User
Hospitals
Ambulatory Surgical Centers & Clinics
Home Healthcare
Others
Buy this Research Report@ https://www.precedenceresearch.com/checkout/2233
You can place an order or ask any questions, please feel free to contact at sales@precedenceresearch.com | +1 9197 992 333