The global sphygmomanometer market size was valued at USD 2.9 billion in 2022 and is expected to hit around USD 6.71 billion by 2032, growing at a notable CAGR of 8.8% from 2023 to 2032. The rising number of persons suffering from blood-related diseases such as hypertension has boosted market growth.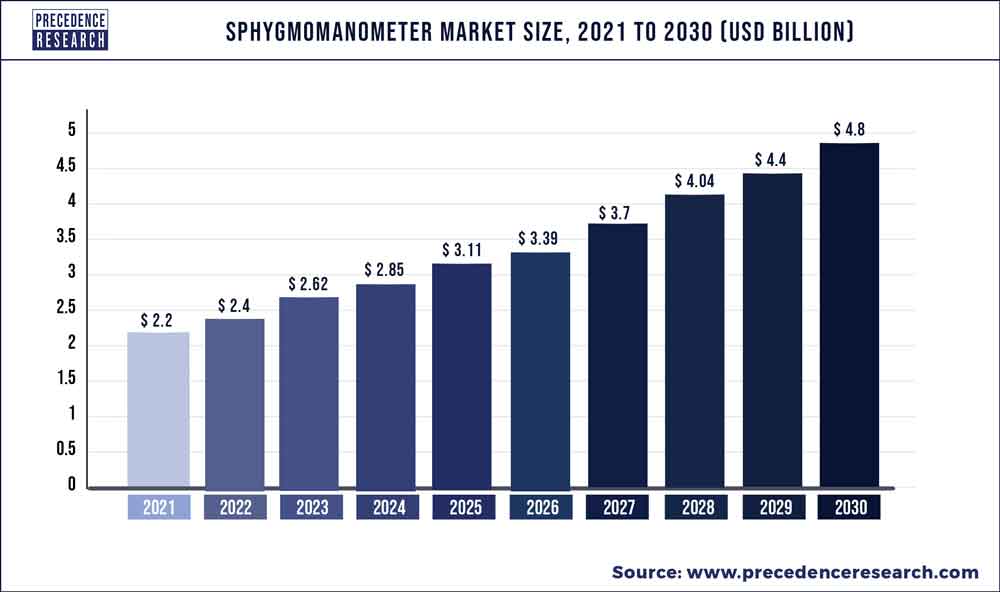 Access our Premium Real Time Data Intelligence Tool, Visit: Precedence Statistics
Key Takeaways:
By product, the electronic sphygmomanometer segment held the highest share of over 37.6% in 2022.
By operations, the manual segment held the highest market share of over 33.6% in 2022.
By configuration, the portable segment accounted for 29.8% in the year 2022.
By end-user, hospitals segment has contributed 31.9% of the market share in 2022.
North America region has captured a major revenue share of 34.2% in 2022.
A sphygmomanometer is a device used to measure blood pressure by detecting the force of the blood in the heart. For individuals with heart problems, it is critical to monitor blood pressure with a sphygmomanometer. A single device may measure many metrics, including pulse rate and heartbeat rate, in addition to blood pressure. Sphygmomanometers are cheap, long-lasting, lightweight, and portable. The rising prevalence of chronic disorders such as hypertension and ischemic heart disease is propelling the industry forward.
The sphygmomanometer is made up of a rubber cup wrapped around the arm, a bulb to inate the cup, a valve to release the pressure, and a measuring device to measure the pressure of the cup. An oscillometric measuring method is used by a digital or electronic sphygmomanometer. It is simple to use, battery-powered, automated, and devoid of mercury. Manual, automated, wrist, upper arm, neonatal, and paediatrics sphygmomanometers are examples of digital sphygmomanometers. Wrist and automated digital sphygmomanometers are the most regularly utilised.
The rise in the incidence of chronic illnesses such as diabetes, hypertension, and ischemic heart disease is one of the primary reasons driving market expansion. According to the World Health Organization (WHO), an estimated 1.13 billion people worldwide had hypertension in 2019, and cardiovascular disease (CVDs) is the leading cause of mortality worldwide, claiming an estimated 17.9 million lives per year.
Long-term blood pressure management and monitoring is required for individuals at risk of cardiovascular problems; this factor is expected to drive market growth throughout the forecast period. Furthermore, technological improvements in the manufacture of mobile and wireless sphygmomanometers are expected to propel market expansion during the forecast period. The overall market development may be ascribed to expanding healthcare awareness, an ageing population, and technological improvements.
Furthermore, increased activities by governmental and private organisations to enhance healthcare throughout the world are fueling the market's rise.
Growth Factors
The global sphygmomanometer market is predicted to develop significantly as a result of the evolution of improved sphygmomanometers, rising innovations in sphygmomanometer devices, and increased usage of sphygmomanometer for self-monitoring to limit the risk of infection. The market will be hampered by a decline in the use of mercury thermometers and an increase in the use of blood pressure monitors by healthcare providers that carry numerous diseases and germs. The development of a cloud-based healthcare system is a component generating market growth opportunities.
Report Scope of the Sphygmomanometer Market
| | |
| --- | --- |
| Report Coverage | Details |
| Market Size in 2023 | USD 3.14 Billion |
| Market Size by 2032 | USD 6.71 Billion |
| Growth Rate from 2023 to 2032 | CAGR of 8.8% |
| Base Year | 2022 |
| Forecast Period | 2023 to 2032 |
| Segments Covered | Product, Operation, Configuration, End User, and Geography |
| Companies Mentioned | A & D Company (India), Welch Allyn (U.S.), Koninklijke Philips N.V. (Netherlands), General Electric (U.S.), Omron (Japan), Beurer GmbH (Germany), Paul Hartmann AG (Germany), Microlife Corporation (Switzerland), American Diagnostic (U.S.), Rossmax International (Japan), Rudolf Riester GmbH (Germany), Briggs Healthcare (U.S.), Terumo Corporation (Japan) |

Key Market Drivers
Increasing incidences of hypertension
Increasing prevalence of hypertension as a result of changing lifestyles is the primary factor driving industry expansion during the anticipated period. According to a World Health Organization (WHO) report published in 2019, around 1.28 billion individuals worldwide suffered from hypertension, which is a major cause of early mortality. The demand for blood pressure monitors is quite strong due to the expanding senior population base and the increased risk of lifestyle-related illnesses across a broad population base due to rising obesity and sedentary lifestyle rates.
Blood pressure should be monitored twice daily for seven consecutive days, preferably in the morning and evening, with two measurements taken 1-2 minutes apart on each occasion, according to the American Heart Association and the American Society of Hypertension, as well as the European Society of Hypertension and the National Institute for Health and Care Excellence (NICE), fueling demand for BP monitors.
Advancements such as mobile-based bp monitoring systems
Advances such as mobile-based blood pressure monitoring devices and digital sphygmomanometers are expected to stimulate demand. Wearable and portable blood pressure measurement devices, as well as mobile phones, are gaining popularity due to related benefits such as wireless transfer of patient information and ease of use. New technologies, such as mHealth, which assists patients with treatment and medication adherence in chronic illness management, are expected to boost market expansion. It aids in the tracking of the patient's health information, prescription regimen, and therapy follow-up. These connected benefits are some of the variables that are projected to drive corporate growth.
The growing global incidence of hypertension has resulted in an increase in the demand for home monitoring devices over time. Furthermore, connected benefits with automated equipment such as repeated blood pressure measures to ensure accuracy and a prohibition on mercury devices are factors driving the worldwide blood pressure monitoring devices market expansion. Self-measurement devices are expected to expand in popularity throughout the projection period due to related benefits such as improved monitoring, detection, and control. For the monitoring of blood pressure, automated blood pressure monitors are available in a variety of configurations, including the arm, wrist, and fingers.
Key Market Challenges
Lack of skilled professionals-: Over the projection period, the aneroid sphygmomanometer market may be hampered by a shortage of skilled staff that is unable to operate this equipment.
Also, despite the increased frequency of the disorders, the expensive cost of these devices may impede the growth of the worldwide aneroid sphygmomanometer market.
Key Market Opportunities
Increase in healthcare professionals: Sphygmomanometers are now used by practically all doctors and nurses to treat patients. According to a recent Athena Health report, the overall number of doctors in the United States has expanded by around 150% over the previous several decades. With a rise in the number of doctors, there is a greater need for and adoption of basic diagnostic equipment, such as blood pressure monitors.
Segments Insight
Product Insights
Due to its increasing demand in 2022, aneroid BP monitors/sphygmomanometers segment has held highest market share at more than 42.0%. Technological developments, together with new product introductions, are projected to increase global demand for sphygmomanometers. Demand for digital sphygmomanometers is predicted to grow at a rapid pace due to benefits such as accuracy and convenience of use.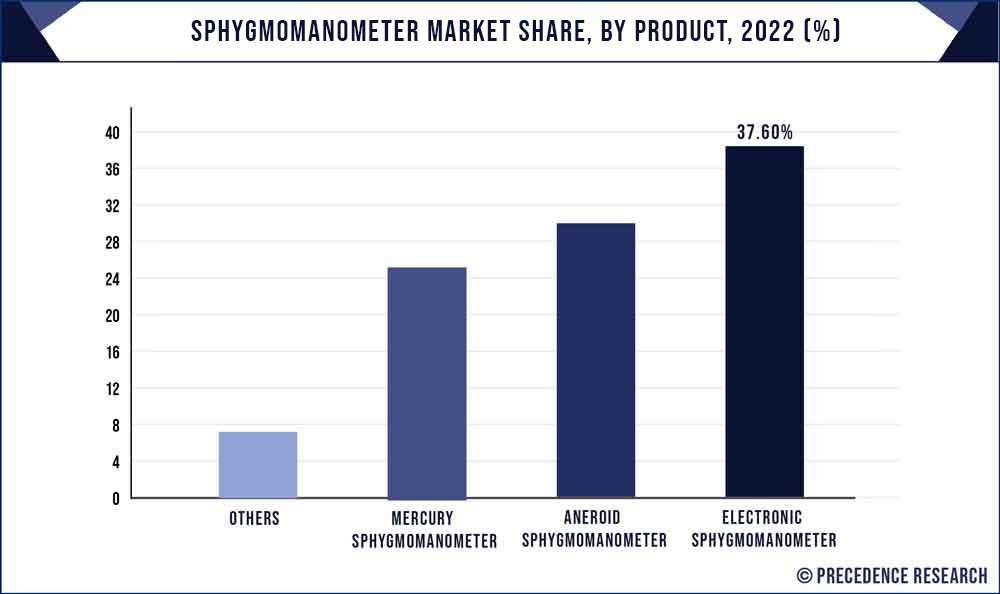 Furthermore, continual technical advancements in the consumer healthcare segment, such as innovations in wearable technology, applications, and mobiles, the falling average selling price for retailers and manufacturers, and increased penetration in the professional market, are driving company expansion. Microlife WatchBP home A, QardioArm, LifeSource Sophisticated one-step auto inflate blood pressure monitor, and Omron healthcare's iHealth blood pressure monitor are examples of technologically advanced digital BP monitors on the market.
Blood pressure cuffs are predicted to expand at a substantial rate throughout the forecast period, owing to increased use of blood pressure monitors and the rising prevalence of high blood pressure. These cuffs are available in a variety of sizes depending on the patient. There are two sorts of cuffs on the market: disposable and reusable. The disposable category, in particular, is expected to rise at a rapid CAGR due to rising use of eco-friendly goods and growing worry over hospital-based cross-contamination occurrences.
End-user Insights
The end-use categories examined in the blood pressure monitoring devices market include hospitals and clinics, ambulatory surgery centres, and home healthcare. Due to the availability of a broad patient pool, hospitals and clinics accounted for the biggest revenue share as of 2022. The desire for cost-effective, quick, and accurate diagnostic tools for better health outcomes is driving the use of blood pressure monitoring devices.
Over the projection period, home healthcare is expected to grow at a healthy CAGR of roughly 12.6%. The cost-effectiveness of this alternative option for BP monitoring, along with the availability of smart wearables that allow mobility, is projected to fuel expansion. As a result, the trend toward independent living is likely to push the home healthcare industry. Ambulatory blood pressure monitoring (ABMP) is a method of measuring out-of-office blood pressure measurements at defined time intervals during a 24-hour period. ABPM provides a more accurate technique of predicting long-term cardiovascular disease outcomes.
Sphygmomanometer Market Share, By Region, 2022 (%)
| | |
| --- | --- |
| Regions | Revenue Share in 2022 (%) |
| North America | 34.2% |
| Asia Pacific | 25% |
| Europe | 28% |
| Latin America | 8% |
| MEA | 4.8% |

Regional Insights
Because of its highly regulated and established healthcare system, North America held the greatest revenue share of more than 34.2% in 2022. Increasing investments in the development of accurate and effective BP monitors is projected to contribute to the growth of the blood pressure monitoring device business in the future years. Furthermore, new product releases and technology improvements are projected to fuel market expansion. For example, Hillrom announced the commercial debut of the Welch Allyn Spot Vital Signs 4400 in February 2020, which is an easy-to-use next-generation vital signs equipment designed to enhance hypertension identification in ambulatory and emergency department settings.
Asia-Pacific, on the other hand, is predicted to rise rapidly throughout the forecast period due to the availability of unexplored potential, rising hypertension prevalence and rising awareness levels. Rapidly improved healthcare facilities, as well as an increase in the number of misdiagnosed driving regional market expansion. Government attempts to raise public awareness, as well as a fast rising target disease population base, are all contributing to the lucrative growth of the BP monitoring devices market in this area.
For example, in May 2018, the Indian Council of Medical Research (ICMR) launched the "May Measurement Month 2018" campaign in partnership with the Public Health Foundation of India to raise awareness about blood pressure, which is the main cause of mortality and morbidity in India.
Recent Developments
February 2019: PhysIQ Inc. and Omron Healthcare have agreed into a cooperation agreement to integrate Omron's HeartGuide wearable blood pressure monitor into the pinpointIQ platform, which is utilised in outpatient clinics. Such efforts are projected to create profitable potential in this industry.
January 2020: Spengler and Holtex merged to become a major medical equipment firm. The acquisition is projected to improve the company's sales and distribution network as well as its commercial earnings.
Market Segmentation
(Note*: We offer report based on sub segments as well. Kindly, let us know if you are interested)
By Product
Electronic Sphygmomanometer
Aneroid Sphygmomanometer
Mercury Sphygmomanometer
By Operation
Electric
Manual
Automatic
Semi-automatic
By Configuration
Portable
Desk Mounted
Floor Standing
Wall Mounted
By End-User
By Geography
North America
Europe
Asia-Pacific
Latin America
Middle East & Africa (MEA)