The global target sequencing and resequencing market size is anticipated to reach around USD 45.72 billion by 2032 up from USD 5.74 billion in 2022 with a CAGR of 23.06% between 2023 and 2032.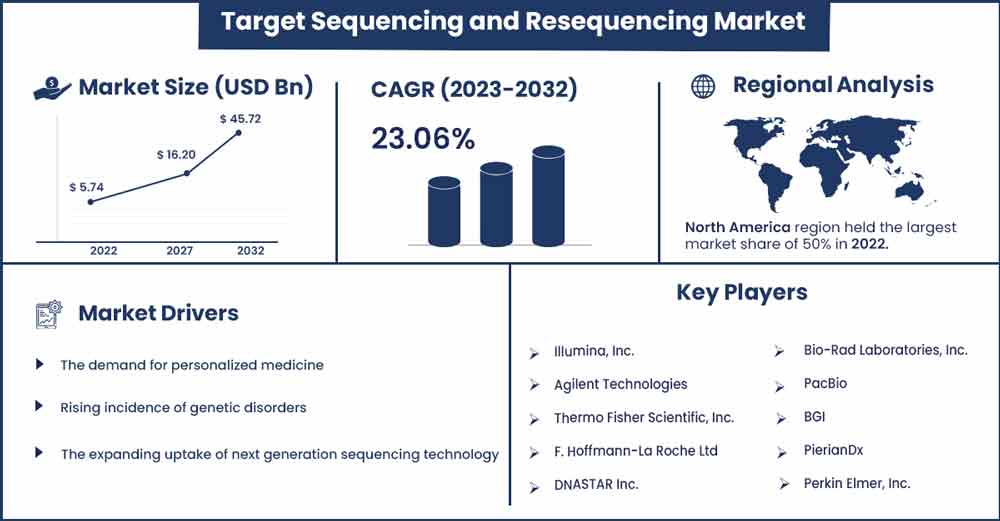 Targeted sequencing, often known as resequencing, is a technique for sequencing a sample's partial genome or specific sections of interest. It needs a pre-sequencing DNA preparation stage called Target Enrichment in which target DNA sequences are either amplified (using amplicon or multiplex PCR-based methods) or captured (using hybrid capture-based methods), and then afterwards sequenced using DNA sequencers.
Market Overview
Targeted resequencing and sequencing were estimated at USD 5.08 billion globally in 2022. From 2023 to 2030, the market is projected to expand at a CAGR of 22.59%. Compared to WES and whole genome sequencing, these technologies have a higher rate of market penetration and have been around for a longer period of time. Moreover, one of the factors promoting the market's expansion is the existence of a sizable number of market participants engaged in offering services for targeted sequencing.
The COVID-19 outbreak has had a beneficial effect on the market since genome sequencing has been used widely to study how COVID-19 spread and has the ability to help determine how interventions will affect future therapies. It is a quick and affordable method for detecting a variety of variations in particular genomic areas. In comparison to survey methods such as WGS, it offers an accurate analysis of the results and prevents the erroneous interpretation of data sequencing.
Moreover, a number of businesses provide targeted resequencing and sequencing services. For instance, Pacific Biosciences of California provides Sequel System, an SMRT technology that enables the targeted sequencing of variations, and Illumina of California provides targeted resequencing with the company's gene panel and array finder. Targeted sequencing panels are an economical method for giving doctors access to clear and useful information. These panels are predicted to remain the cornerstone of cancer molecular diagnostics and to be used often in the detection of solid tumours and haematological malignancies.
Regional Insights
North America is the largest market for target sequencing and resequencing, driven by the presence of major companies in the region and the increasing adoption of NGS technologies in research and clinical applications. The US is the largest market in the region, followed by Canada.
The Asia-Pacific region is the fastest-growing market for target sequencing and resequencing, driven by the increasing adoption of NGS technologies in research and clinical applications, as well as the growing prevalence of genetic disorders in the region. China, Japan, and India are the largest markets in the region.
Europe is the second-largest market for target sequencing and resequencing, driven by the growing demand for personalized medicine and the increasing prevalence of genetic disorders. The Middle East and Africa are emerging markets for target sequencing and resequencing, driven by the growing demand for precision medicine and the increasing adoption of NGS technologies in the region. South Africa, Saudi Arabia, and the UAE are the largest markets in the region.
Target Sequencing and Resequencing Market Report Scope:
| | |
| --- | --- |
| Report Coverage | Details |
| Market Revenue in 2023 | USD 7.06 Billion |
| Projected Forecast Revenue by 2032 | USD 45.72 Billion |
| Growth Rate from 2023 to 2032 | CAGR of 23.06% |
| Largest Market | North America |
| Base Year | 2022 |
| Forecast Period | 2023 to 2032 |
| Regions Covered | North America, Europe, Asia-Pacific, Latin America, and Middle East & Africa |

Report Highlights
By technology, at 71.54% of the market, the sequencing industry dominated the target sequencing and resequencing market share in 2022. Applications for sequencing are expanding, including liquid biopsy and average risk NIPT. Illumina has announced a number of oncology agreements to expand the market and usage of its TruSight assay of Oncology pan-cancer.
By application, because of the increasing incidence of chronic illnesses and the Somatic Reference Samples Initiative, the clinical application segment is the main market for target sequencing and resequencing. The drug development industry will expand profitably in the years to come.
By type, while RNA-based targeted sequencing saw substantial growth as a result of the usage of Amplicon RNA-Seq innovation for targeted RNA sequencing for illnesses such as Schizophrenia, DNA-based targeted sequencing continued to hold the majority of the market share in 2022.
By end-use, the employment of NGS solutions in research studies and the accessibility of scholarships for PhD studies were the two factors that contributed to the academic study segment having the biggest market share in 2022. Due to a growth in NGS services and the provision of clinical services by leading market players like Illumina, the segment of hospitals and clinics is anticipated to grow.
Market Dynamics
Drivers
Technological advancements in genome sequencers and the increasing use and adoption of NGS technology
The market is anticipated to grow due to the ongoing technological advancements in genome sequencers and the widespread use and adoption of NGS technology. Additionally, the growing use of NGS in molecular diagnostics and precision medicine is expected to open up new market expansion prospects. Along with noninvasive prenatal testing, pharmacogenomics, and transplant medicine, NGS is anticipated to experience growing adoption in treating various diseases and infectious diseases.
The two most frequent uses of NGS sequencers in a pathology lab are targeted gene expression profiling and gene panels via qPCR. While oncology continues to be the main application of NGS in clinics, pathologists anticipate using it in other fields in the upcoming years. During the forecast period, these factors are expected to spur product demand over the forecast.
Challenges
The ongoing accumulation of significant amounts of sequencing raw data, which must still be properly translated and analysed in order to advance research, diagnose, and treat diseases on a larger scale, is one of the issues the genomics community faces. A whole approach of genome sequencing can only be applied practically in particular situations, such as population genetics, basic research, or the detection of rare diseases, even with today's lower sequencing prices. Understanding disease development and guiding therapy selection in a clinical scenario or DNA samples of massively screening in industrial applications would benefit more from a focused or targeted approach.
Recent Developments
In 2021, Qiagen and Illumina announced a collaboration to develop NGS-based in vitro diagnostic tests.
At the Illumina genomics summit in October 2022, the NovaSeq X, which can process around 20,000 entire genomes yearly on a single platform, was announced. This novel technique contains 10 billion flow cells. With 2150 base pair readings, it can generate 6 GB of data.
F. Hoffmann-La Roche AG unveiled the AVENIO Edge System in December 2021 to speed up the robotic processing of NGS samples and advance precision medicine.
Major Key Players
Illumina, Inc.
Agilent Technologies
Thermo Fisher Scientific, Inc.
F. Hoffmann-La Roche Ltd
DNASTAR Inc.
Bio-Rad Laboratories, Inc.
PacBio
Integrated DNA Technologies, Inc.
RainDance Technologies, Inc.
Perkin Elmer, Inc.
BGI
PierianDx
Genomatix GmbH
GATC Biotech Ag
Macrogen, Inc.
QIAGEN
Oxford Nanopore Technologies
Market Segmentation
By Technology
Sequencing
Re-sequencing
Electrophoresis-based resequencing
NGS
Array-based resequencing
By Application
Clinical application
Plant and animal sciences
Drug development
Others
By Type
DNA-based targeted sequencing
RNA-based targeted sequencing
By End-Use
Hospitals & clinics
Academic research
Others
Buy this Research Report@ https://www.precedenceresearch.com/checkout/2792
You can place an order or ask any questions, please feel free to contact at sales@precedenceresearch.com | +1 9197 992 333