The global target sequencing and resequencing market size was reached at USD 5.74 billion in 2022 and is projected to hit around USD 45.72 billion by 2032, poised to grow at a CAGR of 23.06% during the forecast period from 2023 to 2032.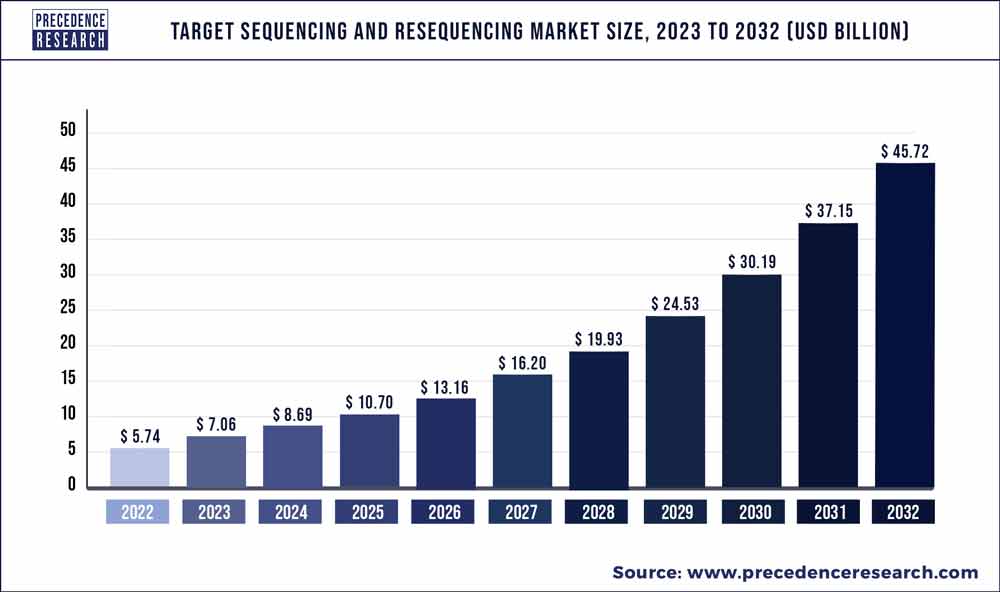 Key Takeaways:
North American region dominated the market and generated more than 50% of the revenue share in 2022.
By Technology, the sequencing segment contributed more than 72% of revenue share in 2022.
By Application, the clinical segment dominated the market in 2022.
By Type, the DNA-based segment captured for the maximum market share in 2022.
By End-use, the academic study segment generated more than 50% of the revenue share in 2022.
Market Overview:
Targeted sequencing, often known as resequencing, is a technique for sequencing a sample's partial genome or specific sections of interest. It needs a DNA preparation pre-sequencing stage called Target Enrichment in which target DNA sequences are either amplified (using amplicon or multiplex PCR-based methods) or captured (using hybrid capture-based methods), and then afterward sequenced using DNA sequencers.
The market is anticipated to increase as a result of the ongoing technological advancements in genome sequencers and the widespread use and adoption of NGS technology. Additionally, it is projected that the growing use of precision medicine and next-generation sequencing (NGS) in molecular diagnostics would open up new market expansion prospects.
Together with transplant medicine, invasive prenatal testing, and pharmacogenomics, NGS is anticipated to see growing use in the treatment of numerous medical conditions and infectious diseases. Targeted gene panels and qPCR-based gene expression profiling continue to be the two most popular uses for sequencers of NGS in a pathology lab. NGS is still primarily used in oncology in clinics, although pathologists anticipate using it in other settings as well in the upcoming years. These elements should accelerate market expansion during the anticipated time frame.
Growth Factors:
The increased use of NGS for a variety of purposes, such as illness diagnosis, medication development, and research applications, is responsible for the rise of the targeted sequencing and resequencing industry as a whole.
Due to the rise in genome sequencing applications in fields including cancer research, microbial research, and human genetics, sequencing technology dominated the market.
In 2022, the clinical application segment had a sizable proportion. Targeted sequencing has been widely used in clinical trials and research to categorise patients and produce targeted treatments.
In the upcoming years, the drug development category is anticipated to have a sizable market share. The drug development procedure requires a variety of levels of genomic data, including genetic modification, epigenetic modifications, and transcriptome measurement and profiling, among others.
Hospitals and clinics are anticipated to have a sizable market share during the projection period. This is a result of doctors using NGS more frequently to check for copy number alterations, mutations, and gene fusions in several genes.
In 2022, the targeted resequencing and sequencing market was dominated by North America thanks to the presence of major firms and supportive government initiatives for greater usage of NGS technologies.
Report Scope of the Target Sequencing and Resequencing Market:
| | |
| --- | --- |
| Report Coverage | Details |
| Market Size in 2023 | USD 7.06 Billion |
| Market Size by 2032 | USD 45.72 Billion |
| Growth Rate from 2023 to 2032 | CAGR of 23.06% |
| Largest Market | North America |
| Base Year | 2022 |
| Forecast Period | 2023 to 2032 |
| Segments Covered | By Technology, By Application, By Type, and By End-Use |
| Regions Covered | North America, Europe, Asia-Pacific, Latin America and Middle East & Africa |

Market Dynamics:
Drivers:
The demand for personalized medicine, the rising incidence of genetic disorders, and the expanding uptake of NGS (Next Generation Sequencing) technology are some of the drivers that are driving demand for targeted sequencing and resequencing. Due to the rising need for precision medicine and the accessibility of cutting-edge sequencing technologies, the market is anticipated to expand over the next years.
Restraints:
The high cost of data analysis and sequencing is one of the biggest problems facing the targeted resequencing and sequencing sector. Nonetheless, it is anticipated that the development of new technology for sequencing and bioinformatics tools would address these issues and spur market expansion.
Impact of Covid-19:
The potential use of NGS diagnostic technology was to identify a virus' genomic sequence and aid researchers in understanding how the virus changed. Government agencies from all over the world are continuously collaborating with the corporate sector to introduce NGS technology as a viable diagnostic tool to the market during the COVID-19 pandemic.
For the first COVID-19 diagnostic test using NGS technology, Illumina Inc. received an emergency use authorization (EUA) from the United States Food and Drug Administration in 2020. To detect SARS-CoV-2 RNA qualitatively, the FDA has authorized the Illumina COVID Seq Test.
Segments Insight:
Technology Insights:
In 2022, the targeted resequencing and sequencing market share was dominated by the sequencing sector with 72% of the market. More businesses are integrating NGS into clinical applications as costs of sequencing continue to drop and throughput capability improves. Sequencing is continuing to gain traction in several applications. Hence, market prospects in applications like average risk NIPT and liquid biopsy are anticipated to promote continued rapid NGS penetration in the clinical context in the upcoming years.
To increase the reach and use of its TruSight Oncology pan-cancer assay, Illumina announced several oncology agreements including Merck, Kura Oncology, Myriad Genetics, and Bristol-Myers Squibb in January 2021.
The re-sequencing market is anticipated to expand significantly throughout the forecast period. Next-generation sequencing is used in targeted approaches, which allow researchers to concentrate resources like money and time on particular study areas of interest.
Application Insights:
In 2022, the market for targeted resequencing and sequencing was dominated by the clinical application sector. The prevalence of chronic diseases like cancer, infectious diseases, and diabetes is rising, which is driving demand for NGS technologies and related data analytic tools. The Somatic Reference Samples (SRS) initiative, which the medical device innovation consortium (MDIC) started in August 2022, aims to verify and create publicly available genomic datasets and samples that are clinically relevant to advance NGS-based cancer diagnostics.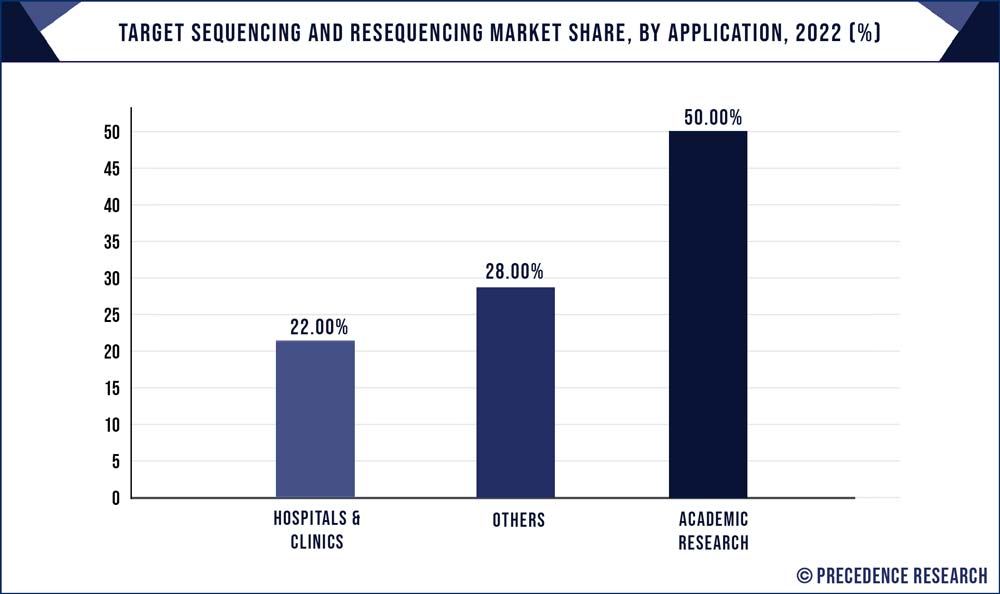 In the upcoming years, it is anticipated that the drug development sector will experience profitable expansion. The segment's development has been facilitated by a number of market participants advancements. For instance, QIAGEN and Neuron23 worked together in September 2022 to create NGS companion diagnostics for a drug used to treat Parkinson's disease.
Type Insights:
The targeted resequencing and sequencing market share held by the DNA-based category was the largest in 2022. Sequencing panels that are DNA-based targeted comprise key genes or gene regions linked to a phenotype or disease and are predesigned. The targeted gene panels minimise the need for data analysis by focusing on the genes that are most likely to take part in a given situation. Due to the greater use of targeted gene panels, DNA-based targeted sequencing attributed a bigger share in comparison to RNA-based targeted sequencing.
Due to the increasing demand for analysis of differential expression, the RNA-based segment is anticipated to experience significant expansion over the projected time frame. The estimated market share can be ascribed to the use of RNA-Seq technology, Amplicon, for targeted RNA sequencing for the detection of Schizophrenia and other disorders.
End-Use Insights:
In 2022, the academic study segment had the highest market share, at 50%. The sizeable share of this market can be ascribed to the use of NGS solutions in research studies that are conducted in universities and research facilities. Furthermore, it is expected that the availability of scholarships for PhD studies in NGS will increase demand for NGS-related goods and services.
The category of hospitals and clinics is predicted to experience significant expansion as more individuals choose individualized care. The segment has grown as a result of an increase in the use of NGS services in clinics and hospitals to gauge the degree of disease progression and scale up the ideal treatment plan for chronic illnesses. In the upcoming years, it is projected that the provision of clinical services by top market players like Illumina, which comprises molecular diagnostic testing for cystic fibrosis, tests that are CLIA-certified for predisposition screening, and postnatal cytogenetics, would increase revenue.
Regional Insights:
With a market share of 50% in 2022, the targeted resequencing and sequencing market was dominated by the North American region. The expansion of the regional market has been aided by the existence of industry participants like Illumina, Roche, and Life Technologies, who are engaged in the development of quick and high-throughput sequencing capabilities. These firms are engaging in a number of tactical attempts to increase their presence in the market in the nation.
By advancing the commercialization and clinical validation of specific immunology diagnostic tools, NGS, and mass spectrometry, for instance, Mayo Clinic and Thermo Fisher worked together to bring revolutionary solutions to patients in April 2021.
Due to rising R&D spending and the availability of cutting-edge technologies for drug discovery and development, the Asia Pacific market is predicted to experience the quickest rate of growth in the coming years. Also, there has been tremendous potential for growth due to breakthroughs in China and Japan that integrate NGS technologies with frameworks of clinical development from growing nations like Australia and India. Illumina stated in August 2022 that it was developing a new manufacturing facility in China to produce gene sequencing products as part of an effort to increase its regional presence.
Recent Developments:
The NovaSeq X, which can process about 20,000 whole genomes annually on a single platform, was unveiled at the forum of Illumina genomics in October 2022. There are 10 billion flow cells in this innovative technology. It will produce 6 TB of data when operated at 2150 base pair reads.
The AVENIO Edge System was introduced by F. Hoffmann-La Roche AG in December 2021 to streamline the NGS sample automation processing and promote precision medicine.
Illumina and Geneseeq worked together in March 2021 to create and market IVD NGS kits for cancer treatment in China. Using Illumina's NextSeq 550Dx sequencing equipment, which was authorised by China's NMPA, this innovative kit was created (National Medical Products Administration).
A cooperation between Genomic Testing Cooperative (GTC) and Hackensack Meridian Health was formed in March 2021 in order to launch an RNA and DNA sequencing lab in the United States with an oncology focus. NGS will be performed by this laboratory, Anthology Diagnostics, using DNA/RNA from tumour samples and cell-free DNA from samples of liquid biopsy.
Key Market Players:
Illumina, Inc.
Agilent Technologies
Thermo Fisher Scientific, Inc.
F. Hoffmann-La Roche Ltd
DNASTAR Inc.
Bio-Rad Laboratories, Inc.
PacBio
Integrated DNA Technologies, Inc.
RainDance Technologies, Inc.
Perkin Elmer, Inc.
BGI
PierianDx
Genomatix GmbH
GATC Biotech Ag
Macrogen, Inc.
QIAGEN
Oxford Nanopore Technologies
Segments Covered in the Report:
(Note*: We offer report based on sub segments as well. Kindly, let us know if you are interested)
By Technology
Sequencing
Re-sequencing

Electrophoresis-based resequencing
NGS
Array-based resequencing
By Application
Clinical application
Plant and animal sciences
Drug development
Others
By Type
DNA-based targeted sequencing
RNA-based targeted sequencing
By End-Use
Hospitals & clinics
Academic research
Others
By Geography
North America
Europe
Asia-Pacific
Latin America
The Middle East and Africa