The global veterinary dermatology drugs market size surpassed USD 6.88 billion in 2022 and it is projected to attain around USD 16.51 billion by 2032, poised to grow at a CAGR of 9.2% from 2023 to 2032.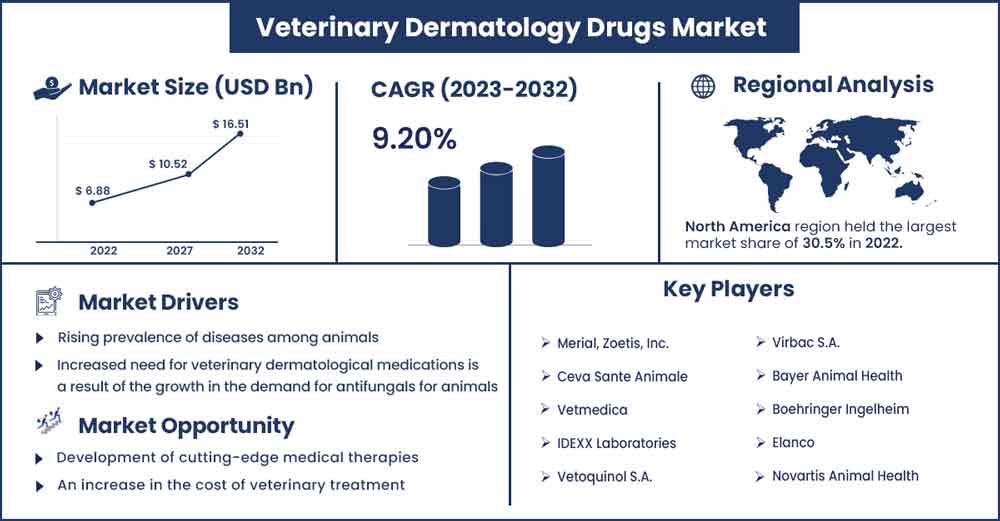 Drugs for veterinary dermatology are used to treat skin problems in both cattle and companion animals. The three types of veterinary dermatological medications are: antibacterial, antifungal, and antiphrastic. These medications can be used to treat a variety of skin conditions, including parasite infections, infectious illnesses, and skin cancer. These skin conditions affect a large number of animals worldwide. Both tiny and large animals can have skin conditions, thus it is important to take medications to prevent infection. Otitis externa, allergies, etc. are among the most prevalent dermatological disorders. These medications were created using established techniques with the goal of treating this illness more quickly.
The expansion of the geographical spread of parasites and the high risk of vector-borne infection outside of traditional endemic areas may be caused by changes in the ecology of parasite habitats, climate change, an increase in vector-host interactions, the introduction of foreign species in endemic areas, and an increase in travel by pet owners. These elements fuel the demand for veterinary dermatological medications worldwide.
Additionally, the market for veterinary dermatology pharmaceuticals diagnostics has seen a rise in the amount of expenditures made in the introduction of new products, which has driven many manufacturers to include different technologies. There are many different locations, including North America, Europe, and Asia-Pacific, where the number of research and development platforms is quickly rising. In order to be practical for treating skin problems, veterinary dermatology medication diagnostics require high accuracy and throughput throughout the procedure.
The producers currently provide a range of veterinary dermatological medications for canines, equines, cats, poultry animals, etc. The development of the veterinary dermatology pharmaceuticals diagnostics market, however, is anticipated to be constrained by the potential negative effects of the skin problem treatment. A major obstacle for the industry is the implementation of strict requirements for the approval of the pharmaceuticals used on the market.
Regional Snapshots:
North America led the market for veterinary dermatological medications. The presence of several international and local manufacturers, the accessibility of necessary technologies, and the quantity of raw materials are only a few of the elements that have contributed to the expansion of the industry in the area. The market for local veterinary dermatology medications has experienced phenomenal expansion as a result of the faster rate of healthcare spending. Nevertheless, it is anticipated that Asia-Pacific would develop faster than the rest of the world between 2022 and 2032. Increased pet ownership and technical advancements in the medicine development process are the two main drivers of the market's expansion.
Veterinary Dermatology Drugs Market Report Scope:
| | |
| --- | --- |
| Report Coverage | Details |
| Market Revenue in 2023 | USD 7.48 Billion |
| Projected Forecast Revenue in 2032 | USD 16.51 Billion |
| Growth Rate from 2023 to 2032 | CAGR of 9.2% |
| Largest Market | North America |
| Base Year | 2022 |
| Forecast Period | 2023 to 2032 |
| Regions Covered | North America, Europe, Asia-Pacific, Latin America, and Middle East & Africa |

Report Highlights:
The oral segment owned the highest market share in the route of administration segment as of 2022, contributing for more than 37.0% of the revenue share, due to its widespread availability. The companion animal section held the dominant share of even more than 70.0 percent in the animal type segment as of 2022.
Due to the high frequency of parasitic diseases, the parasitic infections segment owned the highest market share of the indication segment as of 2022. The hospital pharmacies sector held the greatest market share of the distribution channel segment as of 2022, with a share of 42.4%.
Because of rising pet care costs, North America held the largest market share in 2022.
The market in Asia Pacific is anticipated to increase profitably during the anticipated time period as a result of the region's rising need for medications for veterinary dermatology.
The usage of veterinary dermatological medications has increased due to an increase in companion animal lifespan brought on by advancements in diagnostics, more attention on health and prevention by veterinarians, and improved diet.
Market Dynamics:
Drivers:
The increased need for veterinary dermatological medications is a result of the growth in the demand for antifungals for animals.
Compared to other prevalent illnesses that affect both people and animals, mycotic diseases in animals have received less attention. This is abnormal because dermatophytes, one of the earliest problems in animals to be recognized, function as carriers of infectious diseases in animals. In addition, dermatophytes are thought to be a significant contributor to a significant amount of human skin disorders transmitted to animals through zoonotic infections. Additionally, the market development & demand for veterinary dermatological medications have been stimulated by the increased awareness of veterinary care.
The market for veterinary dermatological medications is also anticipated to expand as a result of rising urbanization and an increase in the number of companion animals. Animals with atopic dermatitis are becoming more common, which has a significant impact on the need for new veterinary medications.
Restraints:
Many emerging and impoverished nations lack access to these medications, which may hinder market growth and demand for veterinary dermatological medications. Additionally, despite being aware of the negative consequences of such medications, pet owners in many nations still opt to treat their animals without the use of medication. Additionally, the market for veterinary dermatological treatments is anticipated to face difficulties due to the low level of knowledge about these medications in many underdeveloped nations. Many nations throughout the world enacted harsh lockdown measures to stop the virus's spread. The distribution of non-essential commodities like pet medications is prohibited under these conditions.
Opportunities:
The Veterinary dermatology drug market is changing as a result of the rising number of millennial pet owners and the fitness & wellness trend. Recent advancements in the pet care industry, like fitness trackers, nutrition apps, veterinary telemedicine, and pet health-related technologies, have an influence on growth. Pet health care has also been shown to be quite comparable to human health care. The pet veterinary drug industry is expanding as more individuals realize how important pet care is.
Additional factors influencing the growth of the pet veterinary drug market include the increasing prevalence of chronic diseases in animals, the adoption of animal production, and an increase in drug preferences among pet and poultry farm owners. These factors are coupled with sustained human population growth, which increases demand for meat and animal-based products. Furthermore, one of the elements fueling market development is the rise in meat consumption. As the demand for meat increases due to more medications being required to keep livestock animals healthy, so does the demand for veterinary treatment.
Challenge:
The Pet veterinary drug market has a finite supply of medications and import issues because of a disjointed structure. Furthermore, pet owners are more receptive to complementary treatments like aromatherapy, reflexology, and naturopathy, which is limiting total expansion. Additionally, the exorbitant expense of veterinary medications and treatments Additionally, the prevalence of ailments in pets such as diabetes, obesity, heart disease, arthritis, and early mortality necessitates the development of novel veterinary treatments, which in turn restrains the market's total growth.
Recent Developments:
In June 2020, Bayer Animal Health, a division of Bayer, and Bioiberica struck a distribution deal. As part of the arrangement, Bayer Animal Health will be responsible for distributing and marketing a select number of Bioiberica's products in the following countries: Germany, France, Austria, Belgium, the Netherlands, and Korea. Additionally, the arrangement is anticipated to improve Bioiberica's worldwide expansion strategy even more.
In December 2019, a private regenerative medicine business named Klox Technologies and Vetoquinol inked a global license deal. This deal calls for Vetoquinol to create and market Klox's fluorescent light energy (FLE) products for the animal health market.
Major Key Players:
Merial, Zoetis, Inc.
Ceva Sante Animale
Vetmedica
IDEXX Laboratories
Vetoquinol S.A.
Virbac S.A.
Bayer Animal Health
Boehringer Ingelheim
Elanco
Novartis Animal Health
SAVAVET
Toray Industries
AB Science
Market Segmentation:
By Animal Type
Companion Animal
Livestock Animal
By Route of Administration
By Indication
Parasitic Infections
Allergic Infections
Others
By Distribution Channel
Retail
E-Commerce
Hospital Pharmacies
Buy this Research Report@ https://www.precedenceresearch.com/checkout/2418
You can place an order or ask any questions, please feel free to contact at sales@precedenceresearch.com | +1 9197 992 333