The global weather forecasting service market size surpassed USD 2.58 billion in 2022 and is projected to rise to USD 4.6 billion by 2030, anticipated to grow at a strong CAGR of 10 percent during the projection period from 2022 to 2030.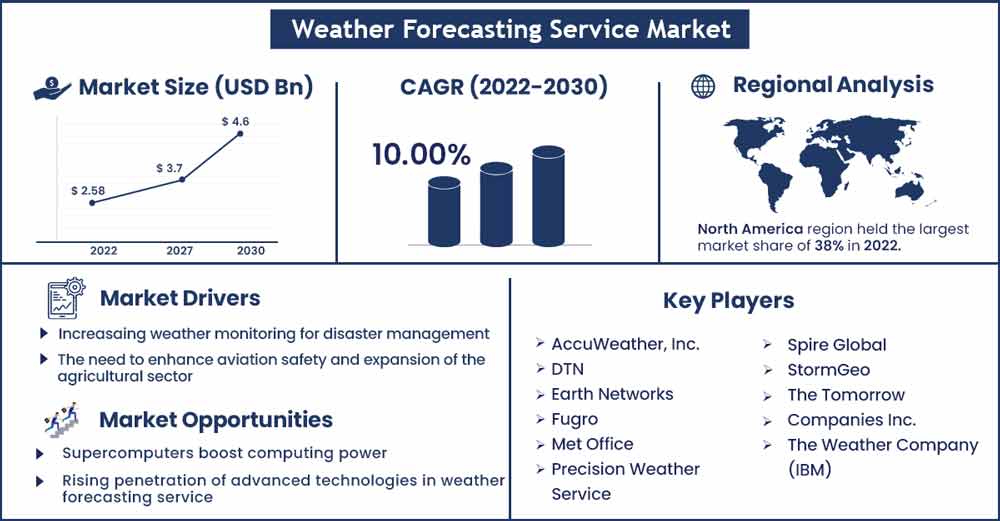 In order to create weather forecasts, as much information and data about the current state of the environment, particularly the air temp, moisture, as well as wind, must be gathered. This data and information are then used, along with meteorological knowledge of earth's atmosphere, to forecast how the atmosphere will change in the near future. It is software provided by a consulting company that encourages effective daily planning, gives real-time predictions, and supports effective decision-making in different industries.
Weather forecasting services provide advanced knowledge that improves security, effectiveness, greater ease of maintenance, and cost savings. Services for weather forecasting are frequently used in industries including oil and gas, shipping, agribusiness, media, and aviation. Additionally, there has been a rise in government activities to improve renewable energy sources in order to reduce their emissions of ozone-depleting substances and provide clean energy.
In order to make judgments and run their operations effectively, many businesses and industries, including aviation, agricultural, maritime, transportation and logistics, and renewables, are weather-sensitive. Extreme weather occurrences have become increasingly common as a result of climate change, increasing demand for weather forecasting services globally.
Report Highlights:
According to projections, the medium-range category had the most revenue share in 2021 and is expected to grow at the highest CAGR throughout the projected period. This is explained by the rise in demand for and improvement in medium-range prediction accuracy across sectors.
In terms of organization size, the big businesses category had the greatest revenue share in 2022, and it is anticipated that it will continue to hold the top spot throughout the projected period. This is due to elements like a more developed technology infrastructure and increased investments by businesses.
In 2022, the media sector led the market in terms of industry. In terms of revenue share in 2022, the aviation sector came in second. Due to the global energy revolution, the renewables category is anticipated to grow at the highest CAGR of 7.1% over the projection period.
North America accounted for the biggest revenue share in 2022, and it is anticipated that it will continue to do so throughout the projection period. This is explained by the fact that there are many different weather forecasting service providers in the area. Over the projection period, it is predicted that the Asia Pacific area would see the greatest CAGR of over 6.79%.
Weather Forecasting Service Market Report Scope:
| | |
| --- | --- |
| Report Coverage | Details |
| Market Revenue in 2023 | USD 2.77 Billion |
| Projected Forecast Revenue in 2030 | USD 4.6 Billion |
| Growth Rate from 2022 to 2030 | CAGR of 10% |
| Largest Market | North America |
| Base Year | 2022 |
| Forecast Period | 2022 To 2030 |
| Regions Covered | North America, Europe, Asia-Pacific, Latin America, and Middle East & Africa |

Regional Snapshots:
North America had a commanding position in the market in 2022 with a revenue share of over 38%, and it is anticipated that it will continue to do so throughout the forecast period. The market's expansion was facilitated by investments in R&D, qualified professionals, and technical infrastructure. AccuWeather, Inc., Weather Company (IBM), DTN, and Earth Networks are just a few of the companies based in the US. There are offices for businesses with non-North American headquarters, such as Fugro from the Netherlands. Asia Pacific is anticipated to see a 7% CAGR throughout the anticipated time period.
The increase is a result of the area's expanding technological infrastructure. Several states in the Asia Pacific region are vulnerable to weather and climate consequences, according to the German watch global climate risk index 2021. Demand for weather forecasting technologies is anticipated to increase due to increased activity in the area. For instance, the agriculture sector needs specialized weather predictions to reduce the possibility of unfavorable outcomes.
Market Dynamics:
Drivers:
The market for weather forecasting services is expanding as a result of increased weather monitoring for disaster management. Monitoring services are necessary for disaster management since they provide ongoing information on changing weather conditions. The death toll and property damage brought on by natural catastrophes like floods, hurricanes, wildfires, avalanches, and tsunamis, among others, are considerably reduced because to weather forecasts and early warnings.
Continuous weather monitoring aids in improved industrial planning, natural hazard mitigation, and civic, governmental, and military authority planning. Furthermore, detailed knowledge about the likelihood of weather-related occurrences encourages the development of specialized industries like energy and insurance that may lessen the financial and economic losses brought on by natural disasters. Therefore, it is anticipated that the growing need for ongoing weather monitoring for disaster management would spur the expansion of weather forecasting services across the world.
Restraints:
Because climatic elements are always changing, there is no growth in the industry for weather forecasting services. Most meteorological phenomena that are taken into account in weather forecasting methods are non-linear and highly reliant on the starting weather of each specific location. Despite the fact that many occurrences may be anticipated using a detailed understanding of the beginning circumstances of a weather data forecasting model, weather patterns are dynamic by their nature and alter as a result of changes in a variety of atmospheric components.
Along with the fact that weather data gathered using various weather forecastings methods, such as weather observation systems, weather radars, and weather stations, are inherently non-linear, this makes weather forecasting extremely difficult. These methods are particularly challenging since a significant amount of meteorological data must be properly integrated and analyzed. The market expansion of weather forecasting services is anticipated to be constrained by this.
Opportunities:
Weather forecasting services using big data analytics- Due of the numerous factors involved, including satellite imaging, surface data, rainfall reports, and briefing from other forecasters, as well as the intricate connections between these factors, weather forecasting may be difficult. The timing and intensity of floods, hurricanes, snowstorms, and other phenomena may now be predicted thanks to improvements in the collection and processing of meteorological data. Big data analytics and predictive analytics are being used by weather scientists to forecast future weather conditions based on analysis of historical and present weather data, creating prospects for this sector.
In order to analyze weather-related data and deliver fast information that aids in the creation of precise weather forecasts, big data analytics is essential. Big data allows municipal authorities to more accurately predict weather-related issues before they arise. In order for the Korean Meteorological Administration (KMA) to completely adopt big data technologies, IBM also offers KMA with enormous computing power. The KMA can now make more accurate predictions about the severity and location of tropical cyclones and other meteorological phenomena thanks to big data.
Challenges:
The frequent incidence of misleading weather alerts is one of the main problems the weather forecasting services sector is now experiencing. The prevalence of false alarms or a high False Alarm Ratio might hinder the growth of the market for weather forecasting services (FAR). A false alarm occurs when a warning for a natural catastrophe is predicted to ensure that the proper precautions are taken before its occurrence. It has been discovered that three out of every four notifications are bogus. A weather alert is broadcast when a hazard, such as a storm, is expected so that the proper safety precautions can be taken.
The average number of false alarms for severe thunderstorms in the US is around 70%, hence only 30% of alerts are actually severe thunderstorms. People may get psychologically impacted by too many false warnings and start disregarding the real ones. To address the issue of false alerts, the National Weather Service (NWS) has been taking steps. Even if recent technical developments have increased the effectiveness of weather forecasting services, the prevalence of false alarms continues to constitute a hindrance to the market's expansion.
Recent Developments:
The Weather Company and Vizzion have collaborated as of August 2020. The company is actively involved in offering the largest traffic camera network in the world in order to include traffic camera video, sources, and data into its Max Traffic broadcast system.
In September 2018, Fugro received three contracts with BHP Petroleum Inc., under which the business would provide a variety of specialized services to assist exploration and production activities in Trinidad & Tobago and the Gulf of Mexico.
ENAV and the Ministry of Sustainable Infrastructures and Mobility signed a contract in November 2021 for the implementation of a number of projects, including the Piano Nazionale di Ripresa e Resilienza, for USD 125 million (PNRR – National Recovery and Resilience Plan). Aeronautical information management systems, drone operating services, and support services for air navigation are all included.
In November 2021, AirRated, the company behind the international standard for indoor air quality (IAQ), announced a three-year cooperation with Tomorrow.io. Through this collaboration, Tomorrow.io will supply hyperlocal, real-time meteorological data for use in AirRated's IAQ modeling. To better optimize buildings via a thorough grasp of the external air, AirRated will merge Tomorrow.io's data with its inside air quality data.
Major Key Players:
AccuWeather, Inc.
DTN
Earth Networks
Fugro
Met Office
Precision Weather Service
Spire Global
StormGeo
The Tomorrow Companies Inc.
The Weather Company (IBM)
Market Segmentation:
By Industry
Transportation
Aviation
Energy & Utilities
Banking Financial Services & Insurance (BFSI)
Agriculture
Media
Manufacturing
Retail
Others
By Organization Size
Large Enterprises
Small & Medium Enterprises
By Purpose
Operational Efficiency
Safety
Others
By Type
Nowcasting
Short-range
Medium-range
Long-range
Buy this Research Report@ https://www.precedenceresearch.com/checkout/2175
You can place an order or ask any questions, please feel free to contact at sales@precedenceresearch.com | +1 9197 992 333