The global weather forecasting services market size was estimated at USD 1.9 billion in 2022 and is expected to surpass around USD 4.6 billion by 2032 and is projected to reach a CAGR of 9.3% over the forecast period 2023 to 2032.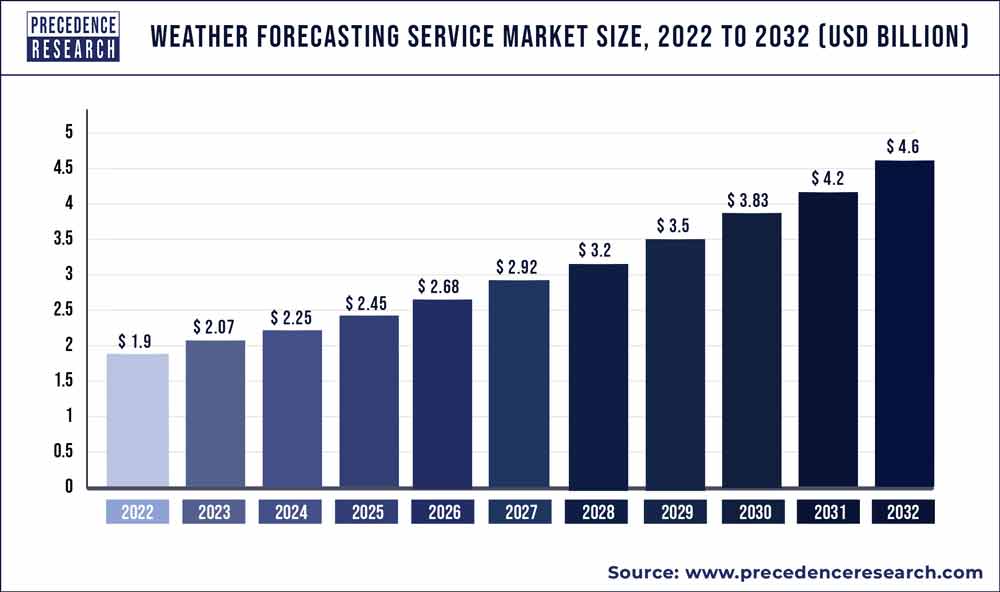 Access our Premium Real Time Data Intelligence Tool, Visit: Precedence Statistics
Key Takeaway:
By type, the medium-range segment has contributed a market share of around 25.4% in 2022.
By organization size, the large enterprises segment hit a revenue share of around 71% in 2022.
The small and medium enterprises segment is growing at a CAGR of 7.3% during the forecast period.
By industry, the media segment held a market share of over 10.4% in 2022.
The renewables segment is growing at a CAGR of 7.3% from 2023 to 2032.
North America region accounted highest revenue share of around 37% in 2022.
Asia Pacific is projected to grow at a CAGR of 6.9% during the forecast period.
Applications of science and technology are used in weather forecasting services to forecast atmospheric conditions. Digital satellite photography, radar imaging, model data, and surface measurements can now anticipate weather conditions more precisely because to developments and advancements in forecasting software. Over the past several years, the market for weather forecasting services has experienced substantial growth. The market is fuelled by the increased need for weather forecasting services brought on by an expansion of the agricultural sector to fulfil the demands of an expanding population, the need to enhance aviation safety, and the uncertainty of rainfall.
In order to upgrade their infrastructure, transportation and logistics are increasingly using weather forecasting services, which is driving the industry. It is projected that the development of sophisticated radars, small satellites, big data analytics for weather forecasting, and the growth of the renewable energy sector would all lead to new market expansion opportunities. The complexity of weather prediction models and the dynamic characteristics of atmospheric factors, however, are some of the restrictions that are projected to hinder the market's growth.
Numerous companies that provide weather forecasting services cater their solutions to particular sectors' demands. Artificial intelligence (AI) and machine learning (ML)-related technological developments are anticipated to help boost the accuracy of weather predictions. Many players also provide data and analytics weather services to their customers, assisting them in risk mitigation and improving operations. For the purpose of producing incredibly precise weather forecasts, market participants are investing in technology and research such as automation and supercomputers.
Report Scope of the Weather Forecasting Service Market
| | |
| --- | --- |
| Report Coverage | Details |
| Market Size in 2023 | USD 2.07 Billion |
| Market Size by 2032 | USD 4.6 Billion |
| Growth Rate from 2023 to 2032 | CAGR of 9.3% |
| Base Year | 2022 |
| Forecast Period | 2023 to 2032 |
| Segments Covered | Industry, Organization Size, Purpose, Type, and Geography |
| Companies Mentioned | AccuWeather, Inc., DTN, Earth Networks, Fugro, Met Office, Precision Weather Service, Spire Global, StormGeo, The Tomorrow Companies Inc., The Weather Company (IBM) |
Growth Factors
Weather forecasting has long been a challenging but important aspect of human existence. Accurate weather forecasts are crucial for achieving the necessary performance and safety in a variety of industries, including agriculture, fisheries, and contemporary aircraft. Weather forecasting also aids in lowering overhead transport and logistics costs and preventing significant losses brought on by severe weather. Additionally, technical advancements in product offerings, an increase in the requirement to improve performance and operational efficiency, an increase in the use of complex data analysis models, and an expansion of application areas among end users all contribute to the market's growth.
Services for weather forecasting Safety concerns in the aviation, transportation, and end-use sectors are driving market expansion. Production of renewable energy stimulates market expansion. A personnel shortage and complicated weather forecasting techniques might impede industry expansion. The market for weather forecasting services will grow as a result of technological developments in computer systems and a booming transportation sector in emerging nations.
Key Market Drivers
Today's farmers need weather forecasting services - Weather and the seasons have a big impact on farming. Considerations such as temperature and other elements are necessary while growing fruits, vegetables, and legumes. Accurate weather information is needed for agricultural production that depends on the weather. Weather and environmental risk management in agriculture are become increasingly crucial due to climate change. More agricultural goods are needed as the population grows. Adaptive agriculture management is more important than ever and needs careful planning. To prepare for the upcoming season, farmers rely on weather forecasts. Worldwide Panel on Climate Change: Climate change endangers the security of agricultural and food production (IPCC). Better weather and climate early warning systems can help farmers. Tools for weather forecasting assist farmers in feeding a growing world population.
Computer technology tdvances - The development of computers has fueled meteorology's growth. A microburst, or wind shear brought on by a thunderstorm's outflow, may be seen using Doppler radar. Airspeed loss brought on by low altitude wind shear is detected and reported by terminal Doppler weather radar. Forecasters can discern between different kinds of precipitation and their quantities thanks to dual polarization technology. Weather forecasts could be enhanced by navy radar. Such innovations may help the industry. For land and marine rescue, management, and support operations, weather forecasting services offer secure, interoperable network communications.
Key Market Challenges
Increased complexity along with the lack of professional weather forecasting methods
Since weather conditions vary often, weather forecasting models must use current oceanic and atmospheric conditions to determine future weather. A weather prediction takes into account humidity, temperature, air pressure, wind speed as well as cloud cover. Numerous variables are taken into account by weather forecasting models, including latitude and elevation as well as closeness to water sources, geographic position, and urban constructions.
Due to the existence of several factors, weather conditions might be dynamic or sensitive; as a result, accurate forecasts are based on a detailed understanding of the beginning conditions of a weather forecasting numerical model. The profession of weather forecasting gets challenging because of the inherently very nonlinear weather forecast models.
Key Market Opportunities
Supercomputers boost computing power
A sophisticated, high-energy infrastructure is used to anticipate the weather. According to a study, environmental observation data has increased significantly in recent years. It is predicted that weather forecasting centers would provide integrated solutions that satisfy the computing requirements of forecasters and enable data mobility, management, and cost ownership.
Weather predictions will be more precise as a result of improved supercomputers' capacity to assess high-resolution weather forecasts and climate models. Simulator-based techniques and intricate software models help forecasters better grasp long-term weather trends.
Supercomputers and simulated weather forecasts employ data-driven models for predictive modeling and knowledge discovery, which ensures the accuracy of weather predictions. Consequently, the industry of providing weather forecasts might benefit from the development of supercomputers.
Rising penetration of advanced technologies in weather forecasting service
Facilities for weather forecasting frequently use sophisticated, energy-consuming equipment and infrastructure. Environmental observation data is a subset of big data that has recently shown exponential growth. As a result, weather forecasting centers are required to provide integrated solutions that address the computing needs of weather forecasters as well as the transfer and management of data, as well as ownership of the whole cost of these operations.
Additionally, the expansion of supercomputer processing power is projected to make it easier to integrate a variety of high-resolution weather predictions and climate models, producing forecasts that are extremely accurate and exact.
Segmental Insights
Industry Insights
In order to foresee harm from extreme occurrences and properly inform consumers about the anticipated damage due to severe weather conditions, the insurance industry employs weather forecasting services. Policyholders can start taking precautions to prevent weather-related damage when they are informed of an impending weather event. In a similar vein, insurers may allocate resources in advance of significant weather occurrences by using precise and timely meteorological data.
Profits in the agriculture sector of emerging nations are now heavily reliant on weather conditions. It is well knowledge that farmers without access to reliable insurance markets behave cautiously, making less investments in their operations and selecting crop combinations and cultivation methods that limit farm profit volatility at the penalty of lower predicted returns. Experts on climate change and decision-makers have known for a long time that the insurance sector has a sizable pool of necessary expertise. In addition to having in-depth understanding of extreme weather and the hazards it brings, the insurance sector is skilled at creating scenarios, modeling weather risk, and matching incentives to desired behavior.
Organization Size Insights
During the projection period, the category of small and medium-sized businesses is expected to increase at the greatest CAGR. The development of weather forecasting services provides SMEs with chances to control weather-related hazards. It is anticipated that a number of SME-focused businesses, government programs, and weather forecasters would contribute to the expansion of the market for weather forecasting services.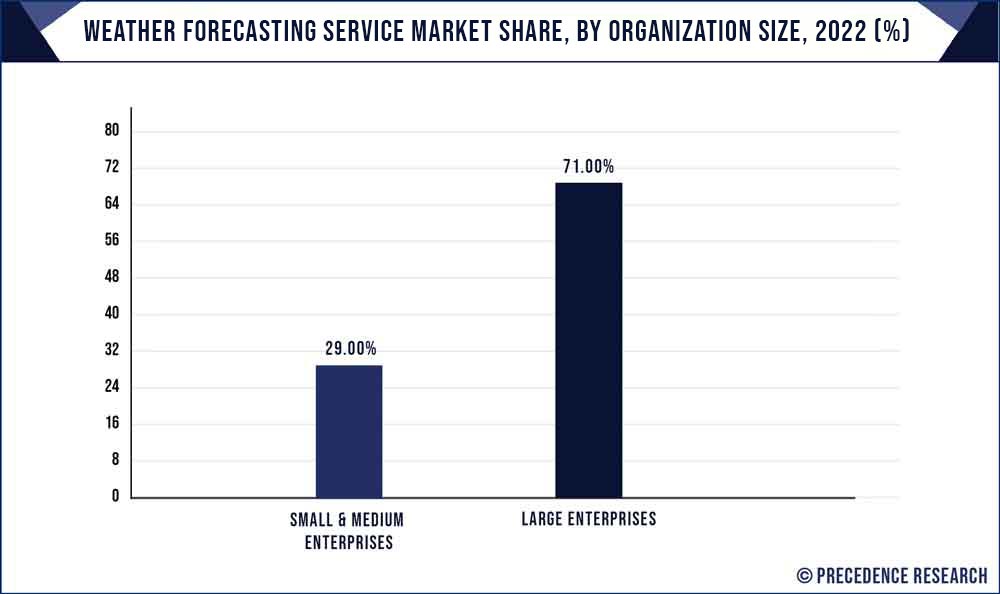 The marine sector is utilizing the forecasts to maximize production and reduce hazards as the accuracy of weather forecasts rises, made possible by better technology and instruments. The Weather Company (US) has agreed to supply weather predictions to XShip (India), a worldwide maritime advisory service provider, so that it can determine the optimal routes for ships with 95% accuracy.
Type Insights
During the projected period, the segment with the second biggest market size is the short-range forecast type segment. The short-range segment is expected to grow at a CAGR of 6.8% from 2023 to 2032. Weather maps, satellite photos, weather balloon data, weather charts, and other ground-based data are all used to create short-range predictions. In addition to being utilized for aircraft and maritime navigation, it is also employed for weather prediction. This kind of prediction accomplishes its goal by providing details on the anticipated weather for the next several days, giving people enough time to prepare in the event of an emergency.
Fisheries and transportation are the industries that stand to gain the most from short-range forecasting. Both of these sectors depend on accurate weather forecasts for the next 48 hours to operate.
Weather Forecasting Service Market Share, By Region, 2022 (%)
| | |
| --- | --- |
| Regions | Revenue Share in 2022 (%) |
| North America | 37% |
| Asia Pacific | 24% |
| Europe | 30% |
| Latin America | 5% |
| MEA | 4% |
Geography Insights
In terms of volume, North America held the biggest market share in 2022 and is expected to have substantial increase over the next seven years. The majority of end-user sectors, such manufacturing and aviation, are dominant in nations like the USA and Canada. To reduce pollution, the area is placing more of an emphasis on alternative energy sources like solar. These are the elements that support the expansion of weather forecasting services.
Due to the rapidly expanding sectors in the region, especially the transportation sector, demand is coming from nations like India, China, Japan, and others in the Asia Pacific. For the most part, these businesses rely on weather forecasting to increase production and profitability. In India, agriculture is crucial to the country's economy. Agriculture is the industry for which weather forecasting is most well-known. The need for weather forecasting services is growing in Europe due to the rapid industrialization and expansion of the aviation and shipping sectors, which depend on ideal weather to increase production.
Key Market Players
AccuWeather, Inc.
DTN
Earth Networks
Fugro
Met Office
Precision Weather Service
Spire Global
StormGeo
The Tomorrow Companies Inc.
The Weather Company (IBM)
Market Segmentation
(Note*: We offer report based on sub segments as well. Kindly, let us know if you are interested)
By Industry
Transportation
Aviation
Energy & Utilities
Banking Financial Services & Insurance (BFSI)
Agriculture
Media
Manufacturing
Retail
Others
By Organization Size
Large Enterprises
Small & Medium Enterprises
By Purpose
Operational Efficiency
Safety
Others
By Type
Nowcasting
Short-range
Medium-range
Long-range
By Geography
North America
Europe
Asia-Pacific
Latin America
Middle East & Africa (MEA)