The global rehabilitation equipment market size is expected to hit around USD 30.19 billion by 2032 from USD 18.1 billion in 2022, growing at a registered CAGR of 5.3% during the forecast period from 2023 to 2032.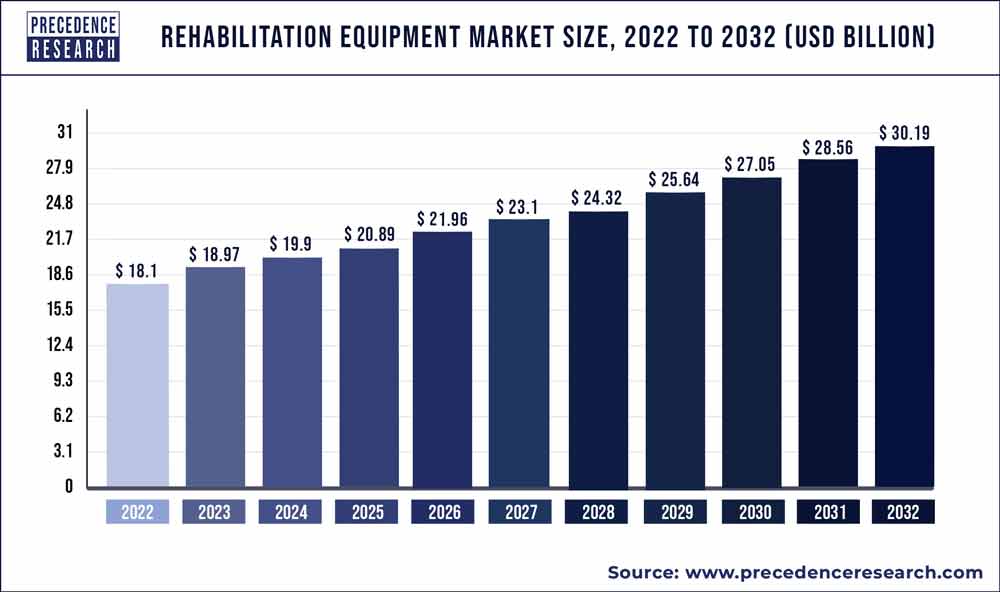 Access our Premium Real Time Data Intelligence Tool, Visit: Precedence Statistics
The widespread use of rehabilitation equipment in clinics, hospitals, home care settings, and rehabilitation and physiotherapy centers is currently made possible by the rising prevalence of many chronic and non-communicable diseases, such as cancer, arthritis, and Parkinson's, especially among the growing geriatric population. Accordingly, the deployment of virtual or remote healthcare programs on various internet platforms has been prompted by the rapid emergence of the coronavirus illness (COVID-19) pandemic and the ensuing adoption of lockdowns.
Another significant growth-inducing feature is the ability of this trend to allow patients to acquire individualized training drugs and share the diagnostics record with rehab specialists. Additionally, major competitors are heavily working with other businesses to offer affordable, enduring, and high-performance rehabilitation equipment, which is aiding in the market expansion and meeting the growing need for improved equipment and clinical outcomes. Other factors, such as rising consumer healthcare spending, increased investment in research and development (R&D), and numerous beneficial initiatives taken by governments and non-governmental organizations (NGOs) of different countries to strengthen the current healthcare infrastructure are fostering a positive outlook for the market.
Worldwide demand for everyday assistance equipment for the disabled population is rising quickly. The use of new communication channels by manufacturers has increased consumer awareness of newly released items. Patients are therefore kept up to date on new products entering the market. Local governments in a number of nations have made it simple to finance, offered subsidies, and given other financing choices for rehabilitation equipment, which is anticipated to increase demand for assistive goods and spur growth. Favorable reimbursement practices in major markets like the U.S. are anticipated to give manufacturers considerable sales prospects. Medicare reimbursements make it possible for patients to use assistive technology for rehabilitation. Hospital beds, walkers, wheelchairs, canes, crutches, commode chairs, patient lifts, and other durable medical equipment needed for rehabilitation are all covered under Medicare. Additionally, in order to enhance access to high-quality and reasonably priced assistive technologies, the WHO created the Priority Assistive Products List (APL) in support of the Global Cooperation on Assistive Technology (GATE). These approaches should boost manufacturing companies' growth prospects.
Scope of the Rehabilitation Equipment Market
Report Coverage
Details
Market Size in 2023
USD 18.97 Billion
Market Size by 2032
USD 30.19 Billion
Growth Rate from 2023 to 2032
CAGR of 5.3%
Largest Market
North America
Fastest Growing Market
Asia Pacific
Base Year
2022
Forecast Period
2023 to 2032
Segments Covered

By Product
By Application
By End-Use

Regions Covered

North America
Europe
Asia-Pacific
Latin America
Middle East & Africa

Growth Factors
Other factors influencing the worldwide market for rehabilitation goods include rising disposable income, which makes it easier to obtain better treatment, and expanding healthcare infrastructure, particularly in highly populated emerging nations like China and India. The rehabilitation goods market is expected to have generally positive growth. This is mostly relevant to developed economies, where access to cutting-edge medical facilities and contemporary medications is greater than in underdeveloped nations. A substantially larger patient population that can access and afford medical rehabilitation treatments has been able to emerge in emerging nations because of the expansion of healthcare facilities. Consequently, it is anticipated that the market for rehabilitation goods in emerging nations would expand quickly over the prediction period.
Key Market Drivers
Growing prevalence of musculoskeletal disorders
Musculoskeletal disorders are common, and they have a wide-ranging effect. They are the main reason why millions of individuals all over the world suffer from severe, ongoing physical incapacity and agony. Approximately 20% to 30% of individuals worldwide are now coping with a painful musculoskeletal ailment, according to the World Health Organization (WHO). Due to the high number of patients being hospitalized in musculoskeletal rehabilitation centers across the world, there is a growth in the need for equipment in these facilities.
Growing prevalence of neurological disorders
The market for equipment used in neurological rehabilitation is projected to develop at a CAGR of 15% through 2032, driven by rising rates of neurological illnesses, robotic rehabilitation, and an aging population with increasing rates of neurocognitive disorders. Neurorehabilitation is frequently required for patients with neurological conditions such as stroke, cerebral palsy, multiple sclerosis, and brain operations. The elderly patient group is more likely to experience visual and hearing loss and prefers to receive rehabilitation therapy. As a result, the market is experiencing a sharp increase in demand due to the growing elderly population. Additionally, the increased use of neurorehabilitation technology is being influenced by the public's growing knowledge of these services. The need for neurological rehabilitation equipment is also increasing as a result of technological developments like wearable technology, nanotechnology, and robots.
Key Market Challenges
High cost of treatment and lack of healthcare infrastructure - Over a quarter of a billion people will be forced into poverty by 2022, according to figures provided by Oxfam, a global network of charity organizations, despite the fact that the majority of the world's population lives in middle-income countries. Additionally, at least 50% of the world's population lacks access to basic health care, according to a recent World Bank (WB) and World Health Organization (WHO) study. Currently, around 800 million individuals spend at least 10% of their household incomes on health-related expenses, and for about 100 million people, these costs are so exorbitant that they force them to survive on less than USD 1.90 per day. These problems prevented the majority of the population from using healthcare services, which might impede the expansion of the rehabilitation products industry throughout the anticipated time period.
Key Market Opportunities
Increasing technological advancements
The creation of cutting-edge medical equipment, including robots and anti-gravity treadmills, has been facilitated by the emergence of the most recent technology. With activities that aid patients recovering from neurological impairments, strokes, or other traumatic brain injuries, rehabilitation robots assist therapists. Robotic assistance enables patients to accomplish up to ten times as many repetitions as they would in a conventional one-hour session. With the help of these developments, patients may walk effortlessly and independently, aiding in their recuperation.
Additionally, anti-gravity robotic treadmills enable people with neurological disorders to regain or enhance their capacity to move or walk. Patients may exercise and improve their gait while experiencing less discomfort and pressure on their joints and bones thanks to anti-gravity robotic treadmill technology. The use of cutting-edge technology in rehabilitation services has proven extremely beneficial for patients all over the world. Robotics and software developments help treatment professionals reach more patients, provide more accurate diagnoses, and improve clinical proficiency.
Increasing geriatric population and rise in surgical procedures
The worldwide population's increased life expectancy as a result of scientific developments has increased the number of elderly people. This will increase the market size for rehabilitative items overall. The majority of chronic medical illnesses that geriatric individuals experience require rehabilitation goods in order to preserve their health and quality of life.
Additionally, an increase in healthcare spending and the number of operations performed globally are projected to support the development of general rehabilitation goods. According to the National Center for Health Statistics, inpatient surgical operations totaled almost 48 million in only the United States in 2009. Products for rehabilitation are crucial for both a quick recovery and preserving good health after surgery. This will contribute favorably to the market's overall growth.
Segments Insight
Product Insights
With a share of 38%, the mobility equipment category led the market as a whole in 2022. Because of the increasing number of elderly and disabled people throughout the world, this market segment is anticipated to retain its dominance over the forecast period. The wheelchairs and scooters section and the walking assistance devices segment make up the mobile devices segment. Due to their low cost and ease of use, walking assistance devices—the most basic type of mobility equipment are favored by the target group.
Application Insights
The exercise equipment used in the rehabilitation of patients following trauma or the start of degenerative illnesses is included in the physiotherapy sector. The method in occupational therapy is more all-encompassing. The market is expected to be driven by an aging population, changing lifestyles, an increase in physiotherapy clinics, and supportive healthcare reforms during the course of the forecast period. Exoskeletons, robotics, implanted technology for pain treatment, and other technical developments are also major drivers of the rehabilitation equipment market in physiotherapy, as is growing demand in emerging nations. After an injury, surgery, or sickness, physiotherapy employs a number of approaches to enhance, maintain, and restore a person's physical strength and mobility. In order to help the patient, execute everyday tasks effortlessly, occupational therapy is utilized to conduct a thorough assessment of the patient, the patient's family, and the environment. The goal of occupational therapy is to motivate patients to carry out routine tasks. Between 2023 and 2032, this market is projected to develop at a CAGR of 7%.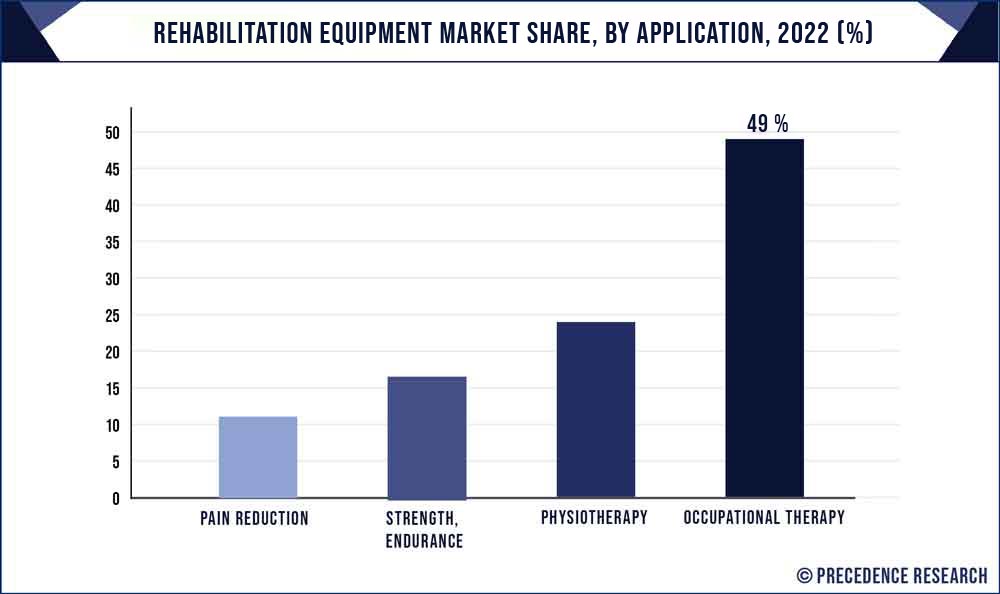 The market is expected to be driven by an aging population, changing lifestyles, an increase in physiotherapy clinics, and supportive healthcare reforms during the course of the forecast period. Exoskeletons, robotics, implanted technology for pain treatment, and other technical developments are also major drivers of the rehabilitation equipment market in physiotherapy, as is growing demand in emerging nations. After an injury, surgery, or sickness, physiotherapy employs a number of approaches to enhance, maintain, and restore a person's physical strength and mobility.
End-User Insights
The rehabilitation equipment market is divided into hospitals & clinics, rehabilitation facilities, home care settings, and physiotherapy centers based on end-use. In 2022, hospitals held the greatest percentage with around 35%. Due to hospitals' huge patient populations, this market sector is anticipated to increase significantly over the next years.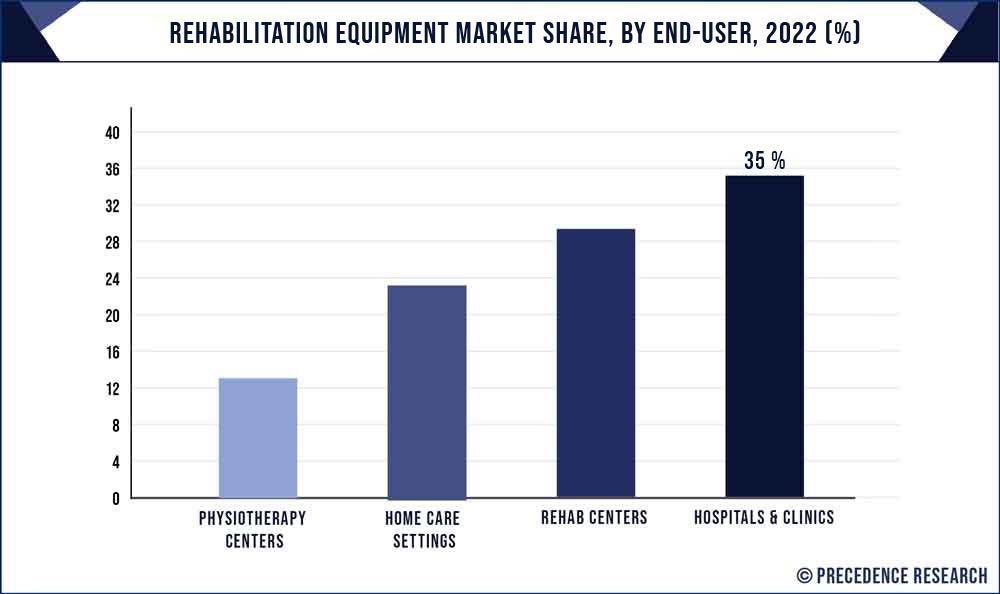 Due to increased public awareness of physiotherapy, technical developments in physiotherapy facilities, and an increase in the frequency of non-communicable illnesses including Parkinson's and arthritis, revenue for rehab centres is anticipated to increase throughout the projection period. During the projected period, it is anticipated that the penetration of rehab centres in emerging economies would expand, leading to a large increase in the number of rehab facilities. In 2022, the market for rehabilitation equipment was worth roughly USD 2.8 billion across home care settings and physiotherapy facilities. Because home care is more affordable than hospital care, there has been a movement in long-term care from hospitals to homes.
Rehabilitation Equipment Market Share, By Region, 2022 (%)
| | |
| --- | --- |
| Regions | Revenue Share in 2022 (%) |
| North America | 35% |
| Asia Pacific | 22% |
| Europe | 27% |
| Latin America | 9% |
| MEA | 7% |

Regional Insights
With a share of 35%, North America led the field and is predicted to hold that position throughout the forecast period. The elderly make up a sizable portion of the population in North America. In this area, the prevalence of non-communicable illnesses including Parkinson's, diabetes, arthritis, and cardiovascular disease is rising. Access to rehabilitative items is being improved by reimbursement systems like Medicare.
The fastest-growing regional market is anticipated to be Asia Pacific, with a promising CAGR of 8.9% over the course of the projected period. A growing patient base, better public and private reimbursement systems, and ongoing healthcare facility construction make emerging nations like India and China the most profitable markets. Growth in this area is anticipated to be boosted by rising medical awareness, an increase in doctors, and supporting government initiatives and regulations. The market for rehabilitation equipment is expanding as a result of patients' quick acceptance of innovative items. In 2016, Europe had the second-largest share. Due to the slowing economy and the healthcare sector, the market for rehabilitation equipment in Europe is predicted to develop slowly. Additionally, it is anticipated that changes in the regulatory environment would impede the expansion of the market for rehabilitation equipment in Europe.
Recent Developments
Invacare Corp. has acquired Altimate Medical, a manufacturer of standing frames and mobility aids for the rehab market.
Key Market Players
Baxter International (US)
Invacare Corporation (US)
Medline Industries, LP (US)
Arjo (Sweden), Colfax Corp. (US)
Dynatronics Corp. (US)
Handicare Group AB (Sweden)
Drive DeVilbiss International (Germany)
Etac AB (Sweden)
GF Health Products Inc. (US)
Joerns Healthcare LLC (US)
Prism Medical UK Ltd. (UK)
Guldmann (Denmark)
EZ Way Inc. (US)
LINET (Czech Republic)
Carex Health Brands (US)
Roma Medical (UK)
Caremax Rehabilitation Equipment Co. Ltd. (China)
Antano Group (Italy)
Ossenberg GmbH (Germany)
WINNCARE (UK)
Sunrise Medical LLC (Germany)
TecnoBody (Italy)
Enraf-Nonius (Netherlands)
Proxomed (Germany)
Segments Covered in the Report
(Note*: We offer reports based on sub-segments as well. Kindly, let us know if you are interested)
By Product
Therapy Devices
Daily Living Aids

Medical Beds
Bathroom & Toilet Assist Devices
Reading Writing & Computer Aids

Mobility Equipment

Wheelchairs & Scooters
Walking Assist Devices

Exercise Equipment

Lower Body Exercise Equipment
Upper Body Exercise Equipment

Body Support Devices

Patient Lifts
Medical Lifting Slings
Others
By Application
Physiotherapy
Occupational Therapy
Strength, Endurance
Pain Reduction
By End-Use
Hospitals & Clinics
Rehab Centers
Home Care Settings
Physiotherapy Centers
By Geography
North America
Europe
Asia-Pacific
Latin America
Middle East & Africa (MEA)