The global secure logistics market size accounted for USD 81.37 billion in 2022 and it is projected to surpass around USD 168.98 billion by 2032, poised to grow at a CAGR of 7.58% between 2023 and 2032.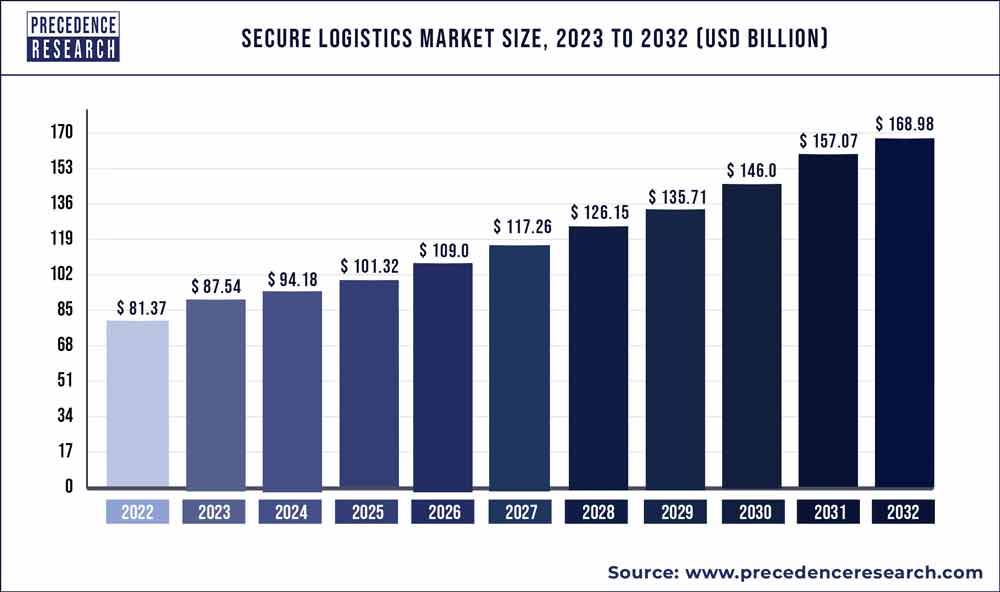 To boost experts' trust in the security system and on-time performance while properly meeting client requirements, secure logistics is developed. Secure transportation is in high demand in a world where goods are costly and time-sensitive.
Europe region has accounted revenue share of 42.4% in 2022.
The Asia Pacific market is poised to grow at a CAGR of 12.2% over the forecast period.
By type, the static type segment has registered the highest market share of over 62% in 2022.
The mobile type segment has generated 38% revenue share in 2022.
By application, the cash management segment accounted highest revenue share in 2022 which was 55.8%.
Growth Factor
Secure logistics includes secure storage, transportation, and handling measures that are implemented to minimize the risks associated with transportation such as theft, damage, loss, or unauthorized access. As a result of the increasing security concerns among corporations and banks, there is a growing demand for security management services for currency movement.
To overcome the constraints and facilitate the mobility of production factors including labor, land, and capital, the European Union has established a structure. This structure aims to provide a secure and safe environment for the transportation of goods and currency across the region. The banking industry globally is undergoing a transformation due to the changes in technical innovation and the deregulation of financial services.
The banking industry in emerging economies has traditionally been a highly protected industry with regulated deposits and restrictions for domestic and foreign entry. However, due to technological advancements and macroeconomic pressures, the banking industry is opening up the market to foreign competition. BRICS countries and other emerging economies are expected to experience a large inflow of Foreign Direct Investments (FDIs).
The growth of the skilled labor force, rapid globalization, and a rise in the number of young consumers in these regions has been the driving factor in the banking sector's growth. Furthermore, the increasing number of High Net-worth Individuals (HNIs) and the growing need for wealth management services are expected to influence the growth of the banking sector in emerging markets.
HNIs will invest in cash deposits, real estate, debt portfolios, and equities. As an example, the State Bank of India (SBI) is focusing on providing wealth management, retail banking, and personal banking services to cater to the needs of its HNI clients.
Factors driving the market for safe transportation include an increase in the amount of money moving around the world, warehouse technology, and the explosive growth of e-commerce.
The development of the safe logistics sector is hampered by the increasing use of mobile payments and online banking, bad logistics management, cybersecurity problems, and rising fuel prices.
The demand for digital solutions from businesses, changes in business operations, self-driving cars, and technological advancements with a trained workforce all present development possibility in the secure logistics market.
Report Scope of the Secure Logistics Market
| | |
| --- | --- |
| Report Coverage | Details |
| Market Size in 2023 | USD 87.54 Billion |
| Market Size by 2032 | USD 168.98 Billion |
| Growth Rate from 2023 to 2032 | CAGR of 7.58% |
| Largest Market | Europe |
| Fastest Growing Market | Asia Pacific |
| Base Year | 2022 |
| Forecast Period | 2023 to 2032 |
| Segments Covered | By Type and By Application |
| Regions Covered | North America, Europe, Asia-Pacific, Latin America and Middle East & Africa |

Key Market Drivers
Emerging economies expansion of banking and financial institutions
In recent decades, the global banking sector has undergone significant changes due to the deregulation of financial services and technological advancements. Banking was traditionally a highly protected industry in emerging economies, with regulated deposits and strict entry requirements for domestic and foreign investors. However, with the rise of macroeconomic pressures and technological innovations in the banking industry, regional players have been forced to open up their markets to foreign competition.
The BRICS nations, including Brazil, Russia, India, China, and South Africa, are expected to receive substantial foreign direct investment (FDI). This expansion of the BFSI sector in emerging economies is driven by several factors, such as a growing skilled labor force, increasing globalization, and a rise in the number of young consumers.
Key Market Challenges
Increasing usage of payments from mobile
Technological advancements such as NFC, EMV chips, and other contactless devices are transforming the payment process. This shift presents a substantial opportunity for mobile commerce due to the availability of improved data and payment infrastructure. With a growing consumer base, online mobile commerce is gaining popularity.
The emergence of mobile wallets, including Apple Pay, Google Pay, and Samsung Pay, is expected to drive the market for mobile payments. To attract new users, point-of-sale systems that accept mobile payments and incentives such as loyalty programs and promotions are being widely adopted.
Consequently, people are increasingly turning away from cash payments in favor of digital ones. However, this trend is expected to restrain market growth over the forecast period.
Key Market Opportunities
Increasing cash-in-transit heists as well as theft of freight
Global logistics thefts and heists have been on a steady rise over the past decade. For example, South Africa has experienced at least one Cash-In-Transit (CIT) heist until February 2020, with 35 such heists reported nationwide, and 21 in Gauteng alone. Cities like Cape Town and Boksburg are witnessing a surge in on-road robberies, causing a rise in theft-related concerns for customers from various industries, such as banking, retail, and precious metals, while traveling.
Despite conducting their logistics operations, these companies are experiencing losses due to theft, often because of inadequate security personnel and outdated technology. Thus, there is a growing demand for reliable logistics services to address these security issues. Secure logistics firms offer a range of outsourcing services, including armored vehicles, cross-border transport, staffed security, ATM management, secure storage, cash-in-transit, and replenishment, among others.
Therefore, businesses are increasingly focusing on secure logistics services to minimize the risks of theft and other security breaches during the transportation and handling of goods and assets.
Segments Insight:
Type Insights
The global market has been categorized into two types: static and mobile. In 2022, the static type segment recorded the highest market share and is expected to continue dominating the market throughout the forecast period. Manned guards are typically utilized in the static type for security purposes, with security guards stationed at various points to ensure secure logistics transportation.
Many players offer guarding services in the market and provide specialized logistics security solutions aimed at preventing theft, reducing shipment loss and damage, and exposing security breaches.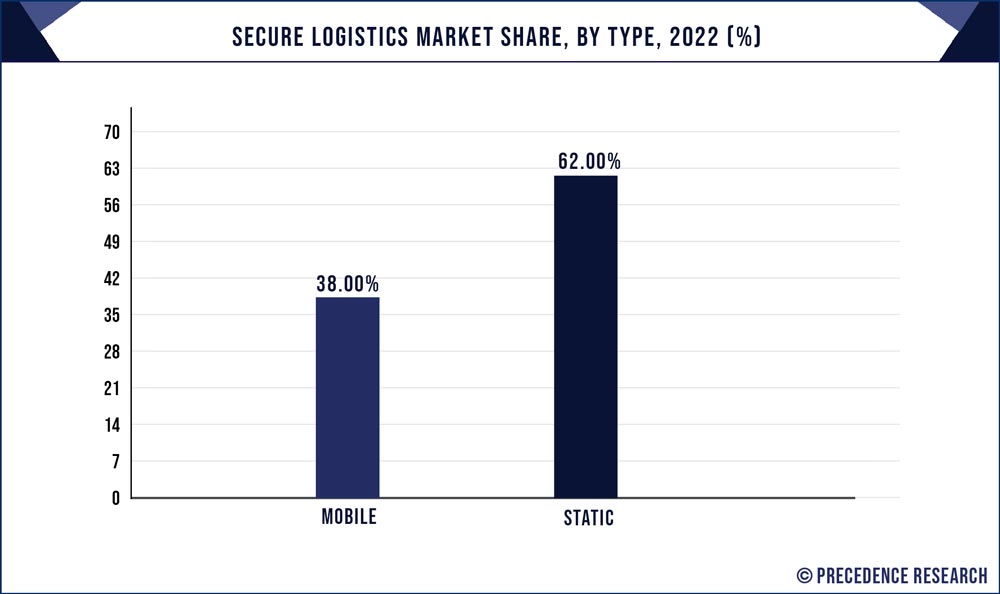 Meanwhile, the mobile type segment is expected to register the fastest growth rate during the forecast period, primarily due to the increasing advancements in secure journey management services. Service providers offer vehicles equipped with electronic countermeasures, radio, and satellite communication systems. Financial institutions primarily use electronic safes to reduce management downtime, and service providers partner with several safe manufacturers to provide a wide range of electronic safe services of various sizes.
Application Insights
The cash management segment held the largest market share in 2022 and is expected to remain dominant during the forecast period. This growth is attributed to the increasing penetration of ATMs in emerging countries. The cash management segment comprises cash-in-transit, cash processing, and ATM services.
Cash-in-transit involves the collection of money from banks and delivering it to designated cash points like ATMs, utilizing armored trucks that reduce risks and enhance security by reducing opportunities for theft. Service providers offer Automated Teller Machine (ATM) services alongside traditional cash-in-transit services, which are governed by regional, national, and local legislation, with the Ministry of Justice, the Ministry of Interior, and the Police being responsible authorities in the industry.
Market players focus on developing innovative and efficient goods, forming alliances, and entering into collaborations and partnerships to gain a competitive advantage. For instance, to hasten the shift to a sustainable model, Prosegur and Forética, a Spanish group in corporate social responsibility and sustainability, established an alliance in 2022.
Brink's Inc. also collaborated with Courtyard, a physically-backed NFT platform, in February 2022, and its Canadian subsidiary signed a multi-year agreement with Canopy Growth Corp. in 2018. These partnerships enabled Brink's to create a cross-selling program that would enable it to offer solutions to Canopy Growth's connected cultivators and retail clients.
Regional Insights:
The Europe market has emerged as the most dominant market in 2022. The growth of ATMs in emerging economies and their increasing penetration is expected to drive regional growth, along with the rise in cash circulation and trade investments between European countries, which presents a range of secure logistics opportunities.
Future market shares will be impacted by trade policies and Brexit-related issues. Emerging markets like Brazil, Nigeria, and Iran are expected to exhibit high demand for new ATMs due to the development of financial institutions in these regions. In the European Union, the theft of high-risk, high-value products is estimated to cost over 8.2 billion Euros annually.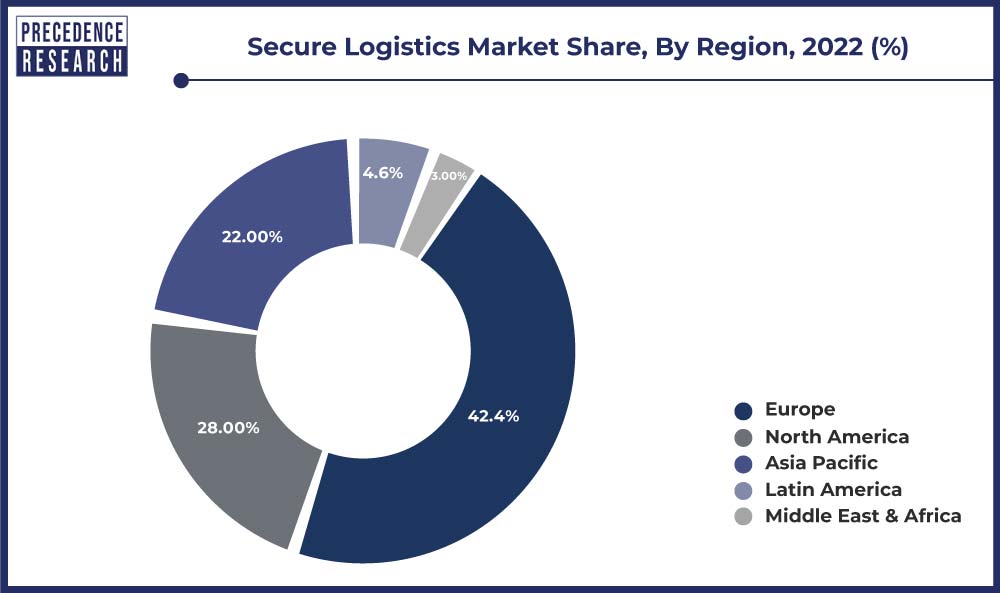 The Asia Pacific market is growing at the fastest CAGR during the forecast period. The factors driving growth in the region include the increasing demand for ATMs, expansion of financial institutions, and rising freight theft. The North American market is expected to have a considerable market share in 2022 due to the preference for cash transactions and payment modes among consumers. However, the North American market incurred significant economic losses in the first two quarters of 2020 due to the high number of COVID-19 cases, particularly in the US, which impacted the logistics supply chain.
Logistics and supply chain industry participants are focusing on digital technologies to mitigate losses and maintain commercial operations. Several logistics firms are investing in digital technologies and concentrating on recruitment opportunities.
Recent Developments:
In order to create a tangible catastrophe recovery option for protecting private cryptocurrency keys, Brink's Incorporated teamed up with Metaco, a cryptocurrency custody company with headquarters in Switzerland, in May 2022. The customers are provided with smartcards that are physical copies.
METACO confirmed a collaboration with Brink's in May 2022. Brink's utilizes its internationally renowned secure transportation knowledge and global network of vault sites to introduce METACO's institutional digital asset custody services into the real world.
Key Market Players:
Brinks
G4S
Loomis
Securitas
Garda World
Prosegur
Allied Universal
CMS
Knoxshield Security Logistics
Zegmax Logistics
Cash Logistik Security
Rodoban
Armaguard
Global Security Logistics
Segments Covered in the Report:
(Note*: We offer report based on sub segments as well. Kindly, let us know if you are interested)
By Type
By Application
Cash Management
Diamonds, Jewelry & Precious Metals
Manufacturing
Others
By Geography
North America
Europe
Asia-Pacific
Latin America
The Middle East and Africa