The global shared vehicles market size was valued at USD 130 billion in 2022 and is projected to hit around USD 511.47 billion by 2032, growing at a CAGR of 14.68% during the forecast period from 2023 to 2032.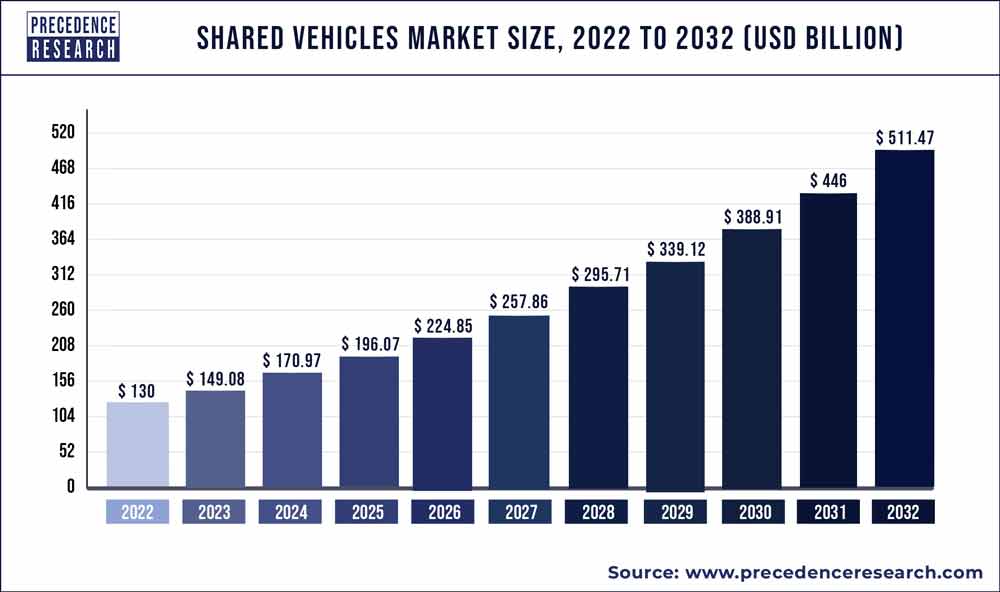 Key Takeaways:
Asia Pacific region contributed more than 35% of revenue share in 2022.
In the Middle East and Africa region is expected to expand at a CAGR of 18.5% from 2023 to 2032.
By Data Type, the car sharing segment captured around 55.8% of revenue share in 2022.
By Data Type, the bike sharing segment is predicted to grow at a CAGR of 20.3% between 2023 and 2032.
By Vehicles Type, the cars segment captured around 83.8% of revenue share in 2022.
By Vehicles Type, the two-wheelers segment is expected to record a CAGR of 20.2% from 2023 to 2032.
The practice of renting out cars to numerous customers on a shared premise for short-term use is referred to as the shared vehicle industry. Since it offers an option to conventional vehicle ownership and helps to address issues like traffic gridlock, environmental concerns, and the high cost of car ownership, the idea of shared mobility has become more and more popular in recent years.
Report Scope of the Shared Vehicles Market:
| | |
| --- | --- |
| Report Coverage | Details |
| Market Size in 2023 | USD 149.08 Billion |
| Market Size by 2032 | USD 511.47 Billion |
| Growth Rate from 2023 to 2032 | CAGR of 14.68% |
| Largest Market | Asia Pacific |
| Base Year | 2022 |
| Forecast Period | 2023 to 2032 |
| Segments Covered | By Data Type and By Vehicles Type |
| Regions Covered | North America, Europe, Asia-Pacific, Latin America, and Middle East & Africa |

Growth Factor:
An emerging industry called shared mobility allows users to share transit resources and services, either concurrently or sequentially. Shared mobility is not only affordable and ecologically beneficial, but also practical. As a result, vehicle ownership is only partially replaced by shared mobility. In sparsely populated areas, consumer demand for self-driving taxis and shuttles has increased. Peer-to-peer vehicle sharing, shared electric scooters, and other new modes and services have emerged. The reasons for this development are their integration potential, automatic operation, need-based transport as required and environmental friendliness. One of the key elements affecting the shared transportation market is the proliferation of connected vehicles and devices. In the coming years, the market development is expected to be supported by rising fuel and car prices as well as a decline in parking, especially in the developed world.
In addition, shared mobility options are cheaper compared to other modes of transport and solve some parking problems. Many governments around the world are launching initiatives to encourage the expansion of these congestion reduction strategies. This is having a major impact on commuter lives and the market at large, leading to better accessibility, less travel and fewer people owning a car. Benefits to the environment, society, and the transit system are frequently attained through joint mobility programs. Public transit, which uses shared public transportation, Micro mobility (sharing bikes or scooters), Automobile-based mode (using vehicle sharing, rides, micro-transit, and Ride on-demand), Commute-based modes, or carpooling are some of the different methods that people travel (car or vanpooling).
Other factors contributing to the market for shared mobility expansion include a dearth of parking spaces, an increase in traffic congestion, the high cost of having a personal car, and most importantly, high fuel costs. The market is anticipated to expand further due to the rising increase in the number of private sector workers who would like to travel using shared mobility services. Due to shifts in global travel habits, COVID-19 has had a detrimental effect on the growth of the shared mobility industry. The epidemic greatly reduced people's ability to move around, which in turn reduced the number of trips to workplaces, which was one of the key factors and movers of the market.
The leading market players are always focused on collaborating with the automakers to improve their offering of electric car-sharing services in Asian countries. Such tactics are likely to be effective for the industry in the forecasted time. The shared mobility market is expected to offer many opportunities as new products are developed. The leading market players are always focused on collaborating with the automakers to improve their offering of electric carsharing services in Asian countries. Such tactics are likely to be effective for the industry in the forecasted time. The shared mobility market is expected to offer many opportunities as new products are developed. The majority of industry participants anticipate growing their client bases in the coming years through the launch of cutting-edge/uninterrupted technology and the increase in investors in the market. The spike in increasing traffic congestion, the scarcity of parking spots, the high cost of owning a personal vehicle, and the high fuel costs.
Growing online adoption encourages industry expansion.
The car business is expanding quickly.
Governmental programs to advertise pooled transportation services.
Key Market Drivers:
Rise in the cost of owning a car to propel the market growth
Ownership of a vehicle involves several interconnected factors such as financing, fuel costs, maintenance, registration/taxes, upkeep, and depreciation. The cost of owning a car increases every year, with depreciation accounting for about 43% and maintenance and fuel expenses accounting for around 25%, according to the American Automobile Association (AAA). The cost of fuel and maintenance has increased in recent years, and this trend is expected to continue. As cities become increasingly congested, owning a car has become more of a hassle than an asset. In 2020, the average cost of owning and operating a new car increased by USD 279 to USD 9,561 compared to 2019. Micromobility refers to the ability to travel short distances using lightweight vehicles such as bicycles, scooters, mopeds, and longboards. Shared micro-mobility is a viable option for commuters looking for a convenient mode of transportation in the city without having to deal with public transit. The concept of micromobility has a significant impact on the use and profitability of bikes and scooters. Micromobility presents a significant opportunity to address the growing congestion, especially in metropolitan areas.
Key Market Challenges:
The unavailability of adequate technologies and transport infrastructure are the major factors challenging the car sharing industry growth. Prominent automobile manufacturers are collaborating with technology providers, such as EasyMile, Apple and Google to develop user friendly applications for vehicle sharing services. Furthermore, stiff competition from similar business models including ride hailing and on demand tax services is expected to restrain the market growth.
Key Market Opportunities:
Government initiatives for smart cities
The idea of shared transportation has been adopted globally through a number of government programs. The market for shared transportation has expanded globally as a result of this. For instance, the Ministry of Land, Infrastructure, Transport and Tourism (MLIT) and the Ministry of Economy, Trade and Industry (MEIT) collaborated to establish the Smart Mobility Challenge Subsidy Program in Japan in 2019. This resulted in $27.6 million in income for the program. Different governments around the world have adopted comparable expenditures and subsidy programs, which has also fueled the expansion of the global shared transportation market.
Segments Insight:
Data Type Insights:
With a 55.8% market share in 2022, the car-hailing segment led the shared transportation market and is predicted to continue expanding over the coming years. The increase is the result of more individuals globally and in emerging nations becoming online. A catalyst for the segment's growth is also anticipated to be the emergence of new services designed to guarantee complete client happiness. For instance, Uber, a supplier of shared mobility, has launched various commercial variants, including UberSUV, Uber Black, UberTax, and UberLUX, which make use of exclusive Uber cars and drivers in the rental industry. Easy reservations, increased traffic gridlock, traveler comfort, and increased government initiatives to raise public consciousness about air pollution all contribute to the increasing demand for ride-hailing services. Ride-hailing in particular is becoming more and more popular.
From 2023 to 2032, the bike-sharing market is expected to grow at a rate of 20.3%. Due to the fact that two-wheelers are thought of as the quickest and quickest mode of transportation on crowded city streets, two-wheeler services are anticipated to prosper in the upcoming years. The United States, China, Spain, and Italy have all seen the greatest usage of these services. Bicycle Sharing Schemes (BSS) will be implemented by a number of European municipal governments in the upcoming years. These kinds of government initiatives are also anticipated to boost the demand for two-wheeled transportation.
Vehicle Type Insights:
In 2022, the shared mobility market was dominated by the cars segment, which held the largest revenue share of 83.8%. This segment is expected to continue dominating the market over the forecast period. However, services provided through two-wheelers are expected to become increasingly popular in the coming years as they are considered a faster and more economical mode of transport on congested city roads. For example, electric vehicles can reduce the cost per kilometer by 4-5 times for two-wheelers and 3-10 times for four-wheelers compared to fuel-driven vehicles.
The two-wheelers segment is predicted to witness a CAGR of 20.2% from 2023 to 2032. The trend of shared transportation has gained momentum due to several factors such as rapid urbanization, resource constraints, and economic concerns, which are expected to drive growth in the global tourism market during the forecast period. Two-wheeler sharing is a faster and more affordable option for commuters compared to other modes of transport. Many industry players are investing heavily to expand their service offerings, while car sharing is also expected to witness significant growth in demand during the forecast period, leading to a decline in car ownership rates. The emergence of free-floating models in developed countries is expected to further increase the car share market due to benefits such as flexibility and automation.
Regional Insights:
The Asia Pacific region has established itself as the leader in the shared mobility market with a significant revenue share of 35% in 2022. This dominance is expected to continue over the forecast period due to the widespread adoption of technology and the rapid expansion of smart homes in the region. Rising traffic congestion and increasing car ownership costs in countries such as China and India have also fueled the demand for shared mobility services. The region's developing countries, such as India, have a growing urban population and expanding transportation infrastructure, which offers immense potential for shared mobility services. The supportive regulatory environment in the region is another factor that is contributing to the growth of the shared mobility market.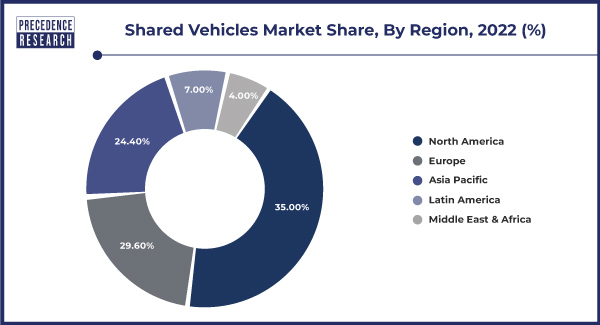 In the Middle East and Africa region, the shared mobility market is expected to witness a CAGR of 18.5% from 2023 to 2032. The increase in corporate travelers in countries such as the U.A.E. and South Africa is driving the demand for shared transportation solutions, which is expected to boost market growth. The governments in the region are also taking measures to reduce congestion and greenhouse gas emissions, creating alternative modes of transportation and boosting the regional market's growth. To keep up with the increasing demand for shared mobility services, several players in the region are constantly developing new features and applications. Additionally, numerous start-up companies are entering the market, testing and launching new shared mobility applications to capitalize on the growing demand.
Recent Developments
Vogo, a two-wheeler shared mobility startup, was purchased by Bangalore-based Chalo in March 2022. Chalo is a smartphone software that allows bus tracking across regions and allows for bus booking. Vogo intended to transition to EVs (electric vehicles) in all of its vehicles as part of this purchase, expand its services beyond two wheels, and offer additional EV versions to meet market demand.
Key market Players
Daimler AG
SIXT SE
Avis Budget Group Inc.
Lyft, Inc.
Hertz Global Holdings, Inc.
Europcar Mobility Group SA
Avis Budget Group Inc.
Segments Covered in the Report:
(Note*: We offer reports based on sub segments as well. Kindly, let us know if you are interested)
By Data Type
Ride Hailing
Bike Sharing
Ride Sharing
Car Sharing
Others
By Vehicles Type
By Geography
North America
Europe
Asia-Pacific
Latin America
Middle East and Africa